For Charles Easley, the inner city streets of Houston, Texas, where he spent his childhood, were lonely, and that was fine with him.
Easley grew up a nerd — a description he says still fits him — more interested in comic books and Saturday morning martial arts films than playing a game of pick-up basketball with the neighborhood kids.
In 2016, that child was reborn in the form of Brandon "BB" Bailey, the main character in Easley's new book series, Misadventures of an Urban Nerd. Over the past month, Easley has released the third book of the series, continued pitching the web series that grew from it and launched a podcast for the "grown and sexy" crowd.
Creative Loafing sat down with the former "Class Is In Session" columnist to catch up and chat about what inspired all these new projects and what it's been like to watch the nerd culture become cool.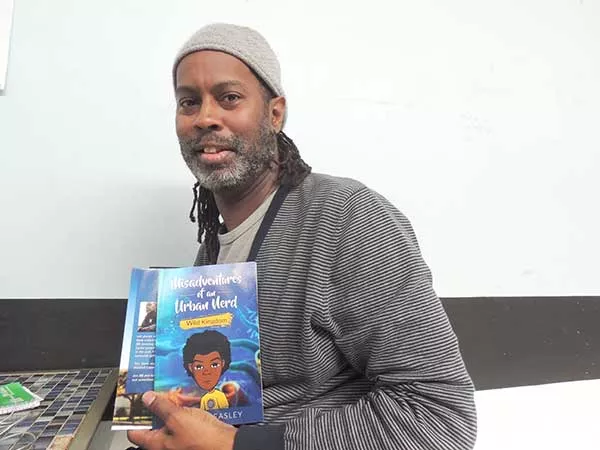 Charles Easley with his newest release, Misadventures of an Urban Nerd: Wild Kingdom.
Creative Loafing: How long has the idea for Misadventures of an Urban Nerd been in your head?
I think it's been there all along. BB has been there all along. Growing up in the '70s, in inner city Houston, I was always like this weird kid. I was into comic books and sci-fi and fantasy and Saturday morning cartoons, martial arts films that came on Saturday mornings. I just was not into sports like most of the guys that I grew up with; basketball and that kind of stuff, I had become a bookworm. But at the same time, even growing up in the inner city, people kind of left me alone.
I just marched to my own drum and that's what this character is about. He lives in his head a lot. He doesn't allow his family or friends or relatives or society or anyone to dictate who he should be as a black boy. It's a constant issue with his father and other people. "He dreams too much, he needs to get his head out of the clouds, it's going to be tough out there for him." And I think the thing is that he's very much aware of that.
This is more of a coping mechanism for him. Sometimes we relegate dealing with what he really would have to face. I think it's a little overwhelming and too much but he decides to create a different way of dealing with it. So he becomes these characters and plays things out and it just helps him cope.
What made you decide it was the right time to bring BB to life?
I was going through this evolution; going through the whole process of being laid off and losing my house and my job and my career and in a lot of ways just kind of starting over. Before that I was the academic chair of film at the Art Institute of Charlotte. I was there for 12 years.
So that was kind of life-changing, but it was a kind of wake up call, because what I did is looked up and realized that I had a pretty good run in my career as an educator, and part of my passion, part of what I was good at is helping other people find their voice and find what their dreams were. But I looked up and all of the sudden I realized that I had forgotten my own.
So that's really where the whole process of realizing that: "You always did want to be published, you always wanted to be a writer." So beginning to tap into that little boy again, he represents that creative spirit. So BB for me is not just a book series, he's my spirit avatar.
You wrote a column for Creative Loafing for about four years, and have had other writings published in Q City Metro. What was it like transitioning to writing fiction, especially fiction geared toward a young audience?
For me it's been a different creative outlet, and it's been nice. When you write about politics and culture and grown folks, it's a different mentality, a different energy. In a lot of ways it can be very taxing. To just give one column, there's a tremendous amount of process that has to go with that. A lot of time you're dealing with subject matter that antagonizes and pushes you off, it just puts you in a very different mental space. Its been nice to tap into something that is just more entertaining, and more authentic to who I was growing up.
For me it's about always being committed to telling a narrative that we don't really see. I grew up with Happy Days and Growing Pains, you name it, all these coming-of-age stories, but usually they were very mainstream. And there's very few coming-of-age stories for black boys, especially black boys who are not in gangs but are just regular little nerdy boys.
We see that there's now a whole kind of incredible community and everybody is proud to be a nerd and you have these nerd conventions and Comic-Con, but back then, not so much. In my neighborhood you got your butt kicked for being a nerd, so it's kind of nice to see the evolution of the nerds coming out on top.
There's been an increase in visibility for black authors and characters in that world. For example, Ta-Nehisi Coates took the reins of the Black Panther comic franchise. What's that been like for you to see?
For me it's been really incredible to see, because I am still such a comic book nerd. So I've been very excited to see these things that I grew up with, to have these visuals play out on the big screen. And it's very encouraging to see something like Black Panther, but at the same time those politics are still at play.
One of my favorite comic books series was the X-Men and I started reading the X-Men because of Storm. When I grew up, back then, the only real black heroes you had were like Black Panther — and nothing against Black Panther — but he kind of jumped high and ran fast. Most of the dudes in my neighborhood could do that, he just did it in a catsuit. I wasn't that impressed in terms of powers. But when Storm came around, here she is as this goddess, controlling the elements. When you see the politics of how that played out, even in the X-Men franchise, we're on our fourth Wolverine film and Storm still hasn't gotten a working film.
So those dynamics are still at play. But it is good that you have people that are celebrating that within the black culture and being commentators and participating in it, but also still holding them to task to say, "Ok, we're enjoying this but we're still expecting more."
You spoke about seeing your childhood heroes come to life in recent years, but you've also watched your own work come to life in the recently filmed web series for Misadventures. What has that process been like for you?
It was pretty badass. You talk about something that started off as really just a 30-day creative challenge, that's how I came up with this idea. Then the book came out and then you go through that process and all of the sudden you're shooting it on film and you see the finished product. [Producer Veronica Pearson's] son Caleb was the main character who played BB, and he reminds me of me. He's this gangly boy and he's into his own head and his own stuff and defines things on his own terms. He has this little afro. It was almost like stepping back into who I was when I was young.
You recently launched the 704PPC podcast with two friends. How did that come about?
I moonlight at public access working as a studio coordinator and working with producers, helping people out to craft their ideas and get their creativity under way. Teaching classes over there I met Chirl Girl, who is kind of legendary over there. She's been in the Charlotte area for years at various different radio stations and companies, but she was in a class with another friend of mine, [Dr. Dee] "Doc" Huneycutt, who is a general practitioner, and I just sort of clicked with these two divas.
What topics do you touch on in the podcast?
It's very organic. Sometimes we have topics that we want to talk about, sometimes it's ripped from the headlines. We're very good about saying we're not political pundits, we're not there to gossip per se, it really just feels like friends sitting around chopping it up, and that's how we want to keep it.
What made you want to pursue this new medium?
We started hanging out, and we're all kind of like 50 and fabulous, or approaching that at least. I'm there, they're getting closer, and we're all going through this process of having had successful careers, and for whatever reason things did not work out. We got laid off or things changed and we're kind of finding ourselves wondering, "What do I really want to do? What do I want to do creatively?"
We all did the same things that everybody said we were supposed to do, and that hasn't quite worked out for our generation, so we're having to kind of reinvent ourselves. I think that's the cool thing about the podcast, it is for the grown and sexy and letting people know that you still have time. There's always time to reinvent and always time to create and always time to learn something new.