Among our favorite denizens of Charlotte's hip-hop scene is a little hobbit named Celeste Fisher, aka Celeste MoonChild. She's a fixture at shows and has recorded some dope sounds on her own and with local artists including Yung Citizen and Ricky Rogers. In last year's 420 issue, Creative Loafing listed a track she did with Rogers on our Top 10 Marijuana Songs by Charlotte Artists.
Her latest songs are a far cry from stoner music, though. She's currently working with Boomchld — the producer name of Blame the Youth drummer Kynadi Hankins — on a more dance-oriented project. MoonChild and Boomchld — along with Berklee School of Music-trained Asheville guitarist Maddy Shuler — will be performing Soul Station CLT on Tuesday, April 3, at Kanvas. Organized by Fisher, the show also includes performances from Deion Reverie and Indigo Jo.
We connected with Fisher, 25, to find out more about her latest music and why she put together this event.
Creative Loafing: What were you going for in curating the lineup for Urban International & Soulstation?
Celeste Fisher: Well, I kind of wanted to put together a hip-hop show that wasn't a hip-hop show, if that makes any sense.
Do explain.
Well, I love hip-hop in Charlotte. I'm very much in the community and I know just about everybody in hip-hop in Charlotte. But every show I go to it's like rappers and a DJ, and there's like four of them; or it's a band and a singer; or it's like an R&B singer and musicians. And I really like what LeAnna [Eden] has put together at Petra's – more like variety shows, where you get a mix of all of that. But I wanted to do a hip-hop/R&B-focused show that shows the different sides of hip-hip, where not every act is just a rapper and a DJ.
So for this event, you get to see beats being made live, whether that be analog or through a computer, and then also see instrumentation and see someone build their beats. Like Deion Reverie — I rally like watching him play and seeing him make his music from scratch, in your face, and then playing with the music. It's a lot more interactive. So I wanted to put together a show where you could see that and then also have people who are putting out really good messages in their hip-hop. That's kind of what I wanted to do with this.
You have Indigo Jo, too. Why did you choose him to be part of this?
Well, one, because he's like my brother. I moved to Charlotte seven years ago, and I've known him for about six years. At that point I was just like a poet in a new city, and I didn't really know that much or do that much, and I used to listen to him freestyle on beats in my living room. So listening to him do that and now seeing the progression of that and seeing what he says and the way he engages a crowd — it's amazing. I'm all about someone who can create a vibe for listeners to be able to receive the message, and that's what he does.
I've seen almost every performance that he's done, and no matter what the size of the crowd or the feeling in the room, as soon as he gets on that stage and takes command and really comes into his own, the whole vibe in the room changes; everyone is very present. And that's what I want this event to do – I want it to have a feeling of presentness. And he definitely does that, single-handedly.
What have you been working on, in terms of new music?
I'm working on three singles — it was going to be an EP, but then I decided to just drop them as singles. I'm going to drop the first one on my birthday, April 16, and then a second one at the end of April, and then another one in May. The one on my birthday is called "Spring," and the one I'm dropping at the end of April is called "Science," and then the last one is called "Black Girl Magic."
Do they sound anything like the stuff you've done under your own name or with Ricky Rogers or with Yung Citizen?
Well, the reason it's taken me so long to put out any new music is because my style has changed so much, and my ideas about what music is — what it is to me —has evolved. This is more electronic, more house-y, but still hip-hop. I still sing and I rap on all the tracks.
Boomchld is my producer, and she makes these house/electronic/hip-hop-heavy beats. So "Spring" is like this happy springy song – just me trying to talk to a girl I think is cute. It's just a cute and kitschy song about that. And then "Science" is more about me not being like the typical hip-hop girl, like Nikki Minoj, so it's an answer to like: What do you expect me to do or be or to act like? Who do you think I am? So that song is like my answer to that. And then "Black Girl Magic" just kind of takes you on a little trip to the moon, talking about being a wonderful, sparkling black girl.
From the stuff Boomchld has done as Kynadi, with Blame the Youth, I can almost hear the happy song you're talking about – "Spring." What's the difference between what you're working with her and the stuff you've done with Ricky Rogers?
Well, the music I've done with Ricky Rodgers is music where you're just going to sit around and chill. This is more dance music. Whether it's happy or serious -- whatever the message behind the song is -- it's still dance music. I want you on your feet and getting the blood pumping; not just hearing the music, but also feeling the music.
Can I assume we won't be using this in our 420 issue this year?
[laughs] Oh, I remember that! You put the one with me and Ricky and Krishon Krown ["End of the FcKing Rainbow"]. Um, no, this won't be in the 420 issue. [laughs]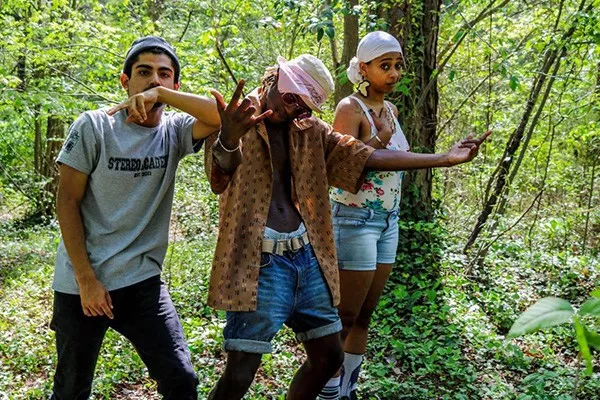 Celeste Moonchild (right) with Muse-Sick partners Ricky Rogers (left) and Krishna Krown.
I put out a project about three years ago that was like my first-time-ever experience of trying to put out music, and these new singles are kind of going back to those roots, where I talk about a lot of serious things, but in a way that's very relatable to my audience.
Who is your audience?
I kind of see them as, like, twentysomething, indigo-child kind of people -- just weird people in society, like the black sheep of society. That's kind of like where my music has come back to.
You said earlier that you moved to Charlotte seven years ago. Where are you from originally and what brought you here?
I'm from Zebulon, Georgia, but I grew up out in the county -- Pike County. Culinary school brought me here; I came here to go to Johnson and Wales. I didn't finish, but the only reason I left is because I became a sous chef at a restaurant, and working 80 hours and then going to school was not feasible anymore.
Do you still work in the food industry?
Yeah, I work for Not Just Coffee -- the Dilworth location. We just opened six months ago and I curated their entire food menu. Right now I'm working on the spring menu.
Are you an awesome cook?
Am I a what? An awful cook?
An awesome cook.
Oh! [laughs] Yeah, well, I think I am. I do a lot of farm-to-table vegan food. That's my main focus.
That, and making dance music with Boomchld.
Yeah.