Bring the diner to your kitchen for
National Meatloaf Day on Friday, October 18
.
Metro Diner
is celebrating the foodie day by sharing their famous at home recipe that's sure to have everyone in the family asking for seconds! Food Network's
Diners, Drive-Ins and Dives
famed celebrity chef host Guy Fieri once proclaimed "diners across the world should have to take a lesson on this one," after sampling Metro Diner's tender, juicy meatloaf recipe.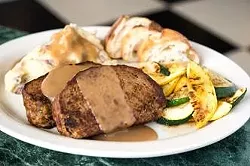 This meat lovers loaf fuses ground beef, turkey and pork, and can easily be made with love at home for the whole family - a kid approved dish! Serve it up the traditional way with mashed potatoes, savory gravy and steamed vegetables for the perfect hot dinner on a cool fall night.
Meatloaf Ingredients:
½ onion; chopped
1 carrot; chopped
2 ribs celery; chopped
6 medium mushrooms; sliced
1 egg
1 TBS Worcestershire
Pinch of salt
Pinch of pepper
1 cup of breadcrumbs
1 pound of ground beef
½ pound ground turkey
½ pound ground pork
Instructions:
1. Pre-heat the oven to 350 degrees.
2. Pulse onion, carrot, celery and mushroom in a food processor.
3. Combine all remaining ingredients and place in a meatloaf pan (or two depending on size).
4. Bake for one hour or until completely cooked.
5. Remove from pan and slice into 1-inch thick pieces.
6. In a very hot sauté pan, add a bit of oil and sear each side of the meatloaf slices before serving.
7. Serve with mashed potatoes and gravy, vegetables and some hot crusty bread.