At the start of the 2019 season,
Dylan Cease
was listed as the
No.5
right-handed pitching prospect according to the rankers at
MLB Pipeline
, and the
No.3
overall prospect for the
Chicago White Sox
.
Cease was acquired from the
Cubs
with
Eloy Jiménez
in the
Jose Quintana
trade in July 2017. He quickly rose to become one of the more anticipated prospects in the Sox farm system, and for good reason. He obviously knows how to make bats miss the ball, which is a skill you can't teach. He's led the minors every year in strikeouts and became a household name for White Sox fans.
Adding Dylan to the line-up brings a critical piece to the rebuilding process of the White Sox franchise. The Sox have struggled with pitching injuries depleting the rotation, and it's no secret there aren't any other internal options that haven't already been exhausted. Many expected Cease to be called up when Manny Banuelos was placed on the IL (injured list) in May, instead the Sox recalled Jose Ruiz, another bullpen arm. With Sunday's injury announcements of 2016 and 2017 first rounders Zack Burdi and Jake Burger, it goes without saying, that the recent trend of Sox set backs are increasingly upsetting.
The Dylan Cease call-up announcement is something White Sox fans say has been "a long time coming". Many fans and players believe the 23-year-old could help shift the team into contention as early as 2020. Looking to the current status of the rebuild, Tim Anderson, Yoan Moncada, and Lucas Giolito are among the Sox players who have contributed great developments this season and will be critical to the franchise moving forward.
Cease represents a MLB ready arm with upside. His packed arsenal includes a hammer curveball with depth and power, and hitters cannot try to sit on it because he can blow past them with an explosive fastball that sits in the upper 90s and reaches triple digits.
For a pitcher, probably more important than having pure physical talent, is the ability to be
mentally strong
enough to work out of stressful mound situations with less impulsivity and more clarity. Dylan has made a personal commitment to mental training. He completed over 25 sessions of
neurofeedback
during spring training and makes meditations a priority daily to improve his mind-body connection.
The energy from the dugout matches the excitement across the internet.
Inside the clubhouse, the Sox are pumped to have the prospect join the squad:
"I actually caught his first bullpen in spring training, and I was surprised to find out he was only 23,"
James McCann
said of Cease on Sunday.
"How poised he was and his routine, he didn't act like a young kid, he acted like he had been around the block a couple times. So I'm excited. I know his stuff is elite, his stuff is there. I know he's going to be able to grow and mature at this level," said McCann.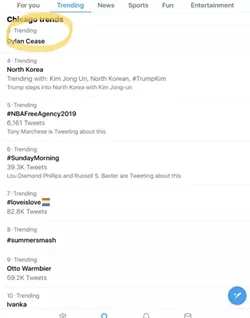 "We already know he has the stuff. He's got a great mentality, a great mindset," said -
Rick Renteria
, White Sox Manager.
We live in a nation where people demand quick results and baseball is a game that has become increasingly strategic and slow.
Strikeouts
get fans excited! In fact, having more strikeouts every game is EXACTLY what baseball needs. Noted to be a strikeout artist,
Chicago
fans love Cease and that is reflected by the fact he was trending on Twitter during the call-up announcement on Sunday.
Dylan's road to 'The Show'
Baseball scout's ranked then Milton High senior, Dylan Cease as a probable first-round talent in 2014 until he sustained an elbow injury in March of his senior season. Targeting Cease's fastball-curveball combo, the Chicago Cubs selected him in the 6th round despite knowing that he required Tommy John surgery. Today, this is a common procedure that 1/3 of all starting pitchers have at some point in their careers. After committing to
Vanderbilt
, he was the last Cubs pick to sign, putting ink to paper on July 4th.
Over a year after being drafted, he made his professional debut in 2016. Launching his pro career with a strong performance at short-season A-ball in the Northwest League, placed Dylan on the radar among baseballs top prospects, ranking #97 with
Baseball America's
top 100 and #77 with MLB Pipeline's top 100.
#Cubs director of player development Jaron Madison on Dylan Cease: "When he's locked in and throwing strikes, it's unhittable." #MiLB

— Tommy Birch (@TommyBirch) April 29, 2017
Cease started playing the game when he was four-years-old and has spent the last few years laying the groundwork for what would lead him to be one of the top pitching prospects in baseball. His breakout minor league campaign has proven he has the necessary tool-kit needed to make an impact at the highest level.
Dylan spent the 2017 season building up innings in low-A ball between South Bend and Kannapolis. He posted a 3.28 ERA with 126 strikeouts and 44 walks over 93 1/3 innings. His 32.5 percent strikeout rate was the best among the 130 Class A pitchers with at least 90 innings during that campaign. The young righty climbed the charts, ranking #61 overall by
MLB Pipeline
and #47 by
Baseball Prospectus
in their 2018 offseason lists.
Showing promising potential and mound dominance, Cease was invited to 2018 big league camp by the White Sox despite having never pitched above Class A. During 2018, Cease posted a 2.89 ERA with 82 strikeouts in 13 starts at Class A Winston-Salem before earning a promotion to Double-A Birmingham, where he fared even better, to the tune of a 1.72 ERA and 78 strikeouts in 10 starts. His 13.4 SO/9IP with the Barons was his best mark at any stop in his career.
Last season, the fireballing prospect earned
MLB Pipeline's 2018 Pitcher of the Year
 after going 12-2 with a 2.40 ERA, ranking fifth in the Minors in opponent average (.189) and eighth in strikeout rate with 11.6 SO/9IP.
Wednesday July 3rd, Dylan Cease will stand before the South Side crowd making his major league debut in the first game of the team's doubleheader against the Detroit Tigers.
In the wake of the promotion for #WhiteSox Dylan Cease, I'd be remiss if I didn't give some love to my friend, the late John Arguello who told me I needed to go see an outing from "a young, up-and-coming, extremely special kid" two years ago.

He did it, John. Miss you.

— Emily Waldon (@EmilyCWaldon) June 30, 2019
🔊 sound on

Thanks @Cubs 😏 pic.twitter.com/Mxu9wVu4g0

— White Sox Talk (@NBCSWhiteSox) June 30, 2019
See you Wednesday, @DylanCease. https://t.co/WveaBvYxQx

— Jason Benetti (@jasonbenetti) June 30, 2019