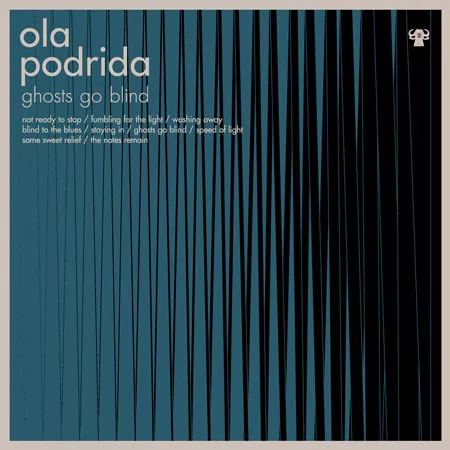 Shimmering like heat rising from tarmac, Austin's Ola Podrida spins High Plains chamber-pop into elliptical narratives about self-doubt and the tricky passage to adulthood. If that sounds like something showing on the Sundance Channel, it may be due to songwriter David Wingo's indie film credentials. Wingo has composed soundtracks since 2000, starting with director David Gordon Green's North Carolina-lensed features George Washington and All the Real Girls. Unsurprisingly, Wingo's scoring chops give his work with Ola Podrida a cinematic sweep, even on the spare acoustic folk of their self-titled 2007 debut LP and its follow-up, Belly of the Lion, released in 2009.
On Ghosts Go Blind, Wingo and his crew ditch the acoustic guitars for uncluttered arrangements which steadily sneak up to orchestrated crescendos — similar to the story arc of a satisfying movie. Ghosts Go Blind is like the indie flick which gets a bigger budget, but doesn't betray its alternative ethos. LP opener "Not Ready to Stop" combines the angst-ridden lyricism of Soft Swells with the '80s jangle-pop atmospherics of True West. On "Fumbling for the Light," Wingo's twee Belle and Sebastian-flavored vocals intertwine with spectral harmonies and ringing guitars in a psych-country pastiche of Neil Young's Harvest.
On more muscular cuts like "Staying In," delicate, finger-picked arpeggios float over slabs of detuned distortion in an unlikely meeting of a desert-dwelling Nick Drake and Sonic Youth. The choppy, New Wave cow-punk of "Speed of Life" injects welcome energy with goofy-yet-apocalyptic lyrics and dust-devil riffing which recalls Dream Syndicate axeman Karl Precoda.
It's a testament to Wingo's songwriting that such careful compositions deliver truly solid emotional payoffs. Ghosts Go Blind is a stellar collection of beautifully bleak landscapes, fractured relationships and open-ended resolutions, where the tunes tells the tale as much as the lyrics.