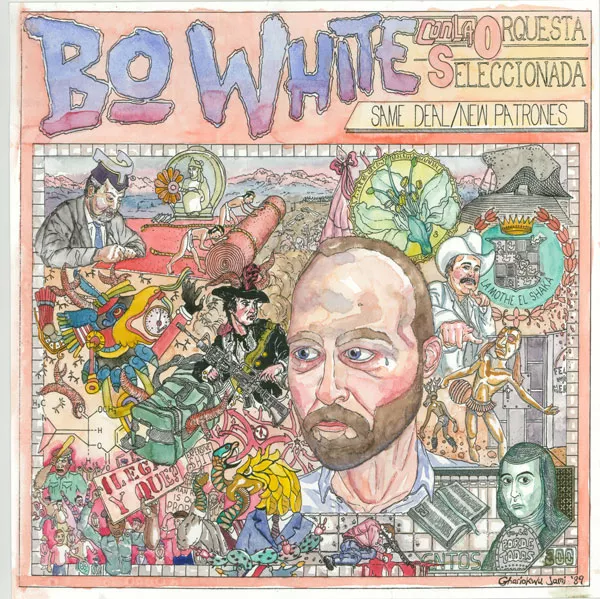 Bo White's latest album is a richly rewarding portrait of life in Mexico during that nation's hard times of late, and another unique statement from one of Charlotte's most marvelously eclectic musicians.
Seen through the eyes of murdered narcocorrido musicians, drug-runners, mothers of the murdered women of Juarez, vanishing Indian tribes and hopeful immigrants, these 13 songs avoid traditional Mexi music or simplistic portrayals. Instead, White uses the shifting tempos and fractured song structures; jazz-flavored guitar, vibes and horns, and David Byrne-like warble one finds in his musician/producer catalog with Black Congo NC, Duo Select, Yardwork and Great Architect.
It's an LP informed more by Nat Baldwin, Joan of Arc and Fela Kuti — whom Matt Nelson's brilliant LP cover art alludes to — than mariachi bands, and features fleshed-out characters rather than cardboard cutouts in black or white hats.
"Habits" kicks things off with a brief brass band funeral quote before rocketing into thrumming Yardwork-like syncopation, White reminding listeners of the life-plight between murderous cartels, and U.S. anti-immigration policy and dope consumption. It's as close to finger-pointing as White gets, opting rather for the humanizing quotidian. A teenage girl escapes an unpleasant hometown fate via a jaunty beat and staccato strings ("Promesas Para Ellas"); horns and a spot-on Folkways sample accompany the Tarahumara tribe's battle for survival ("El Cantante"); a bouncing tempo, sparkling hi-life guitar lines and sunny vibes soundtrack a street-vendor's perseverance and domestic bliss ("Ulama Con Marta").
Throughout, White puts a human face on Mexico's carnage with music that celebrates what's at stake: the human right of life and liberty.