Dead Cat's fiddle player Geoff White (from left), Glenn and former bassist Matt Davis.
When Cat Glenn moved from Charlotte to New York City to attend Fordham University, the plan was to study political science, philosophy and French, continue on to law school and become a human rights attorney. Then her mother got sick and died, Glenn fell in with a group of anarchist punks and life took a major detour. After graduating from Fordham in 2010, she returned home, but instead of getting a straight job, Glenn began playing music on the streets, busking for money to help pay for her rent — and eventually, for the heroin and alcohol that had become problems for her.
It was a tough life, but at the time, Glenn says, she preferred it to working within the system.
"Being an anarchist, I didn't know how to marry my anarchist viewpoints with life in society," Glenn says. "I didn't see how I could stay true to my values of anti-capitalism and equality in society — even as a human rights attorney. So I was just kind of lost and trying to find my way."
She eventually did find her way. Glenn got clean, studied to be a substance abuse counselor and began singing her experiences in scrappy country, folk and bluegrass songs. Last year, Cat Glenn's band Dead Cat released Dearly Departed, a 10-song album of brutally candid tunes with titles like "Doomed" and "Heartbreak Waltz." On the surface, the strummed acoustic guitar, plucked banjo and fiddle on tracks like "Passed Lives" come across as sunny and breezy, but the lyrics cut deep:
"I lost my friend to heroin, I lost him to that drug / He was trying to fill his heart up with all that synthetic love," Glenn sings in "Passed Lives," and then, "I lost my mom to cancer, I begged and I prayed, searching for an answer / But before I knew, she was gone, too." Then the kicker: "And wouldn't you know it, they left me here on my own?"
The front woman of Dead Cat is sitting at an outside table at Smelly Cat in NoDa, in a maroon top, black skirt and black cowboy boots. The blue highlights in her hair complement the darker blue tattoos on her arms and legs — one reads "Wild Card" — as well as the turquoise and silver jewelry on her fingers. Now four years into recovery, Glenn initally had a rocky time staying off drugs while playing in the band, but she was clean by the time Dead Cat recorded Dearly Departed.
On May 12, with a brand-new lineup and new music in the works, Dead Cat will be doing songs from that first album as well as a few new ones at Petra's on a bill with the brass-fueled Florida folk group the 502's and the Charlotte instrumental rock duo the Flame Tides.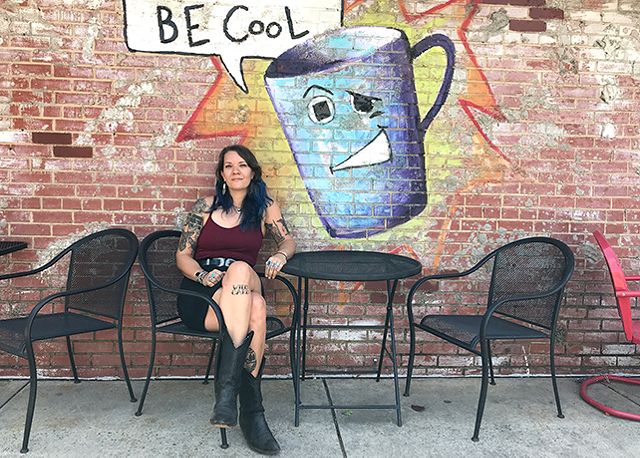 Cat hangs out at the Smelly Cat
Glenn had no idea how to play music "correctly" when she first began to sing her feelings over her fast strumming on a cheap Hohner acoustic guitar. She was still a college punk rocker when she picked it up one day after having an unwelcome dream about an ex-lover.
"I woke up pissed off, feeling that I was supposed to be over this asshole, but there I was was still dreaming about him," she remembers. "So I wrote a song about it and then afterwards realized it made me feel better. I'd never done that before."
She began to play a few open-mic gigs on Fordham's campus in the Bronx, and at hip spots like Pete's Candy Store in Brooklyn. "I had terrible stage fright and really didn't know what I was doing," she says. "And I didn't have any intention of doing anything more with it." She laughs. "I have no idea what sparked my interest in eventually playing with four other people in a band."
It started with busking on the streets of Charlotte. When Glenn returned home after graduating in 2010, she moved into a little punk community on Kennon Street off Thomas Avenue in Plaza-Midwood, where many of the residents, like singer-songwriter Bart Lattimore, front man of the punk-country band Mill Hill Revival, were musicians. "We had like 25 of our closest friends spread through about five houses, all on the same block," she says. "All we did all day was play music, drink whiskey and 40s and smoke pot. And I loved it. I mean, I'd never known that was an option. I didn't know people were living this way."
One of the musicians she met was Taylor Trew, the current front man of the old-time and bluegrass band Hashbrown Belly Boys. "He was a busker, so we became friends and I would accompany him on mandolin," Glenn remembers. "I'd gotten a mandolin for Christmas and would busk with him, and that's where everything changed for me. I started playing music every day as a way to get money. While everybody was partying, we would go out and busk for a few hours, get up enough money for a bottle of whiskey and a joint, and come home."
Glenn and bassist Matt Davis get a groove.
Eventually, Glenn began traveling around to other cities, busking for money and sleeping wherever she found a spot, whether it was on someone's couch or under a bridge. "I just wasn't ready to settle down and get a job, and so I would busk as a way of getting money to pay for gas or whatever." She pauses and laughs. "I mean, some people might call it homelessness — I called it traveling."
When she got tired of "traveling," Glenn finally got a real job, working at Crisp salad shop in Elizabeth, but life began to catch up with her. "I got a two-bedroom house on Parsons Street and things just spiraled out of control," she remembers. "I was still partying and it just got the best of me — harder drugs came along, heroin was all around in those days."
She checked into treatment and came out with her first concrete plan in years: She would study to become a substance abuse counselor.
Somewhere around that time, Glenn also connected with one of the Mill Hill Revival guys — dobro player Desmond Landry — and formed Dead Cat. By then, she'd traded her earlier love of punk for more traditional folk, country and bluegrass. Glenn's mother had listened to country, but she liked the pop-country played on the radio, not earlier, edgier artists like the Carters, Hank Williams or Wanda Jackson. "I think the reason why so many punks wind up doing country is because outlaw country embodies the spirit of punk rock," Glenn says. "Real country music is scrappy, it's rebellious — the Merle Haggards, the Hank Williamses — so it makes sense that we would identify with that when we're no longer running around in the pit."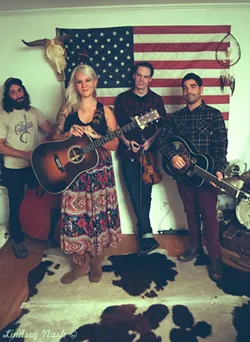 Circa 'Dearly Departed': Davis, Glenn, White and Desmond Landry.
It took some trial and error for Glenn to get fully aboard the recovery train, but by the time Dead Cat went into Old House Studio in Charlotte to record Dearly Departed with producer Chris Garges, she was doing well. She put all of her feelings and experiences into the music, and the album is like a diary of her life up to that point. In addition to dealing with the aforementioned heroin deaths of friends and cancer death of her mother in "Passed Lives," Glenn sings of the toll the bottle takes in "Doing Wrong," the difficulty of staying clean and sober in "Doomed," and of heartbreak in several other songs including the aptly named "Heartbreak Waltz."
Glenn says her newer songs are more focused in terms of the detail she puts into her lyrics and the dynamics in her vocals and guitar playing. "One of my friends told me recently that my writing has grown a pair of balls, because I'll name things now," she says. "I don't write around these topics anymore — now, I'll do things like use the words 'noose' when I'm writing about a suicide, or 'needles' when I'm writing about shooting drugs. I just use whatever specific detail tells the story."
As for the music, on Dearly Departed she mostly strums her Martin HD-28, but now she's beginning to learn how to do the kind of alternating and walking bass lines you hear in Johnny Cash songs, and her vocals have more dynamic range, she says. "I haven't quite gotten into fingerpicking yet, but that's next," Glenn says, adding that she never took proper guitar or voice lessons. "I learned how to play on the streets, so when I started playing shows in clubs, I didn't know how to strum my guitar correctly, I didn't know how to sing into a mic — I didn't know how to do any of that stuff. It was all just coming out of me raw — no censorship, no tact, no understanding of dynamics, none of that."
She pauses and laughs. "I've had sound guys in clubs come up to me and tell me, 'You've really got something. You just need to learn how to play your guitar.'"
_________________________________________________________________________________
Listen to Dearly Departed:
_________________________________________________________________________________
It's those rough edges that make Glenn's songs so compelling, and with a little growth in her playing and singing, there's no telling where she'll go from here. "The way I write these songs is, I'll just start strumming something and free-styling on it, and an hour later I'll have a song," she says. "When anything happens and I really feel it, I have to pick up my guitar. It's just something I have to do."
Another thing she has to do is counsel people with the disease of addiction. Glenn says her music will never take precedence over her day job, which is just as much of a passion as her music. To Glenn, the two are equally important and work hand in hand.
She's currently working on a master's in international addiction studies — an online program that involves a partnership among three universities, King's College London, the University of Adelaide in Australia, and Virginia Commonwealth University.
"It involves people from all over the world coming together and sharing our knowledge and experience of addiction in different countries," Glenn says. "I wanted to break out of my narrow worldview of addiction and learn what's the westernized vision of addiction vs. what it looks like in China. Or what it looks like in Russia." After that, she plans to get a second master's in clinical counseling.
The music, she says, plays a central role in Glenn's own therapy as well as in her counseling, but it's not her ultimate goal.
"You have people who dream about being a successful musician, and that's cool, but that's never been my dream," Glenn says. "This has always just been something that I've had to do personally. Me and my other band mates all have full-time jobs, so we don't tour and we don't have to put out EPKs for our new releases.
"But at the same time, it's something I'm passionate about and I'm dedicated to, and it's a very important part of my life," she continues. "It's therapeutic for me, and it's translated into something that also can be therapeutic for other people when I play out live and share my music and my stories."
As they say in 12-step recovery meetings, sharing is caring.