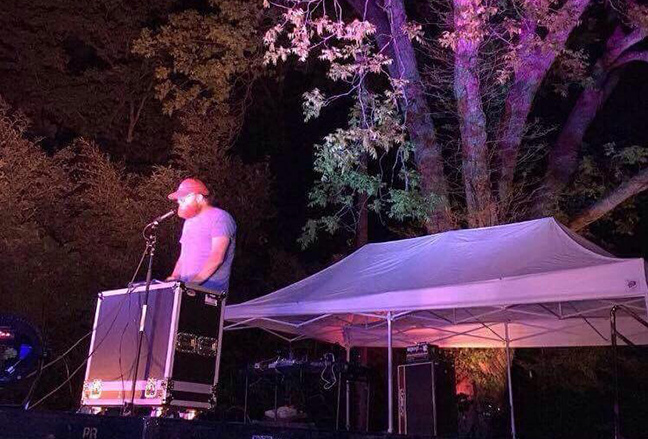 Casey Malone makes ambient music for hoot owls and other nocturnal creatures.
In his early years on Charlotte's underground music scene, Casey Malone would amble into shows at spots ranging from the Evening Muse to the storied Yauhaus, his guitar and looper in hand, and create stunning works of aural art. No two Malone shows were ever alike. He remembers once playing three separate sets at one venue, each completely different from the others.
Malone laughs. He's sitting at Boulevard 1820, just minutes from his home in the Wilmore neighborhood, in a worn blue-and-white windbreaker and gold knit cap, talking about My Life in the Bush of Real People, his latest release as Zodiac Lovers. On April 30 Malone will perform at Petra's in Plaza Midwood as Zodiac Lovers, along with fellow local acts Pretty Baby, Bince and Hoozy. Right now, the 30-year-old is contemplating how he might tailor his performance for this specific spot.
"They have a nice piano in there," Malone says with a chuckle. "I could use that."
My Life in the Bush of Real People is hardly piano-bar music, but the new Zodiac Lovers album certainly involves keyboards. It's a haunting soundtrack to post-modern urban living that teems with sputtery beats and plaintive, treated voices which melt into whines and whispers of static. It's the drive home from a party in the wee hours as the towers of uptown Charlotte gleam and wink in pre-dawn half smiles, disembodied voices of friends and strangers jockeying for space in an addled brain.
But the mad director of this nocturnal urban soundscape isn't really mad at all — not apparently, anyway. With his crooked glasses, big smile and slightly bemused gaze, Malone could be the hacker with a heart of gold in some '80s tech-noir flick like WarGames, or a DJ in post punk-era Manchester, England.
Luckily for lovers of homegrown electronic music, Malone is Queen City born and bred. He grew up in west Charlotte and attended the magnet school Phillip O. Berry Academy of Technology. His favorite song as a kid was Bobby Brown's "My Prerogative." By the time he graduated, a year early, in 2005, Malone's musical tastes had expanded exponentially.
"I have early memories of downloading Loveless [My Bloody Valentine's 1991 shoegaze classic] and knowing a lot about the album before I had heard it," Malone remembers. He'd already begun to explore similar acts, such as the Lillies, an early-'90s super-shoegaze group featuring members of dreampop innovators Cocteau Twins and Lush, as well as the more electronic sounds of Björk. And Malone had discovered the adventurous hip-hop of acts ranging from A Tribe Called Quest to Kanye West.
"Hip-hop was a big interest to me. I wanted to understand how it was all made," Malone says. Exploring hip-hop led to his fascination with samplers and sound manipulation, and after high school, Malone set about playing in various bands, bringing his skills and ear to local acts like Blossoms, Black Congo and Great Architect.
By then Malone was hanging out at the Yauhaus, the home of Calabi Yau's Bo White and Davey Blackburn, where some legendary house concerts took place. "Bo was working at Manifest Discs at the time, and invited me to play a show at his house," Malone remembers.
White became a big supporter of Malone's atmospheric performances, and those early Yauhaus shows led to Malone's appearances at Recess Fest, an experimental music series Malone founded with Snug Harbor's Zach Reader.
White, currently of Patois Counselors, remains an ardent supporter of Malone's work. In a recent appearance on Creative Loafing's "Local Vibes" podcast about the state of experimental music in Charlotte, White, saxophonist Brent Bagwell, and Malone's girlfriend, the local electronic musician Angela Saylor (aka Minthill), all name-checked Malone, praising My Life in the Bush of Real People. And in a recent Facebook post, White wrote of the latest Zodiac Lovers project, "If it doesn't quite resonate at first but you think it's kind of cool, I'd advise to keep listening."
White said the minimalism in the album's sound is deceptive: "There is plenty to unpack. For a local album produced by one person with zero budget, it hits a number of marks that are not typically hit, even rarer to be compiled in one release."
The title of My Life In The Bush Of Real People is a nod to My Life in the Bush of Ghosts, the 1981 collaboration between Talking Heads front man David Byrne and experimental music legend Brian Eno, known for ambient and rock classics ranging from Music for Airports to Taking Tiger Mountain (By Strategy). For Malone, the strategy in his new work is a bit of a shift, stylistically, for Zodiac Lovers. Like the Byrne/Eno collab, Malone's Real People utilizes the treated human voice as a disconcerting juxtaposition of man and machine, but while Ghosts seemed to be more of a comment on the rocky relationship between people and machines, Real People seems more like the sounds of people already living in a technologically super-charged world — and feeling every moment of it.
"Eno and Byrne used sampling to make the human seem more modern and alien; Zodiac Lovers is doing the reverse," White noted. "This was a conscious technique — taking the alien, removing any sterility, and placing it firmly into a soulful human sound."
Malone's earlier Zodiac Lovers set, the 7-song EP Paltry All the Time, released in 2015, was heavy on the atmospherics and melancholy, but it was more rooted in conventional song structures than the new album is. On that set, Malone offered a delicate and minimal cover of the Big Star song "Big Black Car," along with quirky originals such as the acoustic-based "Sonny" and piano-based "One on One."
My Life in the Bush of Real People, by contrast, is abstract. Vocals slip in and out of the fog, or transform into blips and drones, as lo-fi buzzing and insect-like melodies vie for attention in the complex mixes.
__________________________________________________________________________________
Listen to My Life in the Bush of Real People
:
__________________________________________________________________________________
"Malone's music feels completely abstract and personal at the same time," says Jeremy Davis of the Charlotte indie-folk group Elonzo Wesley. "It evokes particular emotions from song to song without telling you how to feel."
Another local musician who feels Zodiac Lovers is Derrick Hines, of the electro-pop duo Bless These Sounds Under the City. Hines is fond of Malone's fragile vocals. "The dude has a 'lived-a-lot-of-life' kind of voice that seems to come straight from the soul," Hines says. "Lots of depth — but still fun."
Says Malone, "I try to make the lyrics more or less experiential. Some of the stories are personal, or they're stories that should be told, truths that need to be heard, but always in fragments. I try to keep it open."
All that shopping he did at Manifest Discs, where he met Bo White, gave Malone a deep understanding of 20th century music. He cites titles ranging from jazz great Thelonious Monk's Straight No Chaser to New York City antifolk singer-songwriter Jeffrey Lewis, known for his musical histories of underground scenes and acoustic covers of songs by artists such as the the early anarcho-punk band Crass.
"'[Lewis'] Crass covers album is amazing," Malone exclaims. "And his production is so warm. His 'Anxiety Attack' is one of my favorite songs. The man's work is lacquered in sincerity."
When asked if he thinks the rise of digital-download culture has had a negative effect on how we discover, experience and create music today, Malone balks. "I've had so many awesome musical experiences that didn't involve buying a physical album," he says, adding that "old-school curating kinda — sucked." What's more, he adds, the easier access to music-making tools has been a phenomenal development. "I can't imagine being 10 years old and having a Moog synth on my iPad," he says. "That's pretty much normal now. I can't imagine what that would have been like."
Malone takes a drink and gets reflective. "That being said, I just bought a Soft Machine album," he continues, referring to the pioneering jazz-based rock band associated with the 1960s U.K. Canterbury progressive music scene. Then he rethinks his previous enthusiasm about the massive shift in both the creation and consumption of music in the 21st century. "But yeah, sometimes it's great and sometimes it's awful," he confesses.
One thing that's great about the easy access to so much earlier music and to music-making tools is that it's made cities like Charlotte more open to the kinds of sounds Malone and others make. "I'm lucky to have known a lot of great people and collaborated on shows [in Charlotte]," Malone says. "But it can always be better. The city is coming into its own and growing, but with a little more inclusivity and open-mindedness, it can always be better."