A new dance festival is leaping into the QC, touching down at First Ward Park for Labor Day weekend. Pretty interesting idea, right? But the new Crossroads Festival isn't merely an outdoor dance festival. It's free, it features aerial dance classes and performances, and the main event starts just after sundown.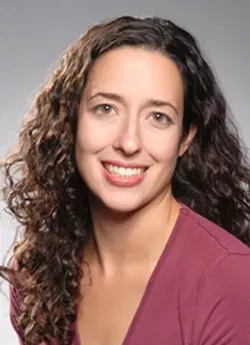 Caroline Calouche has been the queen of aerial dance in Charlotte for more than a decade. Her usual haunts have been Booth Playhouse, where her Caroline Calouche & Co. offers its annual Clara's Trip, an aerial Nutcracker, and Spirit Square, where she organizes a festival in early spring.
So what lured Calouche to the great outdoors?
"I was inspired by many great outdoor shows like Boston's Shakespeare in the Park and Montreal's annual circus festival," Calouche says. "Creating an outdoor show for the Charlotte community that reflects who we are has been a dream of mine for quite some time. Thankfully, the Knight Foundation helped make this dream come true."
Though there are precedents in San Francisco; Boulder, Colorado; and Victoria, Canada bringing aerial dance outdoors — along with the Cirque du Soleil flavorings Calouche sprinkles into her choreography — is a fairly different undertaking. Even Cirque doesn't go all the way, opting for a big top on its famous tours.
"I did look into a circus tent so we can have the show rain or shine, but — whew! — that was crazy expensive!" Calouche says. "Plus, I would like the performance to take place under the stars with Uptown Charlotte as the backdrop to connect more to the location."
Connecting with Charlotte was clearly a major factor in Calouche & Co.'s winning support from the Knight Foundation. Buy-in from Charlotte Center City Partners was also key before moving on to Mecklenburg Parks and Recreation to secure the festival's location. Calouche's Crossroads concept digs deep into Charlotte's historical DNA.
Long before Charlotte became the crossroads for America's most corrupt megabanks, it was a crossroads of commerce. If the Cherokee or Chippewa had named our city instead of the British, that name would likely mean crossroads. While the Uptown's main crossroad is on Trade Street, Calouche's event and choreography will remind us how Charlotte has also evolved into a crossroads for culture as well.
Each of the festival's three days will begin with a potpourri of free dance and fitness classes. You can browse the online schedule above and choose from hour-long sessions in samba, salsa, tap, hip-hop, capoeira, or aerial silks. Fitness freaks can contort themselves into the yoga and Pilates they truly deserve.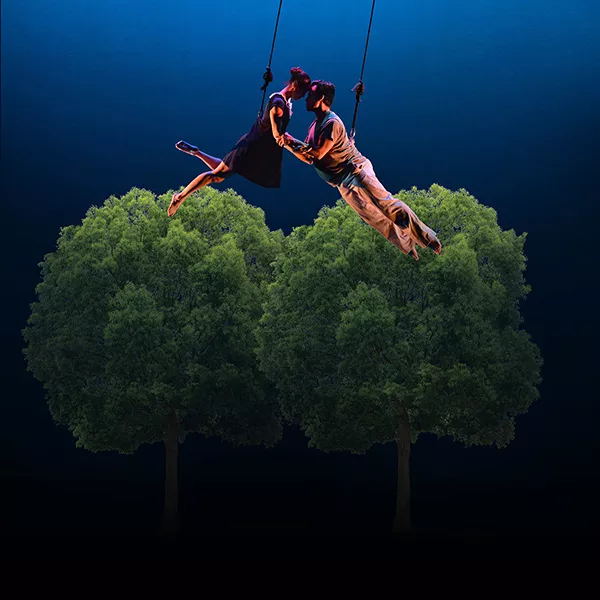 Sarah Small and Javier Gonzalez float above a tree line.
At 6 p.m., the pre-shows begin, with various lineups of performers each evening. Constants in the lineup will be the MILA Dance Team, Mrudani School of Performing Arts and the CC&Co. Youth Ensemble. If you're itching for the NC Brazilian Arts Project, No Limits Dance Company, Hope of Israel, Maha's Dances of India, MufukaWorks Dance Company, or the Jazz Arts Initiative Trio, consult the same handy webpage to see who's up Friday, Saturday, and Sunday.
All of those evenings will conclude with Crossroads, starting at 8 p.m. Yes, it's also free, and Calouche promises that there will be no letup in variety when she and her company take to the air. On the contrary:
"The show includes contemporary dance, breakdancing, tap, zapeando, shag, capoeira, aerial silks, trapeze, bungee, partner acrobatics, aerial rope, Cyr wheel, and aerial hoop," Calouche reveals. "My artistic idea is to either cross history with dance and/or circus arts or cross cultural dances that are represented in Charlotte's community today. Crossroads is designed as an event for unity and the opportunity for people to learn about Charlotte's history and culture."
Guest unifiers will include artists from an exciting mix of disciplines, including actress Iesha Hoffman, percussionist Tim Scott, and slam poet extraordinaire Boris "Bluz" Rogers. Hoffman will narrate, knitting the various segments together and maybe providing cover during aerial apparatus changes.
Scott will be featured during the segment where tap meets zapeando dance and during what promises to be a wild breakdance battle on aerial rope. Rogers takes Calouche's unifying fantasia to a new dimension with an original poem inspired by a great unifier, Thaddeus Tate. During Rogers' spot, he'll connect with the entire Crossroads cast on the floor.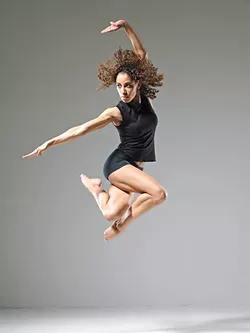 Tate was an African-American leader in Charlotte from the 1880's to the 1940's. Instrumental in establishing a library branch, an insurance company, and the Grace A.M.E. Zion Church — while rubbing elbows with the Uptown elite as owner of the Uptown Barber Shop — Tate is particularly pertinent because he resided on the block that is now First Ward Park. So Rogers' tribute will definitely strike home.
With its unifying and educational components, Calouche tells us to expect a casual atmosphere rather than a carnival one, more like Symphony in the Park or Shakespeare on the Green than Speed Week. Food trucks and D9 Brewery will be on the scene to help keep bellies properly bloated.
Like Clara's Trip, which tends to shuffle its Nutcracker mix from year to year, Calouche expects to vary the content of Crossroads each time the festival rolls around. It's not just a title for the festival and it showcased choreography — it's a theme.
"Crossroads is the name of the event, and the theme will remain the same," Calouche explains. "There might be some scenes that stay the same, but there is still more research I can do and other collaborators I would love to work with."
Aerial dance is difficult enough to stage indoors, requiring a fly loft (ordinarily used to drop scenery from above) that's sturdy enough to suspend up to four dancers on a dangling apparatus. Don't try this at home. Or at Theatre Charlotte or Pease Auditorium.
So how exactly do you stage aerial dance outdoors? It sounds like CC&Co. will borrow from the big top concept and strip away the canvas.
"JHE is our production company who is building our stage, trussing, audio and lights," Calouche says. "The stage will be two feet from the ground on the grass near the 7th Street side of the park with four legs of truss crossing in the center at 25 feet high. Essentially we are building a theater in the round outside."
Visualize a one-ring circus where 20 dancers, circus artists, musicians, and poets will perform under the stars — if the weather holds. So what happens if it rains?
"We wait it out and start when it passes," Calouche replies.
Come to think of it, when most of your dancing is up in the air, you really don't have to worry as much if the dance floor gets slick.