Andy and Barney and Bigfoot
There's a sense of honor and preservation for pastime icons in the paintings by David Alan Goldberg, better know as DAG. The longtime Q.C. artist, who was homeless for 16 years before a change of circumstances in 2011, paints some of his favorite celebrities and places related to the Carolinas in Carolina Reveries: Legends and Landmarks.
The exhibit, on display at Summit Coffee in Davidson's historic district, currently features six acrylic paintings. Most are distinguishable by thick brush strokes and bright colors that provide abstract detail to facial features. Others bear resemblance to vintage commercial signs with a solid background color around the figure(s), drawn with bold black lines.
"My skill set is that I can do these like hyperrealistic, where they're like photographs," notes Goldberg. "I was doing that for a long time, but I decided that I wanted to keep it kind of primitive around the edges."
One of the paintings in the exhibit features Barney Fife and Andy Griffith with Big Foot lingering in the background. A longtime fan of The Andy Griffith Show, Goldberg found an image of the pair online and based the painting off of it, randomly adding in Sasquatch.
He also has paintings that incorporate jazz legends Thelonious Monk at a UFO welcome center and John Coltrane at a South of the Border roadside attraction.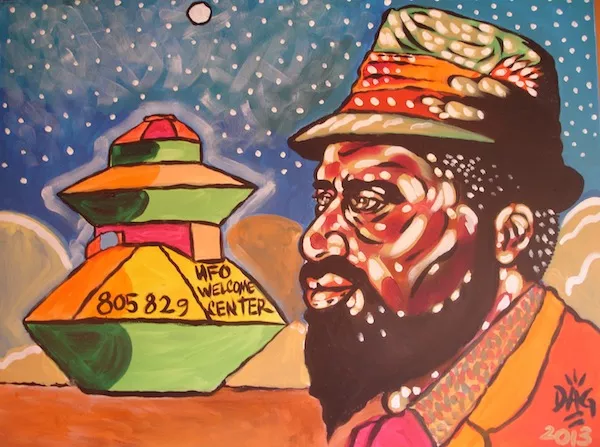 "Juxtaposing them with kitschy landmarks/backgrounds familiar to the Carolinas is merely a sight gag to induce knowing smiles and laughter among my viewers," explains Goldberg. "John Coltrane and Thelonious Monk were responsible for planting the seeds of the outsider jazz movement of the 1960s, so placing them in such a gonzo locale as my brain's landscape — which looks more like the Lower Sonoran Desert of Arizona — with Carolina specific landmarks is just crazy enough for me to appreciate and commit to canvas. I love bringing together unlikely images to make them likely. I have been dealing in such juxtapositions as long as I've been an artist, which is almost my entire life."
The other paintings consist of Fred Kirby, the beloved radio and TV personality for WBT radio and WBTV from the 1950s to the 1970s, the popular comedian (and NC native) Soupy Sales, who made an art of the slapstick practice of a pie in the face, and father-and-son musicians Doc and Merle Watson.
"I do have my influences in the art world, but mostly my inspiration comes from pop culture, history and current events, and film and music," Goldberg says.
Goldberg, now 47, was active in the pre-NoDa arts scene with regular showcases at the now defunct 23 Studio, Pat's Tavern and Fat City. He received some of his earlier commissions from local rock acts after it was revealed that he'd designed, under the pseudonym of "Blackbeard," hand drawn flyers to bring larger crowds out for shows held at the Milestone and the now-extinct club, Pterodactyl.
Afterwards, and despite struggling with mental illness and homelessness, Goldberg started receiving commissions for his artwork and was featured in various shows, some of which were organized by the Urban Ministry Center.
"Everything that happened in the past to me, good, bad, or indifferent, has built my character," Goldberg reflects. "I feel like my capabilities are sharper and I'm able to really appreciate what I do now."
Free admission. Continues through May 18. Summit Coffee, 128 S. Main St. 704-895-9090. www.summitcoffee.com.