(View From The Couch is a weekly column that reviews what's new on Blu-ray and DVD.)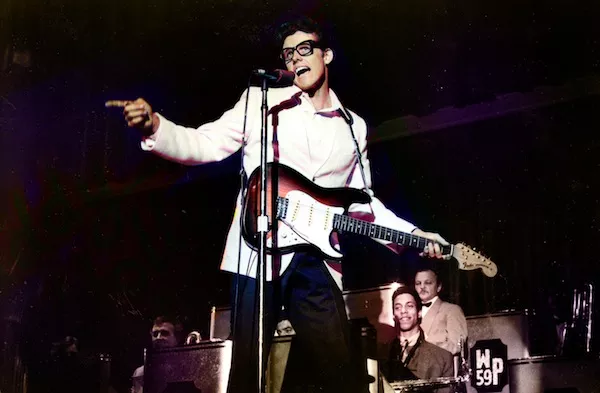 Gary Busey in The Buddy Holly Story (Photo: Twilight Time)
THE BUDDY HOLLY STORY (1978). Like other worthy biopics, The Buddy Holly Story may play loose with the facts but nevertheless manages to paint a compelling picture of a unique individual and the world he inhabits. Gary Busey delivers the performance of his lifetime as the title icon (born Charles Hardin Holley), the Lubbock, Texas, native who managed to become a rock & roll legend in just a short amount of time before his untimely death in 1959, when he was killed in a plane crash along with fellow hitmakers Ritchie Valens and The Big Bopper. The movie covers Buddy's career ascendancy from his humble roots performing at a skating rink to his final concert before the tragedy; along the way, viewers become acquainted with his sweetheart Maria Elena Santiago (appealing newcomer Maria Richwine) as well as fictionalized versions of his bandmates The Crickets (played by Don Stroud and Charles Martin Smith). Key events are dramatized (such as the group's performance at Harlem's Apollo Theater, a rarity for a white band), and the soundtrack is packed with such Holly classics as "That'll Be the Day," "It's So Easy" and "Peggy Sue." Yet what makes the film special is that Busey, Stroud and Smith are actually performing the songs — no lip-syncing overdubs or pinch-hitting musicians here — and this adds a naturalness and spontaneity to the proceedings. An Academy Award winner for Best Adaptation Score (by Joe Renzetti, who also appears briefly as one of the session violinists), this received additional nominations for Best Actor and Best Sound.
Blu-ray extras consist of audio commentary by director Steve Rash and Busey; the theatrical trailer; and an isolated score track.
Movie: ***
Chris Evans in Captain America: The Winter Soldier (Photo: Disney & Marvel)
CAPTAIN AMERICA: THE WINTER SOLDIER (2014). Roughly on par with Captain America: The First Avenger, the strengths of this Marvel Cinematic Universe sequel are different than those of its predecessor. The 2011 original is the most low-key of all Avengers-related titles, with the story's World War II setting and director Joe Johnston's muted visual style aptly serving a work that's steeped in nostalgia and hawking an uncomplicated world view. Directed by siblings Anthony and Joe Russo, The Winter Soldier, set in the present day, is a far knottier piece, what with its shifting allegiances and questions of morality in a decidedly amoral world. Thawed from his decades-long deep-freeze, Steve Rogers/Captain America (Chris Evans) finds himself finally getting used to living in this brave new world of the 21st century. But hailing from a time when everything was more black and white — the G.I.s were the heroes and the Nazis were the villains, period — he's not always comfortable with the stealth methods employed by his comrades Natasha Romanoff/Black Widow (Scarlett Johansson) and S.H.I.E.L.D. director Nick Fury (Samuel L. Jackson). Yet all concerns are tossed aside when a shadowy assassin known only as the Winter Soldier comes gunning for Fury. Captain America: The Winter Soldier imports so many cast members from The Avengers that it almost feels like the Age of Ultron is already upon us. Yet it's a credit to scripters Christopher Markus and Stephen McFeely that their stage feels crowded but not cluttered, as almost every character is allowed opportunities to shine. This is most obvious with Nick Fury, who's given enough time to milk a personality rather than just sporadically pop up to bark at superheroes (as he's done in every past MCU film in which he's appeared).
Blu-ray extras include audio commentary by the co-writers and co-directors; a behind-the-scenes featurette; deleted scenes; and a gag reel.
Movie: ***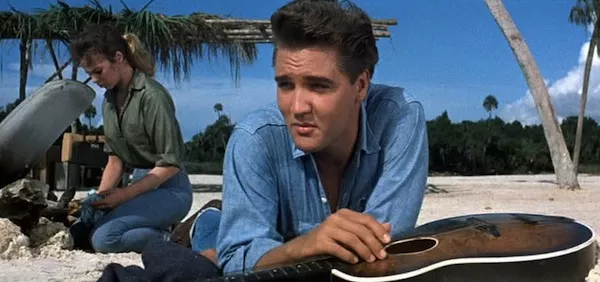 Anne Helm and Elvis Presley in Follow That Dream (Photo: Twilight Time)
FOLLOW THAT DREAM (1962). The lengthy middle stretch of Elvis Presley's film career ran almost purely on formula, while the final years contained nothing but one prize turkey after another, cinematic stinkbombs on the order of 1968's Speedway, with Elvis' race car driver wooing Nancy Sinatra's IRS auditor right here at Charlotte's own Motor Speedway, and 1969's Change of Habit, with Elvis' Dr. John Carpenter(!) lobbing romantic Hail Mary passes at Mary Tyler Moore's nun. The early going, on the other hand, featured a number of quality titles: Jailhouse Rock, of course, but also efforts like Kid Galahad, King Creole and Flaming Star. Follow That Dream is my favorite of the non-Jailhouse flicks, and for a number of reasons. For starters, Elvis has never been more likable, playing a simple yet sweet-natured kid named Toby Kwimper. Then there's the comedy quotient, which yields a sizable number of huge laughs. Finally, there's the plot, which even today remains rather unique: Taken from Richard Powell's novel Pioneer, Go Home!, it focuses on Pop Kwimper (the always enjoyable Arthur O'Connell) and his (mostly) adopted kin — son Toby, budding teenage beauty Holly (Anne Helm) and various young'uns — as they elect to homestead on a prime piece of Florida property. Even though Pop's land grab is technically within the letter of the law, a furious state flunky (Alan Hewitt) tries to figure out how to drive the clan away; also attempting to cause waves for the family are a pair of racketeers (Jack Kruschen and Simon Oakland) who stumble upon this lawless terrain and seek to set up a permanent gambling joint. The songs may not be topflight Elvis, but they're catchy enough; at any rate, it's the humor that takes precedent here, as it's a riot watching Toby foil all antagonists without even realizing that they're trying to trick — or, in the case of the gangsters' goons, kill — him. More than in any other of his pictures, Elvis' easygoing demeanor and sharp timing mark him as The King of comedy.
Blu-ray extras consist of the theatrical trailer and an isolated score track.
Movie: ***1/2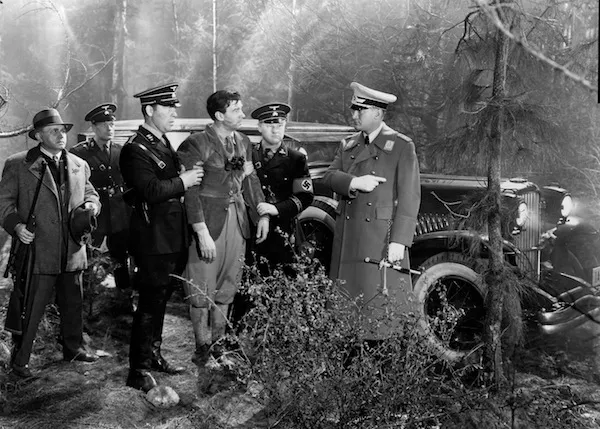 Walter Pidgeon (center) and George Sanders (far right) in Man Hunt (Photo: Twilight Time)
MAN HUNT (1941). The legendary Fritz Lang directed a hefty number of terrific motion pictures throughout his life, but his time, it's personal. Fleeing Germany as the Third Reich accelerated its world-conquering machinations, Lang eventually continued his career in Hollywood, where one of his movies — this one — made Nazi aggression its primary target. So, too, does its hero: Alan Thorndike (Walter Pidgeon), an internationally renowned big-game hunter who makes a sport of seeing if he can get close enough to Adolf Hitler to plant one right between the eyes. He succeeds, sort of; while within rifle range, he's captured and tortured by a Gestapo officer (the great George Sanders) before escaping back to England with the invaluable assistance of a friendly cabin boy (Roddy McDowall). He soon learns, though, that the Nazis have followed him back to his homeland, and so he's forced to seek further aid from working-class woman Jerry Stokes (Joan Bennett). The setup and situations reek of old-school Hitchcock, but Lang provides it with his own strain of fatalistic frenzy, with moments of levity (such as the fish-and-chips scene) offering only temporary respite from unchecked claustrophobia. Pidgeon makes for a stuffy, stalwart hero, Sanders and John Carradine (as Thorndike's London stalker) both ooze menace, and Bennett is wonderful as the lovely, lonely Jerry (Lang would have the good sense to later cast her as femme fatales in his noir gems The Woman in the Window and Scarlet Street). Man Hunt was remade as a 1976 BBC production titled Rogue Male (also the name of Geoffrey Household's source novel), with Peter O'Toole cast in the Pidgeon role.
Blu-ray extras consist of audio commentary by muckraking author Patrick McGilligan (Fritz Lang: The Nature of the Beast); a making-of featurette; the theatrical trailer; and an isolated track of Alfred Newman's score.
Movie: ***1/2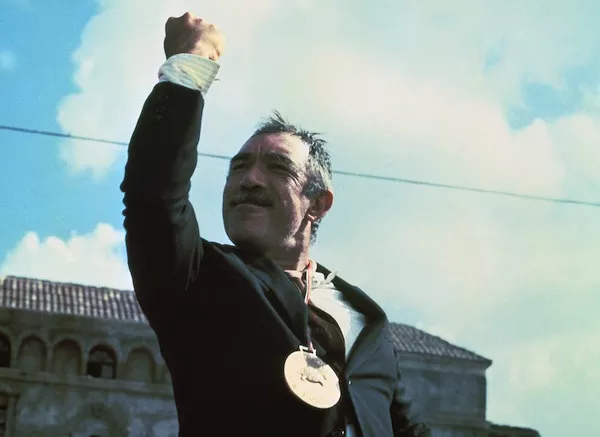 Anthony Quinn in The Secret of Santa Vittoria (Photo: Twilight Time)
THE SECRET OF SANTA VITTORIA (1969). One of the best actors when it came to serving up ham on wry, Anthony Quinn can be seen at his most animated — and endearing — in this adaptation of Robert Crichton's WWII-set novel. He stars as the bombastic Bombolini, widely dismissed as the town buffoon in the Italian village of Santa Vittoria. Benito Mussolini may be out of the picture, but the Germans are still on the march — and an outfit led by Captain von Prum (Hardy Kruger) is heading straight for Santa Vittoria with the intent of hauling off its prize possession of over one million bottles of locally produced wine. Bombolini, chosen as the village's ersatz mayor, is finally given an opportunity to prove his worth — to himself and everyone else (including his estranged wife, played by a fire-breathing Anna Magnani) — by heading up the near-impossible task of concealing the majority of the vino from the approaching army. Quinn could often be counted on to whip up an acting storm and play to the rafters in at least one scene during the course of a picture — such as when his heroic commando pretends to be a coward in front of Nazi interrogators in 1961's The Guns of Navarone, or pretty much any given sequence in 1964's Zorba the Greek — and his grandstanding moment in this film arrives when he's being given directives by von Prum as they converse in the wine cellar. It's classic Quinn, placed into even greater relief by the underplaying of Kruger as the erudite Nazi who, amusingly, could be related to Paul Scofield's similarly cultured German officer from 1965's The Train (like The Secret of Santa Vittoria, a recent Blu-ray release from the Twilight Time label). A Golden Globe winner for Best Motion Picture (Musical or Comedy), this earned Oscar nominations for Best Original Score and Best Film Editing.
Blu-ray extras consist of the theatrical trailer and an isolated track of Ernest Gold's score.
Movie: ***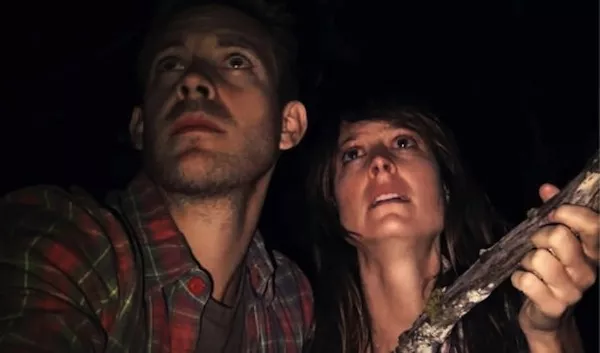 Bryce Johnson and Alexie Gilmore in Willow Creek (Photo: MPI Media Group & Dark Sky Films)
WILLOW CREEK (2014). Not my cup of tea as a comedic actor, Bobcat Goldthwait has successfully reinvented himself as a director of cult-films-in-the-making, forgoing appearing in such moronic comedies as his '80s output (Police Academy 4: Citizens on Patrol, Hot to Trot, etc.) and turning his attention to helming such interesting efforts as The World's Greatest Dad and God Bless America. Willow Creek is his latest, and while it's mostly engaging (especially during the first half) and always well-mounted, it's ultimately just one more entry in the beaten-to-death found-footage genre. Here, the starting point is the legend of Bigfoot, particularly the fearsome creature as it appeared in the 1967 Patterson-Gimlin footage that has been discredited by all but the most gullible as a hoax. A gung-ho filmmaker named Jim (Bryce Johnson) is a true believer, though, and with his skeptical girlfriend Kelly (Alexie Gilmore) in tow, he heads to the titular California region where the Patterson-Gimlin film was shot. The residents of the surrounding area have turned the myth into a cottage industry, and some of the film's best sequences find Jim and Kelly encountering this community co-opting: They eat a "Bigfoot Burger" (with the bun in the shape of a foot) and chuckle over a mural showing various Bigfoots (Bigfeet?) doing menial labor under human supervision. Johnson and Gilmore have an easygoing rapport, and they enliven the first part of the picture. But once their characters venture deep into the woods and set up camp, the film has nowhere to go but down the same narrative path as almost every found-footage tale since The Blair Witch Project began the craze back in 1999. Goldthwait's boldest decision as director is to film the couple's nocturnal cowering inside their tent in one continuous 20-minute shot, but the scene offers so little variety — and next to no mounting suspense — that, coupled with a rushed finale, Willow Creek ultimately proves to be no more disturbing than Dawson's Creek.
Blu-ray extras include audio commentary by Goldthwait, Johnson and Gilmore; behind-the-scenes footage shot by Johnson; a deleted scene; and the theatrical trailer.
Movie: **
Clive Owen and Juliette Binoche in Words and Pictures (Photo: Lionsgate)
WORDS AND PICTURES (2014). This small-scale effort casts Clive Owen as Jack Marcus, an English teacher at a prep school where the students are so engaged with social media that they've forgotten the beauty of the written word. Marcus himself has lost much of his former fire: A published author, he has long allowed himself to drown in booze, even having a vodka-filled thermos always on call in his car during working hours. The school acquires a new art teacher in Dina Delsanto (Juliette Binoche), a well-regarded artist whose painful rheumatoid arthritis has resulted in her not creating her own paintings in quite some time. Marcus and Delsanto engage in a testy battle in which he insists that a word is more powerful than a picture and she firmly takes the opposite view. They draw the students into their war, but over time, their own personal problems take precedence over their school activities, especially as Marcus continues to drink heavily and make a spectacle out of himself at every turn. Scripter Gerald Di Pego has fashioned a fair and balanced screenplay that allows both words and pictures to make their cases (although, as a writer, I admittedly found more power in Marcus' superb speech to his students about the potency of famous phrases uttered by Thomas Jefferson, Abraham Lincoln and Martin Luther King), and Owen and Binoche (who used her real-life paintings in the film) expertly punch across the passion of their characters. Although the students largely disappear from the proceedings during the film's second half — and there's one subplot involving a scandalous drawing that's feebly handled — the young performers are aptly cast in their roles, particularly Valerie Tian as the sensitive Emily (and among the faculty, look for Bruce Davison in a nice bit as Marcus' supportive colleague Walt). Words and Pictures quickly got lost in theaters, but it deserves a passing grade — and more than just a passing glance.
Blu-ray extras include audio commentary by director Fred Schepisi and a behind-the-scenes featurette.
Movie: ***