(View From The Couch is a weekly column that reviews what's new on Blu-ray and DVD. Ratings are on a four-star scale.)
Sigourney Weaver in Aliens (Photo: Fox)
ALIENS (1986). Fans of Ridley Scott's influential Alien will violently disagree, but here's that rare sequel that's actually superior to its predecessor. That's no knock against Scott's 1979 classic, which remains an excellent science fiction film and an excellent horror film — it's just that I prefer James Cameron's follow-up, an excellent science fiction, horror, action and war film. Given the picture's enduring popularity, there's really no point in rehashing the plot — OK, for the uninitiated (all two of you): Ripley (series star Sigourney Weaver) heads back into space and leads a team of military grunts against the nasty extra-terrestrials — but there's always room to rehash many of the highlights: Weaver's terrific performance in the central role; the contrast between the heroic Corporal Hicks (Michael Biehn) and the cowardly Private Hudson (Bill Paxton); the escalating villainy of company man Burke (Paul Reiser); scripter Cameron's ability to keep piling on confrontations and director Cameron's ability to milk them for maximum tension; and, of course, those wonderful alien creations. Nominated for seven Academy Awards (including Best Actress for Weaver), this won for Best Visual Effects and Best Sound Effects Editing.
The new 30th Anniversary Blu-ray Edition contains both the 1986 theatrical version and the 1991 Special Edition. Extras include audio commentary by Cameron and various cast and crew members; an introduction by Cameron to the Special Edition; deleted scenes; a piece on the film's design; pre-production art galleries; and an isolated track of the late James Horner's Oscar-nominated score. The set also comes with collectible art cards and a booklet featuring artwork from the Dark Horse Comics Aliens series.
Movie: ****
Ralph Fiennes and Dakota Johnson in A Bigger Splash (Photo: Fox)
A BIGGER SPLASH (2016). An English-language art-house effort that's positively drenched in thick, tasty Euro-ambiance, A Bigger Splash serves up tantalizing characters and even more tantalizing ideas before turning shockingly tame, predictable and, well, American during the second half. Set on the Italian island of Pantelleria, the picture takes a fly-on-the-wall approach to dissecting the lives of its principal players. Marianne Lane (Tilda Swinton) is a rock star resting her damaged vocal chords in the company of her documentarian boyfriend Paul (Matthias Schoenaerts). Their days of snogging, shagging and sunbathing are interrupted by the arrival of Harry Hawkes (Ralph Fiennes), a music producer (he once worked with the Rolling Stones) and Marianne's former lover. Accompanying Harry is the aloof Penelope (Dakota Johnson), the daughter Harry just learned he had. All of the performances are excellent, although this is primarily Fiennes' show. Often buttoned-up on screen, he really cuts loose here, playing a self-centered blowhard who talks nonstop and is prone to start dancing at any given moment. A Bigger Splash is utterly compelling as long as it focuses on its players and the way they all circle each other. But a late-inning infidelity and a late-inning crime — neither of which I bought for one millisecond — fly in the face of the carefully cultivated scenario, and it all culminates with a risible scene set in the rain. (Since director Luca Guadagnino reportedly isn't a fan of his source material, a 60s French flick starring Alain Delon, he would have been forgiven for jettisoning even more of it.) It's a shame, because a unique picture focused on conversation ends up getting compromised by the sort of humdrum plotting found weekly in more standard fodder — yet another example of the gift of gab getting trumped by the gift of drab.
Blu-ray extras include making-of featurettes and the theatrical trailer.
Movie: **1/2
A Boy Named Charlie Brown (Photo: Paramount & CBS)
A BOY NAMED CHARLIE BROWN (1969) / SNOOPY, COME HOME (1972). There have been approximately 50 Peanuts pictures over the course of approximately 50 years, but from that sizable amount, only five were produced for theatrical release (including last year's The Peanuts Movie), with the rest making their debuts as made-for-TV films. Here are the first two of that small sampling to play movie houses, each individually making its Blu-ray debut.
With audiences having already seen a handful of Peanuts specials (including 1965's A Charlie Brown Christmas and 1966's It's the Great Pumpkin, Charlie Brown) on the boob tube without having had to pay a cent, it was a gamble to make a theatrical feature centered around Charles M. Schulz's lovable characters and expect viewers to fork over money for the privilege. Happily, A Boy Named Charlie Brown proved to be a box office hit (10 years later, The Muppet Movie would enjoy similar success when transferring its roster of puppet players from the small screen to the large one), and it still retains its low-key charm. Charlie Brown, a failure at everything, decides to try his hand at the class spelling bee — to the amazement of everyone, he wins the local match and thus is propelled toward the national competition. This earned a Best Original Song Score Oscar nomination for Rod McKuen, Bill Melendez (who also provides the vocals for Snoopy), regular Peanuts scorer Vince Guaraldi, John Scott Trotter and Alan Shean, but the tunes prove to be the film's weakest component (at any rate, it was bested for the prize by The Beatles and Let It Be). It's the humor that carries the day — that, and the nostalgic twinges at seeing the beloved comic characters going through the usual routines (Lucy's psychiatric help booth, Linus' obsession with his blanket, and more) familiar from the long-running strip.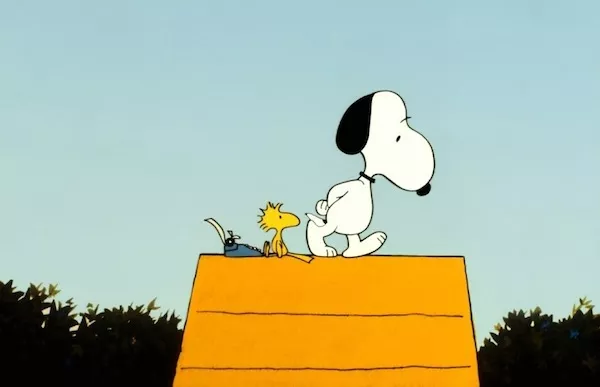 Snoopy, Come Home (Photo: Paramount & CBS)
Snoopy, Come Home is even better, with Charlie Brown's beagle companion taking off (with his feathered friend Woodstock in tow) to visit a hospitalized girl named Lila. His departure upsets Charlie Brown to no end; meanwhile, Snoopy and Woodstock have to contend with various challenges during their journey, particularly their temporary internment by a bossy little girl who claims them as her own pets. There's a great running gag (relevant to the plot) involving a string of "No Dogs Allowed" signs, and the film is alternately humorous (love Snoopy at the library, cracking up over a book titled The Bunnies) and heart-tugging (the farewell sequences seemingly run almost as long as those in the final Lord of the Rings flick!). Interestingly, Guaraldi wasn't involved with this picture's score or songs; instead, the marquee names were siblings Richard M. and Robert B. Sherman (Mary Poppins).
There are no extras on the Blu-rays.
Both Movies: ***
Chris Evans in Captain America: Civil War (Photo: Marvel & Disney)
CAPTAIN AMERICA: CIVIL WAR (2016). In an era when superhero flicks are released with the same frequency as bugs hitting windshields, this Marvel marvel still manages to rise above the fray and declare itself one of the finest pictures yet from Team Stan Lee. With no less than 12 superheroes on display, this clearly isn't a one-man show; at the same time, it's apparent that Captain America (as always, played to perfection by Chris Evans) is the principal character in this chapter of the ongoing saga, more personally tied to the proceedings thanks to the involvement of his childhood friend Bucky Barnes (Sebastian Stan), now known (and feared) as the Winter Soldier. There's very little that Captain America: Civil War does wrong. After Avengers: Age of Ultron, which allowed too much bloat to get in the way of some socko individual scenes, this one establishes a beautiful balance between quieter character-driven sequences and splashy action set-pieces. Tom Holland is introduced as the new Spider-Man/Peter Parker, and after the miscasting of Andrew Garfield in those underwhelming Amazing Spider-Hipster flicks, he's simply divine, the geeky, motormouth teen we all know and love. Also new to the roster is T'Challa (Chadwick Boseman), African royalty who dons the sleek duds to fight crime as the Black Panther. As for the series vets, Black Widow (Scarlett Johansson) continues to be perhaps the most fascinating and complex character in this Marvel world order: smart, brave, witty, troubled, and able to read people and situations better than most of the others. She's a dynamic figure — gee, you think somebody would have given her a movie of her own by now.
Blu-ray extras include audio commentary by directors Anthony and Joe Russo and scripters Christopher Markus and Stephen McFeely; a making-of piece; deleted scenes; a gag reel; and a sneak peek at the upcoming Doctor Strange.
Movie: ***1/2
Orson Welles in Chimes at Midnight (Photo: Criterion)
CHIMES AT MIDNIGHT (1965) / THE IMMORTAL STORY (1968) / THE TRANSFORMERS: THE MOVIE (1986). Let's shed yet another tear over the tragic career trajectory of Orson Welles, whose first feature was the movie most commonly called the greatest ever made yet who nevertheless found himself winding down on an embarrassing note.
After 1941's Citizen Kane, Welles certainly made a few more classics, but in all instances, he either had to toil at the beck and call of clueless studio heads or he had to scrape together his own financing to continue making movies. One example from the latter camp is Chimes at Midnight, which required funding from both Spanish and Swiss investors in order to get made. The result, however, was a film that many, including Welles himself, considered his best. Titled on screen as Falstaff (Chimes at Midnight), it's a Frankenstein monster of a movie in that Welles, as scripter, pieced together bits from no less than five Shakespeare plays. With his radical stitching, Welles elevated the character of Sir John Falstaff from supporting player to leading man, and he cast himself as the portly and gregarious companion to the young Prince Hal (Keith Baxter), later to become Henry V. Criticized at the time of its release for its low budget, the film is actually enhanced by its down-and-dirty aura, and Welles' performance is nothing short of brilliant. Veterans John Gielgud and Margaret Rutherford offer solid support as, respectively, Henry IV and Mistress Quickly, and the lengthy battle scene remains one of the finest ever committed to celluloid.
Orson Welles in The Immortal Story (Photo: Criterion)
A scathing review by the typically doltish Bosley Crowther in the New York Times killed any distribution plans for Chimes at Midnight, and it was barely seen in this country. Welles therefore continued to scrap for film projects, with one such example being the French production The Immortal Story. As Welles scholar François Thomas explains in one of the bonuses on the Blu-ray, this adaptation of a story by Isak Dinesen (aka Karen Blixen) wasn't considered a Welles picture (despite his participation as director, co-writer and co-star) as much as a vehicle for French acting treasure Jeanne Moreau. Debuting as a TV movie in its Gallic homeland (the Blu-ray offers the film both in English and French), the hour-long feature is minor but not without interest, with Welles cast as a dying man who longs to turn a popular myth involving a sailor and a woman into a real event.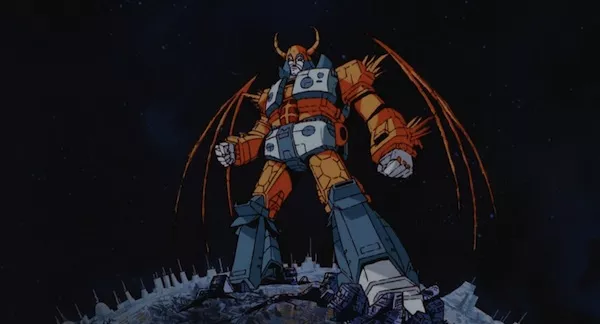 Orson Welles in The Transformers: The Movie (Photo: Shout! Factory & Hasbro)
Citizen Kane, The Magnificent Ambersons, Touch of Evil, The Lady from Shanghai and more — Welles made a healthy number of cinematic gems. So how did he end his career? By voicing a character in a god-awful Transformers animated feature. Welles died approximately a week after completing his work on The Transformers: The Movie, a fact that angered me to no end when I first caught this turkey theatrically back in '85. The passage of time certainly hasn't diminished the indignity: A joyless jumble, this box office dud is almost as wretched as the Michael Bay live-action sequels Revenge of the Fallen and Dark of the Moon, with cheap-jack animation and a waste of such talents as Leonard Nimoy, Eric Idle and, most of all, Welles.
Chimes at Midnight and The Immortal Story are both available individually from The Criterion Collection, while The Transformers: The Movie hails from Shout! Factory. Blu-ray extras on Chimes at Midnight include audio commentary by author James Naremore (The Magic World of Orson Welles); separate interviews with Baxter and Welles' daughter Beatrice Wells (who at 9 played the page in the film); and footage from a 1965 episode of The Merv Griffin Show featuring Welles being interviewed while working on the film. Extras on The Immortal Story include audio commentary by film scholar Adrian Martin; an interview with co-star Norman Eshley; and the 1968 documentary Portrait: Orson Welles. Extras on The Transformers: The Movie (available for viewing in either widescreen or full frame) include audio commentary by director Nelson Shin, story consultant Flint Dille, and co-star Susan Blu; a retrospective making-of piece; storyboards; and TV spots.
Chimes at Midnight: ***1/2
The Immortal Story: **1/2
The Transformers: The Movie: *
Madison Wolfe in The Conjuring 2 (Photo: Warner)
THE CONJURING 2 (2016). When The Conjuring was released in 2013, I was one of those who rocked the status quo — that contingent comprised of those critics and filmgoers who declared that Ohmygodthisisthescariestmovieevermade! — by giving the film a mixed, 2-1/2-star review and writing, "I suppose it's possible to be shaken to the core by this movie — even if it's really not much more frightening than, say, The Flintstones Meet Rockula and Frankenstone or Scooby-Doo on Zombie Island — but ultimately, it's just one more recycled haunted-house yarn, albeit one that's modestly elevated by James Wan's relatively restrained direction and a roster of characters who are more levelheaded than the usual gang of idiots who populate films of this nature." With a 133-minute run time and a promise of more of the same, The Conjuring 2 wasn't high on my priority list — and yet I dug it more than I did the original. Sure, sure, it's impossible to believe that director-cowriter Wan really means for viewers to believe all this nonsense is based on fact, and, when all is said and done, it doesn't deviate in any discernible ways from the usual haunted-house flicks. But Vera Farmiga and Patrick Wilson, who gave solid performances in the original, make an even greater connection here as the real-life wife-and-husband team of paranormal investigators Lorraine and Ed Warren, whisked off to England in 1977 to confirm the legitimacy of the haunting of a house occupied by a single mom (Frances O'Connor) and her four children. The setting of a North London council house makes a nice change from the Amityville Lite stateside houses seen in thrillers of this ilk, while 13-year-old Madison Wolfe is excellent as Janet, the demure daughter who's most affected by the supernatural shenanigans.
Blu-ray extras include a making-of featurette; deleted scenes; and a piece on the incident that inspired the film.
Movie: ***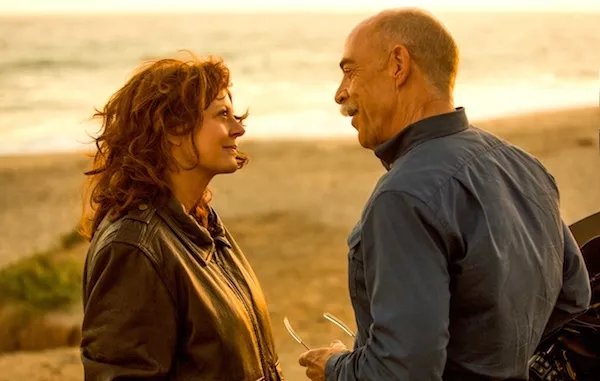 Susan Sarandon and J.K. Simmons in The Meddler (Photo: Sony)
THE MEDDLER (2016). Overbearing mothers in movies are as plentiful as shells on the sand, but rare is the overbearing mother who's written with such love and care that she ends up being less defined by her obnoxiousness than by everything else. Such a mom can be found at the center of the latest from writer-director Lorene Scafaria, whose lovely and underrated Seeking a Friend for the End of the World made my 10 Best list for 2012. Following the death of her husband, Marnie (Susan Sarandon) takes herself and her sizable wealth (her spouse left her set for life) from the East Coast to the West, where she hopes to spend more time with her grown daughter Lori (Rose Byrne). Lori is a Hollywood screenwriter still stinging over the guy who left her — she's also a workaholic, which means she has little time for a mom who calls her incessantly on her cell phone and babbles endlessly about whatever pops into her head. Forced to fill her days by other means, Marnie ends up immersing herself in the business of others but actually doing them good — she even finds time to hang out with a potential beau, a retired cop who goes by Zipper (J.K. Simmons). Marnie is a terrific character, brought to life not only by Sarandon (it's her best work in ages) but also by Scafaria, who refuses to let the woman lapse into the same sort of cartoonish caricature displayed by, for instance, Barbra Streisand in 2012's The Guilt Trip or even Sarandon herself in 2014's Tammy. Marnie may be a high-maintenance handful, but she's never without our sympathy or our concern. Byrne is also good as the daughter who just wants some room to breathe, while Simmons is absolutely charming as the gruff yet soft-hearted guy who knows it's never too late for love (presumably, Sam Elliott was busy).
DVD extras include audio commentary by Scafaria and Sarandon; a making-of featurette; and a gag reel.
Movie: ***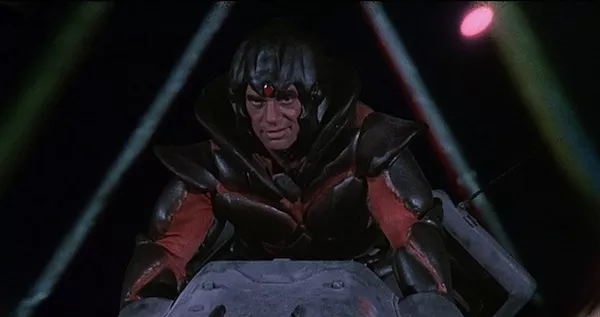 Mike Preston in Metalstorm: The Destruction of Jared-Syn (Photo: Shout! Factory)
METALSTORM: THE DESTRUCTION OF JARED-SYN (1983). Like Spacehunter: Adventures in the Forbidden Zone and Yor: The Hunter from the Future, here's another cheesy 1983 production that hogged marquee space with its clunky, subtitle-enhanced moniker. A comparatively ambitious effort from filmmaker Charles Band (the Trancers and Puppet Master franchises), this is basically a knockoff of both the Mad Max and Star Wars series, with locales straight out of George Miller and characters straight out of George Lucas. On the wasteland planet of Lemuria, a ranger named Dogen (Jeffrey Byron, passable) hopes to stop a megalomaniacal ruler named Jared-Syn (Mike Preston, awful); along the way, he rescues a miner's daughter (Kelly Preston, no relation to Mike), taps the services of a weary fighter (Tim Thomerson as a poor man's Han Solo), and strikes an uneasy alliance with the Cycloplian leader Hurok (Richard Moll). The quality of the visual effects are variable, but the makeup, set and vehicular designs are all impressive; points also for a rousing score by Richard Band (Charles' younger brother). Yet in terms of plotting and pace — to say nothing of characterizations and casting — this is often embarrassingly bad, and the ending hints at a sequel that fortunately never transpired.
With various objects frequently shoved at the camera, it's obvious this was filmed in 3-D, back during the early '80s revival that also produced the likes of Jaws 3-D, Amityville 3-D and Band's own Parasite. Accordingly, the new Blu-ray edition from Shout! Factory contains both the 2-D and 3-D versions of the movie. Extras consist of a retrospective making-of piece; a still gallery; the theatrical trailer; and a radio spot.
Movie: *1/2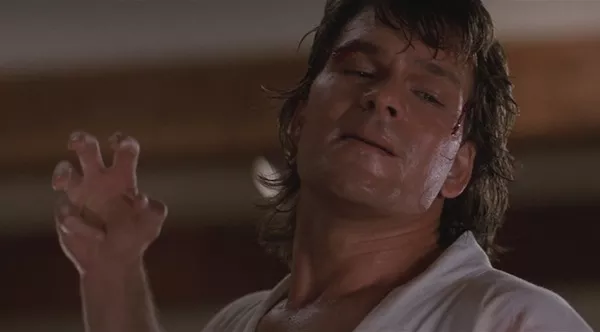 Patrick Swayze in Road House (Photo: Shout! Factory & MGM)
ROAD HOUSE (1989). An enjoyable camp outing, Road House is basically like 1988's Cocktail with multiple fractures added for good measure. Another titter-worthy picture centered on a hunk who catches the eyes of all the ladies while working in a bar, this one casts Patrick Swayze as Dalton, a legendary bouncer who accepts a gig dealing with rowdy customers at a Missouri nightspot known as the Double Deuce. Because he possesses brains as well as brawn (you see, he holds a PhD in Philosophy to go along with all those broken bones), Dalton finds a suitable lover in the local doctor (Kelly Lynch) who treats his wounds. But when he's not busy raising Doc's temperature, he's helping the citizenry stand against the ruthless millionaire (a laughable Ben Gazzara) who controls the town. This is the sort of slam-bang fare that lists more stunt people than actors in the closing credits — it's dopey beyond measure, but the action sequences are impressive, and, besides, its thickheadedness is part of its appeal. Sam Elliott is terrific as Wade Garrett, Dalton's close friend and yet another legendary bouncer, and in a picture packed with steroid-injected, tough-guy cracks (e.g. "I heard you had balls big enough to come in a dump truck, but you don't look like much to me," "Pain don't hurt," "I used to fuck guys like you in prison!"), Wade's offhanded mockery of the bar's name still elicits the biggest laugh from me.
Blu-ray extras include audio commentary by director Rowdy Harrington; separate audio commentary by Road House fans Kevin Smith and Scott Mosier; an hour-long making-of retrospective; an interview with Harrington; a piece on the stunts; vintage interviews with Swayze, Elliott and others; and the theatrical trailer.
Movie: **1/2