(View From The Couch is a weekly column that reviews what's new on Blu-ray, DVD and Streaming. Ratings are on a four-star scale.)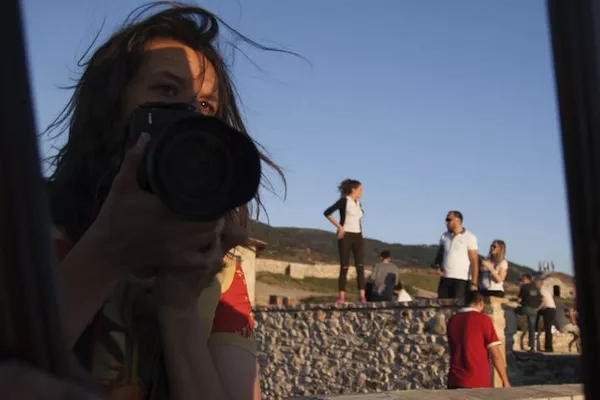 Cameraperson (Photo: Criterion)
CAMERAPERSON (2016). Kirsten Johnson is a world-class documentary cinematographer whose credits include the Oscar-nominated The Invisible War, the Oscar-winning Citizenfour, and Michael Moore's doc-blockbuster Fahrenheit 9/11. As she explains in a note at the beginning of Cameraperson, this film is a collection of 100 minutes of various footage she shot for other pictures — a "Greatest Hits" compilation, as it were. Initially, the randomness makes it difficult to fully get absorbed by the movie, as it flits from a Middle Eastern sheepherder to a Western landscape to other global snapshots. But as the film progresses, the topics deepen, particularly once it becomes evident that Johnson will keep returning to certain stories. What eventually emerges is less a diary of the daily grind of a professional cameraperson and more a look at the brutal realities of life around the world, an existence often made tolerable only by the sheer goodness of some people and the precious memories that take shape around the positives. This is a raw and riveting work, with many scenes that are difficult to watch but also impossible to ignore. Although it made it all the way to the Academy shortlist, Cameraperson failed to earn an Oscar nomination for Best Documentary Feature — it did, however, earn similar honors from over a dozen other outfits, with the RiverRun International Film Festival here in NC (Winston-Salem, to be exact) handing it a Special Jury Prize "for illuminating the art and legacy of documentary filmmaking."
Blu-ray extras on the Criterion edition include the featurette Editing Cameraperson; a roundtable discussion with Johnson, producer Gini Reticker and others; excerpts from a chat between Johnson and Moore; and Johnson's 2015 short film The Above.
Movie: ***1/2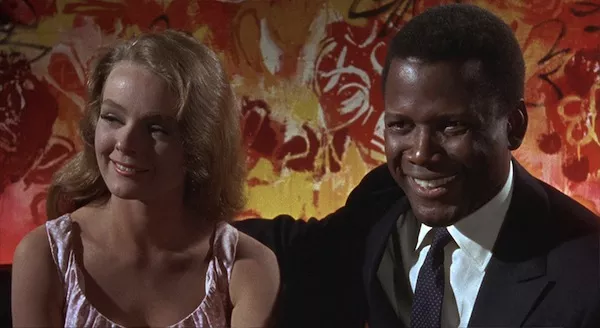 Katherine Houghton and Sidney Poitier in Guess Who's Coming to Dinner (Photo: Columbia)
GUESS WHO'S COMING TO DINNER (1967). Second only to The Graduate as the top moneymaking film of 1967, Guess Who's Coming to Dinner marked the ninth and final screen teaming of Spencer Tracy and Katharine Hepburn and capped an extraordinary 12-month period for Sidney Poitier, who had three sizable hits in the same calendar year thanks to To Sir, with Love, the Best Picture Oscar winner In the Heat of the Night, and this movie. Tracy and Hepburn star as San Francisco liberals forced to analyze their own beliefs when their grown daughter (Katharine Houghton, Hepburn's real-life niece) returns home in the company of a black doctor (Poitier) — and subsequently announces that they're in love and plan to get married. One of Hollywood's great progressive minds, director-producer Stanley Kramer had overseen such vital films as Judgment at Nuremberg, On the Beach and The Defiant Ones, but this marks a rare instance when the entertainment is almost capsized by the ideals. Initially breezy without ever sacrificing any of its points, the picture eventually resorts to a series of static speeches among carefully paired-off characters — it's so stagy, it's hard to believe William Rose's script wasn't adapted from a play. Luckily, the actors carry the day, particularly Poitier, Cecil Kellaway as the open-minded Monsignor Ryan and, taking MVP honors, Tracy, who was seriously ill during production and passed away shortly after filming ended. Nominated for 10 Academy Awards, including Best Picture, Actor (Tracy), Supporting Actor (Kellaway), Supporting Actress (Beah Richards as Poitier's mother) and Director, this won for Best Actress (Hepburn) and Best Original Screenplay.
Blu-ray extras include introductions by Karen Kramer, Steven Spielberg, Quincy Jones and Tom Brokaw; a retrospective making-of featurette; and a piece on Kramer.
Movie: ***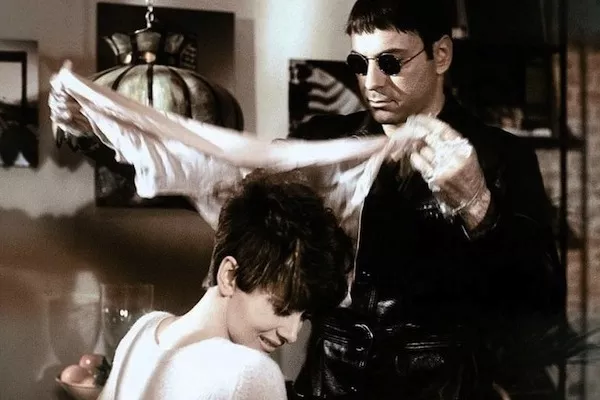 Audrey Hepburn and Alan Arkin in Wait Until Dark (Photo: Warner)
WAIT UNTIL DARK (1967). In the same calendar year in which Audrey Hepburn delivered an excellent performance in Stanley Donen's Two for the Road (recently reviewed here), she gave an even more acclaimed one in Terence Young's Wait Until Dark, a taut adaptation of the Broadway hit that had starred Lee Remick and Robert Duvall. Whereas Remick had earned a Tony Award nomination for her work, Hepburn matched that with a Best Actress Oscar nomination — the fifth and final one of her distinguished career (she had already won on her first try, for 1953's Roman Holiday). Hepburn stars as Susy Hendrix, a blind woman who gets terrorized in her own apartment by a trio of crooks searching for a wayward shipment of heroin. Of the three, Mike (Richard Crenna) is the most sensitive while Carlino (Jack Weston) just does what he's told — the real wild card is group leader Roat (Alan Arkin), soon revealed as a sadist and a killer. Despite nearly all of the action taking place within the confines of a single apartment, the picture amazingly never feels like it was lifted from the stage. Instead, Young (helmer of three of the first four James Bond films) keeps the action fluid and the suspense tight. Those who are used to only seeing Arkin as the sweet old man in such efforts as Argo, Get Smart and Little Miss Sunshine will be startled by his menacing turn in this picture. Incidentally, one of the Broadway revivals bowed in 1998 and starred Marisa Tomei as Suzy and Quentin Tarantino as Roat — it was roundly panned, with most scribes stating that Tomei was miscast while Tarantino was outright awful.
Blu-ray extras include a retrospective featurette and the theatrical trailer.
Movie: ***1/2
Shirley MacLaine, Paul Newman and Jane Wald in What a Way to Go! (Photo: Kino)
WHAT A WAY TO GO! (1964). The talents of an incredible group of actors are pooled for this effervescent comedy that was originally conceived as a starring vehicle for Marilyn Monroe. The 1962 death of Monroe eventually led to Shirley MacLaine being cast in the role of Louisa May Foster, a true romantic who, as she explains to a psychiatrist (Robert Cummings), has a bad habit of winding up with dead husbands. Seeking the simple life, a young Louisa rejects the advances of her town's wealthy Casanova (Dean Martin) and instead settles for an amiable storeowner (Dick Van Dyke). And thus begins a set pattern in which she ends up losing her lovers but becoming wealthier with each successive demise. Paul Newman is a riot as a hyperactive Parisian artist, Robert Mitchum musters no small measure of sympathy as a business tycoon (his denouement is the only one that feels completely out of place), and Gene Kelly delivers a knowing performance as a small-time clown who becomes Hollywood's biggest — and most conceited — star. The fantasy sequences serve as spoofs of different types of films (silents, foreign flicks, lush melodramas, etc.), and MacLaine has fun donning the dozens of different outfits provided by legendary costume designer Edith Head. What a Way to Go! earned a pair of richly deserved Oscar nominations, for Best Color Art Direction-Set Decoration and Best Color Costume Design.
Blu-ray extras consist of theatrical trailers.
Movie: ***
FROM SCREEN TO STREAM
(Recommended films currently available on streaming services)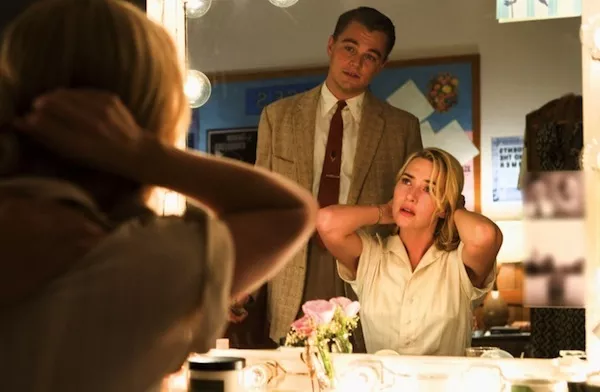 Leonardo DiCaprio and Kate Winslet in Revolutionary Road (Photo: DreamWorks & Paramount)
Recently Added:
REVOLUTIONARY ROAD (2008). Revolutionary Road reunites Titanic stars Leonardo DiCaprio and Kate Winslet, but those expecting to see the pair again in the throes of starry-eyed passion will be disappointed — instead, romance is kept at a minimum in this edgy drama, a must-see for adults who don't mind getting their hands dirty on messy emotions. Sam Mendes, the Oscar-winning director of American Beauty, has made another American beauty, this one a powerful examination of a young couple trying to deal with the plasticity of 1950s suburbia. Set in Connecticut, the story (adapted by Justin Haythe from Richard Yates' novel) concerns itself with Frank and April Wheeler, who view themselves as being different from everyone else in their pristine neighborhood. But time spent toiling away within the boundaries of the so-called American dream quickly takes its toll, so in an effort to revitalize their dreams as well as salvage their marriage, April suggests that they move to Paris and start a new life. Flush with excitement, the couple start to make plans, only to find that old routines — no matter how detested — die hard. "You jump, I jump," the lovers in Titanic told each other. Here, the two aren't as united, each standing on the brink of uncertainty, peering into the dark abyss of an unknown future, and trying not to tumble into the chilly depths of American ennui. (Hulu)
THELMA & LOUISE (1991). Director Ridley Scott's galvanizing picture, in which two put-upon women (Susan Sarandon and Geena Davis) hit the road after shooting a would-be rapist dead, created quite the stir when it debuted back in the summer of '91, as it was endlessly debated on op-ed pages as much as in A&E sections. This sleeper hit was quickly dismissed by some as a male-bashing fantasy and overanalyzed by others as a feminist manifesto; scripter Callie Kouri claimed that she intended neither. At any rate, this beautifully realized film remains a trenchant, almost mystical slice of Americana, with terrific turns by the two leads and an able supporting cast that includes Harvey Keitel as the sympathetic cop on their trail and Brad Pitt in his breakout role as a hunky hitchhiker. Nominated for six Academy Awards (including Best Actress for both leading ladies and Best Director), this scored Kouri the statue for Best Original Screenplay. In an interesting bit of trivia, Jodie Foster and Michelle Pfeiffer had first crack at the film, and Pfeiffer also turned down The Silence of the Lambs; Foster would go on to win the '91 Oscar for Silence over T&L's Sarandon and Davis. (Amazon Prime)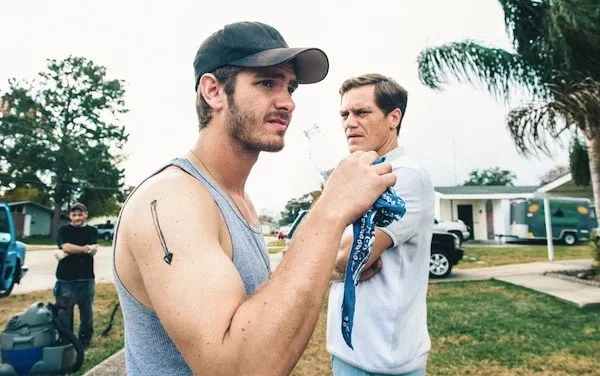 Andrew Garfield and Michael Shannon in 99 Homes (Photo: Broad Green Pictures)
Still Playing:
99 HOMES (2015). This harrowing drama contains arguably the most truthful snatch of dialogue found in any film released in the last few years. "America doesn't bail out the losers. America was built by bailing out winners, by rigging a nation of the winners, by the winners, for the winners." (The Big Short would subsequently offer a full movie built around this line.) The person speaking is Rick Carver (Michael Shannon, current Oscar nominee for Nocturnal Animals), a real estate maven who's explaining how the American Dream is pretty much stacked from the get-go. The person listening is Dennis Nash (Andrew Garfield, current Oscar nominee for Hacksaw Ridge), a hard-working handyman who has recently been evicted from his home for falling behind on payments. The year is 2008, the housing market has gone belly up, and property swindlers like Carver are getting filthy rich while those around them are sinking without lifelines. Nash is luckier than most: He has a shot at success ... provided he's comfortable selling his soul by working for Nash and throwing people out of their homes. Writer-director Ramin Bahrani only falters heading into the resolution, when whopping coincidences and obvious developments prove to be the order of the day. (Amazon Prime)