(View From The Couch is a weekly column that reviews what's new on Blu-ray and DVD. Ratings are on a four-star scale.)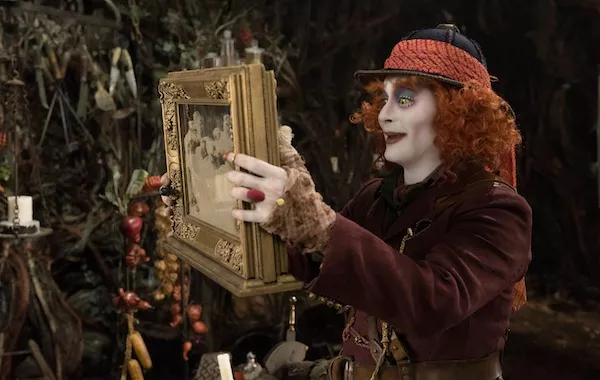 Johnny Depp in Alice Through the Looking Glass (Photo: Disney)
ALICE THROUGH THE LOOKING GLASS (2016). The Walrus and the Carpenter are nowhere to be found in this follow-up to 2010's Alice in Wonderland, meaning audiences will have to make do with the addition of Marty McFly and Captain Jack Sparrow. Because while the title suggests this is an adaptation of Lewis Carroll's Through the Looking-Glass, director James Bobin and scripter Linda Woolverton have as much use for Carroll's wondrous text as a white rabbit does with a Wall Street Journal subscription. That's a real shame, because true innovation is often in short supply when it comes to family features. Yet the profiteers behind this picture couldn't care less, preferring instead to lazily trigger memories of past hits rather than offer anything that might challenge or ruffle audiences. So why not open with a sea battle straight out of Pirates of the Caribbean? And why not make the central storyline a twist on the Back to the Future series, with Alice (Mia Wasikowska) called upon to traverse the years in a time machine in an effort to save her own eccentric Doc Brown, the perpetually annoying Mad Hatter (Johnny Depp in his now-standard jack-in-the-box mode)? If the previous movie gave us a few pages of needless backstory, then this one offers a War and Peace-sized volume of similar nonsense. It turns out that The Hatter (not named by Carroll but here called Tarrant Hightopp) suffers from even more daddy issues than George W. Bush, while the White Queen (Anne Hathaway) harbors a terrible secret. Even Alice, a curious child in the books but now a colorless adult, has to deal with the daunting legacy of her late father and the crippling interference of her well-meaning mother (Lindsay Duncan). It's all so ... 2016.
Blu-ray extras include audio commentary by Bobin; a making-of featurette; deleted scenes; and the music video for P!nk's "Just Like Fire."
Movie: *1/2
The many faces of Ellar Coltrane throughout Boyhood (Photo: Criterion)
BOYHOOD (2014). Second only to Birdman as the best film of 2014 (and even then the difference is wafer-thin; see full Best & Worst here), writer-director Richard Linklater's Boyhood offers a unique angle: Follow the life of an individual (as well as those around him) from the age of 7 to the age of 18, shooting new footage over the course of all 12 years. Filmmakers like Michael Apted, François Truffaut and Satyajit Ray followed individuals in similar veins, but never for just one feature, and never in this condensed a time period. The result is a work that easily breaks free of the shackles of "just a gimmick" and emerges as a superb motion picture in its own right. Ellar Coltrane landed the leading role of Mason, and he was a great pick. A cute moppet at 7, he transforms before our eyes into a handsome teen of the brooding, soft-spoken variety. Equally as important is Linklater's own daughter Lorelei Linklater, cast as Mason's older sister Samantha. When we first meet them, their parents are already divorced: Mom Olivia (Patricia Arquette, copping the Best Supporting Actress Oscar) raises them as best she can, while Dad Mason Sr. (Ethan Hawke) is only just now returning to their Texas stomping grounds. Over the ensuing years, we watch as Olivia tragically finds herself attracted to men who end up being alcoholic bullies while Mason Sr. pops up on weekends with the hope of bonding more fully with his offspring. The film serves as a powerful reminder of the vagaries of time: It forces viewers to examine their own march through life, going to bed each night and waking up wondering where the past years went but quietly optimistic about the ones that rest ahead.
Blu-ray extras include audio commentary by Linklater and various cast and crew members; a making-of featurette; a discussion with Linklater, Arquette and Coltrane; and a conversation between Hawke and Coltrane.
Movie: ****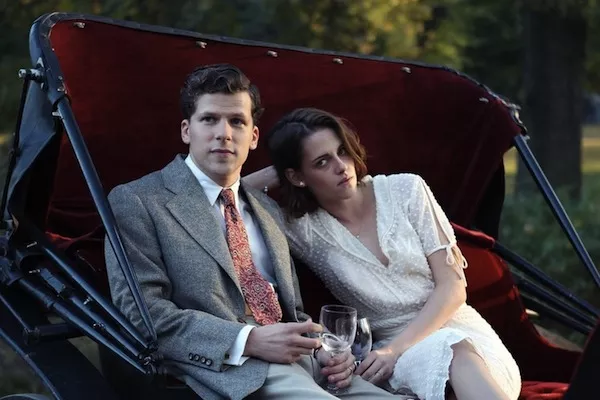 Jesse Eisenberg and Kristen Stewart in Cafe Society (Photo: Lionsgate)
CAFÉ SOCIETY (2016). The latest Woody Allen feature finds the omniscient narrator (Allen himself) beginning the picture by commenting on the Technicolor glory of vintage Hollywood flicks. That's the cue for three-time Oscar-winning cinematographer Vittorio Storaro (Apocalypse Now, Reds) to splash the screen with gorgeous, color-saturated images that deserve to be in the service of a better movie — ditto the production design by regular Allen contributor Santo Loquasto. In all other respects, this is a particularly drowsy effort from the prolific filmmaker, here helming his 46th (or 47th, if you count his dubbing duties on 1966's What's Up, Tiger Lily?) feature in writer-director mode. This one finds the Allen surrogate, a young nebbish named Bobby Dorfman (Jesse Eisenberg), moving from New York to Los Angeles, where he ends up working for his Uncle Phil (Steve Carell), a powerful agent, and falling for Phil's secretary Vonnie (Kristen Stewart). What Bobby doesn't realize is that Vonnie is the mistress of the married agent; after various complications, he returns to New York, where he goes into business with his older, not entirely reputable brother Ben (Corey Stoll) and falls for the lovely Veronica (Blake Lively). Familiar Allen themes and plotlines are regurgitated for the umpteenth time, but here there are no hilarious quips or standout performances to prop them up — few lines raise so much as a mild chuckle, and none of the actors have characters vibrant enough to break through the narrative flatlining (Stewart arguably comes closest, though her role isn't particularly well-defined). Look for Asheville native Paul Schneider (All the Real Girls, Bright Star) as Parker Posey's squeeze, and that's Sheryl Lee, Twin Peaks' Laura Palmer herself, playing Carell's wife.
Blu-ray extras consist of footage from the premiere; and a photo gallery.
Movie: **
Zhang Ziyi in Crouching Tiger, Hidden Dragon (Photo: Sony Pictures Classics)
CROUCHING TIGER, HIDDEN DRAGON (2000). With its dominance of critics' "10 Best" lists, its $128 million gross (a record for a foreign language flick), and its abundance of Oscar nominations, this martial arts epic penetrated the mainstream consciousness of America more than almost every so-called art-house effort that preceded it. Adapted from a novel by Wang Du Lu but spiritually guided by director Ang Lee's own sensibilities — as well as benefitting from an operatic sweep that suggests the Westerns of Sergio Leono — this Taiwanese import is a film of unexpected complexity, yet also one with its fair share of melodrama and lowbrow comedy. It's at once pulpy and profound, a movie that never forgets to have fun even as it's tackling such straight-faced issues as honor, devotion and compassion. Set in ancient China and centering on three marvelously delineated characters — the legendary warrior Li Mu Bai (Chow Yun Fat), the equally formidable Yu Shu Lien (Michelle Yeoh) and the headstrong teenager Jen (Zhang Ziyi) — the story kicks into high-flying gear when a remarkable sword known as the Green Destiny gets stolen, a development that leads to all sorts of rich character revelations, startling plot twists, and astonishing action sequences. Nominated for 10 Academy Awards (including Best Picture), it won four: Best Foreign Language Film, Cinematography, Music Score, and Art Direction & Set Decoration.
Blu-ray extras include audio commentary by Lee and co-scripter James Schamus; separate audio commentary by cinematographer Peter Pau; a making-of featurette; six never-before-seen deleted scenes; retrospective interviews with Lee, Schamus and editor Tim Squyres; and the music video (in both English and Mandarin) for "A Love Before Time."
Movie: ***1/2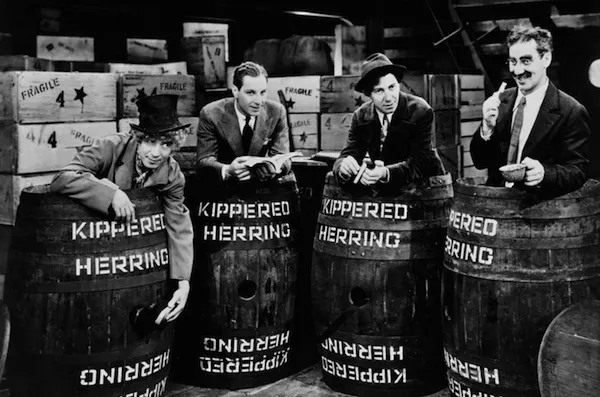 Harpo, Zeppo, Chico and Groucho Marx in Monkey Business (Photo: Universal)
THE MARX BROTHERS SILVER SCREEN COLLECTION (1929-1933). It's been a long time coming, but The Marx Brothers have finally brought their unique brand of insanity to Blu-ray in a lovely box set featuring restored versions of the team's first five films. What's distinctive about these efforts is that they not only feature the Marxes we all know and love — Groucho, Harpo and Chico — but also brother Zeppo, the outfit's straight man who was part of the clan's vaudeville act but eventually quit following their stage success and these initial five flicks.
The Cocoanuts (1929), set at a ramshackle hotel run by Groucho, and Animal Crackers (1930), in which Groucho's Captain Spaulding and the others contend with a stolen painting, were both based on the team's Broadway hits and squeak by on the top-notch comedy quotient; everything else, from the tepid musical numbers to the inert direction, mark them as the least satisfying Marx flicks until the team's late-career slide. Monkey Business (1931) is more like it, with the boys cast as stowaways aboard an ocean liner. Watching each one try to pass himself off as Maurice Chevalier is a comic highlight, and this title has the added bonus of featuring footage not seen since before a 1936 reissue. Horse Feathers (1932) is even better, with Huxley College president Quincy Adams Wagstaff (Groucho, natch) turning to two bumblers (Harpo and Chico, natch) to help the school's football team win their big match against Darwin College; somehow, Harpo manages to incorporate a horse-drawn vehicle into their game plan.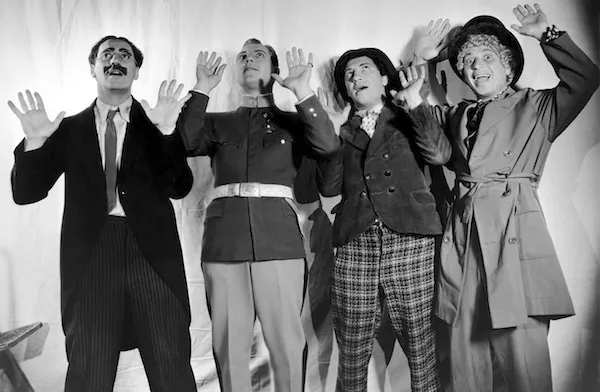 The Marx Brothers in Duck Soup (Photo: Universal)
Duck Soup (1933), though, is the masterpiece of the collection, an outrageous anti-war satire in which Rufus T. Firefly (Groucho) has no real justification to take his country into battle but does so anyway. Ranking fifth on the AFI's list of the 100 greatest comedies, this was also featured in Hannah and Her Sisters, when Woody Allen's angst-ridden character catches a screening and becomes convinced by the film's sheer mirth that life is worth living after all. Certainly, true movie fans haven't lived until they've caught its nonstop barrage of classic bits: the mirror sequence, Firefly's treatment of Ambassador Trentino (Louis Calhern), and the priceless banter between Groucho and perennial target Margaret Dumont ("Not that I care, but where is your husband?" "He's dead." "I bet he's just using that as an excuse." "I was with him to the very end." "No wonder he passed away." "I held him in my arms and kissed him." "Then it was murder!").
Blu-ray extras include audio commentaries on all five films by various film critics and scholars; the documentary The Marx Brothers: Hollywood's Kings of Chaos; and interviews from The Today Show featuring Groucho, Harpo, and Harpo's son Bill. The set also contains an 8-page booklet with photos and the essay "The Marx Brothers: From Vaudeville to Hollywood."
The Cocoanuts: ***
Animal Crackers: ***
Monkey Business: ***1/2
Horse Feathers: ***1/2
Duck Soup: ****
Billy Dee Williams and Sylvester Stallone in Nighthawks (Photo: Shout! Factory)
NIGHTHAWKS (1981). The big reveal regarding Sylvester Stallone's career is that, excepting roughly half the Rocky flicks, there aren't many quality films gracing his resume (I mean, do even fans of the Rambo series really believe those to be good movies?). With its troubled production history and plenty of slicing and dicing in the editing room (mandated at various points by the MPAA, the studio, and Stallone himself), Nighthawks would logically seem to be a dud for the loss column; instead, it's actually one of the better efforts from the superstar. Besides, where else can one find the screen being shared by the who's-who gallery of Rocky Balboa, Lando Calrissian, Roy Batty, the Bionic Woman, and the bald lady from the first Star Trek film? Stallone and Billy Dee Williams star as DaSilva and Fox, two undercover cops tasked to a special unit that's been formed to track down Wulfgar Reinhardt (Rutger Hauer, in his first American feature), an international terrorist who fled to New York after his brutal methods shocked even his fellow anarchists. Now only in touch with one colleague (Persis Khambata), Wulfgar seeks to continue his reign of terror stateside, not counting on DaSilva to interfere with every move he makes. Gutted by the studio initially to avoid an X rating for violence and then to pick up the pace (gone are several moments featuring DaSilva and his ex-wife, played by Lindsay Wagner), Nighthawks was further trimmed by Stallone to minimize the fact that Hauer was stealing the picture out from under him (note to Stallone: Sorry, it didn't work). Even with these edits, the movie still works as a breezy action yarn that's further distinguished by a finale that even today might catch some viewers by surprise.
Blu-ray extras include interviews with Wagner, co-star Catherine Mary Stewart, writer Paul Sylbert, and others; and the theatrical trailer.
Movie: ***
Lily Tomlin, Dolly Parton and Jane Fonda in 9 to 5 (Photo: Twilight Time)
9 TO 5 (1980). Second only to The Empire Strikes Back as the top-grossing film of 1980 (just edging out the Wilder-Pryor comedy Stir Crazy for the place position), 9 to 5 remains as topical — and as funny — as ever, even a quarter-century down the timeline. With writer-director Colin Higgins and co-scripter Patricia Resnick working from an idea proposed by star Jane Fonda, the movie hardly seems dated when viewed through the prism of the contemporary workplace, where incompetent men reap the glories even while the intelligent women under them are doing most of the hard work (and for 78 cents to their dollar, at that). That serious subject is given a lively comic sheen in this picture, as three women — new hire Judy Bernly (Fonda), office manager Violet Newstead (Lily Tomlin) and secretary Doralee Rhodes (Dolly Parton) — grow increasingly tired of the behavior of their doltish boss, the "sexist, egotistical, lying, hypocritical bigot" Mr. Hart (an all-in performance from Dabney Coleman), and end up holding him prisoner after a series of outlandish escapades. Fonda is fine as the buttoned-down divorcée (I chuckled when she naively refers to S&M as "M&M's"), but her co-stars are even better, with Tomlin delivering her salty barbs with the right spin and Parton proving to be an utter delight in her film debut. Speaking of Dolly: Country songs don't usually find favor with the Academy, but her smash single "9 to 5" earned an Oscar nomination for Best Original Song, competing against another excellent country tune: Willie Nelson's "On the Road Again," from Honeysuckle Rose (incidentally, both lost to the title track from Fame).
Blu-ray extras include audio commentary by Fonda, Tomlin, Parton and producer Bruce Gilbert; separate audio commentary by Resnick and film historians Julie Kirgo and Nick Redman; a retrospective making-of featurette; deleted scenes; and a gag reel.
Movie: ***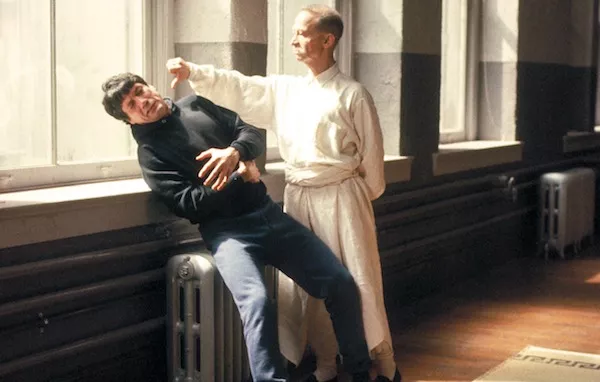 Fred Ward and Joel Grey in Remo Williams: The Adventure Begins (Photo: Twilight Time)
REMO WILLIAMS: THE ADVENTURE BEGINS (1985). The sequelitis that gripped many a film during the mid-1980s — even sorry efforts like Hardbodies (1984) and Angel (ditto) received follow-ups, for God's sake — didn't quite spread to every project released during this timeframe. The makers of 1984's The Adventures of Buckaroo Banzai Across the 8th Dimension (recently reviewed here) envisioned several screen sagas for their unique hero, but the franchise was aborted after just one. The same fate befell this takeoff of The Destroyer book series, a missed-opportunity exercise that might as well have been called Remo Williams: The Adventure Begins ... and Ends. The problem with the picture starts with the casting of the lead role: Fred Ward is a damn fine actor — check out his dramatic chops in The Right Stuff and his comedic ones in Big Business — but even with the filmmakers' desire to build a series around a working-class James Bond, he's ill-suited for the task, coming across as that proverbial bull in the china shop. His character is a cop who's transformed into an elite operative for an American outfit that spies on all Americans for their own good (a pre-Patriot Act in all its implicit creepiness); this NSA-style snooping leads the clandestine group to uncover corruption that's affecting the U.S. Army. The story is drab in the extreme, though there's one nicely staged set-piece largely filmed on the Statue of Liberty (the rest was shot on a partial replica). Joel Grey co-stars as Remo's mentor, the martial arts master Chiun, and Carl Fullerton earned a Best Makeup Oscar nomination for his ability to turn a 53-year-old Caucasian into an 80-year-old Korean.
Blu-ray extras include audio commentary by film historians Eddy Friedfeld, Lee Pfeiffer and Paul Scrabo; various making-of featurettes; the theatrical trailer; and an isolated track of Craig Safan's score.
Movie: **
Madeleine Stowe and Tim Robbins in Short Cuts (Photo: Criterion)
SHORT CUTS (1993). The opening shot in Robert Altman's masterful feature is that of helicopters spraying the Los Angeles landscape in an effort to control the Medfly problem. It's an apt metaphor, as this 188-minute gem shows how a veil of poison has likewise blanketed its various characters' lives. Working from Raymond Carver's short stories, Altman follows 22 middle-class people as they struggle with harsh realities plucked from the real world: An arrogant cop (Tim Robbins) hits on numerous women, though he doesn't fool his spouse (Madeleine Stowe) for one second; a haughty doctor (Matthew Modine) still suspects his artist wife (Julianne Moore) of having had an affair three years earlier; a happily married couple (Andie MacDowell and Bruce Davison) are devastated after a car accident puts their son in a coma; and so on. What an amazing feat Altman has pulled off, as, in true Nashville fashion, he juggles a profusion of storylines which combined reveal a certain spiritual malnourishment at this nation's heart. The performances are uniformly excellent, with Jennifer Jason Leigh, Robert Downey Jr., Jack Lemmon, Huey Lewis, Lyle Lovett and Lily Tomlin also located among the all-stars. Rarely has a slice-of-life film been so delicious to consume. Altman, who earned a Best Director Academy Award nomination for 1992's brilliant The Player (reviewed here), nabbed a second consecutive one for his work on Short Cuts — it was the only nomination thrown the picture's way.
DVD extras include the 1993 making-of documentary Luck, Trust & Ketchup: Robert Altman in Carver County; deleted scenes; a conversation between Altman and Robbins; the 1992 PBS documentary To Write and Keep Kind, about Carver's life; and a 1983 audio interview with Carver.
Movie: ****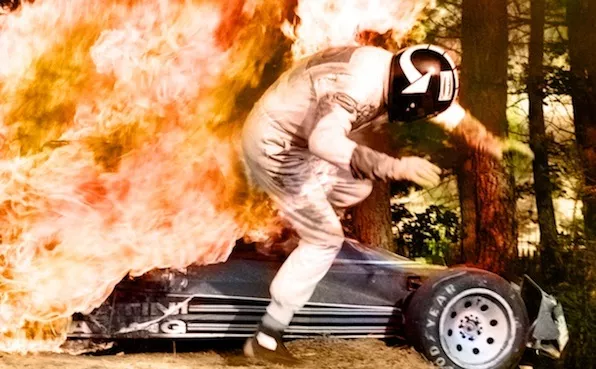 Bobby Deerfield (Photo: Twilight Time)
Short and Sweet:
BOBBY DEERFIELD (1977). Those who feel that Al Pacino did no wrong during the 1970s obviously never saw Bobby Deerfield, a stillborn drama that also represents a rare misstep for director Sydney Pollack and scripter Alvin Sargent. Pacino stars as a sullen Formula One driver who enters into a tentative and testy relationship with a European woman (Swiss actress Marthe Keller) he meets at a clinic. Anyone who's seen Love Story knows exactly where this is headed, although this one does manage to incorporate a hot-air balloon into the proceedings. What saves the picture from complete ruin is the character played by Keller, who doesn't merely suffer nobly but instead proves to be refreshingly quirky, caustic and quarrelsome.
Blu-ray extras consist of audio commentary by Pollack; the theatrical trailer; and an isolated track of Dave Grusin's score.
Movie: **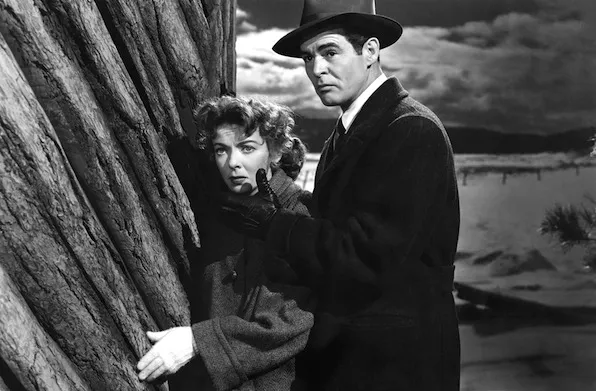 Ida Lupino and Robert Ryan in On Dangerous Ground (Photo: Warner)
ON DANGEROUS GROUND (1952). Film noir vet Robert Ryan and the always interesting Ida Lupino headline this crime flick in which a bitter, broken-down cop gets involved in a case that takes him from the mean city streets to the countryside. There, he meets a blind woman who's a far cry from the crooks and killers who command his attention back in the concrete jungle. The performances are potent, the direction by Nicholas Ray (In a Lonely Place) is suitably moody, and the score by Bernard Herrmann (Psycho) is terrific. The only debit is the short running time (82 minutes): Often a plus in compact noirs, it proves to be a modest detriment to a movie that needed more time to flesh out its compelling storyline.
Blu-ray extras consist of audio commentary by film historian Glenn Erickson and the theatrical trailer.
Movie: ***
Ewan McGregor and Naomie Harris in Our Kind of Traitor (Photo: Lionsgate)
OUR KIND OF TRAITOR (2016). Another John le Carré adaptation, another worthy rental choice. While not in the upper echelons of films based on the author's novels, it's nevertheless absorbing entertainment, with Ewan McGregor and Naomie Harris cast as a vacationing couple whose marital discord is only partially set aside once they get involved in international intrigue centered around a defecting criminal (Stellan Skarsgård, excellent), a ruthless Russian syndicate, corrupt British officials, and a dogged MI6 agent (Damien Lewis). Like most movies sourced from le Carré, this one heavily favors dialogue over action — a welcome respite from generic he-man features like the recent Jason Bourne and this Friday's Jack Reacher: Never Go Back.
Blu-ray extras include a making-of featurette; deleted scenes; and cast interviews.
Movie: ***