(View From The Couch is a weekly column that reviews what's new on Blu-ray and DVD. Ratings are on a four-star scale.)
Bradley Cooper and Rachel McAdams in Aloha (Photo: Columbia)
ALOHA (2015). The latest from writer-director Cameron Crowe finds Bradley Cooper (taking a break from Oscar ceremonies and Jennifer Lawrence movies) cast as Brian Gilcrest, a defense contractor returning to Honolulu after many years working elsewhere. There to serve as a point person between the military and billionaire Carson Welch (Bill Murray) in their joint effort to place a satellite in space, he finds himself becoming involved with two disparate ladies: Tracy Woodside (Rachel McAdams), the woman he abandoned decades earlier and who's now married to a pilot (John Krasinski) involved in covert missions, and Allison Ng (Emma Stone), an Air Force captain and the person assigned to look after Brian. Crowe's movie feels hopelessly naïve in a couple of respects. The scenes focusing on Hawaiian mythology and its people's resentment of cultural appropriation by non-natives are murky and half-baked (though there's a nice turn by Hawaiian nationalist and Nation of Hawai'i leader Dennis "Bumpy" Kanahele, playing himself). Even more dubious is the generous view of the U.S. military leadership (repped by Alec Baldwin's barking General Dixon) as being shocked — shocked! — at the notion of space weaponization, especially in partnership with a deep-pocketed businessman (guess Eisenhower was wrong to warn us against the military-industrial complex!). Where Aloha succeeds is in its delineation of its central characters' relationships. There's a palpable ache in McAdams' portrayal of a woman whose betrayal by her one true love meant she had to settle for second best, and she and Cooper establish a tender rapport. Even more interesting is the relationship between Brian and Allison. Stone seems too young for her role, and Allison remains as much a conceit as an actual character — she's like a manic pixie dream girl in uniform. But the actress injects the part with irresistible effervescence, expertly getting her mouth around Crowe's occasionally purple prose while also forcing Cooper (as actor and character) to keep up. In one amusing bit, Brian orders a double espresso, then realizing he'll be spending the day with the perky Allison, adds, "Make it a triple." Viewers will similarly require a hearty caffeine hit, enabling them to get through some sleepy, sloppy storytelling in order to get to the good stuff.
Blu-ray extras include audio commentary by Crowe; a making-of documentary; deleted scenes; the film's original opening; an alternate ending; and a gag reel.
Movie: **1/2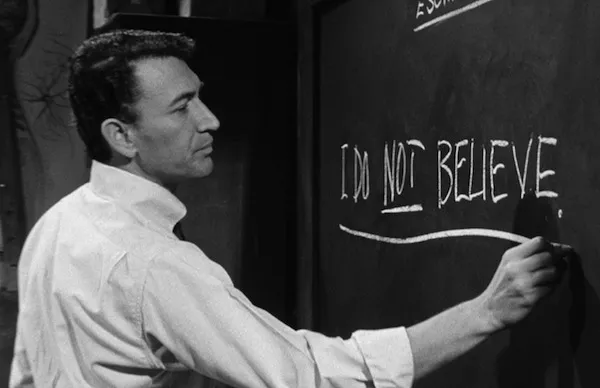 Peter Wyngarde in Burn, Witch, Burn (Photo: Kino)
BURN, WITCH, BURN (1962). Maybe if Hollywood ever grows tired of producing an endless supply of zombie features, it might attempt to jump-start a new slew of witch flicks? Certainly, there have been fine examples strewn across the decades; one such effort is this eerie British entry, the second of three screen adaptations of Fritz Leiber's 1943 novel Conjure Wife (the first was 1944's Weird Woman, reteaming The Wolf Man stars Lon Chaney Jr. and Evelyn Ankers, while the third was the 1980 comedy Witches' Brew, with Richard Benjamin, Teri Garr and Lana Turner in her final film appearance). Also known as Night of the Eagle (its original UK title), this centers on Norman Taylor (Peter Wyngarde), a college professor enjoying great success, and his wife Tansy (Janet Blair), who believes it's her interest in the occult — and the spells she casts — that fuels his good fortune. When the skeptical Norman discovers that his spouse has been dabbling in witchcraft, he forces her to stop, at which point his life begins to spiral horribly out of control. The majority of Sidney Hayers' career would be spent as a journeyman director for American television — his countless credits include Galactica 1980, Knight Rider and Acapulco H.E.A.T. — but he provides the right measure of sustained menace for this impressive feature, with the writing chores falling to the dynamic duo of Richard Matheson (The Twilight Zone, select Corman-Price-Poe pictures) and Charles Beaumont (ditto).
Blu-ray extras consist of audio commentary by Matheson; an entertaining interview with Wyngarde (who ludicrously claims that Cary Grant, Peter O'Toole and Alec Guinness all wanted — and were turned down for — his supporting role in The Innocents); and the theatrical trailer.
Movie: ***
Jack Black and James Marsden in The D Train (Photo: Paramount)
THE D TRAIN (2015). On paper, The D Train sounds as generic as movies get, no less an exercise in formula than the glop Gerber manufactures for babies. There's a 20th anniversary high school reunion on the horizon, and the guy who once was the least popular kid in his class hopes to elevate his social status by arriving at the shindig with the dude who was known as the coolest kid in the school. Cue the groans. In actuality, The D Train hits far more than it misses, and that's largely because of the work of its two stars. Jack Black stars as Dan Landsman, who even as an adult remains friendless, though he did manage to find a wife (Kathryn Hahn) and sire two children. James Marsden plays Oliver Lawless, a drama class stud who followed his dream and now lives in Los Angeles, hawking Banana Boat sunscreen on national TV. Figuring he will be accepted by everyone if he shows up with Oliver at his side, Dan travels from Pittsburgh to LA to convince the devil-may-care actor to attend the reunion. So far, so predictable. But what's not predictable is the manner in which the relationship between Dan and Oliver unfolds, or the particulars of the characters Black and Marsden carve out. Dan isn't just a sad sack worthy of pity but also an annoyingly clingy man-child who's not above lying to those closest to him, including his wife and his mentor-boss (a nice turn by Jeffrey Tambor). And Oliver isn't just a charming rogue but a narcissistic prick who has no trouble cutting people off whenever he feels like it. In addition to showcasing some exemplary acting — I also liked Russell Posner, who's both gawky and thoughtful as the Landsmans' 14-year-old son — the movie deserves credit for the manner in which writer-directors Jarrad Paul and Andrew Mogel avoid the gay panic emblematic of modern comedies, even when the story's narrative appears to be heading that way. Paul and Mogel unfortunately don't really know how to end the picture, and all the connect-the-dot resolutions seem a bit too schematic. But for the most part, The D Train provides a satisfying ride for adventurous film fans who don't mind a dash of acidity squirt all over their microwave popcorn.
Blu-ray extras consist of deleted scenes and a gag reel.
Movie: ***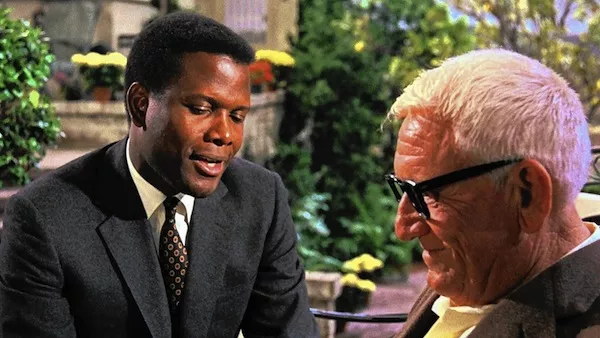 Sidney Poitier and Spencer Tracy in Guess Who's Coming to Dinner (Photo: Twilight Time)
GUESS WHO'S COMING TO DINNER (1967). Second only to The Graduate as the top moneymaking film of 1967, Guess Who's Coming to Dinner marked the ninth and final screen teaming of Spencer Tracy and Katharine Hepburn and capped an extraordinary 12-month period for Sidney Poitier, who had three sizable hits in the same calendar year thanks to To Sir, with Love, the Best Picture Oscar winner In the Heat of the Night and this movie. Tracy and Hepburn star as Matt and Christina Drayton, San Francisco liberals forced to analyze their own beliefs when their grown daughter Joey (Katharine Houghton, Hepburn's real-life niece) returns home in the company of a black doctor named John Prentice (Poitier) — and subsequently announces that they're in love and plan to be married as soon as possible. One of Hollywood's great progressive minds, director-producer Stanley Kramer had overseen such vital films as Judgment at Nuremberg, On the Beach and The Defiant Ones, but this marks a rare instance when the entertainment is almost capsized by the ideals. Initially breezy without ever sacrificing any of its points, the picture eventually resorts to a series of static speeches among carefully paired-off characters — it's so stagy, it's hard to believe William Rose's script wasn't adapted from a play. Luckily, the actors carry the day, particularly Poitier, Cecil Kellaway as the open-minded Monsignor Ryan and, taking MVP honors, Tracy, who was seriously ill during production and passed away shortly after filming ended. Nominated for 10 Academy Awards, including Best Picture, Actor (Tracy), Supporting Actor (Kellaway), Supporting Actress (Beah Richards as Poitier's mother) and Director, this won two, for Best Actress (Hepburn) and Best Original Screenplay. Even Hepburn herself admitted that her Oscar was bestowed in honor of her late partner and co-star (thus allowing her to beat the more deserving turns by The Graduate's Anne Bancroft and Bonnie and Clyde's Faye Dunaway); she would then win the third of her four awards the very next year for The Lion in Winter.
Blu-ray extras include audio commentary by film historians Eddy Friedfeld, Lee Pfeiffer and Paul Scrabo; introductions by Karen Kramer, Steven Spielberg, Quincy Jones and Tom Brokaw; a retrospective making-of featurette; a piece on Kramer; footage of Kramer accepting the Academy's Irving G. Thalberg Award for 1961 (the year he produced and directed Judgment at Nuremberg); and the theatrical trailer.
Movie: ***
Steve Antin, Diane Franklin, Lawrence Monoson and Joe Rubbo in The Last American Virgin (Photo: Olive Films)
THE LAST AMERICAN VIRGIN (1982). The 1978 Israeli film Lemon Popsicle was such an international smash that it logically inspired writer-director Boaz Davidson and producers (and Cannon Group legends) Menahem Golan and Yoram Globus to not only release a rash of sequels but also to remake the picture for American audiences. The Last American Virgin was the stateside result, and while it didn't make many waves at the box office — it was bested that year by other teen sex comedies like Porky's, Fast Times at Ridgemont High and even the awful Zapped! — it's actually one of the better films to come from that disreputable '80s-centric genre. Lawrence Monoson plays Gary, a sensitive teenager whose best buds are the handsome and experienced Rick (Steve Antin) and the bumbling, wisecracking David (Joe Rubbo). The three are constantly seeking to score with the ladies, although Gary's randy exploits soon take a back seat toward his genuine affection for Karen (Diane Franklin), the pretty new girl in school. For the majority of its running time, The Last American Virgin plays like a typical R-rated comedy of the period — plenty of nudity in the service of plenty of ribald situations — although it's elevated by the efforts of its engaging young cast (Brian Peck, better known these days as a registered sex offender, is amusing as the spastic Victor, and that's an unmistakable Kimmy Robertson, Twin Peaks' receptionist Lucy Moran, as Karen's best friend). But the film unexpectedly turns serious during its second half, and the finale — which shook many a teenage guy (myself included) to his core back in the day — is devastating. One has to assume most of the film's budget went toward music acquisitions, since the soundtrack is packed with such hits as Blondie's "In the Flesh," Devo's "Whip It" and The Cars' "Shake It Up." Oh, and the long-forgotten "Are You Ready for the Sex Girls," by one-hit wonders Gleaming Spires.
There are no extras on the Blu-ray.
Movie: ***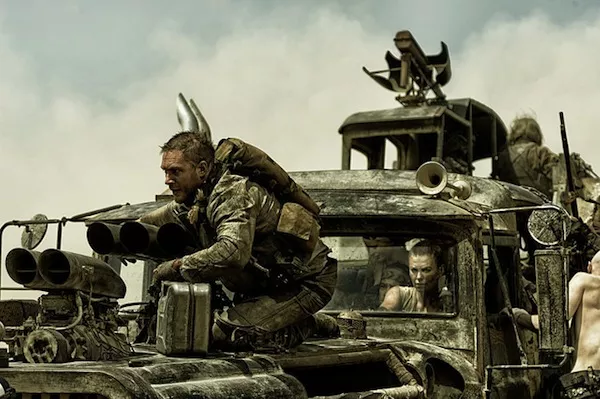 Tom Hardy and Charlize Theron in Mad Max: Fury Road (Photo: Warner Bros.)
MAD MAX: FURY ROAD (2015). It's perhaps the film's coolest concept. The roving band of baddies in Mad Max: Fury Road don't travel anywhere without their own soundtrack — specifically, a vehicle which sports at its front a huge sound system powered by a rocker feverishly strumming away on his electric guitar. And not just any guitar: This one has the ability to shoot flames from the top. In writer-director George Miller's fourth Mad Max flick, those fiery licks establish that rock 'n' roll ain't noise pollution so much as it's the theme music for the upcoming apocalypse. With Tom Hardy cast as the new Max Rockatansky, it's quickly apparent that this man is a loner who suffered great loss during his lifetime but always manages to keep himself alive and kicking. Yet his troubles commence as soon as the film itself, as he's captured by a group of pasty warriors and in essence used as a human blood bag for a sickly youth named Nux (Nicholas Hoult). The community is ruled by the savage Immortan Joe (Hugh Keays-Byrne), who keeps a stable of beauties for the purposes of breeding. When the one-armed warrior woman known as Imperator Furiosa (Charlize Theron) crosses Immortan Joe and flees across the desert with his grateful brides in tow, planning to introduce them to a better life, the outraged despot takes off in hot pursuit, flanked by his soldiers. This includes Nux, who ties his human blood bag to his vehicle. It's hardly a spoiler to reveal that Max eventually frees himself and forges a testy relationship with Furiosa. Yet even as they grow mutually respectful, theirs is a camaraderie based on action, not words. Miller makes sure to keep Max's personality intact from the Mel Gibson years, presenting him as a taciturn fighter who's gruff but compassionate, a man whose personal pain dictates that he keep others at a distance yet whose empathy forces him to make concessions along the way. Hardy was a sound choice to assume the role, and he matches up nicely with Theron, who provides most of the picture's heart (The Vagina Monologues author Eve Ensler was hired to beef up the female roles, a move that hilariously enraged those pitiful dipshits known as Men's Rights Activists). The film's kinetic thrust is breathtaking, with Miller relying as much on physical feats of derring-do as he does on CGI. Fast and furious, this revolutionary Road is a solid two hours of maximum overdrive.
Blu-ray extras include a making-of featurette; deleted scenes; a piece on Max and Furiosa; and a look at the film's vehicles.
Movie: ***1/2
Daryl Hannah, Peter Gallagher and Valerie Quennessen in Summer Lovers (Photo: Twilight Time)
SUMMER LOVERS (1982). Summer Lovers is pornography, pure and simple. No, no, I don't mean porn in the sense of X-rated erotica, all heavenly bodies exchanging bodily fluids — to be frank, the film is about as alluring and arousing as one of those 1960s nudies in which heavyset husbands and housewives play volleyball au naturel. But while some movies qualify as "food porn" by lingering lovingly on sumptuous banquets of edibles (e.g. Babette's Feast, Eat Drink Man Woman), others can be tagged "travel porn" by focusing fetishistically on gorgeous locales ready-made for vacation-taking (Under the Tuscan Sun, Eat Pray Love). This belongs to that second classification: Filmed on location in the Greek Islands of Santorini, Mykonos and more, it offers one breathtaking scene after another, all captured by cinematographer Timothy Galfas. It's a good thing Summer Lovers is such a physical beauty, because there's not much occurring inside its handsome head. Peter Gallagher and Daryl Hannah play Michael and Cathy, two young Americans arriving in Greece for fun and sun. Both amused and intoxicated by the rampant nudity on display by the other tourists, the pair struggle to elevate their own game — a real challenge, since Michael has opted to woo and bed a French archaeologist named Lina (Valérie Quennessen). Initially angered by the situation, Cathy eventually becomes friends with Lina and they end up sharing Michael. Just how timid is Summer Lovers? Written and directed by Randal Kleiser (coming off two monumental hits in 1978's Grease and 1980's The Blue Lagoon), the film goes out of its way to never show the women in a sapphic clinch, suggesting that, rather than a real ménage à trois, the arrangement is (as the kids say) strictly dickly. It also doesn't help that Michael is something of a pill, making it difficult to understand what Cathy and Lina see in him. Summer Lovers manages to become more trite as it unfolds, but for an undemanding experience that's easy on both the eyes and the ears (thanks to a lively pop soundtrack as well as Basil Pouledouris' score), one could do worse: One could be watching Kleiser's equally sun-dappled — and truly brainless — The Blue Lagoon instead.
Blu-ray extras include audio-commentary by Kleiser; a vintage making-of piece; a look at the career of Poledouris; and ample screen test footage, including some of a familiar actor who did not land the role of Michael.
Movie: **1/2