Bookstores overflow this time of year with "gift books," otherwise known as coffee table books. The year 2007 has brought an unusually large bumper crop to choose from. Granted, a lot of them are the same old doorstops you've seen before — the joy of poodles, Tuscany This and Provence That, the magic of camellias, whatever. But as the angel said, fear not, for we have chosen some of the season's more worthwhile gift books to help you in your shopping mania. Here's a selection of books we found especially creative or interesting — plus, they look great, are actually worth reading, and won't become mere dust collectors on your friends' and loved ones' coffee tables.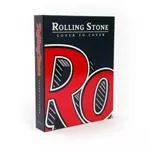 Rolling Stone Cover to Cover
(Bondi Digital Publishing, 200 pages, 4 CDs, $125). Here's a great gift for baby boomers: every page, every photo, every issue of
Rolling Stone
from its beginnings in 1967 to this year. Why boomers? Because we're the only ones who remember when
RS
was the hippest, most courageous publication in America, before it became just another soulless '90s commodity. Four CDs include Mac- and PC-compatible, searchable software that lets you view the original pages of over 1,000 issues, including 40 years of rock 'n' roll artists, political reporting and great interviews, as well as Annie Leibovitz's photography.
Star Wars: A Pop-Up Guide to the Galaxy
by Matthew Reinhart (Orchard Books, 6 pages, $32.99). Any and all
Star Wars
geeks will howl in agony if they don't get this tie-in to the original movie's 30th anniversary. It's a singular, complex labor of love by renowned pop-up meister Reinhart, including surprise pull-tabs, working light sabers, and a surprisingly poignant look behind (and through) Vader's mask.
The War: An Intimate History, 1941-1945
by Geoffrey C. Ward & Ken Burns (Knopf, 480 pages, $50). The companion volume to Ken Burns' PBS series on World War II, this generously illustrated book tells what it was like for ordinary Americans caught up in the greatest manmade calamity in history. From the terrors of battle to the tempering experiences of imprisonment, to homefront scrap-metal drives, this is poignant popular history from the ground up, at its very best.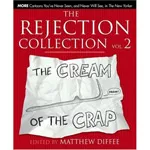 The Rejection Collection 2
edited by Matthew Diffee (Simon & Schuster, 304 pages, $22.95). Last year's
Rejection Collection
was such a success,
The New Yorker
has published a second volume of cartoons that were rejected by the magazine for being "too risqué, silly, or weird." It's a chance to view the stranger, politically incorrect, often darker side of some of the venerable publication's famous regular cartoonists, and 90 percent of them are hilarious. The cover illustration -- a snake that's eaten a mouse emitting a "squeak" fart -- says it all.
30,000 Years of Art: The Story of Human Creativity Across Time and Space
by the Editors of Phaidon (Phaidon Press, 1,072 pages, $49.95). An astonishing book that presents what its title says: an arrangement of art masterpieces from around the world in a veritable timeline, showing what was being created all over the planet at the same time, rather than the usual approach of dividing works into historical classifications. A beautiful book that creates an entirely new perspective of art from all our different cultures.
Gonzo
by Hunter S Thompson, edited by Steve Crist (AMMO Books, 240 pages, $39.95). Using archives and photographs, many taken by Thompson himself, this visual biography celebrates the life of the influential inventor of gonzo journalism. Terrific graphics, accompanied by memorabilia and writing by the man himself, give a surprisingly intimate look at the author who gave the world
Fear and Loathing In Las Vegas
.
America In Space: NASA's First Fifty Years
by Steven Dick, Neil Armstrong, Robert Jacobs, Constance Moore, and Bertram Ulrich (Abrams Books, 352 pages, $50). America's space travels are lavishly captured here, from the young hotshots who became the first Mercury astronauts to the nearly anonymous crews of present-day shuttle flights. Fascinating looks at the pilots, technicians and engineers who put us on the moon, and a lively examination of an unforgettable era.
Our Dumb World: The Onion's Atlas of the Planet Earth
(Little Brown, 256 pages, $27.99). You can't believe a word of this book, and that's a good thing. The satirical crew at
The Onion
's parody of atlases is filled with wicked humor, outright lies and sarcasm ("France: One nation above God," "Alabama: The last remaining slave state," and so forth) America is divided into regions that include Alaska, Hawaii and Minnesota lumped together as "The Bullshit States," and it goes from there. No matter where you're from, here's a chance to be ridiculed by some of the best.