(View From The Couch is a weekly column that reviews what's new on Blu-ray, DVD and Streaming. Ratings are on a four-star scale.)
Kevin Costner and Susan Sarandon in Bull Durham (Photo: Criterion)
BULL DURHAM (1988). Is Bull Durham the greatest sports movie ever made? The folks at Sports Illustrated think so, ranking it #1 on their list (the American Film Institute, meanwhile, has it at #5, with the boxing pics Raging Bull and Rocky topping the list). And over at Rotten Tomatoes, it still holds the #1 spot as the best-reviewed sports movie of all time. None of this will receive any argument from me. It's an exceptional motion picture that's about so much more than baseball, employing its central story of a love triangle to offer acute observations about life, love and sex. Susan Sarandon has arguably never been better (or sexier) than as Annie Savoy, a baseball fanatic who annually selects a player from the roster of the Durham Bulls to serve as her boyfriend and best friend. Likewise, Kevin Costner delivers what might also be his best (and sexiest) performance as Crash Davis, the veteran player who begrudgingly finds himself competing for Annie's attentions with young lunkhead Nuke LaLoosh (a hilarious Tim Robbins). Writer-director Ron Shelton's screenplay is a thing of beauty – it deservedly nabbed the Writers Guild award and citations from all three major critics' groups before absurdly losing the Oscar to Rain Man's solid but less spectacular script. If nothing else, Bull Durham deserves credit for containing one of the all-time greatest – and most accurate, particularly in these terrible, Trump-enabling times – snatches of dialogue, courtesy of Annie Savoy: "The world is made for those who aren't cursed with self-awareness."
Blu-ray extras include audio commentary by Shelton; separate commentary by Costner and Robbins; a making-of featurette from 2001; a 20th anniversary piece from 2008 in which various sports personalities reveal their appreciation of the film; a new interview with Shelton; and the theatrical trailer.
Movie: ****
Jason Clarke and Kate Mara in Chappaquiddick (Photo: Lionsgate)
CHAPPAQUIDDICK (2018) / LEAN ON PETE (2018). For every box office winner, the gods apparently decree that there has to be a box office loser to balance it out. So while the weekend of April 6 saw a modest hit open in Blockers (reviewed in this column last week) and a massive hit open in A Quiet Place (reviewed below), it also saw the debuts of two films that performed below expectations. Yet both are certainly worth a peek — particularly the one with the equine co-star.
It goes without saying (at least to those with any sense of history) that Chappaquiddick centers around the notorious 1969 incident involving Senator Ted Kennedy (Jason Clarke), staffer Mary Jo Kopechne (Kate Mara), and that fateful automobile plunge that led to Kopechne's death and left Kennedy's presidential aspirations in tatters. This cinematic dramatization is measured in tone and sticks closer to the facts than many other films of this nature, and Ed Helms is particularly good as family member Joe Gargan, who recoils at the politics surrounding the tragedy and finally asserts that the situation should "not be about opportunity but integrity."
Charlie Plummer in Lean on Pete (Photo: Lionsgate)
Chappaquiddick only earned $17 million against a reported $34 million budget, but at least it was allowed a fairly wide opening on over 1,500 screens. Conversely, Lean on Pete never gained enough traction to play in more than 200 theaters, resulting in a paltry final gross of just over $1 million. That's a shame, because it's one of the better films released thus far in 2018. Emotions will receive a brutal workout, but the movie triggers them not through shameless manipulation but through an honest and absorbing look at a young boy (Charlie Plummer, the kidnapped Getty in All the Money in the World) who forms a special bond with Lean on Pete, a racehorse no longer desired by its crabby owner (Steve Buscemi). Written and directed by 45 Years' Andrew Haigh (adapting Willy Vlautin's novel), Lean on Pete feels raw and real, with many outstanding (and unpredictable) vignettes and a terrific central performance by Plummer.
Blu-ray extras on Chappaquidick consist of a making-of featurette and a piece on the editing of the film. The only Blu-ray extra on Lean on Pete is a making-of featurette.
Chappaquidick: ***
Lean on Pete: ***1/2
Peter Strauss (left) in The Jericho Mile (Photo: Kino)
THE JERICHO MILE (1979). Having grown up watching Peter Strauss play the smooth and refined Rudy Jordache on the 1976 landmark television miniseries Rich Man, Poor Man and its immediate follow-up, Rich Man, Poor Man - Book II, it was startling to catch him playing a shaggy Folsom Prison lifer in The Jericho Mile, a made-for-TV movie that met with enormous acclaim upon its initial broadcast. And yet Strauss's powerful performance is just one of the many plusses found in this compelling drama. Also at the top of the list is the fact that it was the first major credit for writer-director Michael Mann, who would later break out with Miami Vice on TV and then graduate to such excellent theatrical endeavors as The Last of the Mohicans and Heat. Mann's eye for the expansive shot was already in evidence on this assignment, given that much of the movie feels like something one would catch in the multiplex, not on the boob tube. Strauss stars as Rain Murphy, a taciturn inmate serving out a life sentence for killing his father (filming took place at the actual Folsom Prison, a coup for Mann). Murphy's only interest is running, and his speed so impresses the facility's warden (Billy Green Bush) and resident doctor (Geoffrey Lewis) that they maneuver to secure him an opportunity to try out for the Olympics. Murphy's story is surrounded by vignettes centering on facets of prison life, with Richard Lawson cast as the sympathetic Stiles and Brian Dennehy sneering up a storm as Dr. D, the leader of the yard's white supremacist outfit. An Emmy Award nominee for Outstanding Drama or Comedy Special, this earned prizes for its screenplay (Mann and Patrick J. Nolan), its editing (Arthur Schmidt) and Strauss's performance.
Blu-ray extras consist of audio commentary by film historian Lee Gambin and the original trailer (albeit sans sound).
Movie: ***1/2
Victor Mature in My Gal Sal (Photo: Twilight Time)
MY GAL SAL (1942) / MY SISTER EILEEN (1955). It's all about me me me as the Twilight Time label gets possessive with two of its latest titles.
Victor Mature remains a fairly underrated actor, so it's not picking on him to state that he wasn't the best fit for the part of Paul Dresser (brother of author Theodore Dreiser) in My Gal Sal, a middling look at the career of the celebrated Tin Pan Alley songwriter. The actor often appears ill-at-ease in the role, and he strikes few sparks with top-billed Rita Hayworth, cast as musical entertainer Sally Elliott (aka the titular Sal). This nabbed the Oscar for Best Color Art Direction-Interior Decoration as well as an additional nomination for Best Scoring of a Musical Picture.
Jack Lemmon, Betty Garrett and Janet Leigh in My Sister Eileen (Photo: Twilight Time)
A better bet is the musical My Sister Eileen, with writer-director Richard Quine and co-scripter Blake Edwards (early in his career) working from Ruth McKenney's stories, a 1940 play, and a previous non-musical film version from 1942. Betty Garrett snags one of her best roles as aspiring writer Ruth Sherwood, a small-town woman trying to make it in New York alongside her beautiful sister Eileen (Janet Leigh). Jack Lemmon co-stars as the magazine editor who becomes professionally and personally involved with Ruth — he's typically affable in the role, even if his character often feels detached from the rest of the picture. Bob Fosse plays Eileen's suitor Frank and also provides the film's choreography, while future Bewitched co-star Dick York (here billed as Richard York) steals scenes as the siblings' sweet-natured neighbor "Wreck."
The only Blu-ray extra on My Gal Sal is an isolated music track. Blu-ray extras on My Sister Eileen consist of the theatrical trailer and an isolated music track.
My Gal Sal: **1/2
My Sister Eileen: ***
Emily Blunt and John Krasinski in A Quiet Place (Photo: Paramount)
A QUIET PLACE (2018). Making the most of its ingenious hook, A Quiet Place is a crackerjack horror film, and while it may not boast the sociopolitical gravitas that informed last year's Oscar-winning Get Out, it's nevertheless a treat for anyone who likes movies that go bump in the night. The world of A Quiet Place has been largely decimated by monsters – fearsome beings who are blind but use their highly developed sense of sound to locate and eviscerate any living creature. After a tense opening sequence that ends in tragedy, the picture examines how the members of the Abbott family – dad Lee (John Krasinski), mom Evelyn (Emily Blunt), daughter Regan (Millicent Simmonds) and son Marcus (Noah Jupe) – try to survive in this nightmarish landscape. The answer is obvious: Like Elmer Fudd hunting wabbits, they strive to remain vewy, vewy quiet. What's noteworthy about the script by Krasinski (who also directed), Bryan Woods and Scott Beck is that it establishes its setting and its premise and then rarely looks back — while ample exposition in a movie is usually a wonderful thing, here it's effectively doled out only in small, even subtle, ways. Blunt and Krasinski are both excellent, although the breakout star is Simmonds. Deaf in real life, the young actress made her debut last year in Todd Haynes' underwhelming Wonderstruck; she's far more vibrant here, positioning her character as a courageous girl who finds herself battling internal as well as external demons. A Quiet Place runs a brisk 90 minutes, and while this is that rare recent movie that could stand to be longer, the abbreviated length results in a second half that finds the characters leaping cliffhanger style from one harrowing situation to another.
Blu-ray extras consist of a making-of featurette and pieces on the sound and visual effects.
Movie: ***1/2
==============================
FROM SCREEN TO STREAM
(A look at a film that's currently available on streaming services)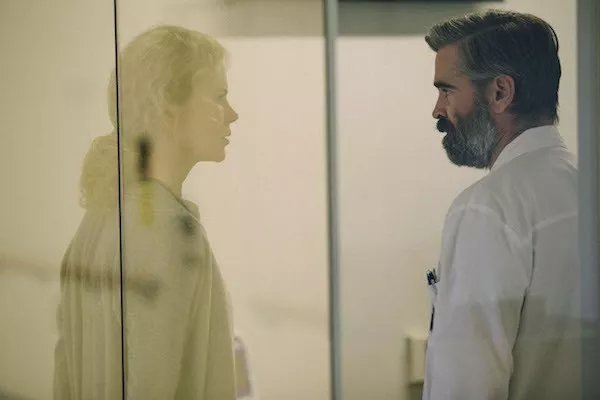 Nicole Kidman and Colin Farrell in The Killing of a Sacred Deer (Photo: A24)
THE KILLING OF A SACRED DEER (2017). A creepy combo of The Twilight Zone and Sophie's Choice, this effort from writer-director Yorgos Lanthimos (The Lobster, Dogtooth) stars Lobster lead Colin Farrell as Steven Murphy, a surgeon who has befriended a teenage boy named Martin (Barry Keoghan). The exact nature of their relationship isn't clear, but Steven seems to be spending almost as much time with the lad as he does with his wife Anna (Nicole Kidman), daughter Kim (Raffey Cassidy), and son Bob (Sunny Suljic). Steven eventually elects to introduce Martin to his family, and it's here when matters take a particularly dark turn. To reveal more would be to deny viewers the opportunity to get blindsided by the directions the film ultimately takes, but suffice to say The Killing of a Sacred Deer is decidedly not for moviegoers who prefer their options on the "feel-good" end of the spectrum. This is a deeply disturbing film, with its eeriness accentuated by the delivery of the dialogue (everyone speaks in carefully enunciated, drawn-out sentences, as if the characters were all trapped in an etiquette class), the sterility of many of Lanthimos' shot selections, and the moral monstrousness of many of the main characters. Farrell and Kidman are both excellent, as is the young Keoghan (viewers might recognize him from Dunkirk, in which he played the doomed George). A final twist could have elevated this to even greater heights — as it stands, the film flatlines at the very end. Nevertheless, The Killing of a Sacred Deer was one of the more unique pictures to hit theaters last year, and it should serve as the perfect antidote for those weary of formula films. (Amazon Prime)