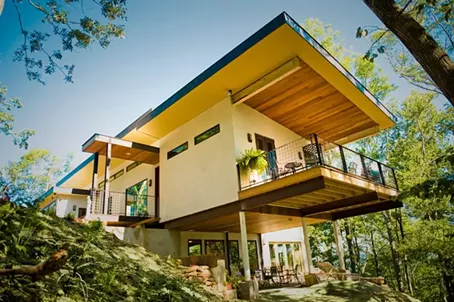 OUR NATIONS FIRST HEMPCRETE HOME WAS BUILT IN ASHEVILLE, NORTH CAROLINA
Hemp in general is and shall help to create a more sustainable environment for our world. By using 3D  printed technology combined with hemp-crete we can produce new innovative designs that can bond with the earths energy to produce the most sufficient structures for humanity. These ingredients provide essential attributes to the building process, hemp-crete walls work as an insulation and could possibly help with the potential to be geothermal. The hemp plant in general helps to remove large amounts of carbon dioxide from the atmosphere. This material is a moisture regulator, the more hemp that is planted the healthier our atmospheres can be for the environments from the recurring process of cultivating the plant every 4 months.


Hemp itself is a beneficial crop requiring no fertilizer, weed killer, pesticide or fungicide. It grows thickly to where weeds cannot grow near it. Farmers can grow it in rotation with other crops. Hemp requires no weed killer because the hemp plant power has driven the other weeds out. The hemp seed is harvested as a nutritious food supplement rich in Omega-3 oil, amino acids, protein and fiber. It is considered a "super food". The outer fibers are used for cloth usually as a blend with 45% cotton. The woody inner core is chopped to uniform size for our use. It can be used or recycled as animal bedding. Hemp-crete is a bio-composite made from the strong inner core of a hemp plant mixed with lime as a base binder. The "Shiv" or core of a hemp plant has a high silica content which allows it to bind well with the lime mixed.   
Hemp-crete is currently the most eco-friendly building material .Hemp-crete is carbon negative, the crop removes CO2 as it grows. Hemp can be produced very quickly without the need for pesticides or fertilizer, making it a rapidly renewable resource. It does not need expansion joints when building plus it is not as heavy nor is it brittle like the concrete can be. The hemp-crete mixture eventually turns into "petrified rock" and can last for hundreds of years. The hemp-bricks can remove the need for a wooden frame or foundation. This building material should be used more as it is mold, insect, and fire resistant. 
The result is a lightweight insulating material weighing about a seventh or an eighth of the weight of concrete. Fully cured hempcrete bricks can float in water. The material is mixed in mortar mixers for 1-2 minutes and then stuffed by hand into the wall cavities. The walls are propped with wooden or plastic temporary walls forming the inner/outer surface forms. The mixture is lightweight and can be moved across the site with ease in order to fill the cavities. After a building operation is finished with the structure then the scraps of hempcrete can be tilled into the soil or gathered to recycle.
Resources:
https://realmoney.thestreet.com/investing/stocks/farm-bill-passes-hemp-companies-will-be-big-winners-14808547   - North Carolina is in the top 5 if not the top
Top 5 Hemp States
The top five states whose hemp industry will benefit from the farm bill, according to the Hemp Industry Daily, are Colorado, Kentucky, Oregon, North Carolina and Vermont. Colorado already produces 50% of the country's hemp. Kentucky has more acres licensed, but Colorado has more in production. Oregon's hemp requires some of the same testings as consumable cannabis. This means it doesn't have the same exposure to pollutants that Chinese hemp has and makes it a desirable product for producers.
Hemp Industry Daily said that North Carolina has more growers, more acres and more processors than any other state in its first year of hemp production. The state has really focused a lot of effort on the crop. Vermont has 90 licensed growers and 560 licensed outdoor acres for growing hemp. This little state has flexed its hemp muscle.
https://thegreenfund.com/our-top-4-hemp-stocks-for-2019 
Peace, Love and True Blessings.