My earliest beer memories are of Budweiser and Molson Golden — back when I was a rascally teenager and thought it was the coolest thing to hold a can or bottle in my hand, even if I didn't quite like the taste yet. These days, I love a beer most when it's hot out — right after mowing the lawn or working on a home improvement project. All six times I've attended Bonnaroo, my reward for putting up my tent in the blazing sun was to relax with a cold beer.
What kind do I prefer? It depends where I am. At home, it can be anything from a Bud Light to a New Belgium variety pack. When I go out, I'll sometimes drink the cheap shit — Genesee at Snug Harbor; National Bohemian at the Milestone. But I'll go for flavor, too — at the Evening Muse, it's always a Sweetwater 420 on tap. I don't like dark beers I have to chew to get through the thickness. I don't care about the body, character, profile of said beer. I just want to know — is it good? Refreshing? Tasty enough to make me want to buy it again?
The big buzz these days is craft beer. Charlotte has been booming with local breweries in recent years — from NoDa and Birdsong in NoDa to Olde Mecklenburg and Triple C in South End; from Ass Clown in Huntersville to Unknown in Uptown to Barking Duck in Mint Hill. But, again, how are the beers?
Music and alcohol go hand-in-hand — bands performing in bars, beers lined up backstage, etc. So, at the peak of beer festival season, we thought it would be fun to get a few musicians out at some of the area's breweries to give honest opinions on what they're tasting. With this, we introduce a new, semi-regular series: Brews With Bands.
To launch it, I hit three breweries with three area bands/groups. The task was simple: have a chat, have a beer (or flight) and give an honest opinion on what we're drinking. Any excuse to drink on the job, right?
Shane Cudahy

Knocking back a pint at Olde Mecklenburg Brewery with Temperance League: (from left) Eric Scott, Shawn Lynch, CL music editor Jeff Hahne and Bruce Hazel
IT'S HARD TO BELIEVE that in early 2009, Charlotte didn't have a single operating brewery. That is, until March, when Olde Mecklenburg Brewery opened. OMB, which adheres to the German Reinheitsgebot purity laws, offers beer that is classic and, in a sense, traditional. It made perfect sense to invite a few of the guys from Temperance League — singer Bruce Hazel, guitarist Shawn Lynch and bassist Eric Scott — out for a drink there. After all, Temperance League performs a classic, traditional brand of rock 'n' roll.
Within moments of arriving at the (old) Southside Drive location, it's obvious we might not have picked the best time. The brewery is overrun with World Cup fans watching a July match featuring Germany. Not to mention, the brewery is in the process of moving to its new location down the street. But there's still a couple beers being brewed here as the company moves locations, and we do our best to knock a few back.
"I'm the most snobby about it in the band when it comes to beer," says Lynch, who prefers English beers like Boddingtons. "I've had enough shitty beer in my life. I'm old enough now to prefer something that's good."
"I think it depends what's being offered by the venue," Scott, 27, says. "Sometimes it's Miller Lite, sometimes it's Genesee, sometimes it's nothing. I'll have a High Life on stage."
"They call us the Boddingtones at Snug Harbor," Hazel, 42, adds with a laugh.
While getting a tour of the new facility, we get offered an OMB Copper — described on the website as a full-flavored ale that is "crisp, clean, smooth and refreshing" — straight from the stainless steel vessel at the end of the brewing process. It's not filtered, which offers far more flavor. The reason it will be filtered before sale is mostly for consistency reasons.
Scott usually drinks Budweiser, but he's had the Copper before. "It tasted like pennies. I mean, clean pennies. I think when it's unfiltered it's a little sharper, but creamy."
"We can all say it — this is amazing," Hazel adds about the unfiltered version. "It tastes like cream soda."
The other available beer on tap that day, Captain James Jack Pilsner, is described as a "straw-colored lager that is crisp and smooth with a subtle yet assertive hoppiness that doesn't overwhelm your palate."
"This has a skunkiness to it," Hazel says of the golden beer. "I don't mean that as an insult. Can I say it has a stale aroma? That might not be good either. I mean it as a compliment. It's delicious. I love that everyday-drinking, German-style beer."
"It's a pilsner. It's clean," I say. "It's like a fancy Bud."
As for drinking and performing, 41-year-old Lynch says they're all old enough now to know what happens when you drink too much before playing a show. "We all know our limits," Lynch says. "We have plenty of stories from drinking too much. We know not to get fucked up ... until the middle of the set. I'm kidding."
While we debate getting another round, I realize it was a bad idea to undertake this venture on an empty stomach. Before I start to feel the effects of all we've had so far, we call it a night.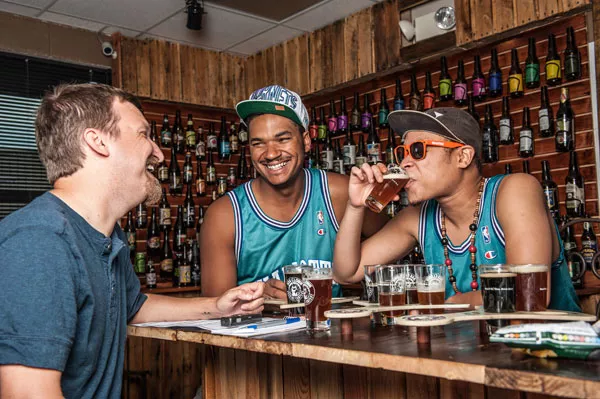 Justin Driscoll

Brody and Choch, with Hahne (far left), trying some of the beers at Ass Clown Brewing.
MY NEXT BEER-UP was set for Ass Clown Brewing. I wanted to hit at least one spot that's not in the heart of Charlotte. Given that hip-hop artists/siblings Brody & Choch, with their playful attitudes and humorous lyrics, come off like the Wayans Brothers of hip-hop. I figured a place with "clown" in the name would be a good fit.
We meet at the Cornelius brewery one weekday afternoon and are immediately surprised by the location. It's tucked away at the back of an off-the-beaten-path office park, but when you open the front door, you're immediately transported into a worn and welcoming pub. Old wood adorns, well, just about everything in sight. The corner wall opposite the bar is a swarm of old glass bottles. Burlap coffee bean sacks surround a seating area. Behind the bar is a legion of more than 30 taps offering everything from pale to stout.
Ass Clown's selections are made in small batches — at least until the bigger equipment arrives and gets installed. From an Orange Honey Pale to Vanilla Bean Chocolate Brown, from Smoked Maple Syrup Black to Chipotle Pumpkin and Oyster Wasabi — Ass Clown isn't afraid to take risks and try something new. I'm sure Matt Glidden, the owner, doesn't expect everything he makes to be a home run — but everyone has a different palate, so why not brew some things up and see how it goes, right?
Brody, 24, and Choch 28, are no strangers to alcohol. After all, they have a song called "Drunk Choch." However, they do know their limits before hitting the stage. "No one wants to hear a drunk hip-hop artist," Choch says. "You have to be able to understand what we're saying."
The three of us sit down with a few flights of beers to check out some of the variety Ass Clown has to offer. The first is a Ghost Pepper IPA — Ass Clown forgoes the descriptions since it's in the name. We've all heard of jalapeño beers, but Ass Clown decided to kick it up a notch. Here's the best way to describe it — when you eat something spicy, you get a tingly feeling on your tongue wherever the spicy thing was. With the Ghost Pepper IPA, that tingling, burning sensation washes over your entire mouth all at once, before lingering a little bit and fading away.
"I feel like I got bit in the mouth by a scorpion," says Choch, who has no problem with Miller Lite and PBR ("Add a lemon and that's my summer PBR.") "This [Ghost Pepper IPA] is legitimate," he adds. "There's a lingering spice. Can you imagine throwing up after drinking this?" Choch also suggests that future hazing rituals could rely on getting "Ghosted" instead of getting "Iced."
Brody's face contorts a bit as he takes the first swig of the Dark Chocolate Sea Salt. "Tastes like Myrtle Beach," he says of the dark stout beer that looks like a cold brewed coffee. "There's a bit of Wonka Chocolate Factory going on in there at the end."
Instead of chocolate, I get a bolder finish. "There's almost a sour aftertaste. Is that coffee I'm tasting?"
"It's Myrtle Beach," Brody, who prefers pale ales, reiterates. "The night, and then the morning after."
Of the Jasmine Tea IPA, Brody says: "This is on the borderline of not being beer. There's no hoppiness or nothing in this one."
I take a sip and add, "The ladies love it."
Choch chimes in. "This is perfect for people who want a beer but don't want it to taste like beer."
"You mean like Zima?" Brody asks.
The simple elegance of the Jasmine Tea IPA contrasts significantly with the next beer we sample. "It's like drinking a Reuben sandwich," Choch says of the Red Rye Bread Ale. "That's what we're looking for — beer that tastes like food, in case your beer is your meal. We need a pizza beer."
"I feel like I'm chewing on a loaf of bread with that one," I add, though I don't like rye bread itself, either. "When people talk about liquid bread, this is what they mean."
That's not to say that Ass Clown doesn't have simpler beers to partake of. "I think the Pale [Ale] has a little bitter to it," Brody says.
"There's a punch to it," I add. "It's a little stronger than the average pale ale, but I could drink a pint of this."
And some of them taste like slight variations of the standard stouts and IPAs. "This isn't too different," Choch says of the French Oaked Lemon IPA. "There's a little bit of citrus in there. It's like their regular Pale Ale with a lemon in it."
Choch notices that there's a Butter Apple Pie brew available at Ass Clown. "There are so many food beers here," he says. "I mean, if there's a beer that tastes like apple pie — that's gonna completely change my drinking game."
JEff Hahne

Chris Hendrickson and Dani Engle of Radio Lola sample the flavors of Triple C Brewing.
THE FINALE of this trifecta of taste is at Triple C Brewing Company, located off South Boulevard. When I first spoke with guitarist Chris Hendrickson and singer Dani Engle, I gave them a few options of places I'd never been and asked them to pick whichever brewery they'd also never visited, as well. It would be a new adventure for me and Radio Lola, a newer band on the music scene.
We meet one weekday evening and each grab a flight of four beers that appeal to us individually, carrying it outside to the stretch of picnic tables along the building. Engle says she usually sticks to wine or gin and tonic, though she recently reintroduced beer back into her drinking repertoire — most often IPAs and unfiltered wheat beers. Hendrickson usually drinks stout beers like Guinness, though he won't hesitate to toss back a Rolling Rock now and then.
As a band rule, the members of Radio Lola are individuals who know their limits and know how much they can or can't drink before a show. Engle notes that there's always trouble when an audience member hands you a shot, not knowing how much you've already had to drink. It can quickly throw someone over the edge of being able to perform, but it's also not easy to turn it down when they've been paid for.
"I have to be able to balance to hit pedals for my guitar, or remember that I'm the one that starts a song," Hendrickson says.
Engle adds, "I've had moments when I have forgotten lyrics. I won't drink beer before a show because my worst fear is burping when I sing."
The three of us each lift a Smoked Amber, described as having a slight smokiness that pairs with the nuttiness of the oats, and say "Cheers" before taking a drink. We all agree there's a metallic undertone to the beer. "It tastes like a lot of other ambers, but there is an odd aftertaste," I say.
Hendrickson, 30, is quick to note, "Yeah, but I could drink A LOT of those. I mean, like, five of those before a show. I definitely taste a chocolate aftertaste."
"It's a waaay-after taste though," Engle, 31, chimes in.
Engle and Hendrickson next try the 3C India Pale Ale, which boasts the description that "citrus, grapefruit and passionfruit dominate the nose and tongue in this hop bomb." "I love it," Engle says. "I'm digging IPAs. It has a nice grapefruit flavor."
It is "very, very IPA" Hendrickson says, comparing it to stomach bile.
I take a sip. My face sours as the hop flavor rolls over my tongue. "If you love a strong IPA taste, this is your beer. To me, it's like chewing on grandma's scarf — flowery and perfume-y. I'm one of those people who thinks cilantro tastes like soap, too. Is that the same thing?"
I try to cleanse my palate with the Greenway IPA — American style with a mix of citrus, floral and piney flavors and aromas — and instantly note a big difference. "I could drink this no problem, but the 3C IPA — I couldn't have more than a sip."
Engle agrees. "It's much more subtle."
The Hyzer Hefewiezen is described as a wheat beer with banana and clove flavors, though we are all disappointed by the dominance of the cloves over banana. "I was hoping it would have more banana flavor," Engle says.
"The clove goes a long way," Hendrickson adds. "I would like more banana in that."
"Me too," I concur. "I think people probably read the description and get distracted by the banana description and are disappointed."
I save the Golden Boy, a blonde style beer, for the end since I've had it before. It has a smooth and uncomplicated taste, and I figure it's a good option to finish the night with. But after experiencing so many robust flavors, the Golden Boy almost tastes watered down. "I think it's Bud Light mixed with Coors Light with a hint of High Life," I say. "Now, I've liked it other times I've had it ... so I think it's because I had the other beers first. I probably should have started light and then worked toward more flavor. Tonight, it's not working for me." Hendrickson and Engle agree that it's a much weaker flavor after the others.
The last one they try is the Road to Nowhere Porter, described as a dark ale with chocolate and nutty malt flavors. "I love the name," Hendrickson says.
"It has less body," Engle notes. "I was worried that I might have to chew on this one like a steak." It's surprisingly light and drinkable, they agree. "This is my favorite," Engle says.
Before we have a chance to go back over which beers we enjoyed the most, we're informed that it's closing time. And just when I'm getting the hang of all this taste-testing.
LIKE GENRES OF MUSIC, Charlotte has plenty to offer when it comes to beer: simple and traditional beers, off-the-wall flavors and new-found favorites. And, just like those sounds you hear at venues around town, if you don't get out and try them, you'll never know what you might be missing.
---
'THAT'S WHAT SHE SAID'
As the beer flowed and the nights got more relaxed, we were all, girl included, making plenty of comments that were quickly followed by "that's what she said." Here are the six best. File them under, "Things you can say out loud while drinking beer, that you might not say to your partner."
"I don't like when this hits the back of my throat."
"I'm not sure I'd want that in my mouth on a regular basis."
"I had some terrible shit that I never should have put in my mouth when I was in my 20s."
"I don't mind the aftertaste."
"It's got a nutty flavor."
"Man, this is not as thick as I thought it would be."