BREATHE IN
*1/2
DIRECTED BY Drake Doremus
STARS Guy Pearce, Felicity Jones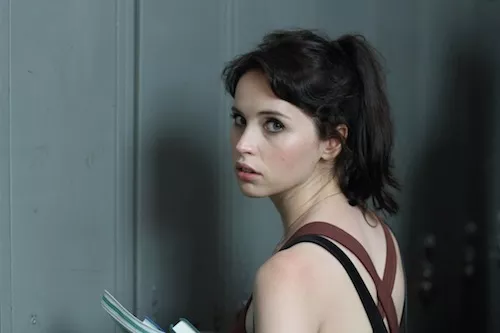 Felicity Jones in Breathe In. (Photo: Cohen Media Group)
Writer-director Drake Doremus' 2011 effort Like Crazy won the Grand Jury Prize at that year's Sundance Film Festival, even though it was (as I wrote in my original review) "three-quarters twee and one quarter Glee." Breathe In, which Doremus co-scripted with Ben York Jones (as he had Like Crazy), isn't much of an improvement: A film about a May-December romance, it would be laborious to sit through at any time of year.
The Reynolds family — dad Keith (Guy Pearce), mom Megan (Amy Ryan), daughter Lauren (Mackenzie Davis, a promising young actress) — has opened its upstate New York home to Sophie (Felicity Jones), a British exchange student in the U.S. for one semester. Megan does everything to make the young woman (who has just turned 18) welcome, and while Lauren initially balks at sharing her room with another person, she's also as gracious as can be expected. Keith is another matter. A music teacher who longs to land a symphony job full-time so the clan can hopefully afford to move back to New York City, he's nothing but moody around Sophie, and she in turn acts distant to him. While those of us might understandably think they're just sleepy during the moments of their encounters, it's actually a smoldering passion that's developing between them, and soon, the pair have graduated from wistful stares to touching fingers and patting shoulders. The next step is to consummate their relationship, but will the pesky wife and meddlesome daughter interfere with Keith's attempts to recapture his long-gone youth?
It's really hard to care, since Keith is painted not as a middle-aged man suffering from a real existential crisis but merely a guy hoping to score some teenage nookie. While Doremus and his co-scripter receive most of the blame for their characters' failure to communicate with audiences, there's also the fact that Pearce and Jones, while fine individually, have absolutely no chemistry together. The majority of the film is merely a languid affair, but then it adds a series of head-smacking developments (a chance sighting, a car crash) that are as transparent as one's breath in subzero weather.