(View From The Couch is a weekly column that reviews what's new on Blu-ray and DVD. Ratings are on a four-star scale.)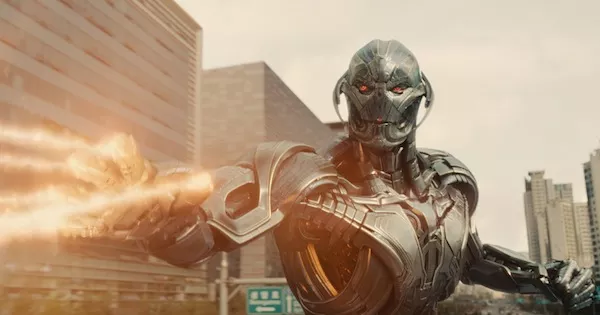 Avengers: Age of Ultron (Photo: Disney & Marvel)
AVENGERS: AGE OF ULTRON (2015). The marvel that was 2012's The Avengers receives a letdown of a sequel in Avengers: Age of Ultron, the sort of hype-driven CGI extravaganza that left impressionable fanboy types feeling like they had just stared into the face of God while causing more discernible moviegoers to chalk this up as a mild disappointment as well as a blown opportunity. The meat of the story finds Tony Stark/Iron Man (Robert Downey Jr.) going the Dr. Frankenstein route and attempting to create life — in this case, an AI he hopes will serve as a global peacekeeper. But instead of a Gandhi/RoboCop hybrid, Stark ends up with Ultron (voiced by James Spader), a maleficent being with the goal of wiping out the human race. Along with Stark, the rest of the Avengers are of course on hand to combat any and all threats, and as with the first film, the best moments are those in which the characters are allowed to relate to one another, whether in casual conversation, via jokey exchanges or through verbal assaults. But wait! There's more! There's the introduction of yet three more superheroes. There's a sizable appearance by James Rhodes/War Machine (Don Cheadle). There's the expected drop-in by Nick Fury (Samuel L. Jackson), delivering his standard rallying speech like Henry V at the Battle of Agincourt. And there's Stark's Iron Men, Ultron's minions, Stark's Hulkbuster, Loki's scepter, and presumably even a partridge in a pear tree. Most of all, there's overkill, with characters and subplots being woefully truncated and sloppily filmed battle sequences proving to be more irksome than exhilarating. It's all fine and dandy for the ADD set, but more careful planning would have been appreciated when it came to assembling this Avengers outing.
Blu-ray extras include audio commentary by writer-director Joss Whedon; a making-of featurette; deleted scenes; and a gag reel.
Movie: **1/2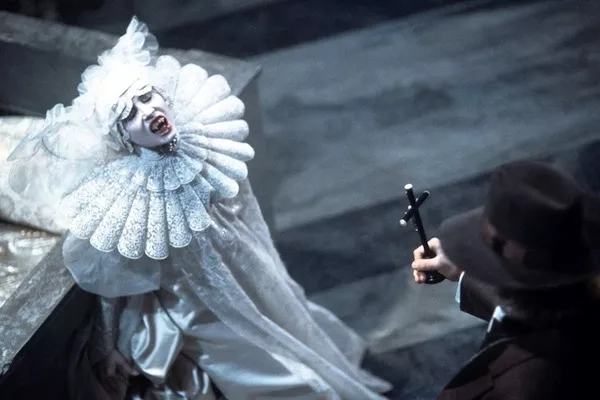 Sadie Frost in Bram Stoker's Dracula (Photo: Columbia)
BRAM STOKER'S DRACULA (1992). Francis Ford Coppola's stunning (and fairly faithful) adaptation of the classic vampire novel is a movie lover's dream, as the director elected to rely on old-school cinematic techniques (albeit executed with modern-day aplomb) to punch across his bold and bloody interpretation. Employing many tricks that were popular as far back as the pioneering years of the motion picture medium — double exposures, matte shots, miniatures — Coppola and scripter James V. Hart accentuate the romanticism of the story, with their Dracula (Gary Oldman) a fierce warrior whose every move springs from his love for his soulmate (Winona Ryder). After she's killed, he lives on for centuries, eventually finding her reincarnation in a Victorian-era bride-to-be. Oldman, Ryder and Anthony Hopkins (as Professor Van Helsing) are fine, other cast members less so (Keanu Reeves is hopelessly miscast as Jonathan Harker), but it's the film's intoxicating style that trumps everything else. Bram Stoker's Dracula earned three Oscars for Best Costume Design, Best Makeup and Best Sound Effects Editing, yet equally noteworthy are the stunning art direction, Michael Ballhaus' gliding cinematography, and especially Wojciech Kilar's superb score, which emerged as one of the best soundtracks of its decade.
Blu-ray extras include audio commentary by Coppola, visual effects director Roman Coppola and makeup supervisor Greg Cannom; separate audio commentary by Coppola; an introduction by Coppola; a making-of featurette; deleted and extended scenes; and pieces on the costumes (designed by Eiko Ishioka) and visual effects.
Movie: ***1/2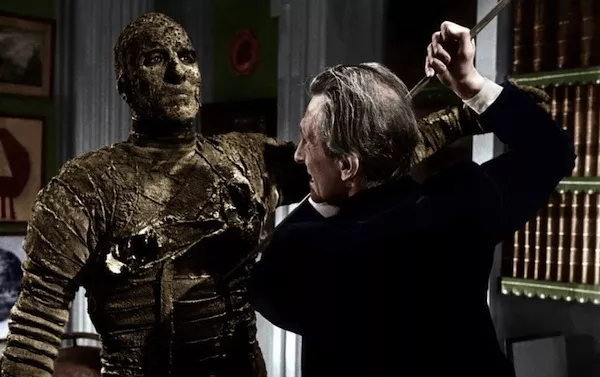 Christopher Lee and Peter Cushing in The Mummy (Photo: Warner & Hammer)
HORROR CLASSICS: VOLUME ONE (1959-1970). That would be Hammer horror classics, to be exact. And while it's always a welcome day when titles from Britain's Hammer Films make their way to Blu-ray, it's a shame so many different American companies own the rights to all the different releases, as this makes the likelihood of ever seeing a comprehensive box set very slim indeed. For Warner's first volume of the features in its stable, the outfit has elected to present the first (out of four) Mummy movie, the fifth (out of seven) Frankenstein flick, and the fourth and fifth (out of nine) Dracula films.
Hammer stumbled upon its successful formula with 1957's The Curse of Frankenstein and immediately built upon it with 1958's Horror of Dracula. Both movies made international superstars out of Peter Cushing and Christopher Lee, so they were logically chosen to headline 1959's The Mummy. As before, it's Cushing who handles the lion's share of the dialogue as the human protagonist while the more physically imposing Lee plays the part of the monster. In this case, he's Kharis, the high priest who's awakens centuries later and seeks revenge against those who defiled the tomb of the Egyptian princess he served. Cushing portrays one of the archaeologists from that ill-fated group in this literate and robust retelling.
Christopher Lee in Dracula Has Risen from the Grave (Photo: Warner & Hammer)
It was eight years after Horror of Dracula before Lee finally returned to the role of the bloodsucking count in 1966's Dracula: Prince of Darkness (he did not appear in 1960's The Brides of Dracula), but following that hiatus, he appeared in six Dracula flicks within an eight-year span. Following Prince of Darkness is 1968's Dracula Has Risen from the Grave, which finds the vampire accidentally freed from the icy tomb that had ensnared him at the end of the previous picture. He seeks revenge against a local monsignor (Rupert Davies) and goes about it by targeting his beautiful niece (Veronica Carlson). The film interestingly makes its young heroic lead (Barry Andrews) an atheist rather than the usual follower of Christ, but some script deficiencies hamper the overall project.
Simon Ward, Freddie Jones and Peter Cushing in Frankenstein Must Be Destroyed (Photo: Warner & Hammer)
The 1969 effort Frankenstein Must Be Destroyed might be the worst picture in the entire Frankenstein cycle, losing sight of the character of the obsessed scientist in an effort to score some cheap thrills. In this one, Baron Frankenstein (Cushing) blackmails a young couple (Simon Ward and Dracula Has Risen from the Grave's Carlson) into assisting him as he tries to transfer a brain from one body to another. In the four previous films, Cushing's mad doctor was consumed by his work to the point that nothing else mattered, which is why it makes no sense when he suddenly rapes Carlson's character. Of course, that scene wasn't in the original script — producer James Carreras insisted it be added because he felt American audiences demanded sex in all their films (because of course "rape" and "sex" are the same thing) — but despite the protests of Cushing and director Terence Fisher, the sequence stayed. There are a few flashes of style here and there, but the treatment of Carlson throughout the film leaves a bad taste in the mouth.
Christopher Lee, Isla Blair and Linda Hayden in Taste the Blood of Dracula (Photo: Warner & Hammer)
A more acceptable bad taste in the mouth can be found in 1970's Taste the Blood of Dracula, an unusual if not wholly successful outing in which three bored members (Geoffrey Keen, Peter Sallis and John Carson) of respectable society get involved with a Satanist (Ralph Bates) who, after drinking the vanquished Count's blood like so much Kool-Aid, manages to bring him back from his eternal slumber. As always, the debonair bloodsucker prefers his victims to be young and female, which spells trouble for the daughter (Linda Hayden) of one of the three businessmen. A strong cast and some interesting relationships make this a worthwhile entry, although the denouement is lamentably laughable.
Blu-ray extras consist solely of each film's theatrical trailer.
The Mummy: ***
Dracula Has Risen from the Grave: **1/2
Frankenstein Must Be Destroyed: **
Taste the Blood of Dracula: **1/2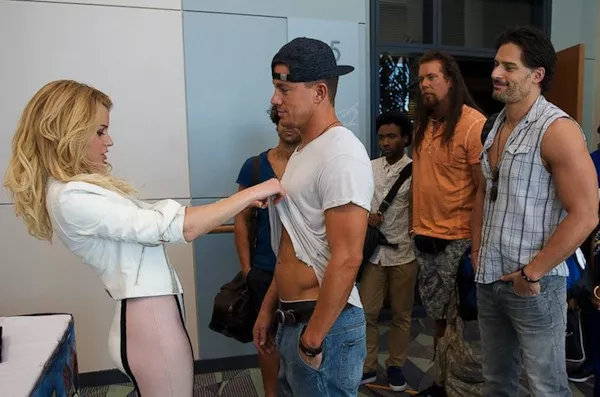 Elizabeth Banks and Channing Tatum (center) in Magic Mike XXL (Photo: Warner)
MAGIC MIKE XXL (2015). The most shocking surprise of the summer season that recently wrapped, Magic Mike XXL is that rare sequel which improves on the original. Many will disagree, given that the 2012 Magic Mike was a critical darling (largely due to the presence of the revered Steven Soderbergh as director) and commercial hit (largely — solely? — due to the presence of all those rippling bods). Yet that first flick frequently left me shrugging, with a plot that was often more soapy than gritty. The solution in this second installment? Remove the plot completely! Or so it feels, as this outing offers little more than a road trip taken by Mike (Channing Tatum) and his fellow male strippers to a Myrtle Beach competition, with a couple of stops along the way. One is at an establishment run by Mike's former boss and former squeeze, Rome (Jada Pinkett Smith); the other is a Charleston estate where the guys entertain a MILF (Andie MacDowell) and her equally appreciative guests. Magic Mike XXL is a breezy, all-inclusive treat: It's sexy, it's stylish, it's well-paced (and the dance routines exceptionally well-choreographed), and it's unexpectedly pro-women, treating the female characters as respectfully as the male strippers do and reminding viewers that carnal pleasures aren't reserved only for the hot young thangs among us (props also to Mike's refreshing view of God). MMXXL is an MRA nightmare, but its good-time vibes will hopefully translate into dreamy Blu-ray/DVD returns.
Blu-ray extras include a behind-the-scenes featurette and an extended dance sequence.
Movie: ***
River Phoenix and Keanu Reeves in My Own Private Idaho (Photo: Criterion)
MY OWN PRIVATE IDAHO (1991). Calling Gus Van Sant's My Own Private Idaho a great film would clearly be stretching it, but calling it a great exercise in film experimentation would be right on the money. Van Sant, still flush from the critical success of 1989's Drugstore Cowboy, made what's in essence a homosexual road movie that espouses the family values of a Disney feature and the pop art sensibilities of a Warhol piece — with a liberal dose of Shakespeare thrown in for good measure. River Phoenix, in a bold performance that earned him Best Actor honors from the National Society of Film Critics, is cast as Mike Waters, a Portland street hustler who deals with stressful situations by tumbling into a narcoleptic state. His only true friend is Scott Favor (Keanu Reeves), who abandoned his privileged life as the son of Portland's mayor to hang out on the streets with other boy toys. Deeply in love with Scott, Mike counts on his pal to help him find his mother, embarking on a journey that will take them to Idaho and then Italy. Van Sant packs his movie with all manner of unusual narrative devices and offbeat visual flourishes, and, perhaps not surprisingly, the end result is a mishmash of things that work (the animated gay porn magazine covers) and things that don't (the Henry IV homage that dominates the middle of the movie). Yet for all of Van Sant's idiosyncrasies, the picture's most memorable component is the aching performance by Phoenix, who would suffer a drug-induced death almost exactly two years after this movie's debut.
Blu-ray extras include a making-of featurette; an audio interview with Van Sant conducted by director Todd Haynes (Far from Heaven); deleted scenes; and a conversation between producer Laurie Parker and River's sister, Rain Phoenix.
Movie: ***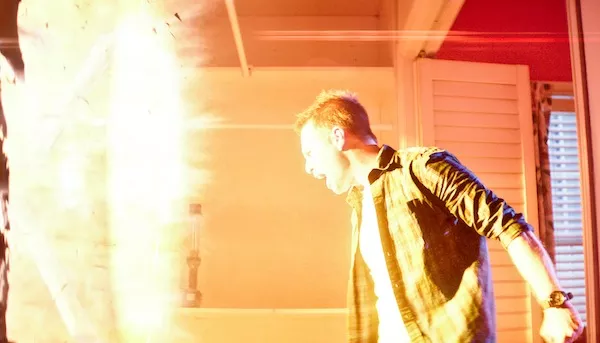 Sam Rockwell in Poltergeist (Photo: Fox & MGM)
POLTERGEIST (2015). More pilfering of this nation's collective nostalgia on the cinematic front, Poltergeist is a reboot of the popular flick directed by Tobe Hooper and produced by Steven Spielberg. That 1982 offering presented the horror film as an amusement park ride, thrilling audiences with its roller coaster rhythms and hair-raising turns. The picture provided a unique experience not duplicated by its two sequels — lacking anything fresh or fun, they quickly went off the rails, a condition shared by this mediocre update. As before, there's a five-figure family — dad Eric (Sam Rockwell), mom Amy (Rosemarie DeWitt) and kids Kendra (Saxon Sharbino), Griffin (Kyle Catlett) and Madison (Kennedi Clements) — taking up residence in a seemingly innocuous suburban home. It's Madison who first realizes there's a supernatural presence in the house, talking to spooks through a closet door and a flickering TV screen. Soon, though, Griffin is being attacked by stuffed clowns while Kendra has to suffer the indignity of faulty Wi-Fi; once the parents get wind of the situation, they turn to a team of paranormal researchers as well as a celebrity ghost hunter (Jared Harris). The jolts from the first film — specifically those tied to that Indian burial ground — are narratively disemboweled at early points, leaving nothing in the way of surprises. It's not that this Poltergeist is a bad film per se — the whomping willow tree is an effective carryover, and I did enjoy the approach taken by Rockwell, making the dad endearingly goofy — but it appears to be made for people who have never seen a haunted house film before. For everyone else, it won't even seem like a remake of Poltergeist as much as it will feel like The Conjuring 2, Insidious: Chapter 4 or Paranormal Activity 33-1/3.
The Blu-ray contains both the theatrical version as well as an extended cut. Extras include an alternate ending and a still gallery.
Movie: **
Patricia Quinn, Tim Curry and Little Nell in The Rocky Horror Picture Show (Photo: Fox)
THE ROCKY HORROR PICTURE SHOW (1975). Thirteen years ago, Entertainment Weekly released its picks for The Top 50 Cult Movies, and the choice of This Is Spinal Tap as the number one cult flick, over number two pick The Rocky Horror Picture Show, was something of a surprise. Let's face it: Spinal Tap may be a better film than Rocky Horror, but when it comes to a dictionary definition of "cult film," nothing has ever matched the midnight movie perennial. Made for just over a million dollars, the film bombed when initially released for a regular run — approximately six months later, it made its midnight-movie debut, and continuous showings even up to this day (making it the longest running film in history) have resulted in an astounding $140 million gross. Famous for its allure as an audience-participation event, this adaptation of the stage musical works just fine as a solo viewing at home, with no resultant diminishment of its highlights: the film homages, the vibrant set design, the musical numbers "Science Fiction/Double Feature," "Sweet Transvestite," "Touch-a, Touch-a, Touch-a, Touch Me" and especially "Time Warp," the sight of a young Susan Sarandon as Janet ("Dammit Janet") and particularly the sensational performance by Tim Curry as Dr. Frank-N-Furter.
The Blu-ray contains the U.S. version of the film as well as the U.K. cut which runs approximately two minutes longer. Extras include various optional features designed to duplicate the "midnight movie" experience (including an interactive Prop Box that amusingly allows viewers to "throw" objects at the screen); audio commentary by Richard O'Brien (the show's creator, who also plays Riff Raff) and Patricia Quinn (Magenta); a pair of deleted musical numbers; outtakes; and a poster gallery.
Movie: ***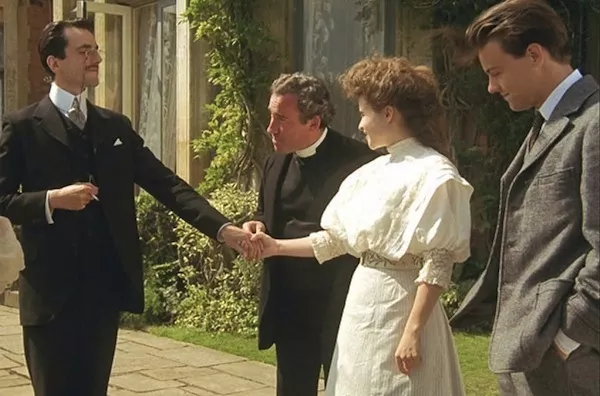 Daniel Day-Lewis, Simon Callow, Helena Bonham Carter and Rupert Graves in A Room with a View (Photo: Criterion)
A ROOM WITH A VIEW (1986). It may come as a surprise to some that Merchant Ivory Productions, created by producer Ismail Merchant (who passed away 10 years ago) and director James Ivory, has been around since the early 1960s, considering that "Merchant Ivory" as a film brand didn't emerge until the pair began experiencing their greatest successes during the 1980s and 1990s. Pictures such as Shakespeare Wallah, The Europeans and The Bostonians (all scripted, like the vast majority of theirs works, by Ruth Prawer Jhabvala) earned appreciative ink, but the tony outfit's breakthrough production was A Room with a View, an adaptation (by Jhabvala, natch) of the E.M. Forster novel. The movie often feels like a test run for the team's thematically richer hits, 1992's Howards End and 1993's The Remains of the Day, but its modest pleasures nevertheless stand on their own. A 19-year-old Helena Bonham Carter makes her striking film debut as Lucy Honeychurch, who travels to Florence under the tutelage of her chaperone Charlotte Bartlett (Maggie Smith) and falls for the brash George Emerson (Julian Sands), who's vacationing there with his liberal-minded father (Denholm Elliott). Upon returning to England, Lucy moves ahead with her plans to marry the supercilious Cecil Vyse (Daniel Day-Lewis) but the unexpected arrival of the Emersons changes everything. Nominated for eight Academy Awards (including Best Picture and supporting bids for Smith and Elliott), this won three: Best Adapted Screenplay, Art Direction-Set Decoration, and Costume Design.
Blu-ray extras consist of new interviews with Ivory, Bonham Carter, Sands, co-star Simon Callow, cinematographer Tony Pierce-Roberts and costume designer John Bright; a segment from a 1987 episode of NBC Nightly News focusing on Merchant Ivory Productions; and the theatrical trailer.
Movie: ***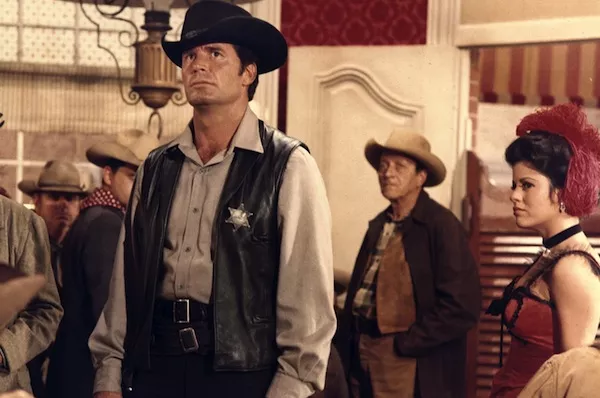 James Garner in Support Your Local Sheriff! (Photo: Kino)
SUPPORT YOUR LOCAL SHERIFF! (1969) / SUPPORT YOUR LOCAL GUNFIGHTER (1971). James Garner was one of those stars who was able to move between cinema and television with ease, headlining such long-running shows as Maverick and The Rockford Files while also appearing in A-list moves like The Great Escape and The Americanization of Emily. Garner enjoyed one of his biggest theatrical successes with Support Your Local Sheriff!, an absolutely riotous Western in which he plays Jason McCullough, a personable Easterner newly arrived in a Wild Wild West town rampant with lawlessness. McCullough agrees to become the new sheriff for a hefty fee and immediately appoints Jake (Jack Elam), the local bum, as his deputy. Garner is excellent as a soft-spoken man smarter than everyone around him, and he receives stellar support from Elam, Joan Hackett as the klutzy Prudy Perkins, Walter Brennan (spoofing his My Darling Clementine villain) as Pa Danby and Bruce Dern as Joe Danby. The running gag involving the jail cell without bars never grows stale, a condition indicative of the entire picture.
James Garner and Jack Elam in Support Your Local Gunfighter (Photo: Kino)
Garner, director Burt Kennedy, and numerous co-stars (including Elam and Harry Morgan) reunited for the in-name-only sequel Support Your Local Gunfighter, which displays the same sort of comic sensibility but has to work harder to uncover the laughs. In this one, Garner plays Latigo Smith, a con man who's mistaken for a ruthless gunfighter. Not wanting to find himself in the line of fire but still hoping to profit from the gullible townspeople, he convinces them that his bumbling friend Jug May (Elam) is really the murderous gun-for-hire. This follow-up has trouble getting out of the gate but eventually hits its stride, and Elam is as hilarious as in the previous film.
The only extras on each DVD are both films' theatrical trailers as well as those for 1966's Duel at Diablo (pairing Garner with Sidney Poitier) and 1969's Young Billy Young (starring Robert Mitchum).
Support Your Local Sheriff!: ***1/2
Support Your Local Gunfighter: ***