Out of chaos came BOOM!
Let me explain. In this case "chaos" means Que-OS, the nonprofit led by BOOM Director Manoj Kesavan, and BOOM is — well, it's the mother of all art bombs.
BOOM landed in Plaza Midwood last year, delivering a three-day festival of avant-garde and grassroots arts, including dance, music and theater. The festival returns to the funky, artsy neighborhood this year from April 28 to April 30, with an expanded palette.
UrbanZue photo by Alejandro Melchor
The number of performers has multiplied, and two new venues have been added. In addition to last year's mainstays — Petra's, Snug Harbor, Rabbit Hole and a free outdoor stage dubbed the Intersection, BOOM 2017 will feature visual art at Twenty-Two gallery and a range of films, installations and activities at International House.
Despite the upgrade, BOOM's essentials stay the same. It's cheap, with show admissions ranging from $10 to free; it's easy to navigate, with venues just a short stroll from each other; and it's weird, with performances including a psychedelic western, an automotive-centered autobiography and dance piece for and by the visually impaired.
The seed for this cultural explosion was planted back in 2012, Kesavan says, when a little media circus called the Democratic National Convention came to town. "Que-OS is a platform for creative people to come together and work on a big scale to further a social purpose," Kesavan says. "We launched (it) in the days leading up to the convention, and we staged a bunch of art installations all over uptown."
In addition to a 60-foot-long chain link "canvas" for recycled bottles and cans, video and art projections on the seven-story wall of Uptown's UNCC building, and 18 music acts at the 7th St. Market, the project included over 80 pop-up street performances of dance, theater, spoken word and music. The pop-ups brought Kesavan and Charlotte's diverse performing arts community together. Conversations among Kesavan and local artists such as Quentin Talley, Camerin Watson and Matt Cosper laid the foundations for BOOM.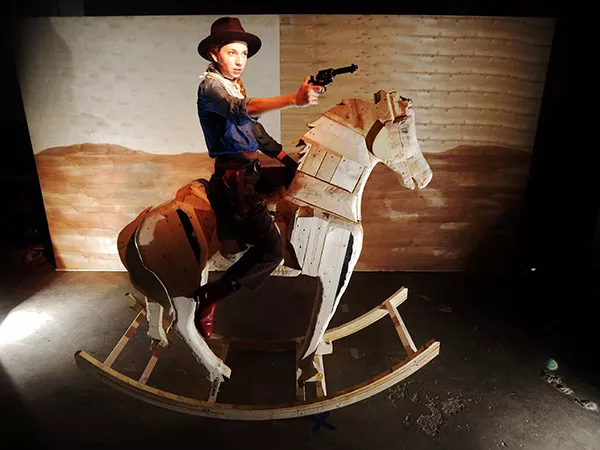 XOXO's 'All the Dogs and Horses' photo by John Prichard
"It says a lot about Charlotte that we didn't have a fringe festival," Kesavan says. " Every city has this kind of annual gathering. Greensboro has had one for 14 years." In Charlotte, the focus had been too long on institutional art, the kind fostered and funded by corporations and banks, Kesavan maintains, and he felt it was high time the arts paradigm shifted.
Convinced there was an unaddressed need in Charlotte for a fringe and grassroots art showcase, Kesavan and a curatorial board consisting of Talley, Cosper and others launched BOOM in 2016.
"We started big," Kesavan says. " We had 50-plus shows in four venues over three days."
The premiere festival succeeded beyond the organizers' wildest expectations.
"With ticket sales and folks flowing through the free Intersection Stage over three days, we estimated about 5,000 people attended (at least one) BOOM event last April," says BOOM marketing orchestrator Lou Kinard. "Between media coverage, networking with our partners, direct mail and word-of-mouth, we expect to grow that number this year to 8,000."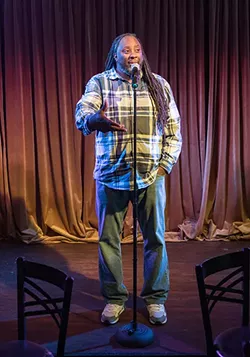 Bluz photo by Deborah Triplett
But it could be more. With many new partners — ranging from established institutions like Tosco Music Party to relative newcomers like AfroPop! and Urban Züe — bringing in their fans and followers, the festival could well double last year's attendance, Kinard says.
Kesavan, betraying his background in architecture and design, sees the festival as an interlocking series of components. One component, perhaps the core of the festival, is BOOM's fringe contingent, represented by a series of $10 ticketed performances at Petra's, Snug Harbor and Rabbit Hole.
"These are full-length pieces, close to an hour long," Kesavan explains. "There will be 10 of them, and each will be performed three times."
At Petra's, Matt Cosper's XOXO theater troupe will be staging one of those shows, All The Dogs and Horses, which he describes as an "acid western."
"It's like a Pee-wee's Playhouse episode about the old west," Cosper says, but the show also examines western myths, particularly the redemptive power of violence. "We're subverting the idea that violence can redeem someone who is lost or broken."
Dogs and Horses is set in the desert, and since it's a psychedelic story, those desert sands shift often. "Borders start bleeding, and one desert can become another," Cosper says. "We allude to Moses, and there might be a mummy in there, too. There's a connection between the Old Testament notion of eye-for-an-eye justice and gunning down the no-good varmint who shot your Pa."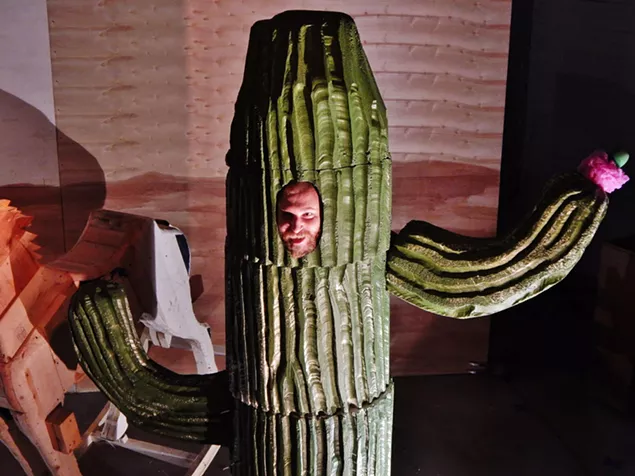 XOXO's 'All the Dogs and Horses' cactus photo by John Prichard
Did I mention that a cactus, animated by a puppeteer, is also a character?
Over at Snug Harbor, poet Boris "Bluz" Rogers, plus a small cast of actors and singers, will perform his piece Road Tripping.
"It's a play that takes place in my car, while I'm on my way to see a friend," Rogers says. "Inside of that journey, I take the audience through some key points in my life. It's all based around experiences I've had while traveling in a car."
Drawing on the work of five black female choreographers, Kayla Hamilton brings to Rabbit Hole a multimedia solo dance performance, entitled Nearly Sighted, which she describes as "a statement on my visual impairment and the invisibility of black females in concert dance."
An illness and side effects from medication have left Hamilton with loss of sight in one eye, impaired peripheral vision, double vision and blurred vision. She wears an eye patch, and eye patches will be passed out to audiences at each performance.
Kayla Hamilton photo by Travis Magee
"I'm using my vision as a way to examine the way that we choose to see, or not to see, the world," Hamilton says. "I'm inviting the audience into my perspective."
One Key component of the festival is grassroots and community arts, Kesavan says, represented by free performances at the Intersection, situated in a large lot across Commonwealth Avenue from Common Market. Highlights include Drumstrong's drum circle, dance by Loose Leaf, music by Hip Hop Orchestrated and Minthill, and family activities with the Mint Museum and Charlotte Symphony.
International House hosts the Tosco Music Party as well as the 100 Words Film Festival, a celebration of concise cinematic storytelling launched in 2014 by filmmaker Scott Galloway. (Each short film has to tell a complete story in exactly 100 words.) This is the first year for both Tosco and 100 Words at BOOM.
Mystery Meat's 'Jank Tank' photo by Annabelle Prince
"We're excited to have an eclectic mix of student and professional filmmakers, all from Charlotte and its surroundings, showcasing their 100-word films," Galloway says.
There will be two "100 Words" film premieres, Kevin Patterson's Chupacabra: A Love Story and Joshua Yates' Underbelly Up.
The International House is also casting a net beyond the city's boundaries. Artist and curator Jessica Moss is collaborating with regional painters, sculptors and multimedia muralists to transform the space into a pop-up gallery called the Hue + Shade Lounge.
"(The gallery) will feature a group of multidisciplinary artists making some of the most stimulating, thought-provoking and challenging contemporary work coming out the region," Moss says. "These artists are all within an arm's reach of Charlotte."
All of this art, performance, playfulness and discovery wouldn't be possible, Kesavan says, if it wasn't for the generosity of Plaza Midwood and its small businesses.
"They are amazingly supportive," Kesavan says. "They don't have the money to be big sponsors, but we've had so many offers from people to use their space, or to use their parking lot.
Mall Goth's Mat Duncan photo by Keisha Luzzi-Paul
"What BOOM has always needed was several small venues, all within walking distance," Kesavan adds. "Plaza Midwood is one of the few areas in Charlotte where we can have that. NoDa doesn't have it anymore. South End doesn't have it anymore."
Kesavan believes the festival, which expanded from four to six venues this year, has even more room for growth.
"Next year, we're hoping to connect the dots and have pop ups on the streets in between the venues" — miniature art explosions along the route from one show to the next, he says. "We talked about closing off a segment of Commonwealth, which would give us far more space. But that comes with regulations and expenses. For example, we need to have two CMPD officers there 24/7 throughout the festival."
For now, Kesavan and the artists involved in the festival are focused on how BOOM's big bang reverberates today — locally, regionally and further afield.
"The festival is extremely important to Charlotte now that many traditional performance spaces are disappearing," Rogers says. "BOOM is a grand statement that says Charlotte has talent and knows how to put on a festival that inspires the city."
AfroPop event courtesy of AfroPop
"It's a reminder that culture is already present in here," Moss says, "and that we must continue to support the artists who live and work here."
Cosper believes that by opening up the avant-garde to everyone, BOOM invites everyone to the experimental art table. The festival is an opportunity for people to get the idea that, "Experimental work is not just being weird for weirdness' sake," he says.
For Kesavan, BOOM's organic origins are every bit as important as its artistic goals.
"This is a community festival," he says, "It's not an institutional model, where people draw up plans and then hire artists to execute those plans. It's the artists taking the lead. This could be the largest arts festival in Charlotte, and it's very much grassroots."