FOR TWO SULTRY July nights and one afternoon, a small army of performing artists will converge on the McColl Center, where they will dance, swing from the rafters and spit fire in an event that resembles a mash-up of Carnival in Venice, the garden of earthly delights and a (sort of) family-friendly bacchanalia. But for Katie Rothweiler, Bloom: Revolution is a labor of love.
"We tell applicants when they sign up for the event to bring their weird," Rothweiler says, laughing. The 33-year-old belly dance instructor and aerialist, who performs under the name Satya, is discussing the latest iteration of Bloom, the performing arts showcase she organizes each year with her creative partner Sarah Hahn.
This year, Bloom will take over the McColl for three separate events: two adult-only evening bills that feature mature concepts and burlesque performers on July 28 and 29, and a family-friendly show on the afternoon of the 29th. As the duo Satarah, Rothweiler and Hahn have been mounting their annual celebration of the aerial, terpsichorean and incendiary arts since 2012.
Alyssa Zayak swims through the air at Bloom. (Photo by PhotoArtofTec)
When Bloom first blossomed, it was going to be a comparatively modest affair.
"We were teaching classes at the time and we were planning on putting together an intimate show for our students to perform for their families and friends," Rothweiler says. Rothweiler and Hahn wanted to rent out the small front area of the Chop Shop, but the owner of the since-shuttered venue, Jay Tilyard, said nothing doing.
"Jay insisted we do something bigger," Rothweiler says. So Bloom launched with a big bang in December 2012, and staged a follow-up show in the summer of 2013. Satarah has been hosting the events every summer since, not an easy task in the face of Charlotte's enthusiastic embrace of development and gentrification.
"After the Chop Shop got torn down, we no longer had a place to hold Bloom. We were really nervous about whether we were going to have it again."
A big hurdle is that there are so few Charlotte venues that can host fire, aerial and dance. Rothweiler and Hahn went looking, but the search was not going well.
Alexis Brown soars above the fray.
"Then we were driving Uptown and I saw the McColl Center and I knew it was where we need to be," Rothweiler says "It would be the perfect backdrop for us."
Satarah first booked the McColl last year for a two-day run. The event went so well that they're back this year for the three performances. Bloom's success has exceeded Rothweiler and Hahn's wildest dreams. Rothweiler believes it's because it offers participants something other performance troupes and organizations do not: freedom.
"We're giving people a stage where they don't necessarily have to follow the rules," she says. "We want people to feel free to do things onstage that they wouldn't feel comfortable doing with other dance communities."
This year's Bloom will be Satarah's biggest yet, featuring more than 60 acts. Half of those performers will defy gravity on silks, trapeze and an aerial hoop called the lyra. Another six will be playing with fire.
"I'll be doing a fire performance to Chris Isaak's 'Wicked Games' with the dragon staff," Collette Ellis says. "It's a large spinning staff with eight wicks that you move by rolling it across your body."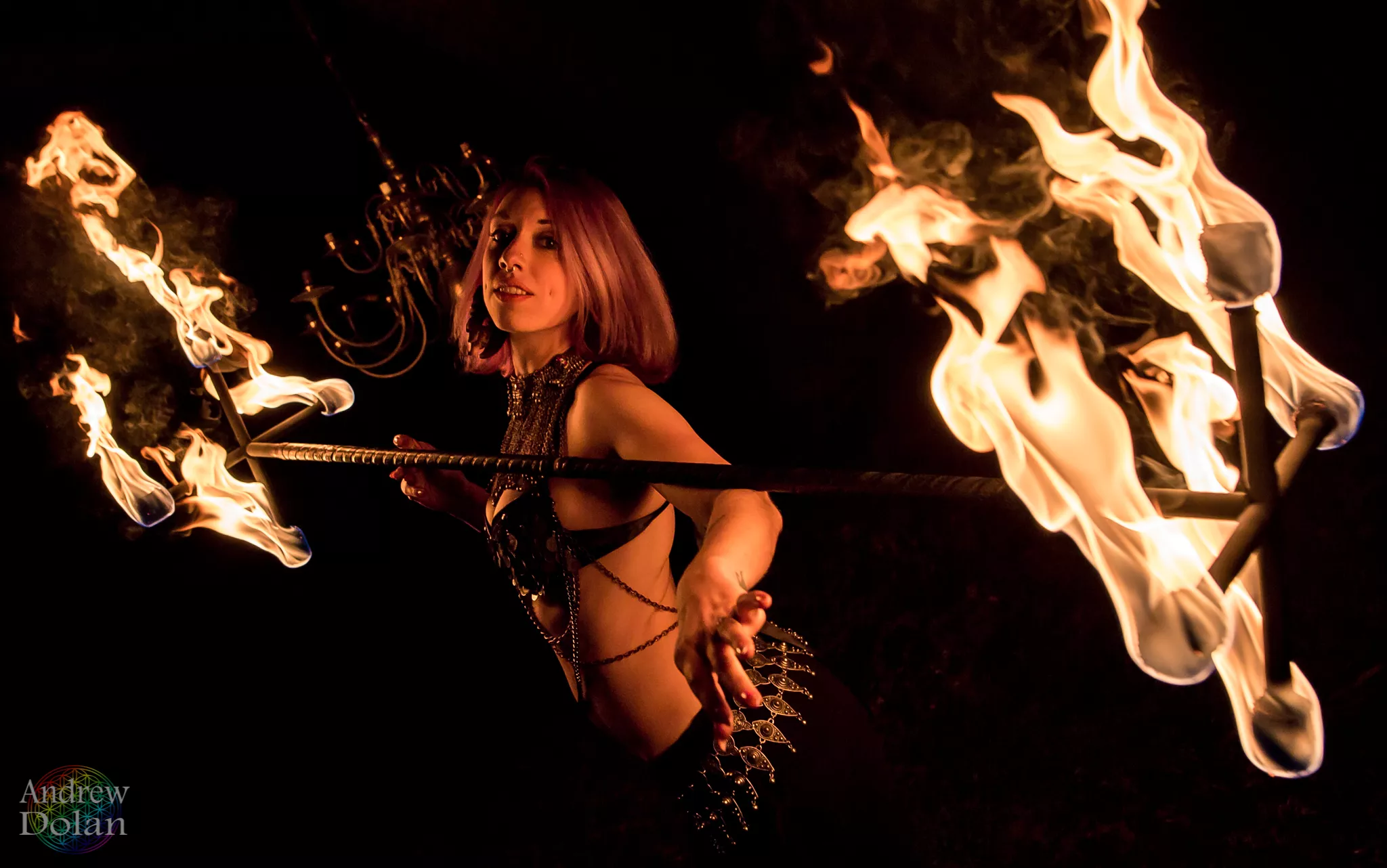 Ellis finds herself between a rock and a hot place. (Photo by Andrew Dolan)
As Ellis describes the routine, her spiral motion sets a gyroscopic force that keeps the fiery staff moving across her back, torso and shoulders. It sounds hypnotic — and more than a little risky.
"When you work with fire, there is always a chance that you will get burned," says Ellis, who's sustained a few minor injuries. She describes her most recent burn as no worse than what you'd get from accidentally grabbing a hot spoon you had left in a pan.=
Injuries aside, Ellis keeps coming back to fire performance. For performers as well as observers, it casts a spell. "Doing fire properly takes so much focus and preparation," Ellis says. "It's almost like meditation."
Like Ellis, other members of Charlotte's performing arts community also have been attracted to Bloom. Satarah's record number of performers for 2017 had to be pared down from a much larger pool of applicants.
"We've been getting so many people submitting to perform, that we decided to streamline the process," Rothweiler says.
Starting last year, Satarah winnowed down the pool of applicants by requiring them to tailor their acts to a specific theme. The theme focuses each act's impact, and encourages each applicant to bring their personal story to the performance, Rothweiler maintains. In 2016, Bloom's theme was "Transformation."
Emma Johnson strikes a pose.
This year's theme, "Revolution," reflects the tumult and upheaval that continues to reverberate through the city.
"People have been so frustrated, sad and scared, but these are all things that make art happen," Rothweiler says, adding that revolution can come in many guises. "It can be personal — some obstacle you overcame in your life," she says.
Just as it figures directly into some of Bloom's performances, fire is also a powerful metaphor for the event's focus on incendiary change, but the flames of revolution won't necessary translate to aerialists, dancers and fire eaters storming city hall, Rothweiler says.
"We wanted to give people the opportunity to get political, but we don't want everything to be angry," she says. "We want to bring some softness into the event as well."
The theme of revolution not only speaks to Bloom's performers and audience. It resonates with Rothweiler and Hahn as well.
"Even though we chose that theme because of its political echoes, it really does speak to where we are currently in our lives," Rothweiler says.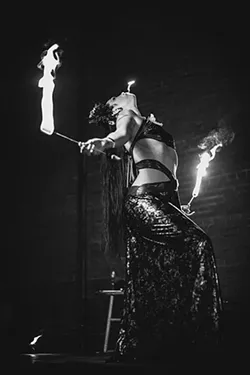 Jen Burden balances flames.
"We've overcome a lot together, to push things to the next level as Satarah. We hope to create some awesome art in Charlotte that doesn't have to fall within the confined borders."
Rothweiler and Hahn's task lies in reconciling their philosophical and social concerns with spectacle, and stories of triumph or despair with aesthetics and entertainment.
When Bloom: Revolution patrons first walk into the McColl Center, they'll go downstairs to the boardroom, where they will encounter all the dance performances, Rothweiler says. It will be a diverse bill, ranging from belly dancing to cabaret to burlesque.
Once the dance portion is complete, the audience will enter the vendors' area. In addition to food and drink, booths will also host raffles and silent auctions for the Carolina Refugee Resettlement Agency. A portion of Bloom's proceeds will also be donated to the charity.
McColl Center's back patio will feature aerial performers on lyra, trapeze and an acrobatic duo called the Flying Femmes in a metal cube called, quite naturally, the cube.
"There will be chairs available outside for people who would like them, but we're not going to have a seated area," says Rothweiler, because acts won't be moving from stage to stage. Instead, the audience's attention will be drawn from one performer to the next.
"It will be more a shift of the gaze," Rothweiler says.
Fire performances will also take place on the outdoor patio, due in part to safety concerns, Ellis says.
"You make sure that there's no tall grass, no banners — nothing flammable in your area," Ellis says. "Then you make sure that you have your fuel, which we call a fuel dump, set far away from your actual performance area."
There is also a safety person standing by with a fire extinguisher and a duvetyne blanket, in case she catches fire, Ellis says. She adds that the safety precautions don't detract from her love of fire performance.
"I find myself returning to fire more often than not. It's a comfortable medium for me, and it's always inspiring."
Ellis' combination of professionalism, derring-do and passion is present in all of Bloom: Revolution's performers, Rothweiler says. To foster a sense of community, Satarah encourages a mix of acts where seasoned professionals like Ellis will share the bill with relative newcomers. Rothweiler emphasizes that these newcomers should not be considered beginners.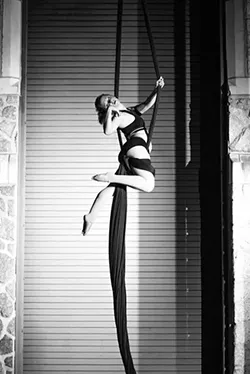 Laura Katharine glides upward.
"They know what it feels like to be on (an aerial) apparatus, for instance. But they haven't had an opportunity to perform in a breathtaking and beautiful place like McColl," Rothweiler says. "It's important to us to create the opportunity for people who may have not 'made it' it to share their passion with a crowd including friends and family."
The motivation for hosting Bloom, it seems, always comes back to love. Rothweiler says she and Hahn never see a profit from the event. Whatever doesn't go to charity is put back into the budget for next year's Bloom, Rothweiler maintains.
"We started this to bring people together," she says. "We want people to see that if we all work together we can create something beautiful and amazing.
"Hopefully," she continues, "the particular theme this year will inspire people to take that first step in their own revolution."