(View From The Couch is a weekly column that reviews what's new on Blu-ray, DVD and Streaming. Ratings are on a four-star scale.)
Jon Cena and Leslie Mann in Blockers (Photo: Universal)
BLOCKERS (2018). It all starts going downhill around the time Jon Cena drinks beer through his butt. Until then, Blockers is a rather savvy and – if you squint really hard — even subversive comedy about three high school seniors who make a group pledge to all lose their virginity on prom night. The twist here is that it isn't the usual horndog bros seeking that epic lay – there's nary a Stifler nor Shermanator in sight — but rather three smart and sensible girls (Kathryn Decker, Geraldine Viswanathan and Gideon Adlon) opting to go all the way. But when the girls' parents (Cena, Leslie Mann and Ike Barinholtz) learn of their plans, they go to outrageous extremes to stop them. Mainstream movies centering around the sexual agency of teenage girls are so rare that Blockers was initially greeted with the same degree of hushed awe usually reserved for long-lost Orson Welles projects — alas, that speaks less about the shaky quality of this movie than the painfully slow progression of this country. The majority of the film's sizable laughs are packed, not unlike sardines, into the first half, and there's ample mileage found in the various generational conflicts – the ones that reveal that even the coolest of parents will still appear as anything but hip to their easily embarrassed offspring. But the freshness eventually gives way to a more pat second half that unspools in predictable fashion, with everyone learning the types of life lessons generally found in Disney animated features. And while the digs at sexist double standards remain on view, they get increasingly harder to spot, obscured by slapstick sequences and raunchy gags that do little more than block the film's salient points from reaching full fruition.
Blu-ray extras include audio commentary by director Kay Cannon; a making-of featurette; deleted scenes; a gag reel; and, for those so inclined, pieces on the butt-chugging and barfing sequences.
Movie: **1/2
The Colossus of Rhodes (Photo: Warner)
THE COLOSSUS OF RHODES (1961). Given his legendary status, it's always startling to note that Sergio Leone had only directed seven feature films before he passed away in 1989 at the age of 60. Yet before he made his mark, he had served as a directorial assistant on dozens of films (including such classics as Bicycle Thieves and Ben-Hur) and had scripted a handful of efforts in the "sword and sandals" genre. While he later found his calling as the helmer of Spaghetti Westerns, his debut in the director's chair was The Colossus of Rhodes, a costume epic well-served by his previous experience with the genre. One of the Seven Wonders of the World, the titular statue is seen in this film straddling the harbor entrance to the Greek island — an imposing sight and, thanks to its employment as a weapon of mass destruction (via the boiling oil poured from its head), a deterrent for any invading armies contemplating an overthrow of the corrupt king (Roberto Camardiel) ruling the island. Instead, the threats come from within, not only from a band of earnest freedom fighters but also from a duplicitous officer (Conrado Sanmartin) who seeks the crown for himself. Into all this political intrigue stumbles Darios (Rory Calhoun), a military hero who spends his time wooing local beauty Diala (Lea Massari) until he becomes hopelessly entangled in the various plots unfolding underfoot. English-dubbed Italian imports of this sort were common during this period, but this is one of the better ones, thanks to a busy script, impressive production design, and Leone's deft staging of the action set-pieces.
The only Blu-ray extra is audio commentary by film historian Christopher Frayling.
Movie: ***
Simone Simon and Ann Carter in The Curse of the Cat People (Photo: Shout! Factory)
THE CURSE OF THE CAT PEOPLE (1944). Mindful of the millions that Universal Studios had made from its classic monster movies — and reeling from its own set of financial setbacks — RKO Pictures commissioned producer Val Lewton to churn out a series of sensationalist horror flicks on minuscule budgets. But the highly educated Lewton had his own ideas: Rather than slapping together silly creature features with shoddy effects, he created psychological thrillers showcasing literate scripts, taut direction, and a reliance on shadows, lighting and sound effects to establish mood and atmosphere. Released in 1942, Cat People was the first of Lewton's output, and it remains a masterpiece of the genre (see the 4-star review here). Its sizable box office (a whopping $4 million return on its $134,000 budget) left RKO scrambling to create a follow-up, but The Curse of the Cat People stands as one of the most curious sequels ever made. Co-directors Gunther V. Fritsch and Robert Wise replace Cat People's Jacques Tourneur, but the original's scripter (DeWitt Bodeen) and stars are all brought back for this sensitive drama about Amy (Ann Carter), the young daughter of the characters again played by Kent Smith and Jane Randolph. A lonely child, Amy finds solace with the ghost of Smith's first wife, Irena (Simone Simon in an extended cameo). Smith's character is still a drip (why the two women fought over him in the first movie remains a mystery), but the focus here is little Amy and the manner in which the adults try to understand her predilection toward imaginary worlds. The story's perceptive view of childhood so impressed scholars of the time that the film was occasionally screened as part of college psychology courses.
Blu-ray extras include audio commentary by film historian Greg Mank, with audio interview excerpts by Simon; a featurette on the life and career of Simon; and a still gallery.
Movie: ***1/2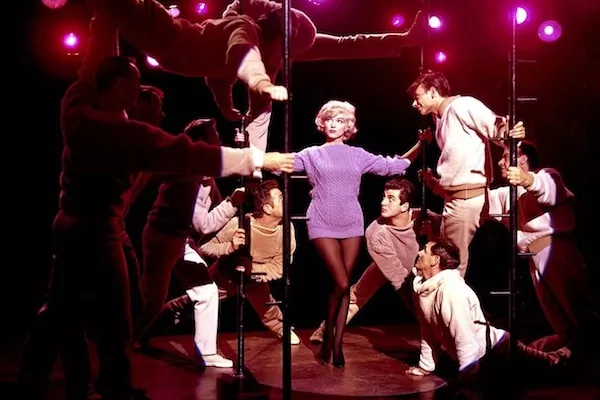 Marilyn Monroe in Let's Make Love (Photo: Twilight Time)
LET'S MAKE LOVE (1960). Marilyn Monroe considered it one of her worst films. James Stewart and Cary Grant both turned down the male lead. Gregory Peck agreed to star, but left the production after the script was drastically changed. And the production was a troubled one, to say the least. Certainly, Let's Make Love should be a disaster — and it is, depending on who you ask. But I was thoroughly taken by the picture and would even have ranked it a half-star higher were it not for the gentleman who ended up cast opposite Monroe. That would be French star Yves Montand, who's perpetually uncomfortable and ill-at-ease throughout the movie. Montand plays Jean-Marc Clement, a workaholic billionaire who's miffed when he learns that he will be spoofed in an upcoming off-Broadway show. He visits the set and instantly becomes smitten with the show's leading lady, Amanda Dell (Monroe). In order to remain close to her, he pretends to be an actor auditioning for the role of Jean-Marc Clement — after he nabs the part, he decides to hire Milton Berle (playing himself) to teach him how to tell jokes, Gene Kelly (ditto) to help him dance, and Bing Crosby (ditto) to help him sing. Monroe is simply terrific (her steamy rendition of Cole Porter's "My Heart Belongs to Daddy" is a keeper), Berle is a riot in his glorified cameo, and even British singing sensation Frankie Vaughan isn't bad as Amanda's co-star in the stage production. If only a more vibrant and charismatic leading man had been chosen!
Blu-ray extras consist of the theatrical trailer and an isolated track of the music (which earned the film an Oscar nomination for Best Scoring of a Musical Picture).
Movie: ***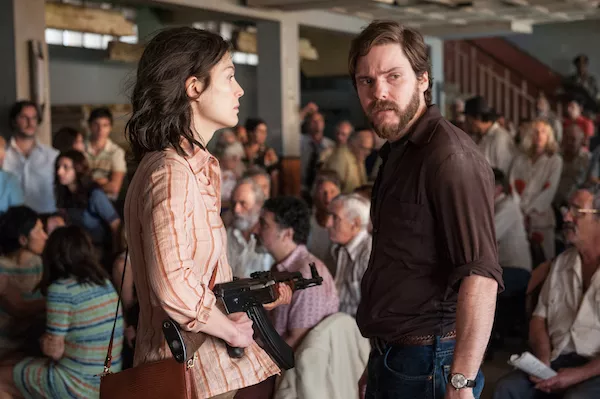 Rosamund Pike and Daniel Brühl in 7 Days in Entebbe (Photo: Universal)
7 DAYS IN ENTEBBE (2018). It's impossible to predict what real-life stories will capture the fancy of an inquisitive teen, and one of mine was the saga of Air France Flight 139, which was hijacked during the summer of 1976 by Palestinian and German terrorists and allowed to set down at Uganda's Entebbe Airport with the permission of the brutal dictator Idi Amin. Since the passengers were mostly Jewish, it was up to Israeli commandos to attempt to rescue them in a daring raid known as Operation Thunderbolt. The late 1970s introduced three movies based on this event, and belatedly joining them is 7 Days in Entebbe, which is different from its predecessors in that it spends more time analyzing the mindsets of its terrorists – or at least the two German ones, played with the proper levels of intensity by Rosamund Pike and Daniel Brühl. This version also digs deeper into the political strife between peaceful Israeli Prime Minister Yitzhak Rabin (Lior Ashkenazi) and aggressive Minister of Defense Shimon Peres (Eddie Marsan). The film is absorbing for much of its running time, maintaining interest as it cuts back and forth between the terrorists, the hostages, and the government suits. It's only during the home stretch that it largely falls apart, with thoughtful exchanges crowded out by bombastic speeches meant to dot the i and cross the t of every moral position championed by the film. Worse, a time-wasting subplot involving an Israeli commando (Ben Schnetzer) and his girlfriend (Zina Zinchenko) inexplicably grows in prominence as the picture progresses, and the thrilling rescue operation is destroyed by interspersing its particulars with moments from a theatrical dance production. It's an unfortunate turn of events, because a movie that should have struck with all the force of a thunderbolt instead seems content with distributing a firm rap on the knuckles.
Blu-ray extras include a pair of making-of featurettes.
Movie: **1/2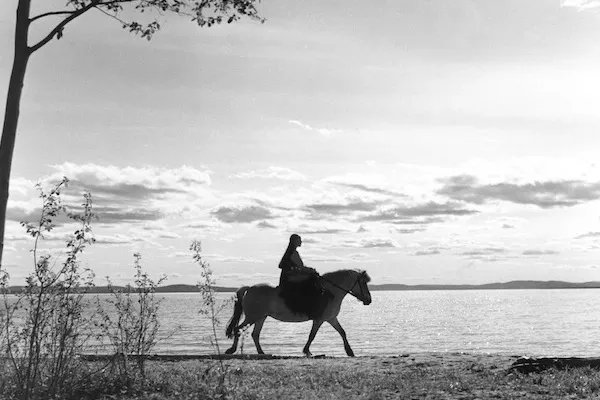 Birgitta Pettersson in The Virgin Spring (Photo: Criterion)
THE VIRGIN SPRING (1960). Ingmar Bergman's dramatization of a 13th-century Swedish ballad remains one of the key films from his early stretch of success, even if it doesn't quite match the brilliance of his 1950s masterpieces The Seventh Seal and Wild Strawberries. Winner of the Best Foreign-Language Film Oscar (and picking up an additional nomination for Best Costume Design), this stark, spare drama focuses on the tragedy that befalls a religious farm family when the virginal teenage daughter (Birgitta Pettersson) is raped and murdered by a trio of peasants while on her way to church. The killers unwittingly end up at the home of the girl's parents (Max von Sydow and Birgitta Valberg), leading the father to exact his revenge for his daughter's senseless slaying. Fleshing out the short source material, Bergman and writer Ulla Isaksson have created a powerful examination of Old Testament ire coupled with New Testament redemption, as well as a penetrating examination of the manner in which faith can alternately confound and comfort those seeking spiritual guidance. Twelve years later, writer-director Wes Craven made his debut with the exploitation flick The Last House on the Left, a wretched (if influential) remake/update that removed all the nuance and meaning coursing through Bergman's original.
Blu-ray extras on the Criterion edition include audio commentary (from 2005) by Bergman scholar Birgitta Steene; an introduction (also from 2005) by director Ang Lee; interviews (ditto) with Pettersson and Gunnel Lindblom (who plays the pregnant pagan girl Ingeri); and audio recording of a 1975 seminar by Bergman. The accompanying booklet includes a reprint of the medieval ballad that served as the film's inspiration.
Movie: ***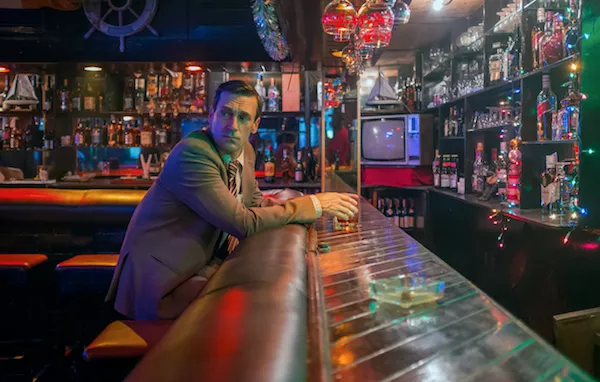 Jon Hamm in Beirut (Photo: Universal & Bleecker Street)
Short And Sweet:
BEIRUT (2018). Responsible for penning the likes of Michael Clayton and the Matt Damon Bourne series, writer Tony Gilroy adds more intrigue to his resume with Beirut, a tense drama that in its best moments recalls such exemplary political thrillers as Under Fire and The Year of Living Dangerously. Jon Hamm is excellent as Mason Skiles, a U.S. diplomat who leaves Lebanon after a personal tragedy destroys his life. Cut to 10 years later (1982), and the down-and-out Skiles is summoned back to the region to negotiate a trade involving a CIA agent (Mark Pellegrino) and a Lebanese terrorist. Rosamund Pike, Dean Norris, and Shea Wigham co-star as American operatives of varying degrees of honesty and integrity.
Blu-ray extras consist of a making-of featurette and a piece on Pike's character.
Movie: ***
Mink Stole, Divine and Michael Potter in Female Trouble (Photo: Criterion)
FEMALE TROUBLE (1974). "The world of heterosexuals is a sick and boring life," states one of the characters in Female Trouble. And so we're off on a sordid adventure in which Dawn Davenport (Divine) rebels against convention and conformity by hanging out with fellow outcasts, repeatedly calling her daughter Taffy (Mink Stole) "retarded," mutilating the shrieking Aunt Ida (Edith Massey), and murdering a few people on the side. This delectable trash from John Waters may not be quite as flagrantly tasteless as Pink Flamingos or Multiple Maniacs (the latter reviewed here), but it's still best to lock up your kids and hide your heterosexuals.
Blu-ray extras include audio commentary (from 2004) by Waters; deleted scenes; new and archival interviews with Waters and various cast and crew members; and a 1975 interview with Waters, Divine, Stole and co-star David Lochary.
Movie: ***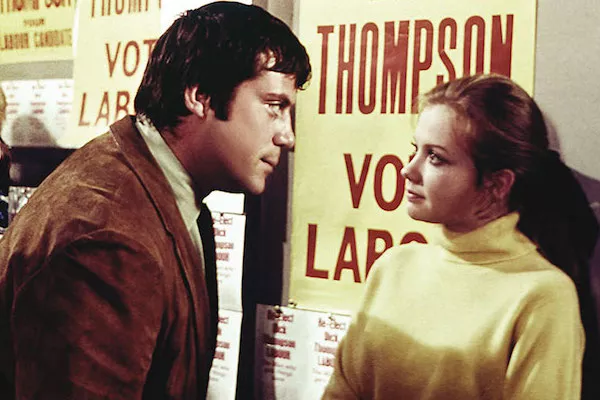 Oliver Reed and Hayley Mills in Take a Girl Like You (Photo: Twilight Time)
TAKE A GIRL LIKE YOU (1970). Kingsley Amis' 1960 novel becomes a badly dated 1970 movie in which a young woman (a post-Disney-moppet Hayley Mills) keeps busy protecting her virginity from a roguish admirer (Oliver Reed). Some amusing material around the margins (such as the political aspirations of a lecherous landlord played by John Bird) can't overcome the boorishness of the central conceit, although Mills delivers a sweet performance. If the awkward Graham looks familiar, that's because he's played by Ronald Lacey, who would later gain fame as the nasty Nazi Toht in 1981's Raiders of the Lost Ark.
Blu-ray extras consist of the theatrical trailer and an isolated track of Stanley Myers' score.
Movie: **
Kirk Douglas, Claire Trevor and Edward G. Robinson in 2 Weeks in Another Town (Photo: Warner)
TWO WEEKS IN ANOTHER TOWN (1962). Seven artists involved with the 1952 Hollywood-insider classic The Bad and the Beautiful — among them star Kirk Douglas, director Vincente Minnelli and scripter Charles Schnee — reunited 10 years later for another drama centered around tortured individuals who seemingly spend less time making art and more time making each other miserable. This isn't in the same league as the earlier picture, but it still packs a fair amount of punch, as a washed-up actor (Douglas) heads to Rome hoping to make a comeback alongside his former friend, a struggling director (Edward G. Robinson) who's having to contend with temperamental stars (George Hamilton and Rosanna Schiaffino) as well as his own unhappy wife (Claire Trevor). The overwrought nature of the film actually suits the larger-than-life canvas on which broad strokes are frequently painted.
The only Blu-ray extra is the theatrical trailer.
Movie: ***