(View From The Couch is a weekly column that reviews what's new on Blu-ray and DVD.)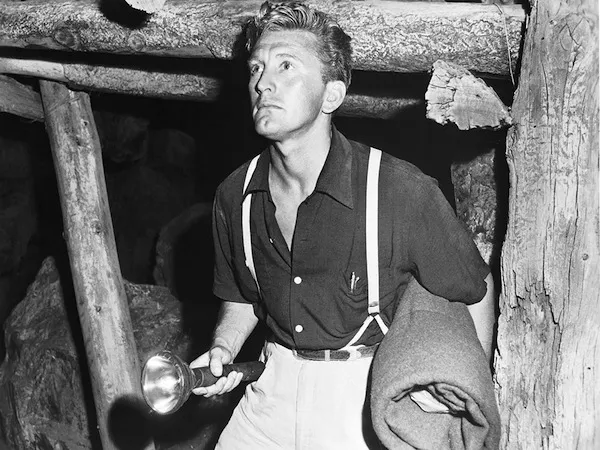 Kirk Douglas in Ace in the Hole (Photo: Criterion Collection)
ACE IN THE HOLE (1951). One year after scandalizing Hollywood with his bilious classic Sunset Boulevard, writer-director Billy Wilder was up to his old tricks with Ace in the Hole, which did to journalism — and to the average American — what his previous picture had done to Tinseltown. Remarkably topical, the film stars Kirk Douglas as Charles Tatum, a conniving newspaper reporter who ends up at a small New Mexico rag after getting fired from too many big-city publications. Tatum's hoping for that one story which will take him back to the majors, and he stumbles across it when he learns that a local (Richard Benedict) is trapped in a cave. Starting with this small item, Tatum expertly expands it into a nationwide sensation, a "human interest" piece that eventually draws the attention of other media, a sheriff running for reelection, American families who travel from miles away to gawk at the spectacle, and even entertainers of all stripes (admission is charged just to see the cave, and a Ferris wheel is merely one of the many carny activities set up on the site). Cynical to its core, this powerful film is prescient in the manner in which it mirrors our nation's current fascination with cheap sensationalism and shallow journalistic practices. A box office flop (even when it was re-released under the title The Big Carnival), this earned an Oscar nomination for its script (penned by Wilder, Lesser Samuels and Walter Newman), while Jan Sterling, as the victim's icy wife, snagged the Best Actress prize from the National Board of Review.
Blu-ray extras include audio commentary by film scholar and author Neil Sinyard (Journey Down Sunset Boulevard: The Films of Billy Wilder); the 1980 documentary Portrait of a "60% Perfect Man": Billy Wilder; a 1984 interview with Douglas; excerpts from a 1986 appearance by Wilder at the American Film Institute; audio excerpts from an interview with co-scripter Newman; a video afterword by filmmaker Spike Lee; a stills gallery; and the theatrical trailer.
Movie: ***1/2
Julia Roberts, Ewan McGregor and Meryl Streep in August: Osage County (Photo: Anchor Bay and The Weinstein Company)
AUGUST: OSAGE COUNTY (2013). It would be correct to state that Meryl Streep is one of the great actresses of our (all?) time. But it would be incorrect to state that it's impossible to steal a film from her. And in August: Osage County, adapted from Tracy Letts' play (a Pulitzer and Tony Award winner), she's battling against plenty of top talent attempting to usurp her throne — and in the end, one of them manages to pull off the coup. As befits its stage origins, virtually all of the action occurs inside one residence: the Oklahoma home of poet Beverley Weston (Sam Shepard) and his wife Violet (Streep), whose steady supply of pills (to deal with her mouth cancer) has made her all-around unpleasant. When Beverley goes missing, various family members show up to provide support. Beverley's brother (Chris Cooper) and his wife (Margo Martindale) are on the scene, as are the Westons' three daughters: Barbara (Julia Roberts), arriving with her estranged husband (Ewan McGregor) and their teenage daughter (Abigail Breslin) in tow; Ivy (Julianne Nicholson), secretly carrying on an affair with her stammering cousin (Benedict Cumberbatch); and Karen (Juliette Lewis), who brings along her skeevy fiancé (Dermot Mulroney). A:OC doubtless works better in the theater, where its supposedly shocking twists are par for the course and where the restrictive mise-en-scène is expected (director John Wells does little to open this up for the screen). But as a formidable acting showcase, look no further. The British thespians (McGregor and Cumberbatch) fare the worst — not because of their performances (they're adept at playing Americans), but because their characters are the least developed. But it's a joy to watch the others delve into their meaty roles: Nicholson is touching as the wallflower among the sisters, and I never tire of the folksy nature of either Shepard or Cooper (casting them as brothers was inspired). As for Streep, she acts up her usual storm; it's a fiery, scenery-masticating turn, but it doesn't rank among her classics. No, the best performance comes from Roberts, who hasn't been this good in over a decade. She's the real star, in screen time as well as character arc, and it's absurd that she received a nomination in the Best Supporting Actress Oscar category while Streep nabbed one for Best Actress.
Blu-ray extras include audio commentary by Wells and cinematographer Adriano Goldman; a making-of featurette; deleted scenes; and an interview with Letts.
Movie: ***
Harvey Korman, Mel Brooks and Robyn Hilton in Blazing Saddles (Photo: Warner Bros.)
BLAZING SADDLES (1974). With the exception of Steven Spielberg in 1993 (Schindler's List and Jurassic Park), Steven Soderbergh in 2000 (Traffic and Erin Brockovich) and a handful of filmmakers during Hollywood's golden age, not many directors have enjoyed as much critical and commercial success with two pictures in one calendar year as Mel Brooks in 1974. Within this 12-month span, Brooks released Blazing Saddles and Young Frankenstein, wildly popular titles that quickly took their places not only among the all-time top moneymakers but, as confirmed by their extraordinarily high standings on the American Film Institute's "100 Top Comedies" list, among the funniest pictures ever made. I'm partial to Young Frankenstein, but that's not to infer this Western spoof doesn't deliver its share of hilarity. Working in tandem, five writers (including Brooks and Richard Pryor) fashioned an uproarious screenplay that centers on Bart (Cleavon Little), a black man who becomes the unlikely sheriff of a Western town. The plan, concocted by sleazy politician Hedley Lamarr (Harvey Korman) and Governor Lepetomane (Brooks), is for the racist townspeople to rise up against their lawman, but with the help of the genial Waco Kid (Gene Wilder), Bart manages to tame all adversaries, including the lumbering dimwit Mongo (Alex Karras) and the sultry saloon performer Lili Von Shtupp (a wonderful Madeline Kahn). Little is just fine in the leading role, but I daresay the film would have been even better had Pryor played the role, as Brooks wanted; instead, Pryor was such a controversial figure at the time that Warner Bros. refused to finance the film with him as the star. Nevertheless, the movie travels at a fast and furious clip, and the dialogue is endlessly quotable, whether it's Bart threatening to "whip this out," Mongo stating that "Mongo only pawn in game of life," or Lily Von Shtupp declaring that "It's twue! It's twue!" Blazing Saddles earned three Oscar nominations: Best Supporting Actress (Kahn), Best Original Song (the title tune, written by Brooks and John Morris) and Best Film Editing.
Blu-ray extras include audio commentary by Brooks; the new featurette Blaze of Glory: Mel Brooks' Wild, Wild West; additional scenes; a vintage behind-the-scenes piece; and Black Bart, the 1975 pilot episode of a proposed TV series spin-off starring Lou Gossett Jr. This 40th Anniversary Edition also contains 10 collectible art cards featuring scenes and quotes from the movie.
Movie: ***1/2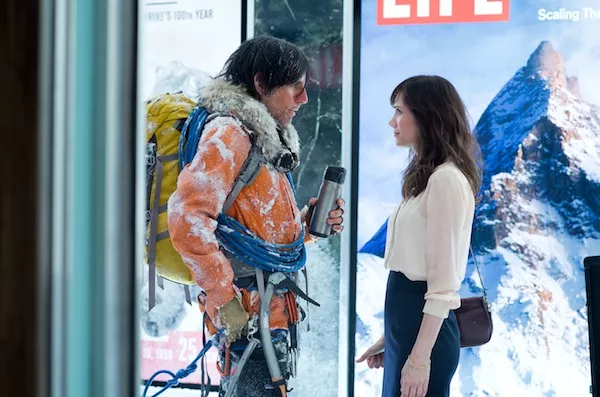 Ben Stiller and Kristen Wiig in The Secret Life of Walter Mitty (Photo: Fox)
THE SECRET LIFE OF WALTER MITTY (2013). So the screen version of The Secret Life of Walter Mitty is vastly different from the James Thurber short story upon which it's based — so what? The original story is a delight, but for the most part, so is the film, which features colorful visuals and a charismatic performance from its leading man. And that's enough about the 1947 adaptation starring Danny Kaye in the title role. As for this newer version, it's something of a queer duck, a movie that may be about life and love and hopes and dreams but feels like it was written by a computer program. Ben Stiller (who also directed) plays our man Walter, a lowly Life magazine employee who has a habit of zoning out at any given moment, whereupon his imagination takes over and he sees himself as a heroic and dashing figure always coming to the rescue of his sweet-natured co-worker Cheryl (Kristen Wiig). His only friends (more like acquaintances, actually) are his assistant Hernando (Adrian Martinez) and Todd (Patton Oswalt), the eHarmony operator who frequently calls him to update his profile. (Product placements loom large in this film, to the point that The eHarmony Life of Walter Mitty or The Secret Life of Papa John's would also work as titles.) A new executive (Adam Scott) arrives at Life to oversee the switch from print to digital, and staff downsizing is an inevitability. But first, the final newsstand issue needs to be put to bed, and the negative for the cover image, taken by the fearless, devil-may-care photojournalist Sean O'Connell (Sean Penn), has gone missing. So it's up to Walter to travel the world in search of the elusive O'Connell, an odyssey that allows him to transform from a milquetoast into a man. Or that's the idea; in actuality, Walter's exploits are so singularly uninteresting that there's no cathartic release on the viewer's part whenever he scratches another accomplishment off his bucket list. The outdoor cinematography by Stuart Dryburgh (The Piano) is exceptional, but even these attempts to evoke some genuine emotion through the humbling grandeur of the natural world are nullified by other sequences that are CGIed to death (particularly an endless cross-city chase between Walter and Scott's obnoxious executive). For all its humanist swagger, The Secret Life of Walter Mitty feels only slightly less synthetic than Velcro.
Blu-ray extras include a behind-the-scenes featurette; deleted, extended and alternate scenes; and the music video for Jose Gonzalez's "Stay Alive."
Movie: **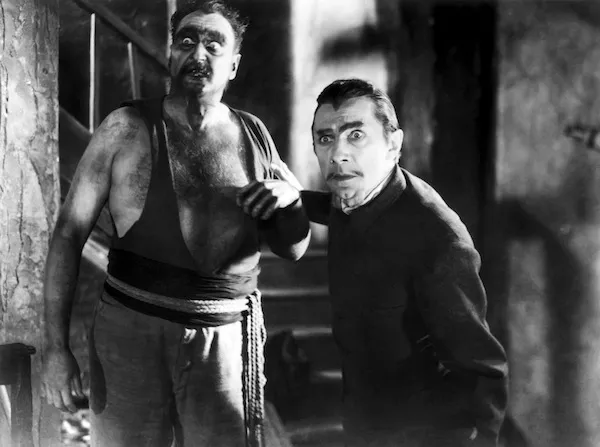 Bela Lugosi (right) in White Zombie (Photo: VCI)
WHITE ZOMBIE (1932). The history of the zombie flick is a spotty one: Whereas we've always had vampires and werewolves and lumbering monsters striking terror on movie screens, zombies were only seen in fits and starts before George Romero's seminal 1968 classic Night of the Living Dead began the craze that has especially taken hold during the past decade. The 1943 chiller I Walked with a Zombie and the 1966 British effort The Plague of the Zombies are the best of the pre-Romero era — indeed, they remain highlights of the entire genre — but of special historical significance is White Zombie, which holds the distinction of being cinema's first zombie film. Made on a dime by the filmmaking team of siblings Edward Halperin (producer) and Victor Halperin (director), this stars Bela Lugosi as the curiously named Murder Legendre, who, through a special potion and his own mastery of mind control, turns people into mindless slaves for his Haitian sugar mill. A local bigwig named Charles Beaumont (Robert Frazer) becomes obsessed with the lovely Madeline (Madge Bellamy), who's set to marry Neil Parker (John Harron); rather than lose her, Beaumont turns to Legendre, who's only too happy to help transform her into a walking corpse who will obey every command. The supporting cast is awful — at least marquee draw Lugosi is entertaining in his hammy inclinations — and the low budget dictates a few moments worthy of MST3K ribbing (my favorite is when Beaumont's butler, who's supposed to be unconscious, can be spotted holding his nose as he's tossed to his death into a body of water). But the production values aren't compromised at any point: The atmosphere of dread is pungent, the use of sound is inspired (the creaking heard in the sugar mill is the aural equivalent of Chinese water torture, and the shrieks of a vulture are unnerving), and the makeup by the great Jack Pierce (who also created the looks of all the classic Universal monsters) and Carl Axcelle is minimal but effective.
Blu-ray extras include audio commentary by author Gary Don Rhodes (White Zombie: Anatomy of a Horror Film); a stills gallery; and trailers for both the theatrical reissue of White Zombie and the 1931 Lugosi classic Dracula.
Movie: ***
Laura Dern and Willem Dafoe in Wild at Heart (Photo: Twilight Time)
WILD AT HEART (1990). Winner of the Palme d'Or at the 1990 Cannes Film Festival (where it beat out, among others, Jean-Paul Rappeneau's Cyrano de Bergerac, Zhang Yimou's Ju Dou and Clint Eastwood's White Hunter Black Heart), Wild at Heart was writer-director David Lynch's first feature since his 1986 cause célèbre Blue Velvet. As such, the film arrived on the scene with much fanfare, even though it eventually ended up nabbing decidedly mixed reviews (even at Cannes, its victory was greeted with both cheers and jeers). I enjoyed it more back in 1990, though I'd be hard-pressed to recall exactly why — viewing it now, it's only a marginally satisfying experience, with some potent set-pieces diluted by an almost juvenile predilection on Lynch's part to try to shock the audience with icky shots (bashed-out brains! fly-covered vomit!) or downright baffling ideas. Nicolas Cage and Laura Dern play Sailor and Lula, young lovers on the run from Lula's insane mother Marietta (Diane Ladd, Dern's real-life mom). Wanting Sailor dead and Lula brought back to her, Marietta will stop at nothing to achieve her goal; when her sweet but ineffectual boyfriend (Harry Dean Stanton) can't get the job done, she turns to the sinister hoodlum Santos (J.E. Freeman). As for Sailor and Lula, they meet an odd assortment of characters on the road, none of them more dangerous than the perpetually grinning Bobby Peru (a funny-scary Willem Dafoe). Wild at Heart is a grab bag of vignettes, several of which pay direct homage to The Wizard of Oz while many more serve little purpose except to indulge the auteur's idiosyncrasies (one flashback, for instance, finds Crispin Glover as a nut who likes to stuff cockroaches in his underwear). Cutting through the perversions are the turns by Cage and Dern, completely credible as the crazy-in-love couple. Since Lynch was in the midst of the Twin Peaks TV series during the making of this film, several of that show's cast members turn up in small parts; particularly affecting is Sherilyn Fenn, who figures in one powerful sequence involving a ghastly car accident. In the grand Hollywood tradition, Ladd took to personally calling Academy members (and even inviting some over for dinner!) in a bid for attention, which explains how her hammy performance managed to snag a Best Supporting Actress Oscar nomination.
Blu-ray extras include a making-of featurette; interviews with Lynch and the actors; a vintage behind-the-scenes piece;and an isolated track with Angelo Badalamenti's score.
Movie: **1/2
Joan Fontaine, Norma Shearer, Rosalind Russell, Mary Boland and Paulette Goddard in The Women (Photo: Warner Bros.)
THE WOMEN (1939). This stellar adaptation of Clare Boothe Luce's hit play features a roster of over 130 players — and not a single guy in the bunch. Working from a script by Anita Loos and Jane Murfin, director George Cukor puts an all-female cast through outrageous paces in this scintillating picture in which devoted wife and mother Mary Haines (Norma Shearer) discovers that her husband is having an affair with Crystal Allen (Joan Crawford), a gold-digger who works behind the perfume counter at a department store. At a time like this, Mary needs her family and friends more than ever, but while she can count on the support of her mother (Lucille Watson) and her precocious daughter (Virginia Weidler), she learns that it's not wise to confide in the other ladies in her social circle (an exception is the sweet and naive Peggy, played by Joan Fontaine just a year before her breakout role in Hitchcock's Rebecca). Worst of the lot is Sylvia Fowler (Rosalind Russell), who not only fuels the flames of gossip but even becomes Crystal's ally. Russell's broad approach often conflicts with the work by the other actresses, but for the most part, the cast is uniformly excellent, with further noteworthy contributions coming from Paulette Goddard as the shrewd Miriam and Mary Boland as the excitable Countess. Much of the dialogue is comic gold, with several risqué quips somehow making it past the censors ("He could crack a coconut with those knees ... if he could get them together!"). A black-and-white picture, this does include one celebrated scene (a lengthy fashion show) filmed in color. This was remade twice: as the 1956 musical The Opposite Sex, starring June Allyson, Joan Collins and Leslie Nielsen (yes, there are fellas in this version), and as 2008's lackluster The Women, with Meg Ryan, Annette Bening and Eva Mendes in the Shearer, Russell and Crawford roles.
Blu-ray extras include an alternate black-and-white fashion show sequence with different footage; two vintage shorts about film fashion, 1939's From the Ends of the Earth and 1940's Hollywood: Style Center of the World; and the trailers for both this film and The Opposite Sex.
Movie: ***1/2
Kate Winslet and Josh Brolin in Labor Day (Photo: Paramount)
Short and Sweet:
LABOR DAY (2013). In this adaptation of Joyce Maynard's novel, an introvert (Kate Winslet) living with her 13-year-old son (Gattlin Griffith) falls in love with an escaped convict (James Brolin). It remains extremely difficult to accept the fact that director Jason Reitman, who was four-for-four with such titles as Up in the Air and Juno, is the person behind this colorless, humorless and utterly predictable drama. If the movie works in spurts, it's only because of the three central performances.
Blu-ray extras include audio commentary by Reitman, director of photography Eric Steelberg and co-producer Jason Blumenfeld; a making-of featurette; and deleted scenes.
Movie: **
Mr. Magoo: The Theatrical Collection (Photo: Shout! Factory)
MR. MAGOO: THE THEATRICAL COLLECTION (1949-1959). Over the course of 28 years, Jim Backus provided the voice for the nearsighted Mr. Magoo on 215 occasions, including numerous episodes of a trio of Magoo TV series in the 1960s and '70s. Yet the character first appeared on the nation's movie screens, and audiences immediately took to this lovable bungler. This set contains all 53 of those theatrical cartoons, including two Oscar winners, 1954's When Magoo Flew and 1956's Magoo's Puddle Jumper, and two nominees, 1950's Trouble Indemnity (not Bungled Bungalow, as erroneously stated on the DVD back cover) and 1952's Pink and Blue Blues. The set also contains the 1959 animated feature 1001 Arabian Nights, with Backus as "Uncle Abdul Azziz Magoo."
The only extra on the DVDs is a making-of featurette for 1001 Arabian Nights.
Collection: ***
Whit Bissell and Neville Brand in Riot in Cell Block 11 (Photo: Criterion Collection)
RIOT IN CELL BLOCK 11 (1954). Working from an idea initially hatched by producer Walter Wanger, director Don Siegel (Dirty Harry) scored an early success with this hard-hitting drama about an uprising at Folsom State Prison. As Dunn and Crazy Mike, the leaders of the riot, Neville Brand and Leo Gordon convincingly bleed into their roles, and the script makes the convincing case that crime is being committed by those on both sides of the law.
Blu-ray extras include audio commentary by film scholar Matthew H. Bernstein; excerpts from Siegel's 1993 autobiography, A Siegel Film, and from Stuart Kaminsky's 1974 book, Don Siegel: Director, both read by Siegel's son, Kristoffer Tabori; and excerpts from the 1953 NBC radio documentary series The Challenge of Our Prisons.
Movie: ***
Michelle Holmes, George Costigan and Siobhan Finneran in Rita, Sue and Bob Too (Photo: Twilight Time)
RITA, SUE AND BOB TOO (1987). "Thatcher's Britain With Her Knickers Down" was the tagline for this saucy English import (based on a pair of plays by Andrea Dunbar), yet the piece's social jabs are so unassuming that it's easy to simply accept this as a ribald comedy with dark undertones. But the criticism can indeed be located (and endorsed) in the depiction of two teenage girls (Michelle Holmes and Downton Abbey's Siobhan Finneran) whose dead-end lives are so devoid of excitement and opportunity that they eagerly become the underage mistresses of a leering cad (George Costigan) stranded in a sexless marriage.
Blu-ray extras consist of an audio commentary by film historians Julie Kirgo and Nick Redman, and an isolated track with Michael Kamen's score.
Movie: ***