Kynadi Hankins drapes a rainbow pride flag over her shoulders like Supergirl's cape and strikes a heroic pose.
"She's Super-gay!" says Francisco Gomez.
The Charlotte band Blame the Youth are on the top deck of the AvidXchange parking garage, sweating bullets in the late morning sun. In addition to christening a new superhero, Gomez and the others are getting their photos taken for the cover of Creative Loafing's Pride issue. The conditions are sucking the life out of CL's art director Dana Vindigni and me, but the members of Blame the Youth are energetic and high-spirited. Their group's debut EP The Hourglass, released last March, has generated positive buzz, and they've just been tapped to be the only local band to represent the city on the Wells Fargo Stage at Charlotte Pride Festival on Aug. 26. Nothing is going to spoil their fun — not even Amber Daniel getting kicked in the head.
"It was a handstand gone wrong," Daniel says, sticking Band-Aids on her nose and forehead. We've moved into the air-conditioned CL office now, and I'm seated in a circle with drummer Hankins, singer, guitarist and keyboardist Gomez, bassist Daniel and guitarist Alexa-Rae Ramkissoon. Daniel had been injured after we'd moved to a second location for the photo shoot — a grassy area where Hankins offered to do a handstand for the camera. The stunt occurred too fast and too close, and Hankins' sneaker clipped and cut Daniel's face.
Daniel (second from left) arrived at CL's 'Local Vibes' podcast the morning after the shoot showing off her freshly Band-Aided nose. Listen to the podcast here. (Amber Daniel and Francisco Gomez are flanked by CL's Ryan Pitkin and Mark Kemp)
But the band members are already shrugging off the accident. Besides, they're still over the moon about landing their biggest gig to date. Daniel says the Pride Festival, with its message of diversity and inclusivity, fits the band like a glove.
"You've got three black women here fronted by a Mexican trans-man (Gomez)," Daniel says, pointing to the band's Pride-friendly makeup. The members are still surprised they got the slot.
"They just asked us to do it," Gomez says.
"We got the email and asked each other, 'Have you guys seen this?'" Hankins says. "Then there was screaming."
"A lot of screaming," Daniel says.
"And crying," Ramkissoon adds.
Matt Comer, a Charlotte Pride organizer, was looking for the perfect beat. "This year we really wanted to seek out awesome local talent to showcase on our stage," he says. "We started the search early on, doing due diligence and talking to friends." Recommendations from those friends pointed to Blame the Youth.
"The band is made up of members of the LGBT community," Comer continues. "They're local, they're talented and they have great onstage presentation."
Gomez views the gig as an opportunity to express gratitude to the local LGBT community.
"We've wanted to play Pride for a while, but we were still working on our presence in the community," Gomez says. "I think we've been out here for a while, and we're getting popular enough that this is the next step up."
Did I mention that Blame The Youth is also young? At 24, Gomez is the eldest; Daniel is 23, Hankins is 22, and Ramkissoon is the youngest at 21. Hankins came up with the name, derived from Janelle Monáe's "Givin Em What They Love." Monáe sings, "I am sharper than a razor / Eyes made of lasers / Bolder than the truth / They want me locked up in the system / Cause I'm on a mission. / Blame it on my youth."
"I meant the name to be funny," Hankins says, "because whenever people have problems, they blame the millennials."
Daniel chimes in, citing claims about the avocado shortage, supposedly caused by millennials buying too much of it.
"It's like the napkin industry," she continues.
"Napkins?" Hankins asks, incredulous.
"Millennials are not using enough paper napkins," Gomez says. "We buy cloth napkins, and then wash them and reuse them."
"We're destroying department stores and malls because we're too thrifty," Daniel adds.
Blame the Youth kick-started its career of pissing off cranky boomers in 2012. That's when Gomez and Hankins, who were dating, began playing shows as a duo.
"Our first show was like 'Baby's first talent show,'" Hankins says, laughing. "It was rough."
"We were still feeling our way," Gomez says.
Daniel picks up the story. "[Then] they decided they needed a guitarist. So they talked to their guitar teacher, who put them in contact with Alexa, who incidentally went to the same school [Northwest School of the Arts] as Kynadi."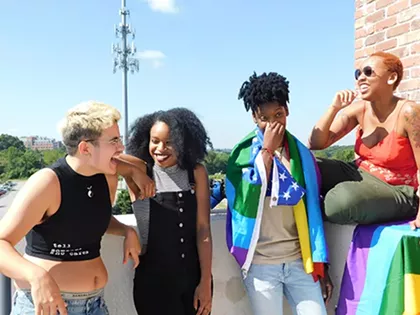 10 slides
In 2014, Blame the Youth began performing as a trio. The jazzy-pop tune "Earworm," a hightlight from The Hourglass, dates from that period. The melody darts in and out of Ramkissoon's coiling whipcord guitar line, which ends the song with a bluesy metallic coda.
Gomez wrote the tune's supple bass line, but piano is his first instrument, and he increasingly found himself wanting to play keys. So he lobbied to recruit a new bassist. Ramkissoon suggested her coworker Daniel, who taught violin at Music and Arts, a music store and school in Charlotte.
Daniel, who had never played bass, promptly bought one and started practicing. The first Blame the Youth bass line she learned was the one for "Earworm."
Despite their youth, the band is comprised of trained, accomplished musicians who read music, although Gomez admits they rarely write anything down. They drew on music theory to write only one of their songs, the squawking, rattling, jazz-rock workout "Galaxy," and even that stab at an academic approach did not last long.
"We used music theory to write [the song]," says Daniel, "and then we played it at a show and decided to change it. We redid half the song."
Many of the tunes on The Hourglass developed in jam sessions, a process that gives songs like the pulsing, time signature-shifting "ABACA" and funky, roiling "P.O.T.K." an elliptical slipknot quality. Aside from "Earworm" and the lyrical R&B anthem "Oasis," the compositions shun pop's traditional verse-and-chorus song structure.
----------------------------------
Listen to The Hourglass
------------------------------
A lot of that coloring outside the musical lines comes from guitarist Ramkissoon. Gomez says many of the band's pieces start with a snippet that Ramkissoon had been "messing around with" at home.
"I can't do things on the spot at practice so I fiddle around the house," Ramkissoon says. "I start playing it at practice, and then I get screams, 'What is it?' And I'm like, 'Leave me alone. It's not ready yet.'
"It's sort of like my mental notebook," she adds.
A standout track on the EP is "5th Street," with its allusion to economic inequality. Over syncopated percussion and a climbing prog-rock-style progression, a recurring snippet of lyrics, penned by the band's friend Brittany Anderson and delivered in Gomez's soulful alto, rises and falls: "And I don't want to fall asleep / By the dumpster on 5th street."
It's the closest Blame the Youth comes to being overtly topical. Nonetheless, BTY is a political band, Daniel maintains.
"We're political just by existing," Daniel says, pointing to all the red flags the band members pose to authoritarians and white supremacists: black, Latinx, female, trans, gay. "It's revolutionary for us just to be in a public space," she adds. "People don't see people like us all the time."
"We're not even trying, and we end up being political," Gomez says.
The rise of sexism, racism and white nationalism, openly supported by the Trump White House, is a daunting threat to the diversity and freedom exemplified by the band. How can artists like Blame the Youth confront this wave of negative energy?
"We channel it into making music," Ramkissoon says. "We create something that makes our environment better."
"A fan told me recently that we completely change the environment of the room where we're playing," Gomez adds. "We create a place to relax; to calm down and have a good time. A recurring theme for our music is creating a safe place, an escape from all the bullshit.
Change is also a recurring motif for the band, Hankins says, citing Blame the Youth's shape-shifting compositions.
"Our music doesn't follow a template," Hankins continues. "Every song is a different genre. It's our way of saying it's OK to be different. You don't always have to follow the crowd."
Music, politics, message and image — for this group of musicians, everything is intertwined Gomez says.
"We're transitioning in front of the public eye right now," he adds. "By being who we are, we're saying it's OK to be who you want to be."
* The print version of this story contained a misspelling of Francisco Gomez' name throughout. CL apologizes to Gomez for the error.
(Listen to Blame the Youth members Francisco Gomez and Amber Daniel on this week's edition of Creative Loafing's "Local Vibes" podcast.)