(View From The Couch is a weekly column that reviews what's new on Blu-ray and DVD.)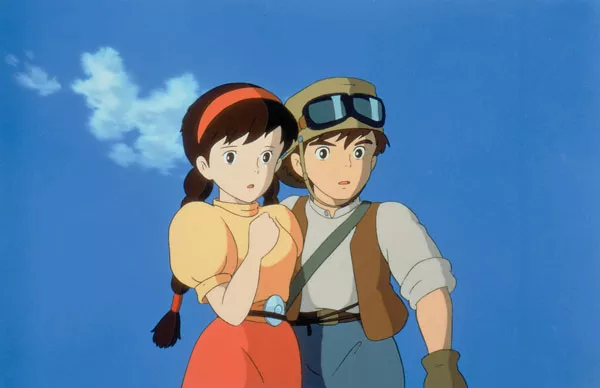 Castle in the Sky (Photo: Disney & Studio Ghibli)
CASTLE IN THE SKY (1986). One of Japanese writer-director Hayao Miyazaki's best films, Castle in the Sky (aka Laputa: Castle in the Sky) was one of the many Studio Ghibli titles that wasn't properly released in the U.S. until after Miyazaki's masterpiece Spirited Away won the Best Animated Oscar for 2002 (and even then, Disney minimized its Ghibli-inherited gems lest they stole too much thunder away from the studio's own homegrown mediocrities like Brother Bear and Treasure Planet). An adventure yarn bursting at the seams with energy and innovation, this centers on the plight of young orphan Sheeta (voiced in the 2003 English-language dub by Anna Paquin), who's assisted by happy-go-lucky miner Pazu (James Van Der Beek) as she tries to keep her magic necklace away from the dapper Muska (Mark Hamill), who's plotting to use the bauble for his own nefarious purposes. Sheeta and Pazu are also being pursued by a family of sky pirates led by the crusty Dola (Cloris Leachman), but the two factions eventually team up to thwart Muska. Imposing robots, an unscrupulous general (Jim Cummings) and the title edifice also figure into the proceedings, leading to an exquisitely crafted toon tale that never wears out its welcome, even with a 125-minute running time. To date, this is only the fourth Miyazaki-directed film available on Blu-ray; let's hope Spirited Away and My Neighbor Totoro are just around the corner.
Blu-ray extras include an introduction by Pixar head John Lasseter; original Japanese storyboards; original Japanese trailers; and various making-of featurettes.
Movie: ***1/2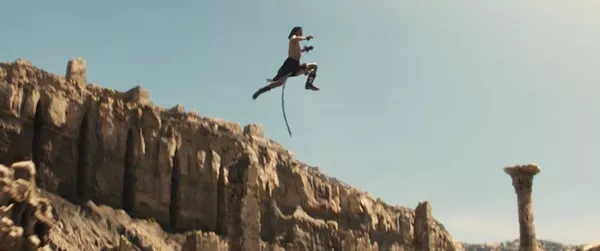 Taylor Kitsch in John Carter (Photo: Disney)
JOHN CARTER (2012). Immortalized as the first Box Office Bomb of 2012, this filmic version of Edgar Rice Burroughs' pulp-periodical hero isn't nearly as bad as its reputation — for starters, it's far better than lead Taylor Kitsch's other 2012 disaster, Battleship. Standing somewhat apart from today's blockbusters-of-the-week, it hews more closely to such nostalgia-tinged projects as 1980's Flash Gordon and 1991's The Rocketeer, narratively simple adventure yarns that charmingly worked their straightforward delineations of good and evil into no-frills fun. A key difference, though, is that while those two movies were savvy enough to occasionally wink at themselves and even engage in a bit of camp, John Carter takes itself far too seriously, and what should be, as the barkers once said, a rip-roaring good time all too often finds itself crushed under its grim-faced grandeur. Kitsch plays Carter, a Civil War-era Virginian who, through means too lengthy to explain here, finds himself transported to Mars. There, his body mass gives him extra strength, speed and agility, all of which he'll need as he becomes mired in a conflict involving the various warring factions on the Red Planet. There are some fantastic sights in John Carter, but there's also a lot of overkill, with director-cowriter Andrew Stanton and his crew often cluttering up the visuals with the deranged frenzy of George Lucas retooling his Star Wars sagas. Speaking of Star Wars, the political subplots often grow so wearying that we half-expect The Phantom Menace's Qui-Gon Jinn to show up and start discussing Trade Federation taxation. Yes, John Carter is occasionally that dull, and yet overall, it grows more interesting as it progresses, with a second half that should energize viewers who slumbered on the couch during the laborious first hour. Just don't hold your breath for that once-discussed sequel.
Blu-ray extras include audio commentary by Stanton and others; deleted scenes; a behind-the-scenes featurette; and a piece on Burroughs' story and its 100-year journey to the screen.
Movie: **1/2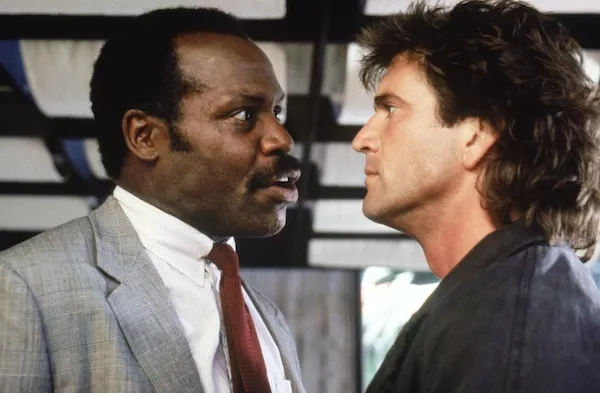 Danny Glover and Mel Gibson in Lethal Weapon (Photo: Warner)
LETHAL WEAPON COLLECTION (1987-1998). Kids, you may be surprised to learn that there once existed a period when Mel Gibson was better known for playing a lunatic on screen than in real life. Gibson's first iconic role was road warrior Mad Max in three futuristic flicks, yet he topped that productivity by essaying the role of crazy cop Martin Riggs in four Lethal Weapon movies.
Lethal Weapon (1987) is rare in that it's perhaps the only film in Hollywood history that's inferior to all of its sequels. Yeah, I know, I know: The movie is considered an action classic and routinely pegged as one of the best "buddy cop" films, but it's always held just marginal appeal for me — besides, compare it to the following year's Die Hard, a superb action flick from start to finish, and its "classic" status seems even more ludicrous. Gibson is Martin Riggs, the loose-cannon cop who might really be crazy; Danny Glover is Roger Murtaugh, the stable officer who's not thrilled to be paired with such a dangerous partner. Together, they set out to bust a drug ring comprised of Vietnam War vets. Gibson's overblown attempts at playing crazy are good for some unintentional chuckles, as is the climactic hand-to-hand skirmish between Riggs and a steely henchman (Gary Busey). But the groundwork for the evolving relationship between the two police sergeants is believably established, and Glover exudes warmth and compassion as the good cop, good husband and good father.
The best film in the series, Lethal Weapon 2 (1989) finds the pair going after South African diplomats involved in drug-smuggling. Disgusted not only by the Afrikaners' criminal activities but also by their blatant racism (Riggs repeatedly mocks them as neo-Nazis, an interesting plot device given Gibson's now-known real-life prejudices), the pair find their hands tied by the conventions of diplomatic immunity and are therefore assigned to spend their time babysitting a federal witness named Leo Getz (Joe Pesci). Pesci's terrific comic performance really gooses the proceedings, but the film also works because of its exciting action content, the presence of Patsy Kensit as Riggs' love interest, and the series-best interplay between the two lead characters.
The franchise is back to its middling ways with Lethal Weapon 3 (1992), a sporadically entertaining entry in which Riggs and Murtaugh set their sights on an ex-cop (Stuart Wilson) who's stealing confiscated arms from the police department and selling them back to criminals. The scene-swiping Pesci returns as Leo Getz, and the series introduces a welcome new player in Lorna Cole (Rene Russo), an Internal Affairs officer who proves to be as tough as Riggs. The chemistry between Gibson and Russo is strong (they would later play husband and wife in Ransom), although I could have done without the sequence — directly ripped off from Jaws with little wit — in which their characters compare scars.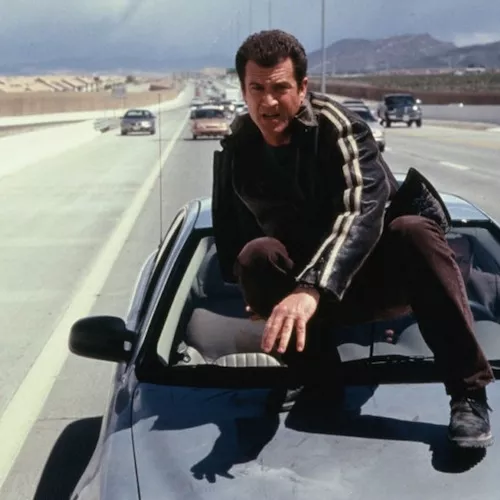 Mel Gibson in Lethal Weapon 4 (Photo: Warner)
Lethal Weapon 4 (1998) throws in everything except the kitchen sink — and that's only if you don't count the one that's destroyed along with the rest of the Murtaugh household. In this installment, our heroes — Riggs, Murtaugh, Leo, Lorna and a young cop named Lee Butters (Chris Rock) — confront Chinese mob bosses responsible for bringing illegal immigrants into the country to basically work as slaves. The story threads are all over the place — the sympathetic Murtaugh shelters a Chinese family in his own home; Butters is dating Murtaugh's oldest daughter Rianne (Traci Wolfe) behind her father's back; both Rianne and Lorna are pregnant; etc. — but some potent action sequences, a memorable villain (played by Jet Li in his American film debut), and some engaging banter (love the introduction between Leo and Butters) — allow this popular series to come to a fitfully amusing close.
Blu-ray extras in this handsome five-disc set include audio commentary by director Richard Donner on all four films; deleted scenes for the first three pictures; new retrospective featurettes examining the entire series and featuring interviews with most of the principals; the music video for "Lethal Weapon," an awful song by Honeymoon Suite employed in the first film; the music video for "It's Probably Me," a mediocre song by Sting and Eric Clapton employed in Lethal Weapon 3; and the theatrical trailers for all four movies.
Lethal Weapon: **1/2
Lethal Weapon 2: ***
Lethal Weapon 3: **1/2
Lethal Weapon 4: **1/2
Denzel Washington in Safe House (Photo: Universal)
SAFE HOUSE (2012). Actors often like to brag about how they performed their own dangerous stunts on a particular picture, but how many A-listers can actually claim to have been waterboarded as part of the deal? Yet here's Denzel Washington and his co-workers on Safe House, who all revealed on the interview circuit how the two-time Oscar winner refused a stunt double for the scene in which his character, former CIA agent Tobin Frost, gets tortured via a technique that's all the millennial rage among U.S. government leaders. It's an intense sequence, one of the few in a movie that otherwise hits all the familiar marks as it hurtles toward the end credits. Still, a little professionalism can go, if not a long way, at least enough distance to make the ride a painless one, and Safe House is nothing if not slick and steady. Washington's apparently traitorous agent tests the patience of noble novice agent Matt Weston (Ryan Reynolds) as both men flee through Cape Town, South Africa, evading the usual band of nondescript thugs. These ruffians are in the employment of — natch — a dirty double-crossing official in the Central Intelligence Agency. Could it be the no-nonsense head suit, Harlan Whitford (Sam Shepard)? The brusque Catherine Linklater (Vega Farmiga)? Or the gracious and sweet-natured David Barlow (Brendan Gleeson)? Honestly, why do scripters even make an effort to hide the identity until the end, when it's apparent from the get-go who will be revealed as the villain? Given the perpetual obviousness in these films, they might as well include a character named Professor Plum, usually found brandishing a lead pipe in the conservatory, and be done with it.
Blu-ray extras include a making-of featurette; various short pieces on the action and stuntwork; and a look at location-shooting in Cape Town.
Movie: **
S.O.B. (1981) / VICTOR/VICTORIA (1982) / SKIN DEEP (1989). The Warner Archive Collection generally offers movies never before available on DVD, but in the case of these three efforts from writer-director Blake Edwards, they represent another opportunity for consumers to snag three films that haven't been available in this format since 2002 (those out-of-print DVDs are being sold on Amazon at elevated costs).
William Holden and Larry Hagman in S.O.B. (Photo: Warner)
Edwards' outrageous S.O.B. may never be held in the same regard as Sunset Boulevard or The Player, but as a searing satire about the underbelly of the Hollywood lifestyle, it still ranks as one of the best. William Holden (in his final film) and Julie Andrews (Edwards' wife from 1969 until his death in 2010) head an all-star cast that gamely throws itself into the vicious story of a producer (Richard Mulligan) who decides the only way to turn his mega-flop into a mega-hit is by juicing it up with softcore porn sequences — and having the wholesome leading lady (Andrews) bare her breasts for the camera. Robert Preston's performance as a cynical doctor who's never caught off-guard remains one of my favorite comic turns in movie history — he deservedly received Best Supporting Actor honors from the National Society of Film Critics, though the Academy failed to follow suit.
PRETTY IN PINK: Robert Preston, Julie Andrews, James Garner and Alex Karras in Victor/Victoria (Photo: Warner)
The Academy did nominate Preston for his marvelous turn in Edwards' next picture, Victor/Victoria. Adapted from a 1933 German film, this cheerful romp stars Andrews as Victoria Grant, a struggling, starving singer in 1930s Paris. She befriends a gay nightclub performer called Toddy (Preston), who in turn comes up with the idea that Victoria can make a living as a female impersonator — in essence, she's a woman pretending to be a man pretending to be a woman. The ruse works wonderfully until "Victor" catches the attention of powerful Chicago mobster King Marchand (James Garner), who can't understand why he's more attracted to this "man" than to his jealous moll Norma (Lesley Ann Warren). Nominated for seven Academy Awards (including Edwards' adapted screenplay and the performances by Andrews, Warren and, of course, Preston), this won for Best Adaptation Score.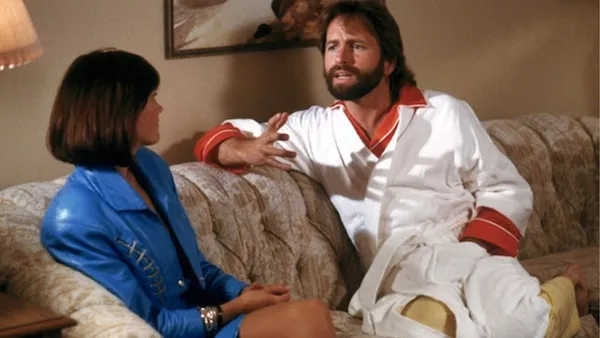 Chelsea Field and John Ritter in Skin Deep (Photo: Disney)
Edwards was responsible for so many top-flight productions (including Breakfast at Tiffany's, Days of Wine and Roses and the hilarious Pink Panther series starring Peter Sellers) that we can forgive him for the string of duds that winded down his career post-Victor/Victoria. Skin Deep is actually one of the better of this ragtag bunch — a dismal grouping that included A Fine Mess, which painfully paired Ted Danson with Howie Mandel, and Son of the Pink Panther, a failed attempt to resurrect the series with Roberto Benigni — but despite a couple of standout scenes and Edwards' flowing dialogue, it's a letdown coming from this talented filmmaker. A miscast John Ritter plays an alcoholic womanizer trying to better himself, but that's hard to do when there are so many beauties to bed and bottles of booze to consume. It would take a tremendous performance to make such a vile character interesting, and Ritter isn't up to the task, although his physical prowess (seen weekly on Three's Company) remains strong. Skin Deep does boast of one legendary scene, so gaspingly funny that it's teased in the film's tagline ("The comedy that GLOWS in the dark").
All three DVDs include the theatrical trailer; Victor/Victoria also includes audio commentary by Edwards and Andrews.
S.O.B.: ***1/2
Victor/Victoria: ***1/2
Skin Deep: **1/2
Tom Hardy, Reese Witherspoon and Chris Pine in This Means War (Photo: Fox)
THIS MEANS WAR (2012). When it comes to the twin businesses of sexual politics and romantic revelations, the number of modern-day comedies that have managed to smartly upend all the tired stereotypes and withering clichés is a dismally small one, sporting a losing ratio comparable to that of the 2011-2012 Charlotte Bobcats. This Means War is yet another casualty, losing the battle almost from the start. Chris Pine and Tom Hardy respectively play FDR and Tuck, crack CIA agents who are BFFs until they both fall for the same woman. That would be Lauren (Reese Witherspoon), a lonely workaholic who goes from having no boyfriends to having two guys fighting over her. With her best friend Trish (Chelsea Handler) offering her dubious advice, Lauren simultaneously dates both studs in order to determine her best match. For their part, FDR and Tuck are utilizing all the espionage tools at their disposal (satellites, wiretaps, etc.) to thwart the other fellow in his amorous advances. In popcorn-picture terms, it has promise, and indeed, there are a couple of sequences in the midsection that fulfill the film's potential (the paintball scene is uproarious). But for the most part, the movie is a clumsy mess, replete with a worthless subplot involving a cardboard Euro-baddie (Til Schweiger) seeking revenge. As far as the characterizations are concerned, they follow the same outdated playbook that's generally kept under lock and key by Katherine Heigl to use in her films. Lauren comes across as a ninny, FDR is insufferable, Trish is like all married women in movies (alcoholic, bitter, and living vicariously through her hot, young, single friend), and Tuck's ex (Abigail Leigh Spencer) has no interest in a sensitive, caring father until she learns he can beat the living hell out of people. Only Hardy (and his pursed lips) escapes from this debacle unharmed. As for the resolution of the romantic dilemma ... well, let's just say that the filmmakers would have been hard-pressed to come up with a worst ending. But then they tack on a ghastly epilogue, and what seemed near-impossible becomes a harsh reality.
The Blu-ray contains both the PG-13 theatrical cut and an unrated, extended version. Extras include audio commentary by director McG; three alternate endings; and a gag reel.
Movie: *1/2