(View From The Couch is a weekly column that reviews what's new on Blu-ray and DVD. Ratings are on a four-star scale.)
William Marshall in Scream Blacula Scream (Photo: Shout! Factory)
BLACULA (1972) / SCREAM BLACULA SCREAM (1973). One of the most famous of all blaxploitation films, Blacula casts the regal William Marshall as Mamuwalde, an African prince who, journeying through Europe with his wife Luva (Vonetta McGee) in an effort to drum up support for anti-slavery measures, learns that his latest host is an unrepentant racist who adores the slave trade. That host also ends up being Count Dracula (Charles Macaulay), who subsequently turns Mamuwalde into a vampire and seals him in a coffin. Two hundred years later, Mamuwalde finds himself awakened from his slumber in Los Angeles, where he's elated to come across Luva's reincarnation (also McGee) but perturbed that he's being observed by a suspicious scientist (Thalmus Rasulala). The film possesses a lively sense of humor and is very much a product of its time, but those seeking PC comfort cinema had best steer clear (after the body of a gay interior decorator disappears, a police lieutenant played by Gordon Pinsent asks, "Who the hell would want a dead faggot?").
The success of Blacula led to an outpouring of other horror blaxploitation flicks, including Blackenstein, Dr. Black, Mr. Hyde, Abby (aka The Blaxorcist) and, perhaps inevitably, a sequel in Scream Blacula Scream. In this one, Mamuwalde/Blacula is brought back with the purpose of helping a spoiled brat (Richard Lawson) get revenge on his voodoo-practicing relative, Lisa Fortier (Pam Grier); instead, the bloodsucking prince takes charge and even goes so far as to cajole Lisa into helping him shake off his curse. Scream Blacula Scream is a tad more polished than its predecessor but also a tad less fun, with too much time spent on dull or annoying characters. Dig that title sequence, though, and Marshall is still effective as Blacula, especially in a scene in which he accuses two pimps of enslaving their "sister" and then doles out proper punishment.
The two films are being offered in a single Double Feature Blu-ray edition. Extras on Blacula consist of audio commentary by film historian and author David F. Walker (Reflections on Blaxploitation); a photo gallery; and the theatrical trailer. Extras on Scream Blacula Scream consist of an interview with Lawson; a photo gallery; and the theatrical trailer.
Blacula: ***
Scream Blacula Scream: **1/2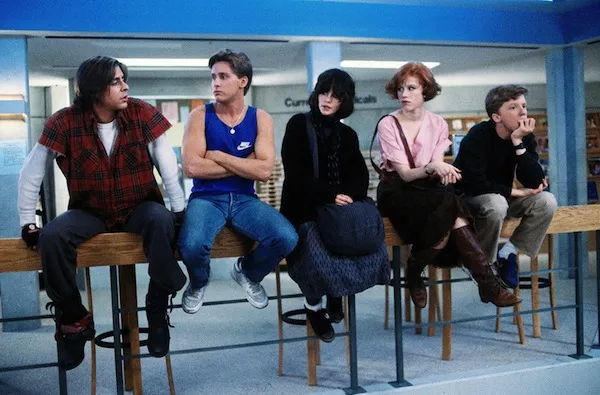 Judd Nelson, Emilio Estevez, Ally Sheedy, Molly Ringwald and Anthony Michael Hall in The Breakfast Club (Photo: Universal)
THE BREAKFAST CLUB (1985). The late John Hughes' finest hour (he didn't have many, despite a prolific output), The Breakfast Club was the best of the so-called "Brat Pack" features as well as a seminal film for many who came of age in the 1980s. Bucking the expected norm of viewing teenagers as nothing more than sex-addled nitwits (e.g. Porky's), writer-director Hughes nicely nails the anxieties and insecurities of the high school set with this entertaining yarn about five disparate students — a jock (Emilio Estevez), a beauty (Molly Ringwald), a brain (Anthony Michael Hall), a rebel (Judd Nelson) and a basketcase (Ally Sheedy) — who are forced to spend a Saturday together in detention and end up discovering some common ground. The occasionally awkward dialogue sounds natural coming from the mouths of the kids, less so when uttered by the overbearing detention teacher (Paul Gleason). Still, the movie does a superlative job of mixing comedy with pathos, and the soundtrack (spearheaded by Simple Minds' chart-topping "Don't You (Forget About Me)") still rocks. Trivia hounds will be interested to learn that Nicolas Cage was sought for Nelson's role, and that John Cusack was actually cast in the part until Hughes decided (rightly, methinks) that the young actor wasn't tough enough to convey the character's hard edges.
Blu-ray extras on this 30th Anniversary edition include audio commentary by Hall and Nelson; a 12-part making-of retrospective; a trivia track; and the theatrical trailer. Unfortunately still missing is the music video for "Don't You (Forget About Me)."
Movie: ***1/2
Kevin Kline in The Last of Robin Hood (Photo: Universal)
THE LAST OF ROBIN HOOD (2014). If ever an actor was born to play Golden Age screen star Errol Flynn, it would be Kevin Kline. The only real question, I suppose, is why it took this long. The Last of Robin Hood focuses on the event that defined the final years (1958-1959) of Flynn's life: his relationship with Beverly Aadland (Dakota Fanning), an aspiring actress handled by her opportunistic mother Florence (Susan Sarandon). Spotting Beverly across the studio lot, Flynn promises the virginal 18-year-old girl the moon and ends up seducing her late one night. But the seduction is really a rape — and statutory rape as well, since Beverly was actually 15 and able to pass herself off as 18 thanks to a fake ID provided by mommie dearest. Nevertheless, Errol and Beverly are soon inseparable, professing their love while trying to make movies together. Clearly, the subject matter makes for a sordid Hollywood tale that's still relevant today — after all, tabloid journalism, guileful parents and exploitation of the young have never, and will never, go out of fashion. Why, then, is this story related with all the lackadaisical tempo of a Mutual of Omaha TV commercial? In almost every regard, this is subpar television, with unconvincing period verisimilitude and a timid approach to prickly material. Fanning is badly miscast, though it's not entirely her fault. Her wan presence certainly hurts, but so does the filmmakers' insistence on making Beverly Aadland a cardboard character, a thin figure defined only by her age and beauty. "I like my whiskey old and my women young," Flynn once stated, and this dud does nothing more than provide lip service to that declaration.
There are no extras on the Blu-ray.
Movie: *1/2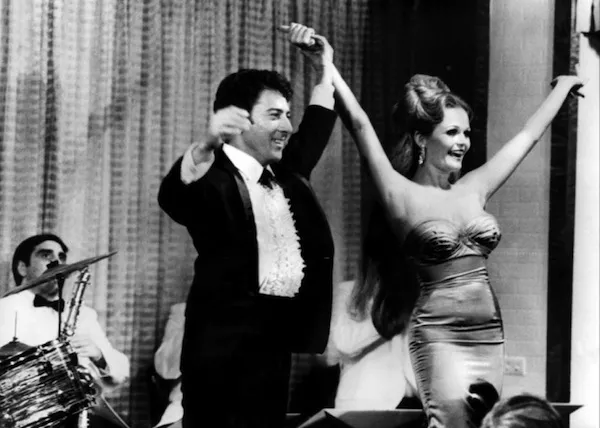 Dustin Hoffman and Valerie Perrine in Lenny (Photo: Twilight Time)
LENNY (1974). Stage legend Bob Fosse only directed five feature films during his lifetime; planted smack in the middle, after 1969's Sweet Charity and 1972's Cabaret (for which he won the Best Director Oscar) but before 1979's All That Jazz and 1983's Star 80, was this engrossing biopic about Lenny Bruce, the profane and profound stand-up comic who influenced the likes of Richard Pryor, George Carlin, Bill Hicks ... well, basically every comedian who's ever set foot on a stage. Bruce's life, cut short when he died of a drug overdose in 1966 at the age of 40, was even more fascinating than what's covered in this movie, but working from the successful stage hit penned by Julian Barry, Fosse (with Barry in tow as his scripter) opts to largely keep the focus on two specific points: Bruce's trajectory as a controversial comedian during the 1950s and early '60s, and his relationship with stripper Honey Harlow, who became his wife for a short period before sex and drugs took too great a toll on both of them. Hoffman is, as expected, excellent as the social satirist who risked arrest every time he employed words like "cocksucker" in his routine, so the breakout performance here belongs to Valerie Perrine as Honey. Best known as the delicious Eve Teschmacher in 1978's Superman, she delivers a heartbreaking performance in this picture, one which earned her the Best Actress prize at Cannes as well as Best Supporting Actress awards from the New York Film Critics Circle and the National Board of Review. A commercial success, Lenny also nabbed six Academy Award nominations: Best Picture, Actor, Actress, Director, Adapted Screenplay, and Cinematography (Bruce Surtees' black-and-white lensing crackles with the crispness of a potato chip).
Blu-ray extras include audio commentary by film historians Julie Kirgo and Nick Redman; the theatrical trailer; and an isolated music track.
Movie: ***1/2
The Nicholas Brothers in Stormy Weather (Photo: Twilight Time)
STORMY WEATHER (1943). Lovers of vintage musicals simply cannot afford to miss Stormy Weather, which is historically significant for featuring an all-black cast and otherwise significant for providing a great time. Forget, for a moment, the massive age difference between leads Bill "Bojangles" Robinson and Lena Horne — he was 65, she was 26 — since their romance is the least engaging (and least convincing) aspect of the picture. In the show position, there's the comedy, largely represented by Dooley Wilson (Casablanca's Sam, of "Play it, Sam" fame) as Robinson's garrulous best friend but also by the playful piano shenanigans of Fats Waller, plinking his way through "Ain't Misbehavin'" and "That Ain't Right." In the place position, there's the singing, best repped by the stylings of Horne as she performs a handful of standards, including the title tune. And in the win position, there's the dancing, featured in such astonishing numbers as "Linda Brown," with Robinson tap-dancing alongside The Tramp Band, "African Dance" (lyrics by Langston Hughes), with Robinson displaying his agility atop some sizable drums, and "Jumpin' Jive," featuring the sensational sibling act The Nicholas Brothers (Fayard and Winston-Salem-born Harold). And let's not forget the charismatic Cab Calloway: Nothing here matches his incredible "Reefer Man" performance in 1933's International House, but he's nevertheless in fine form in such bits as "Geechy Joe."
Blu-ray extras consist of audio commentary by Dr. Todd Boyd, Professor of Critical Studies at USC, and an isolated score track.
Movie: ***1/2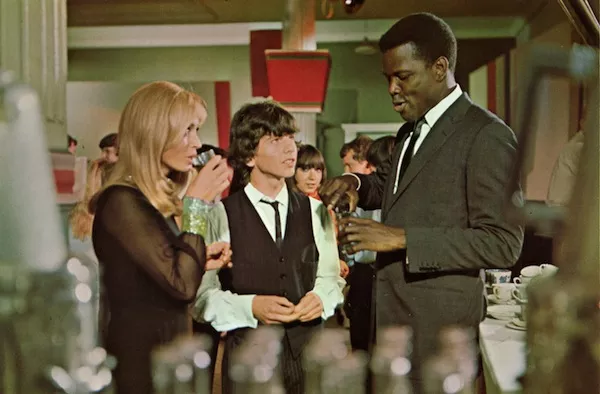 Suzy Kendall and Sidney Poitier in To Sir, with Love (Photo: Twilight Time)
TO SIR, WITH LOVE (1967). Although it's exceedingly rare these days, it used to be common for actors to headline three or more films in one single year: For stars under the old studio system (Cagney, Gable, etc.), it was the norm rather than the exception, and even in more recent decades, workaholics like Michael Caine and Gene Hackman could be found beefing up their filmographies by working around the clock — and calendar. What's not so common is for all the titles from a sole year to emerge as gargantuan hits, and yet that's what happened with Sidney Poitier in 1967. Guess Who's Coming to Dinner was a monster box office smash while In the Heat of the Night copped the Best Picture Oscar, but before either opened in theaters, Poitier already had a sizable hit that year with To Sir, with Love, which became one of the year's top 10 grossers and housed a #1 pop single to boot. Poitier stars as Mark Thackeray, an engineer whose difficulty in finding a job in his chosen field leads him to accept a teaching position at a school located in London's East End. Faced with a class full of rough-and-tumble students, Thackeray decides that the best way to reach these kids is by ignoring the school curriculum and instead teaching them about love, rebellion, marriage and other worldly pursuits (yes, it beat Dead Poets Society to the punch by over two decades). Lulu, who sings the chart-topping title song, is cast as one of Thackeray's charges, although the more impressive performances come from Christian Roberts as the surly Denham and especially Judy Geeson as the astute Pamela.
Blu-ray extras include audio commentary by Geeson and film historians Nick Redman and Julie Kirgo; separate audio commentary by author E.R. Braithwaite and author/teacher Salome Thomas El; audio of a reading by Braithwaite; an interview with Lulu; the theatrical trailer; and an isolated score track.
Movie: ***