(View From The Couch is a weekly column that reviews what's new on Blu-ray and DVD.)
Black Sabbath (Photo: Kino Classics)
BLACK SABBATH (1963). If you've ever laid awake at night wondering how exactly the heavy metal band Black Sabbath came up with its moniker, ponder no more. Yet serving as inspiration for Ozzy and friends is the least of this classic's merits. Despite making a handful of films in the interim, this is the film that most prominently confirmed the promise that writer-director Mario Bava demonstrated with his influential 1960 hit Black Sunday (reviewed here). Black Sabbath has long been available on DVD in both its original Italian form and the edited American version, and now Kino Classics has seen fit to bring the superior cut — the Italian one — to Blu-ray. Boris Karloff serves as the cheerful host for this anthology flick, which progresses in story terms from good to better to best. "The Telephone" is a taut (if plothole-filled) thriller with decidedly lesbian undertones (removed from the American version, of course), as the title device connects the beautiful Rosy (Michele Mercier), her jilted lover Mary (Lidia Alfonsi) and an escaped convict out for revenge. "The Wurdulak," based on a piece by Tolstoy, rekindles that Black Sunday ambiance in a period tale that stars Karloff himself as the patriarch of a family plagued by vampires. And "The Drop of Water," adapted from a Chekhov story, features what might be the creepiest corpse in cinema history, as a nurse (Jacqueline Pierreux) makes the mistake of swiping a valuable ring from the body of a newly deceased clairvoyant.
Along with Black Sabbath, Kino Classics has also released Kidnapped (aka Rabid Dogs), a 1974 thriller that Bava never finished due to the film's investor going bankrupt. In 1997, long after Bava's death, his son Lamberto Bava and producer Alfredo Leone shot some additional material, reedited what already existed and finally released the picture. A departure from Bava's horror fare, the movie follows a group of criminals whose botched robbery forces them to take a trio of hostages. (Black Sabbath and Kidnapped are sold separately.)
The only extras on Black Sabbath (and Kidnapped) are trailers of other Bava films.
Movie: ***
Hal Holbrook in The Fog (Photo: Shout! Factory & MGM)
THE FOG (1980). John Carpenter wouldn't direct his horror masterpiece for another couple of years — sorry, fans of 1978's Halloween, but 1982's The Thing is the real career pinnacle — yet The Fog is right in line with the types of film he made before his professional fall from grace: It's unpretentious genre fun, stylishly assembled and populated with colorful characters. Set in the coastal California town of Bodega Bay, it concerns a curse wherein a group of murderous ghosts have returned after a 100-year slumber seeking revenge for a grave injustice. The script by Carpenter and producer Debra Hill is unique in that it features two heroines who never meet: Stevie Wayne (Adrienne Barbeau, Carpenter's then-wife), a local DJ who's able to keep track of the menacing fog from her radio-station perch atop the Bodega Bay lighthouse, and Elizabeth Solley (Jamie Lee Curtis), a traveler who hitches a ride from local Nick Castle (Tom Atkins) and foolishly decides to stick around. For a low-budget feature, the movie looks great, thanks to director of photography Dean Cundey's widescreen lensing, Tommy Lee Wallace's atmospheric production design and the groovy visual effects. Film buffs will appreciate the sight of Curtis and her mother Janet Leigh sharing screen time together, as well as the number of in-jokes (The Abominable Dr. Phibes and The Birds are but two of the titles that receive subtle shout-outs).
Blu-ray extras include audio commentary by Carpenter and Hill; separate audio commentary by Barbeau, Atkins and Wallace; a new interview with Curtis; a making-of featurette; a new interview with Cundey (who would later shoot such blockbusters as Who Framed Roger Rabbit, Jurassic Park and Apollo 13); and outtakes.
Movie: ***
Alex Rebar in The Incredible Melting Man (Photo: Shout! Factory & MGM)
THE INCREDIBLE MELTING MAN (1977). "Oh, my God, it's his ear!" And so it goes with The Incredible Melting Man, a piece of sci-fi cheese so pungent that it was honored with its very own Mystery Science Theater 3000 episode. Brave viewers wanting to check out the picture straight up, without Mike Nelson and Co. there to ease the pain, can plunge right into this edition: A tacky terror tale (initially penned by writer-director William Sachs under the name The Ghoul from Outer Space), it finds astronaut Steve West (Alex Rebar) surviving a botched space odyssey and returning to earth as a murderous creature who can't take a step without part of him oozing off. An embarrassment in terms of its dialogue, performances and direction, it finds its only redemption in the excellent makeup effects created by seven-time Oscar winner Rick Baker (An American Werewolf in London, Men in Black), who was given an uncredited assist by the dream team of future Oscar winners Rob Bottin (Total Recall) and Greg Cannom (Bram Stoker's Dracula). And yes, that's The Silence of the Lambs director Jonathan Demme as the mustachioed guy who ignores the glop on his front doorknob and enters the house anyway.
Blu-ray extras include separate yet intercut interviews with Sachs and Baker, in which the former laments that the film was taken out of his hands but it's still well worth watching while the latter makes no bones about the fact that the movie sucks (Baker's remembrance of his first meeting with Rebar is especially amusing). The rest of the extras consist of an audio commentary by Sachs and theatrical trailers.
Movie: *1/2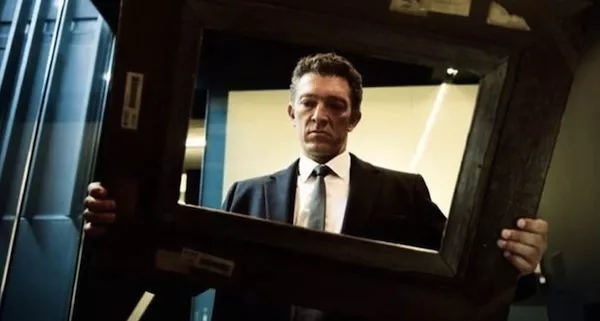 Vincent Cassel in Trance (Photo: Fox)
TRANCE (2013). When Trance opened theatrically this past spring,other reviewers — heck, even the studio's own press release — revealed waaay too many specifics, so let's tread carefully here. James McAvoy plays Simon, who works for an arts auction house in London. A group of criminals, led by the smooth Franck (Vincent Cassel), attempt to steal a valuable Goya painting but are thwarted by Simon, who hides it but then can't remember where after he receives a thump on the head. Determined to acquire the masterpiece, Franck decides that hypnotism might be the way to go; this leads them to a therapist named Elizabeth Lamb (Rosario Dawson), tasked with putting Simon under in hopes that he'll remember exactly where he stashed the portrait. Like any good thriller worth its weight in red herrings, Trance, written by Joe Aherne (updating his own 2001 TV-movie) and John Hodge, keeps the audience guessing for the vast majority of its running time. Is Elizabeth the saga's heroine or is she a femme fatale waiting to pounce? Is Simon really the victim and Franck the perpetrator, or do their assigned roles occasionally shimmer and shift? Boyle, cinematographer Anthony Dod Mantle (they both won Oscars for Slumdog Millionaire) and editor Jon Harris often keep viewers off balance with a hodgepodge of recurring images, but by the end, all will have staked out their rightful places in the clever plotline. I won't reveal how it all works out, but it leads to revelations that are nothing less than hypnotic.
Blu-ray extras include a making-of featurette; deleted scenes; a piece in which Boyle discusses all the movies he's made for Fox Searchlight (including The Beach, Slumdog Millionaire and 127 Hours); and writer-director Spencer Susser's short film Eugene, included here for no discernible reason (I guess Boyle's a fan?).
Movie: ***