Step into Amelie's French Bakery at any time of the day or night and you will fall victim to a common malady at the destination coffee spot in NoDa: gripping and hypnotic pastry-case paralysis. The bakery's famed glass case seduces guests to gleeful submission, resulting in habitually long lines and the type of booming business that has sustained this operation that never sleeps.
The Amelie's pastry case is a sight to behold, but the real magic happens just a short gaze back from the mesmerizing sweets. Behind the garland of red letters that reads joie de vivre — French for "joy of living" — is an inconspicuous semicircular pane of glass. Look through it and you will catch a glimpse of the apparatus that drives the unconventional hotspot.
When I visited the bakery recently, eight employees were in the kitchen, five making pastries and all moving at a breakneck speed. Pastry chef and kitchen manager Mary Jayne Burris were building the petite cakes, dipping vanilla cake rounds into a Grand Marnier simple syrup while Georgia Gronefeld (also pastry chef and kitchen manager) placed chocolate cups on a sheet pan and quickly piped in chocolate mousse. Across the way, interns Alyssa Stephenson and Katie Curtis worked on filling tart shells with hazelnut cream and cutting endless trays of salted caramel brownies, one of Amelie's most coveted pastry case items. Behind them, a gigantic bowl of chocolate ganache awaited its fate next to six industrial trays of freshly baked croissants.
The kitchen's atmosphere is fast-paced and not for those with uncomfortable shoes. In the center of the baking table sits a camera, installed by Google Chrome, so you can watch the action on your computer 24/7. Amelie's was chosen as one of three locations in the world (the others are in Hamburg, Germany, and Capetown, South Africa) to have a 360-degree periscope camera installed in its kitchen as part of Google's WebLab projects. (Visit www.chromeweblab.com to take a peek.)
Amelie's opened in spring 2008 with French pastries, a Parisian-inspired atmosphere and only two employees. Chef and bistro manager Justin Harris said he recalls times when he would actually work alone on a Sunday.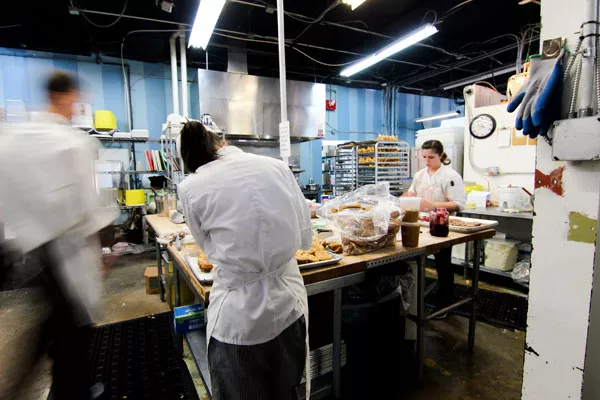 These days, Amelie's is a well-oiled machine that bakes around the clock, toggling its 50 or so employees between first, second and third shifts along with an army of interns, mostly from Johnson & Wales University. During a typical week, Harris said, he orders at least 500 pounds of sugar, 100 to 150 pounds of butter and more than 100,000 eggs to accommodate the needs of the kitchen.
Burris said baking goes on in the kitchen all the time. "There's nothing else like this. When we make pastry cream, we make 10-gallon batches."
Just this past Valentine's Day, Stephenson spent eight hours dipping strawberries in chocolate. "People were buying them as fast as I could make them," she said.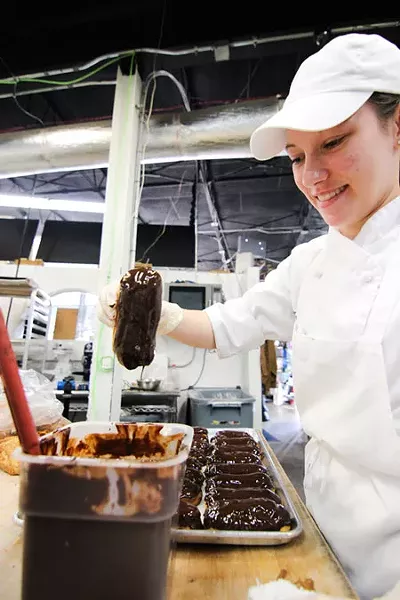 Meredith Jones

Alyssa Stephenson drips deliciousness.
According to manager Stefanie Haviv, there's a lot of math involved. "We have to pay attention to what we sell every day," Haviv said, crediting the clockwork-like operation to her "pastry power duo," Burris and Gronefeld, who manage the daily tasks of calculating, baking and finishing the pastries in the main kitchen.
Burris ran down the numbers for an average Sunday (Amelie's is busiest Thursdays through Sundays) and calculated that nearly 2,500 pastries make their way to the case and out the door. Lately, she said, the macaroons have gained popularity, and the crew bakes 17 sheet pans of the colorful treats each day.
Up until a year ago, the kitchen did everything on site, but the rapid growth of the business created the need for a separate production kitchen and event space, Amelie's Annex, where much of the prep work is now done. There, the petit choux (pastry dough) and gallons of pastry creams, icings and fillings are made and then transported to the main kitchen where the pastries are built and finished.
In just one hour, multiple trays of pastries whizzed past me, sliding into storage racks or into the oven to join the rotating dance of tart shells and croissants. It was an incredible sight, and I'm surely not the only one who thought so.
Through the looking glass — and Google's WebLab initiative — the world can watch and see what Harris calls "a little slice of something different."