BEYOND THE LIGHTS
**1/2
DIRECTED BY Gina Prince-Bythewood
STARS Gugu Mbatha-Raw, Nate Parker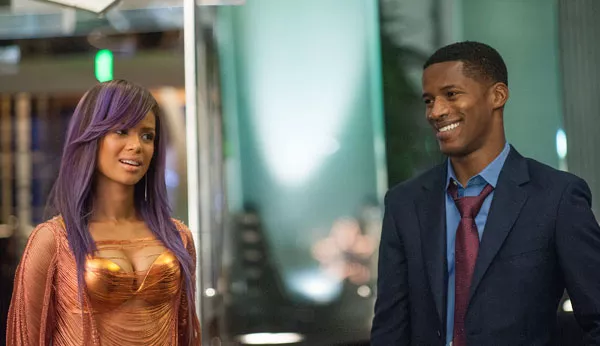 Gugu Mbatha-Raw and Nate Parker in Beyond the Lights (Photo: Relativity)
Ever since the news broke that a female director might be sought to helm the long-awaited Wonder Woman movie, practically every filmmaker with a Miss, Ms. or Mrs. before her name has been dragged into the conversation. Kathryn Bigelow (sure!), Catherine Hardwicke (why not?), Sofia Coppola (intriguing...), Lena Durham (Christ, no!) — heck, I'm surprised some neo-Nazi fanboy hasn't suggested pulling a Re-Animator and digging up Leni Riefenstahl to take the helm.
Might I bring writer-director Gina Prince-Bythewood into the conversation? Not counting short films and episodes of television shows, Prince-Bythewood only has three credits under her belt, but they're sturdy enough to place her in contention. Her debut feature, 2000's Love & Basketball, remains one of the most polished and enchanting love stories seen so far in the 21st century, and her sophomore effort, 2008's underrated adaptation The Secret Life of Bees, shows she's capable of handling a large A-list cast. Her newest film, Beyond the Lights, may not match those previous works, but it at least demonstrates that she continues to be an expert at making movies with believable characters coping with real problems and real feelings. A Wonder Woman movie could benefit from those traits — otherwise, we might end up with something as arid and impersonal as, well, Man of Steel.
Gugu Mbatha-Raw, so impressive earlier this year in Belle, has another star-in-the-making role here. She plays Noni Jean, who's been groomed from an early age by her single mom Macy (Minnie Driver) to become a fabulously successful singer. That she becomes, winning awards even before her debut album has been released and making music — on stage and possibly off, if you catch my drift — with an Eminem-like rapper tagged Kid Culprit (Richard Colson Baker). But Noni is already burned out, and a clumsy suicide attempt is only halted thanks to the quick actions of Kaz Nicol (Nate Parker), the police officer stationed outside her hotel room. It marks the start of a difficult relationship, with their mutual growing attraction frequently tempered and tested by the grueling demands of her profession.
This, then, is where Beyond the Lights most makes its mark — not as a love story but as a look at the demands encountered by female entertainers in today's marketplace. The romance is fairly standard stuff (shades of both A Star Is Born and The Bodyguard), and while Mbatha-Raw and Parker are compatible enough as a screen couple, they don't strike sparks as much as produce barely glowing embers. It's the show-biz angle that generates the heat, examining the multitude of issues that could easily wear down a celebrity: a demanding and opportunistic parent, a punishing work schedule, gossip tidbits deliberately encouraged by the behind-the-scenes conglomerate, a press that doesn't understand the concept of privacy, and much more. These portions of the picture are so potent — and Mbatha-Raw is so sympathetic in her portrayal — that they overshadow the romance. Ultimately, we don't really care if Noni and Kaz remain together; we just want Calgon to take the poor woman away, if just for a couple of hard-earned hours.