The weekend of October 20 was a big one, both for Creative Loafing and for some of our more avid readers, followers and subjects of stories. On Friday, our Best of Charlotte issue was on the stands and our annual BOC party was in full effect.
The winners of some of our favorite categories — Dimple Ajmera (for Best New Politician), Calla Hales (Best Leadership in the Face of Adversity), Patrice Funderburg of Educate to Engage (Best Use of Six Weeks), Hannah Barnhardt (Best Documentary Artist), Modern Primitives (Best Scuzzy Garage Rockers), Junior Astronomers (Best Snotty Punks), and many more — were in attendance, mingling with each other, making future plans, getting their photos taken in wacky Medieval gear.
Drinks flowed, tacos and barbecue and seafood were consumed, donuts were eaten, rugs were cut. It was fun. It was exciting. And it all went down at one of Charlotte's best and most respected Uptown institutions, the Levine Museum of the New South.
And then on Saturday, Bla/Alt upped the ante.
About midday on October 21, I stood atop a concrete platform in the vendor area at the back of Charlotte's first black alternative music festival, looking out over a crowd that had assembled on the gorgeous fall afternoon in the middle of the Camp North End complex on Statesville Avenue.
Rapper Nige Hood and his Folk Rap Band were on the stage. The area was packed with hundreds of people of all ages and races and gender identities, some tattooed and pierced, others more conservatively dressed. All were together as one — chatting in small groups, shopping for Afro-centric jewelry and clothing, dancing with children, lounging around drinking beers or munching vegan burgers, sitting alone in oversized tire swings. It was a loving, supportive, peaceful and picture-perfect day of music and celebration of Charlotte's black alternative artists.
"We're doing this," organizer LeAnna Eden commented to me at one point, as she scurried about, making sure bands were getting onstage at the right times and that their sound levels were right.
Between bands, DJ SPK spun a mix of punk, hip-hop, classic rock, R&B and neosoul.
The tone had been set earlier in the afternoon, when Lenny Muckle of the one-man art/punk project Lofidels walked on the stage in a black T-shirt with the words "Afro Punk" written in large white letters on the front. He played a set of raging, adventurous lo-fi indie rock spiked with double entendres — turning the words "white noise" into a social statement — and squiggly electronics.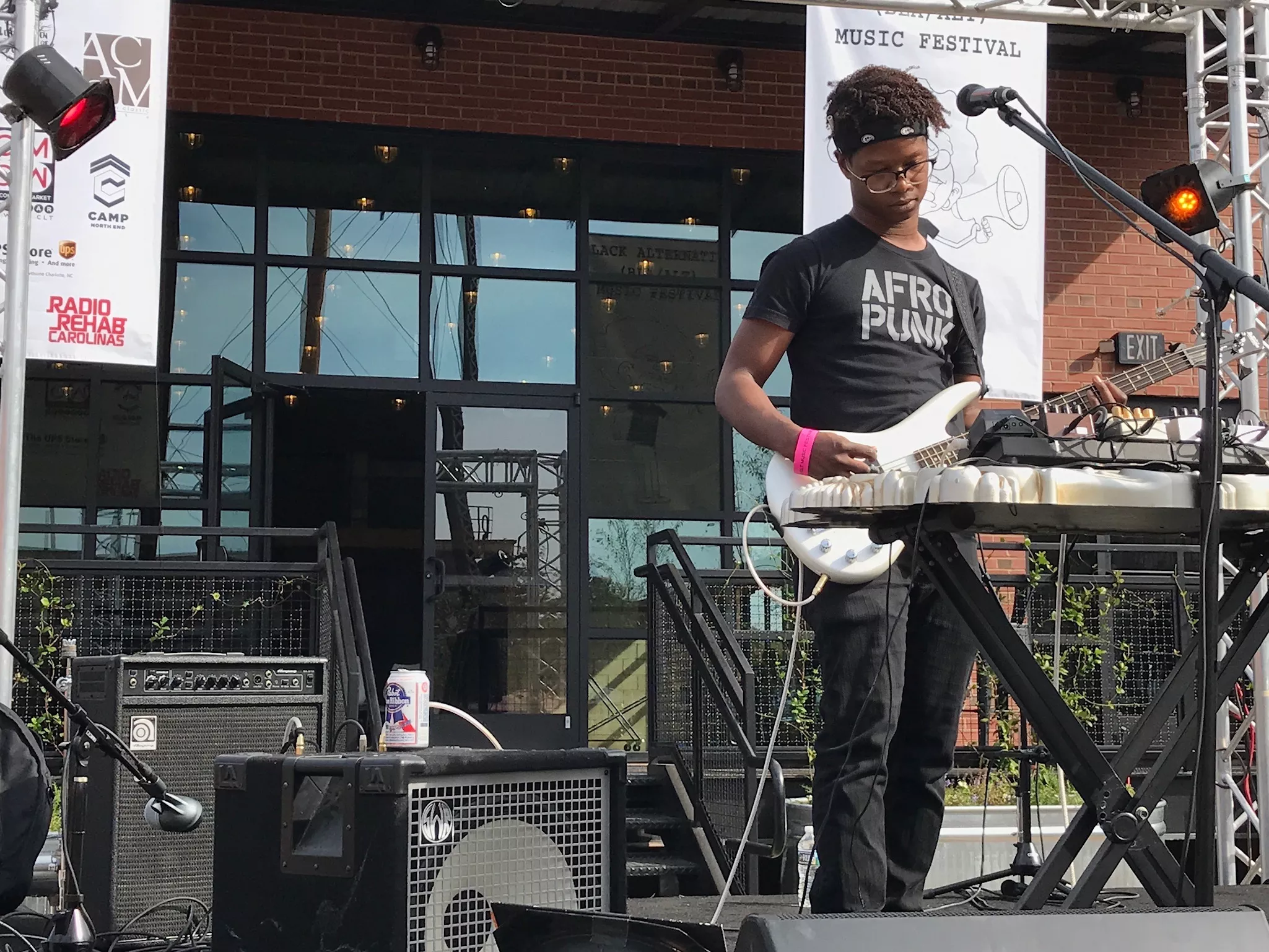 Lenny Muckle, aka Lofidels, at Bla/Alt. (Photo by Mark Kemp)
Both of these events were snapshots of Charlotte in 2017, and they were beautiful and powerful. People together, creating and socializing, doing it themselves.
This week, we're back to doing what we do every other week, though, offering you choices for how to spend the next seven days. In this case, it's Halloween week, and we have a full lineup for your perusal: You can go to the Rabbit Hole and watch the iconic 1978 slasher flick Halloween with friends. You can take your pooches over to Pop the Top Craft Beer Shop for Howl-O-Ween Yappy Hour. You can dress up your car, pack the kids into it, and drive over to Trunk-Or-Treat at Plaza Road Pre-K School. You can rock out on Halloween night at Snug Harbor or Petra's.
We're also back to reporting on some of the more urgent news stories showing that all is not totally beautiful in Charlotte yet. Take the upcoming trials of two of the Charlotte Uprising protestors — Glo Merriweather and Jamil Gill — who are being brought before the court on what some see as trumped-up charges. Ryan Pitkin reports on that story in the news section.
"There are a couple people being penalized and charged with an entire uprising that covered a long amount of days, that a lot of different people were engaged in," Ash Williams, a Charlotte Uprising organizer, tells Pitkin. "What we're seeing now is these last few folks who the state is really trying to make an example out of, and we know, for Glo, that's because they are queer and black."
Last October, Merriweather had predicted the dilemma. "The police department doesn't protect our interests, it doesn't protect our people. . .," Merriweather told Pitkin at that time. "I'm 24 years old. A lot of people think we're these seasoned veterans, but we're just people who imagine a world that's different than what we're living in."
A sliver of that world was on display at the BOC party and Bla/Alt fest. And it was idyllic. But there's still much work to be done in order for the entire city to see and experience that world. When that happens, CL will be the first to bring it to you.