Five years ago, in the March 21, 2007, issue of Creative Loafing, we ran "Music For The Movies: The 20 Greatest Rock Films Ever Made." The piece and its sidebars — The Also-Rans and The 10 Worst — proved to be so popular, that we've elected to reprint the package circa its fifth anniversary. As an added bonus, we've also included this separate story featuring the individual picks of Editor-in-Chief Mark Kemp and Music Editor Jeff Hahne, neither of whom were here to participate the first time around.
To see the main story, The 20 Greatest Rock Films Ever Made, go here, To see the first sidebar, The Best Also-Rans, go here. To see the other sidebar, The 10 Worst Rock Films Ever Made, go here.
MARK KEMP
THE 20 BEST
(In chronological order)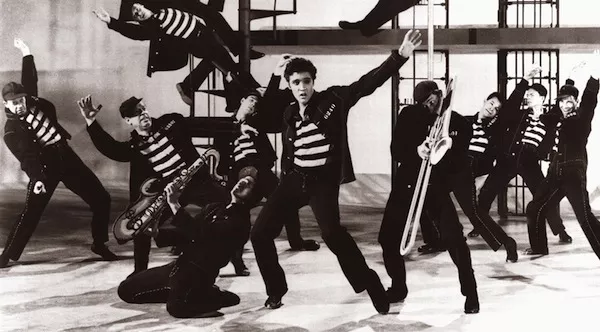 Jailhouse Rock (Richard Thorpe, 1957) Elvis' movies were as inconsistent as his recordings, most of them being wretched if also somewhat entertaining for their kitsch value. The gritty Jailhouse Rock, though, is a classic that's every bit as important as a film as his early Sun sessions were as music.
Mother India (Mehboob Khan, 1957) One of the great allegories of Bollywood, this late-'50s remake of an earlier Khan film is considered one of the greatest in a genre of pop-music-in-film that's only recently been embraced in the West. Indian filmmakers long ago perfected the art of combining elaborate song-and-dance routines into a movie narrative. What's more, the sitar- and tabla-drenched musical styles in this film — popular versions of more serious Indian classical music, featuring the otherworldly voices of Bollywood stalwarts including Lata Mangeshkar and Asha Bhonsle — would have a profound impact on English-language rock experimenters of the subsequent decade. This classic Bollywood epic sounds positively magical.
A Hard Day's Night (Richard Lester, 1964) What more can anyone say about this film that combines popular music with Marx Brothers wit. A Hard Day's Night is one of those movies that's as funny now as it was when it was made. And the music — well, it's the Beatles.
Don't Look Back (D.A. Pennebaker, 1967) Bob Dylan was an asshole. And a genius. Fortunately, D.A. Pennebaker had his cameras rolling to catch both of those traits during Dylan's prime in one of rock's greatest documentaries.
Performance (Nicolas Roeg, 1970) Everything about this film distills the essence of rock & roll, from the drugs to the sex scene with Mick Jagger and Anita Pallenberg in a bathtub, to the proto-music video of Jagger singing "Memo from Turner." The late '60s/early '70s was a wildly daring and creative time for both film and popular music, and this classic of the period's avant-garde captures both at their peak.
Wattstax (Mel Stuart, 1972) This documentary says more about the importance of gritty urban and southern soul on the post-Civil Rights era than Woodstock ever said about the so-called Age of Aquarius. And the performances — from the Staples to Isaac Hayes to Rufus Thomas to Richard Pryor cutting up on stage — are much more consistently excellent. So why is Woodstock always heralded as "the classic" live rock doc? You figure it out.
The Harder They Come (Perry Henzell, 1972) After watching this movie in the early '80s, I realized how much I didn't know about the culture that gave rise to reggae. This should be mandatory viewing for all peace-and-love white-kid hippies with fake dreads.
The Last Waltz (Martin Scorsese, 1978) Sure, the egos were on parade in this film, but the stars were also perfectly aligned. The Band, Van Morrison, Dr. John, the Staples, Emmylou Harris, Neil Young, Dylan, Joni Mitchell — each were still firing on all cylinders, and each performance is positively amazing. Even Neil Diamond is amazing. And the performances from the two roughest and rowdiest rock & roll pioneers on the bill — Muddy Waters and Ronnie Hawkins — are what help hit this ball out of the park. Oh, and Scorsese's direction. Never before or since has a live rock doc looked so ... epic.
Rock 'n' Roll High School (Allan Arkush, 1979) The beautiful thing about this Roger Corman production is that, in 1979, the Ramones would have been the last band on earth that could rally an entire high school. After all, this was the era of Styx, R.E.O. Speedwagon and Olivia Newton-John. And yet, in the world of Rock 'n' Roll High School, all the pretty girls and cheerleaders love the Ramones, and they all look up to B-movie queen P.J. Soles — "the Ramones' No. 1 fan!" It's hilarious, cheesy, bad, good, excellent and ... the students, of course, win in the end — in a big, loud, Alice Cooper kind of way.
Coal Miner's Daughter (Michael Apted, 1980) All the documentaries in the world couldn't say what this Loretta Lynn biopic says about country music. And no actor has ever transformed into a real-life character like Sissy Spacek transforms into Loretta Lynn here, even singing the country legend's songs with absolute authenticity. The overrated Walk the Line — in which Joaquin Phoenix plays Johnny Cash — pales in comparison, and even as convincing as Jamie Foxx was in Ray, he still didn't inhabit Ray Charles the way Spacek inhabits Loretta Lynn. This may be the greatest narrative music movie ever.
This Is Spinal Tap (Rob Reiner, 1984) And this may be the greatest music satire ever. The myth surrounding its beginnings is that when this spoof of a heavy metal band was screened in Los Angeles, some Sunset Strip metal denizens were invited — and believed they were seeing an actual band documentary. That's probably not true, but what is true is that Spinal Tap elicits responses from two types of moviegoers: those who find it funny (most of us), and those who don't get what's funny about it (metalheads).
Stop Making Sense (Jonathan Demme, 1984) Demme and Talking Heads completely changed the way music films were made in this performance documentary that's second only to The Last Waltz. Everything about it is cutting edge, from the non-typical concert lighting to putting all of the attention on the performance rather than the band-audience dynamic. Stop Making Sense is as much performance art as it is rock show.
Krush Groove (Michael Schultz, 1985) Like early rock & roll, early hip-hop had its share of cheapo kitsch fests — Wild Style, Style Wars, Beat Street, Breakin', Breakin' 2: Electric Boogaloo. Hip-hop fans to this day argue over which is the best, which is the first, which is the truest. But that's kind of like arguing over whether Beach Blanket Bingo is better or truer than Beach Party or Beach Ball. However, Krush Groove is different — at least to me it is. It's more tongue-in-cheek Rock 'n' Roll High School than cheesy Hollywood cash-in. Early hip-hop mogul Rick Rubin plays himself, hilariously, and appearances by a young L.L. Cool J, Beastie Boys, Fat Boys and even funksters Sheila E. and the Time are priceless. (You even get a cameo by a very young Chris Rock. No, really!) The screenplay? Eh, it ain't great, but it also isn't the point.
Velvet Goldmine (Todd Haynes, 1998) Ever seen Born to Boogie, starring Marc Bolan of T. Rex? Don't worry about it. It's awful. Just know that before Velvet Goldmine, that's about all we had in terms of seeing good glam rock on the silver screen. Well, that and D.A. Pennebaker's fine 1973 documentary of David Bowie's Ziggy Stardust and the Spiders from Mars. But neither of those real-time glam films captured the excitement of the era quite like the fictional account that Todd Haynes revisited a quarter-century after glam's heyday. It's beautifully surreal and the music is spot-on perfect.
High Fidelity (Stephen Frears, 2000) Forget Almost Famous — I've done time with Rolling Stone, MTV and Option, and I'm here to tell you, it ain't like that. High Fidelity is a much more accurate, though hilariously exaggerated, portrait of music geeks and obsessives (and, by extension, music journalists), even as it makes most of us squirm in semi-embarrassment. After reading the book version, my then-wife, who also was a prominent music critic at the time, told me she'd just read my autobiography. I wasn't amused.
Hedwig and the Angry Inch (John Cameron Mitchell, 2001) I saw this phenomenal production when it premiered onstage in Manhattan's West Village in 1998, and it positively changed my mind about rock opera, which until then I considered an oxymoron. The story is, by turns, funny and devastating, and the music — glam rock and ballads that amplify and give weight to what Velvet Goldmine had presented in movie theaters the same year — fills in all the emotional gaps. It does what Rent couldn't do, telling an emotional story without all the ridiculous bells and whistles, and telling it believably, even though that story is jaw-droppingly bizarre. And this film, released three years later, is every bit as successful as the stage version.
8 Mile (Curtis Hanson, 2002) The early 2000s was a good time for capturing hip-hop on film, and this fictional story about MC battles, starring Eminem at his prime, was highly anticipated. It delivered the goods, characterizing drama and thrills of improvised rapping on screen as realistically as it did the desolate streets of Detroit in its declining years.
We Jam Econo: The Story of the Minutemen (Tim Irwin, 2005) This trio from San Pedro, California, was the quintessential DIY indie punk band. Despite being as talented, adventurous and pioneering as any rock trio that preceded them — from Cream and the Jimi Hendrix Experience to the Jam — the Minutemen chose to remain fiercely independent until the very end, which came way too soon with the 1985 death of lead singer and guitarist D. Boon in an auto accident. Irwin's documentary captures the essence of the DIY punk ethic and aesthetic before Nirvana's success cleaned it up and made it about as exciting as late-'70s cookie-cutter corporate rock. The other thing this doc does is show the tenderness and vulnerability at the heart of a musical style known for its rough edges.
Anvil! The Story of Anvil (Sacha Gervasi, 2007) This is the real-life Spinal Tap, but instead of laughing at Anvil, the filmmakers help us to be compassionate — not an easy feat when focusing on a group of guys who basically give up important things in life for a dream that becomes a lost cause. It's a funny, sad and ultimately frighteningly realistic look at what happens to most rock artists — those thousands and thousands of artists we never hear about.
Where the Wild Things Are (Spike Jonze, 2009) This may be the best rock movie ever made for children, even considering The Beatles' Yellow Submarine, which may have been a cartoon but was really more for adults. Where the Wild Things Are teams indie rocker Karen O (of the Yeah Yeah Yeahs) with director Spike Jonze in an interpretation of the classic children's fantasy about a boy who feels misunderstood. It's a story that begs for both Jonze' inventive film style and Karen O's quirkily adventurous music. And its message is very rock & roll: Be wild, be free, be yourself.
THE 10 WORST
Woodstock (1970). Most overrated rock movie of all time. It's muddy, it's inconsistent and it's obnoxious, even though there are a few bright spots, musically.
The Song Remains the Same (1976). Zzzzzzz. Is it over yet?
Sgt. Pepper's Lonely Hearts Club Band (1978). The No. 1 worst rock movie of all time, hands down.
Pink Floyd: The Wall (1982). Zzzzzz. Is it over yet?
Staying Alive (1983). The sequel was as bad as Saturday Night Fever was good.
U2: Rattle and Hum (1988). Zzzzzz. Is it over yet?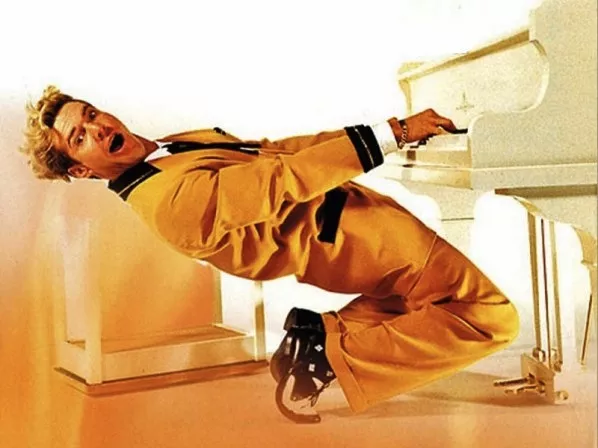 Great Balls of Fire (1989). Dennis Quaid is the most miscast Jerry Lee Lewis one could possibly imagine.
The Doors (1991). Pretentious moviemaker (Oliver Stone) makes pretentious film about pretentious rock star (Jim Morrison). Ugh.
Almost Famous (2000). So this is how Cameron Crowe remembers his childhood, rock critic Lester Bangs and Rolling Stone magazine. OK, if he says so.
Rent (2005). In a long line of sorely overrated, bad rock operas. Nothing about this rings true, from the music to the look of the East Village neighborhood — at least not the East Village I lived in during this same period.
JEFF HAHNE
THE 10 BEST
This Is Spinal Tap (Rob Reiner, 1984) From the miniature Stonehenge to getting lost underneath a stadium, from "these amps go to 11" to "Hello Cleveland!" the movie is one long, hilarious and brilliant rock 'n' roll stereotype.
The Last Waltz (Martin Scorsese, 1978) Aside from the list of performers — The Band, Bob Dylan, Eric Clapton, Neil Young, Dr. John, Muddy Waters, etc. — and director Martin Scorsese, it set the bar for music documentaries.
Monterey Pop (D.A. Pennebaker, 1968) Known for the infamous "Hendrix sets his guitar on fire" scene, it also features the "discovery" of Janis Joplin via Big Brother and the Holding Company.
A Hard Day's Night (Richard Lester, 1964) It's the Beatles.
Pink Floyd: The Wall (Alan Parker, 1982) The music of Floyd shows how music and imagery can tell an entire story — even if you're not on drugs while watching it.
Gimme Shelter (David Maysles, Albert Maysles, Charlotte Zwerin, 1970) As much a documentary of the Rolling Stones as it was the vignette of a horrific murder.
Almost Famous (Cameron Crowe, 2000) For anyone dreaming to be "with the band" or relating to the frustrations of doing an interview with people who don't really want to be interviewed.
Woodstock (Michael Wadleigh, 1970) No matter how many times you've been to Bonnaroo or Coachella, there was only Woodstock. There was nothing like being there (so we've been told countless times), so this is as close as you're gonna get.
Ray (Taylor Hackford, 2004) There are plenty of biopics out there worth watching — Walk the Line, 8 Mile, Amadeus, Sid & Nancy, etc. — but this one's at the top of its genre.
Hair (Milos Forman, 1979) It's hard to make a musical into a movie, and even harder to make it without being cheesy. Hair offered a solid portrayal of the hippie ideal against the backdrop of a military draft and the beauty of friendship.
THE 10 WORST
From Justin to Kelly (2003)
Cool As Ice (1991)
Glitter (2001)
Sgt. Pepper's Lonely Hearts Club Band (1978)
Eddie and the Cruisers II: Eddie Lives! (1989)
Burlesque (2010)
Staying Alive (1983)
Grease 2 (1982)
Xanadu (1980)
KISS Meets the Phantom of the Park (1978)