On a March afternoon after a freak snowfall, the back room at Jim McGuire's "Happening" at Studio 1212 is filling up with artists, performers and onlookers.
There's a lot going on: Hula hoopers twist beside a psychedelic school bus blasting dance music. Aerialists swing from the rafters, practicing a routine. A "bubbleologist" blows smoke into concentric soap bubble domes encased within larger geometric shapes.
Amid this riot of artsy activity, my gaze is drawn to Ben Shropshire sitting behind a table filled with colorful squares of paper. Some of his artwork looks like letters — the big ones inscribed with filigree and scrollwork that I've seen in pictures of illuminated medieval manuscripts. Others look organic and alien at the same time.
It turns out that they're runes — Elder Futhark runes, Shropshire tells me. Though the designs are Shropshire's, the runes are Scandinavian. They are the oldest letters from northern Europe, dating from 150 to 800 AD. They were once used in a runic alphabet for language, and have since been used as art and decoration.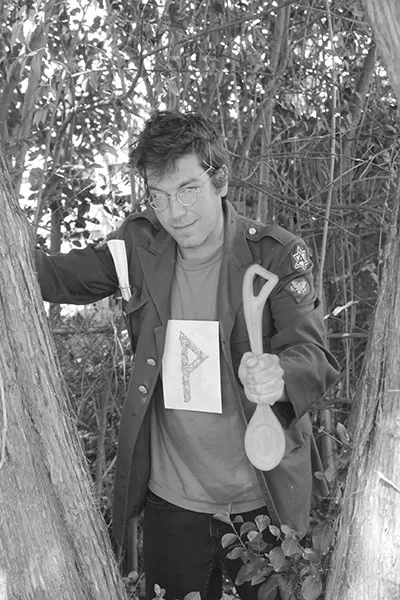 Photo by Jeff Lafferty
Ben Shropshire.
They are also magic.
"I like to lay the runes out on a table and see which ones people are drawn to," Shropshire says. "People like runes for all sorts of reasons. But I'm not tricking them into liking the one that is meant for them. The runes do that on their own."
We're holding this mystical, metaphysical conversation a month later over the phone. I ask the 31-year old artist and chef how rune magic is supposed to work. Is it like tarot cards, where answers await in the spreads and patterns? Is it like the manifestation-through-intention approach of oracle cards, where focusing on an image brings about a specific outcome? The answers are "Yes" and "No."
"Just sitting down and drawing is magic in my eyes," Shropshire says. "An artist brings something into existence that no one would have ever seen otherwise. That's magic."
Shropshire is a self-trained artist who started drawing when he was a kid. A few years ago he started sketching free-form designs in ink and oil pastels. The designs came straight from the subconscious.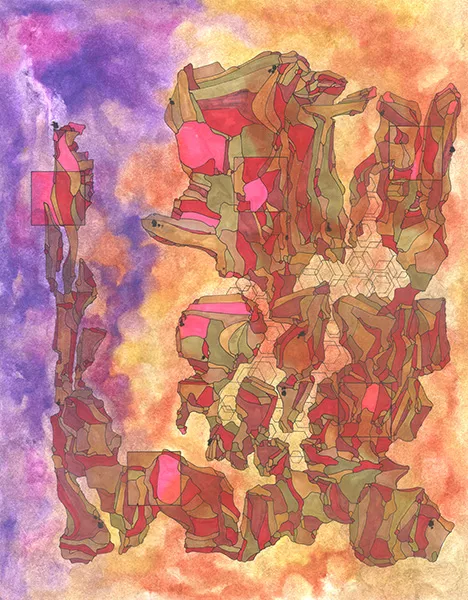 Ben Shropshire
"Some Say There Is a Man Living Up There"
"I had a really intense dream, and I wanted to get it down on paper," Shropshire explains. "I wrote it out, but then I decided to draw what I saw." Eventually he was able to access the place where he saw the images without the aid of dreams.
"Now the line work comes quickly, like automatic writing," he says.
As Shropshire continued to create his own original designs, he began to be drawn to the runes. "I've always been very interested in history, and I started reading about Scandinavian runes," he says. "I like sci-fi and fantasy, and Norse mythology is based on fantasy.
"The runes can help people," he continues. "In Norse mythology, Odin, who is the father of all, found the runes and sacrificed himself to get them to give them to humanity. I'm not trying to be like Odin, but I give away a lot of artwork to friends. I know the runes will be beneficial for people, based on who they are and what they're after."
Shropshire's designs can currently be seen at Central Coffee on Louise Avenue. He plans to share more of his rune work in the fall in a split show with fellow Charlotte artist James Jeffries. The show will be based on magic and the esoteric, and it won't have a name.
"When people see our work, they may be drawn to some things and repelled by others," Shropshire says. "The show could easily have ten different names. We want to throw a veil of mystery and confusion over the show to make it more intentional.
"It's like when you give someone a plate of food, something they've never tried before," he explains. "You don't say anything before you give them the plate. You watch them eat it, and you wait for their opinion." If you say the dish will be salty, he says, your guest will invariably find the food salty; if you suggest it will be crispy, then crispy it will seem.
It turns out Shropshire knows what he's talking about when he employs his extended food metaphor about this art. He's been a professional chef for 10 years, and soon he's going to apply his experiments with form and content to his day job, particularly during a summer-long gig at an exclusive estate in western New York.
Ben Shropshire
"Sometimes All You Want To Do Is Help and You Wind Up Dead On a Cross"
"Last summer I was hired as private chef for the president of the Chautauqua Institution," Shropshire says. "I'm going to do it again this year."
Established in 1874, the Chautauqua Institution is a not-for-profit, 750-acre community on Chautauqua Lake in New York State. On any given day throughout the summer, up to 7,500 people reside on campus. The institute's president lives in a swanky cottage on the property.
"It's an old mansion on this lake," Shropshire says. "They cater and host all of the speakers, artists and musicians who come through there. They have a sit-down dinner at the president's cottage once they arrive. I cater those meals."
Shropshire has been thinking about what he's going to say to the president when he sees him this year, "I'm going to tell him that I'm going to serve him bugs, basically."
The notion of getting world-renowned artists and philanthropists to eat insects started as a private joke for Shropshire, but now he's run with the idea with almost evangelical zeal.
"So I started researching it, and it makes total sense," he says. "Almost half the world's population eats bugs on a daily basis already. They're nutritious and tasty. Bugs taste like all sorts of different things that people like already, like nuts and citrus. They're also incredibly sustainable."
Shropshire points out that there are plenty of reasons to incorporate insects into a daily diet. They're gluten free, and incredibly high in protein, he says. Now, he just has to convince his summer clientele.
"They're a self-proclaimed open-minded, liberal arts community, who pride themselves on being open to new ideas," he says.
Shropshire knows that his diners will ultimately determine the palatability of his insect-based cuisine. The tastiness of bugs, like the efficacy of rune magic, lies in the eye of the beholder.