(View From The Couch is a weekly column that reviews what's new on Blu-ray and DVD.)
Ethan Hawke and Julie Delpy in Before Midnight (Photo: Sony)
BEFORE MIDNIGHT (2013). The project began with 1995's Before Sunrise: Written by director Richard Linklater and Kim Krizan, it tells of a chance encounter between a young American named Jesse (Ethan Hawke) and a young Frenchwoman named Celine (Julie Delpy), who become acquainted while traveling by train in Europe and decide to spend their final hours together in Vienna. Nine years later, the gang returned for 2004's Before Sunset, with Hawke and Delpy not only reprising their roles but also writing the screenplay with Linklater and Krizan (the quartet received an Oscar nomination for their joint effort). This time, the setting is Paris, as Celine and Jesse see each other for the first time since Vienna and must decide whether to grab this second chance at love. The note-perfect ending, one of the best fade-outs of its decade, was ambiguous, but with Before Midnight, we now know how things panned out. Jesse and Celine did decide to remain together, and in the nine years since, they've settled down in Paris and produced twin daughters. As we join them again, they're vacationing in Greece, but despite the idyllic setting and the group of friends they've made, not everything is perfect. The bulk of the dramatic tension doesn't come until later: Initially, the focus is on the couple as they relate to their children and to the big-hearted folks who have invited them into their home for relaxation and conversation. There's a superb sequence set around a dinner table (outdoors, of course), and the dialogue is so fresh and invigorating that the scene proves to be as exciting as any action set-piece involving costumed heroes (or if we're talking about Man of Steel, more exciting). Linklater, Hawke and Delpy again share scripting duties (Krizan is MIA this time around), and the actors' involvement doubtless led to much of the seemingly improvised nature of the chats. Despite any dressing provided by the locales or the supporting characters, this series has always been about Jesse and Celine, so it's no surprise that everything and everyone else eventually drops out of the picture, leaving the couple to engage each other one-on-one. There's wooing and whining, and flirting and fighting. Both parties are right, both parties are wrong. It's a beautifully sustained piece of cinema, raw and authentic and emotional, and if the movie ends just a bit too abruptly ... well, there's always the possibility of another visit in 2022.
Blu-ray extras include audio commentary by Linklater, Hawke and Delpy; a making-of featurette; and a Q&A session with Linklater, Hawke and Delpy.
Movie: ***1/2
James Dean in East of Eden (Photo: Warner Bros.)
JAMES DEAN: ULTIMATE COLLECTOR'S EDITION (1955-1956). How nitpicky do we want to get? To truly be a complete James Dean collection (as has been advertised, including by several reviewers), this would need to include Sailor Beware, Has Anybody Seen My Gal? and a couple of other titles in which Dean appeared uncredited in microscopic roles before hitting his stride. But all kidding aside, this Blu-ray set is an invaluable resource for those interested in studying an actor whose status as an American icon has rarely been eclipsed, despite (or perhaps because of) the fact that he only starred in three movies.
Dean's first starring performance was guided by the capable hands of director Elia Kazan, who had been looking for the right actor to play the role of Cal Trask in John Steinbeck's East of Eden (1955). After testing various performers (including a newcomer named Paul Newman), Kazan went with the unknown Dean, a move that immediately yielded dividends. After floundering around Hollywood and New York for several years, the 24-year-old suddenly emerged as a full-fledged movie star in a film that proved to be a major box office hit. Basically a 20th century update of the Cain and Abel saga, this finds Dean cast as the troubled kid who, despite his best efforts, never gains the approval of a father (Raymond Massey) who lavishes all of his attention on his more respectable son (Richard Davalos). Top-billed Julie Harris provides much of the dramatic tension as the woman who finds her affections divided between the two boys. Dean, Kazan and Paul Osborn (who wrote the adaptation) earned Oscar nominations, while Jo Van Fleet nabbed the Best Supporting Actress award for her work as Cal's hard-boiled mother, who years earlier had abandoned her family and ended up operating a whorehouse in the adjacent town.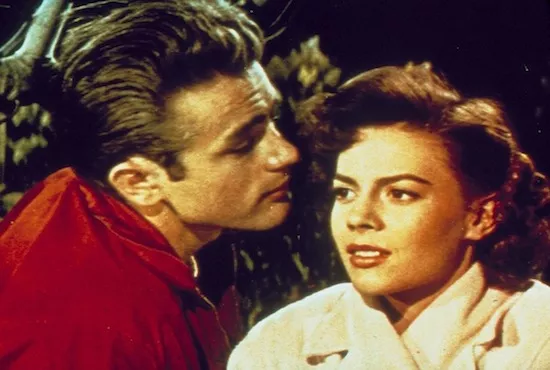 James Dean and Natalie Wood in Rebel Without a Cause (Photo: Warner Bros.)
Academy members handed Dean a Best Actor nomination for East of Eden over Rebel Without a Cause (1955), and he would receive another posthumous Best Actor nod for the following year's Giant. In truth, the actor's best work can be found in his non-nominated performance in Rebel, a superb study of teenage angst that still retains its power despite the number of inferior rip-offs that followed in its wake. Dean's performance is the stuff of classic drama, yet equally responsible for the movie's success (not to mention the instant iconolatry accorded the actor) was director Nicholas Ray, whose empathy for his characters allowed the film to emerge not as an overwrought melodrama wallowing in its own discontent but as a penetrating character study that spoke to an entire generation. Dean's Jim Stark feels alienated from his parents (Jim Backus and Ann Doran) and, as the new kid in town, finds himself bullied by the swaggering members of the in-crowd. But Jim ends up forming a "family" of sorts with two other lonely teens hungry for affection: pretty Judy (Natalie Wood) and eccentric Plato (Sal Mineo). Ray earned an Oscar nod for his story (though not for his vital direction), as did Wood and Mineo for their supporting turns. Yet for all its accolades, the movie is also dogged by a sense of the tragic, as all three stars met gruesome deaths at an early age (Dean at 24, Mineo at 37 and Wood at 43).
Elizabeth Taylor and James Dean in Giant (Photo: Warner Bros.)
Perhaps as a nod to the lack of subtlety in its title, Giant (1956) is often acknowledged as one of the finest motion pictures to ever emerge from Hollywood. Don't you believe it. This ambitious adaptation of the Edna Ferber novel is often touched by greatness, yet it's ultimately too scattershot to satisfactorily maintain its bloated 200-minute running time. As Jett Rink, a simple cowhand who becomes a conniving oil tycoon, Dean's role is really a supporting one, though the actor's own quirks effectively fill out a rather sketchy character. The real stars are Rock Hudson (never better) and Elizabeth Taylor; he's a racist cattle baron who's the ultimate word in Texas excess and success, while she's the level-headed wife who (somewhat) tames his Southern vulgarities with her Eastern civility. Incidentally, director George Stevens had considered John Wayne, Gregory Peck and Clark Gable for the Hudson role, Grace Kelly and Audrey Hepburn for Taylor's part, and Robert Mitchum and William Holden for Dean's character. Truth be told, they couldn't have gone wrong with any of that mixing and matching. Nominated for 10 Academy Awards, including Best Picture, Actor (Hudson and Dean) and Supporting Actress (Mercedes McCambridge), this won only for Stevens' direction.
This James Dean collection arrives on Blu-ray in a special edition that's limited to 50,000 copies. Extras include audio commentary by film critic Richard Schickel on East of Eden, author Douglas L. Rathgeb (The Making of Rebel Without a Cause) on Rebel Without a Cause, and filmmaker George Stevens Jr., Giant scripter Ivan Moffat and film critic Stephen Farber on Giant; four documentaries on Dean, two on Stevens and two on Giant, all generally running 60-90 minutes apiece; making-of featurettes, deleted scenes and screen tests for East of Eden and Rebel Without a Cause; and theatrical trailers. The set also includes a 40-page book with trivia and photos; mini-posters for all three films; and several behind-the-scenes stills.
East of Eden: ***1/2
Rebel Without a Cause: ****
Giant: ***
Terry Jones, Graham Chapman and friend in Monty Python's The Meaning of Life (Photo: Universal)
MONTY PYTHON'S THE MEANING OF LIFE (1983). The final feature-length offering from the entire Monty Python gang unfortunately doesn't live up to their best-known efforts, 1975's Monty Python and the Holy Grail and 1979's Life of Brian. The six comics — Graham Chapman, John Cleese, Terry Gilliam, Eric Idle, Terry Jones and Michael Palin — fashion the film as a series of skits, preceding them with the Python-less short film The Crimson Permanent Assurance. Written and directed by Gilliam, this tedious piece about elderly accountants becoming pirates is a deadly way to open the show, and the skits that follow range from hilarious to humdrum. The film's most notorious sequence is also one of its best, with the disgusting restaurant patron Mr. Creosote (Jones) urged by the maitre d' (Cleese) to top off his meal with a tiny mint. The sequence in which a pair of doctors (Chapman and Cleese) prepare to deliver a baby is classic Python, while another bit (featuring a transvestite, a long-limbed man and an unusual elephant) represents the group at its own deliriously unhinged. But the musical skits are endless (though "Every Sperm Is Sacred" starts off well), and several segments earn little more than muted smiles.
Blu-ray extras include audio commentary by Jones and Gilliam; a 30th anniversary piece that reunites everyone (save Chapman, who passed away in 1989) for an hour-long chat; a making-of featurette; deleted scenes; a look at the musical numbers; and a prologue featuring Idle.
Movie: **1/2
Sam Shepard in The Right Stuff (Photo: Warner Bros.)
THE RIGHT STUFF (1983). A great movie that unfortunately failed to attract audiences back in '83, this adaptation of Tom Wolfe's bestselling book about astronauts pays tribute to what we would like to believe represents the American spirit: hard work, perseverance, camaraderie and a visionary attitude that extends beyond all types of borders. Under the auspices of writer-director Philip Kaufman, the film relates two interlocking stories. The first is set even before the set program has commenced; in fact, it shows the groundwork being laid for this eventual excursion, as test pilot Chuck Yeager (Sam Shepard), a laconic loner cut from the same cloth as the Wild West cowboys, becomes the first man to break the sound barrier. The figure of Yeager towers over the rest of the picture: Since he truly possesses "the right stuff," it becomes one of the story's purposes to determine whether those who follow will deserve the same respect. At first, they don't. The guys who are eventually chosen to become America's first men in space (played by Ed Harris, Scott Glenn, Dennis Quaid, Fred Ward, Lance Henriksen, Charles Frank and Scott Paulin) initially come across as nothing more than obnoxious little boys enjoying their newfound fame. Yet bonded by their unique situation and wary of a government that views them as cogs in a publicity machine, these seven eventually transform themselves into partners, leaders and heroes. Despite some whiplash shifts in tone (appropriating everything from bathroom humor to Aboriginal mysticism), the film's overall sense of wonder and discovery is never diminished, thanks in part to Bill Conti's soaring score, cinematographer Caleb Deschanel's majestic compositions and the excellent work by the visual effects team. Yet what really makes the film special is that it moves beyond the men to devote a good deal of time to their wives (played by Barbara Hershey, Pamela Reed and Veronica Cartwright, among others) and illustrate how circumstances have built up their own indomitable spirits. Like their mates, these women also possess "the right stuff." Nominated for eight Academy Awards, including Best Picture and Best Supporting Actor (Shepard), this won four: Best Film Editing, Original Score, Sound and Sound Effects Editing.
The Right Stuff has been released on Blu-ray as a 40-page DigiBook. Extras include scene-specific audio commentary by Kaufman and cast and crew members; three behind-the-scenes featurettes; and deleted scenes.
Movie: ****
ALSO NEW:
Veronica Lake in I Married a Witch (Photo: Criterion Collection)
I MARRIED A WITCH (1942). It may be not be one of the classic examples of a Hollywood screwball comedy — might I recommend His Girl Friday to anyone interested? — but I Married a Witch contains enough modest laughs to satisfy couch potatoes on a chilly fall evening. Veronica Lake stars as a witch who, shortly before being executed alongside her warlock father (Cecil Kellaway), places a curse on one of the Puritans (Fredric March) that states he and his descendants will always be unlucky in love. She returns centuries later to further torment one of his scions, a politician (also March) set to marry a crabby woman (Susan Hayward), but she ends up falling for him instead. Robert Benchley contributes his usual (and welcome) strain of dry wit as the politico's confidant.
Blu-ray extras consist of an audio interview with director René Clair and the theatrical trailer.
Movie: ***
Bruce Campbell and Marta Alicia in Mindwarp (Photo: Twilight Time)
MINDWARP (1992). Two horror faves, The Evil Dead's Bruce Campbell and Phantasm's Angus Scrimm, star in this not-bad "B" flick that was produced by Fangoria magazine's short-lived film-division arm. Sporting some startling similarities to the later Matrix series, this is set in a post-apocalyptic future in which most humans are plugged into a safe virtual-reality landscape where they can have all their fantasies come true. But Judy (Marta Alicia) tires of this existence and longs for freedom; her demands result in her being banished to the Outworld (think Mad Max terrain), where only one normal guy (Campbell) is around to protect her from all the cannibalistic mutants. Aside from the twist ending (or should that be twist endings?), this one doesn't win many points for originality, but the makeup and gore effects are — to quote another Campbell character — groovy.
Blu-ray extras consist of a TV spot and an isolated track of Mark Governor's score.
Movie: **1/2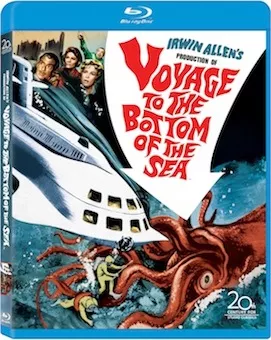 VOYAGE TO THE BOTTOM OF THE SEA (1961). Having already explored the ocean from a factual perspective (the Oscar-winning 1953 documentary The Sea Around Us), writer-director-producer Irwin Allen opted to take the fantasy route with this entertaining yarn in which a nuclear submarine might be the only hope against a circling fire belt that threatens to destroy Earth in a matter of days. Walter Pidgeon stars as the sub commander, a pre-I Dream of Jeannie Barbara Eden plays his secretary, and Peter Lorre amuses as a brilliant scientist. The film was a sizable enough hit that creator Irwin Allen was able to turn it into a popular TV series (1964-1968).
Blu-ray extras include audio commentary by author Tim Colliver (Seaview: The Making of Voyage to the Bottom of the Sea); the featurette Science Fiction: Fantasy to Reality; and an interview with Eden.
Movie: ***