We can thank Abel Tesfaye for tearing down the walls that isolate bedroom musicians such as Deion Funderburk, the Charlotte-area artist who records and performs as Deion Reverie. Earlier this decade, Tesfaye kickstarted his own bedroom project, The Weeknd, when he uploaded a series of mysterious lo-fi videos to YouTube. Within a handful of years, Tesfaye would win two Grammys and an Oscar nomination as The Weeknd, and sell more than 2 million copies of his 2015 mainstream masterpiece Beauty Behind the Madness.
Funderburk, 24, is not at that point yet. But he could be soon.
"Everything I've ever done was self-taught," Funderburk says. The lanky, 6-foot-1 singer, songwriter and multi-instrumentalist is sitting at a picnic table outside Snug Harbor on a weekday afternoon, dressed sharply in a purple collar shirt over a blue tee, tan jeans and grey Adidas sneakers. "I taught myself how to sing. I taught myself how to play guitar. And I taught myself how to record and produce music."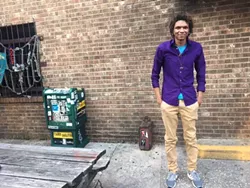 Even when not performing, Funderburk likes to hang out at Snug Harbor. (Photo by Mark Kemp)
On Friday, Aug. 18, Funderburk will bring his Deion Reverie alter ego to Snug Harbor on a bill that also features the Memphis-based art-folk combo Syrrup and New York anti-folk singer Thomas Patrick Maguire. It's an eclectic lineup, but the through line is a fondness for scrappy, homemade indie-folk. That was the first kind of music Funderburk gravitated to when he began recording himself in the eighth grade after a brief flirtation with hardcore screamo.
"I would write songs in class and I had a little acoustic guitar and I knew four chords," Funderburk remembers. "All my songs were in the same key and same chords, just different words. It was this little folky kind of stuff, and I did it under the name Tigers on Roller Skates."
Excellent name. "Yeah, cool name but it was awful," Funderburk says with a laugh. "Trust me. I still have the files."
Funderburk is referring to digital files, of course. It's no secret that the widespread availability of affordable digital recording equipment, together with the rise of music sites like Bandcamp and SoundCloud, has unearthed a generation of wildly creative indie bedroom artists in the 2010s. In the past six months, I've written about two of them in the Charlotte area alone: Angela Saylor, who records as Minthill and produces electronic music in the minimalist vein pioneered by experimental composers like Terry Riley and Pauline Oliveros; and singer Kevin "Mercury" Carter, a musical genius with a pristine voice and talent for creating layered pop arrangements in the continuum of Brian Wilson and Prince.
In the pre-internet musical world, those realms belonged largely to privileged, mostly white, mostly male composers. Musicians like Funderburk, who grew up in an African-American family in the tiny South Carolina town of Pageland, just below the state line in rural Chesterfield County, had little hope of seeing beyond the horizon. But now, a single mouse click takes creative souls into new worlds that look vastly different from what's outside the bedroom window. For Funderburk, early exposure to MTV and VH1 eventually led to that mouse click.
He'd grown up loving the gospel music and Michael Jackson songs his mother liked, and the Prince albums and vintage soul that his father preferred. He began singing in the choir at his family's small Baptist church, but then VH1 introduced something different to Funderburk's world.
Funderburk hides behind heart-shaped hands during a June 13 Deion Reverie show at Snug Harbor. (Video still by Deion Funderburk)
"I can tell you the day I wanted a guitar," he says, dramatically. "I was at home and we had just gotten satellite television, and I was watching VH1, and they were playing The Song Remains the Same, the Led Zeppelin concert film. And I heard the song 'Since I've Been Loving You.'" He pauses for effect, then lowers his voice, as if someone is listening in on our conversation: "Changed my life, dude. From that moment, I wanted to play guitar."
Funderburk soon discovered MTV, where he heard Green Day's American Idiot and learned about heavier bands such as System of a Down. That changed his life again. He got himself a Fender Stratocaster guitar and formed a screamo band, Hands Over Lives, which lasted all of four months.
"I still have the Strat," Funderburk says. "It's destroyed from when I was in the band. I wanted to be a hardcore rock star, so I'd sling it around and throw it down, even though it cost $1,400." He sneers: "Whatever," he says, dismissively, then grins and adds, "It was just so punk rock."
After his flirtations with punk and indie-folk, Funderburk clicked onto a website that offered recording equipment; he bought some and taught himself how to use it. "I started to gravitate more towards synthesizers," he says. "And now I'm really into synths and samplers and computer software and stuff like that. But I still play guitar and I still do live drums."
Funderburk began recording as Deion Reverie. He got the name from a friend.
"When I started doing solo music, my friend suggested I call myself Eon Reverie, because eon means a long time or everlasting, and reverie means a daydream," he says. "Then I thought, well my name's Deion, so why not make it Deion Reverie?"
Deion Reverie's 'justbehappy'
The songs on his new album, justbehappy, a project Funderburk began in February 2015 and completed just this past March, came slowly. He had broken up with a girlfriend and fallen into a severe depression. He needed to work out his feelings and chose to use music as his therapy.
"These are songs I made just because I had to make them to stay sane," Funderburk says. "I never really planned on releasing them. I just made the songs because it made me feel better to make the songs."
Zach Reader, who books the music at Snug Harbor, was impressed by Funderburk's artistry. "Deion is awesome and definitely making a name for himself around town," Reader says. "He reached out to me initially and seemed professional and hungry, and I felt he would mesh well with the first show we worked on. Plus, his recordings told me that he was focused and had put time into his music."
AlThough wildly eclectic, justbehappy manages to hold together as the work of an artist with a singular vision, navigating the emotional fallout of a breakup in ways that anyone listening can relate to.
In the haunting title track, over layers of swirling effects, vocal harmonies, syncopated percussion and gorgeous, nuanced use of Autotune, Funderburk tells himself, in a vulnerable tenor, "Just be happy." A lo-fi acoustic interlude, "Before We Met," features his friend and long-distance collaborator Justine Dee Moritz (a Canadian indie-folk artist who performs as Dearest) singing over scratchy guitar, "I'm scared now to hear your name." And in "Late Night," through cobwebs of mid-tempo electronic music, Funderburk's lyrics can't even be made out; the song comes off like the hissing of My Bloody Valentine filtered through EDM.
Funderburk ends the LP with "Find a Way," which opens with the sound of pouring rain over a liquid Les Paul guitar part, before evolving into a steady, thumping beat and the hopeful, "So I'll keep praying / Maybe one day / Maybe one day / I'll find a way."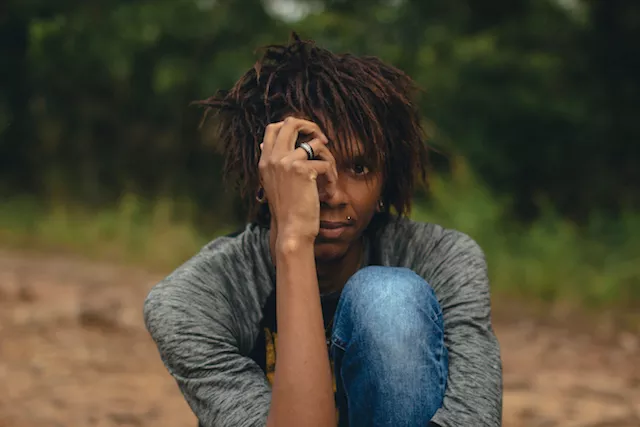 Funderburk as shy Deion Reverie. (Photo by Pablo Lopez)
In a way, Funderburk has come full circle on justbehappy. You can hear elements of the mainstream R&B he listened to as a small child; the strumming and picking of the acoustic indie-folk he played in middle school; the narrative thread of Green Day's American Idiot; the rock sounds he absorbed from artists ranging from Prince to Led Zeppelin to My Chemical Romance; and the more experimental electronic music of current influences like Lapalux and XXYYXX.
And you can hear The Weeknd.
"It's just a big mix of the kind of stuff I've done all my life," Funderburk says. He smiles bashfully, covers his face with his hands, and looks away, into the horizon. "A lot of the songs are not necessarily mixed well — a lot of them distort and clip." He turns back and stares me square in the eyes: "And they do that purposefully," he continues. "I made them like that because that's how I was feeling."
----------------------------------------------
Listen to justbehappy: