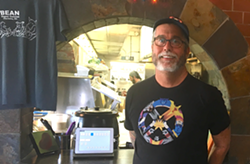 Charlie Foesch always knew he was a good cook. He'd prepare vegan meals for himself, his partner Roy Parkhurst and small gatherings of their friends, who would shower Foesch with praise for his culinary skills. But he never gave much thought to cooking for hundreds of people a day.
"It's such a cliché, but it started out with that whole, 'Your food is so good — you should open a restaurant,'" says Foesch (pronounced foe-sh). "And Roy really held on to that idea and was a driving force behind this."
This is Bean Vegan Cuisine, cattycornered from Bojangle's Coliseum just west of Briar Creek Road on the eastbound side of Independence Boulevard. Foesch and Parkhurst opened the restaurant with their friend Kandice Hexter five years ago in an old, abandoned diner just down from the South 21 Drive-In. Today, a life-size cardboard Captain America greets you when you walk in the door, and superhero action figures line the shelves behind the bar.
On a recent Thursday afternoon, Foesch sits at one of the window booths inside the restaurant surrounded by mustard yellow walls and maroon curtains. Wearing a black T-shirt emblazoned with X-Men characters, and a Captain America baseball cap, he's reflecting on Bean's growth since 2012. In April of 2015, he and his partners opened a second Bean in Asheville; they also converted a room at the back of the Charlotte restaurant into the Queen City's first all-vegan market stocked with groceries ranging from Earth Balance snacks and homemade vegan desserts to Tofurkey, Vegenaise, Daiya Cheese, Magic Vegan Bacon Grease and all kinds of soy and seitan combinations.
"I knew how to cook vegan food and I knew I was good, but Roy was really instrumental in getting the wheels off the ground," Foesch says. "And bringing Kandice on board just helped immensely. She brings a skill set – management – that's invaluable. But we all do everything. Everything that goes on in this restaurant, we do together."
After polishing off a delicious fried tofu finger sandwich and grilled zucchini, I asked Foesch to sit down and chat with me about how his team managed to make vegan meals so accessible to lovers of regular old Southern comfort food.
Mark Kemp
Fried Tofu Finger Sandwich
Creative Loafing: True story — I brought my niece and nephew and their kids over here recently when we were renovating my home, and my nephew, a meat-eater who'd never thought much about veganism until he came to Bean a few years ago for my wedding dinner, told me he now eats here as often as he can because he thinks your burgers are the best in town. Now he even tells his meat-eating friends — he's in construction — "You have to go to Bean. They have the best burgers." How do you react to that?
We hear it all the time! So often a family will come in and they'll have the one vegan in the family with them, and they'll tell us, "We're coming here because our family member is a vegan, so we're all making the sacrifice to come with them and eat this food." And by the end of the night they're lovig it. We'll see them come back in a week later and that vegan family member won't be with them. They'll say, "I couldn't stop thinking about the jalapeno cheddar burger and I just had to come get another one." So, having food that's not just good, but memorable, and then it's vegan, too — that's just really cool.
You had a clear idea of what you wanted to do when I talked to you right after you opened: make vegan food for folks who like Southern greasy spoons. I thought you meant food for Southern vegans who'd given up their burgers and barbecue. But you were being more subversive than that, weren't you?
[laughs] It was very intentional. We were intentional about the food being vegan but also flavorful, like traditional Southern food. All three of the owners — Kandice, Roy and myself — were vegan before we started Bean. And we all like Southern comfort food. So we eat the food that we make here. We're not just selling vegan because it's hip. We're not just trying to think of what vegans might like. We're cooking and selling the food that we like to eat. And I think that makes a difference; I think people feel that.
I'd say about 70 percent of our customers are not vegan and not vegetarian, and that's because we put the focus on it being Southern comfort food that just happens to be vegan.
Look, it's familiar food: A French fry is always going to be a French fry; collard greens and squash and kale are always going to be what they are. So if you can do the classics and do them well, and make it the way people will remember it, then the other stuff is just an added bonus. For example, our vegan burgers act like burgers, and our barbecue is like barbecue — just minus the cruelty and the misery.
How'd you come up with the name?
We wanted to call it Bean, but it was also important for us to have the word vegan in it because we wanted vegans to know there was a place they could come and get all-vegan food — not "vegan options," but vegan. Some of my friends said, "Oh, nobody's going to go if you put vegan in the name. That'll turn people off."
Five years later, it not only didn't turn people off, but it's helped us, because people know this is a vegan restaurant, and if you want to get a good vegan burger or a good vegan sandwich, you go to Bean Vegan.
Not only that, but the whole landscape has changed in the last five years. Veganism has spread far and wide. Go into a grocery store now and there are so many new vegan products coming out every day and they're getting better and better. People are more curious than ever about veganism. And they come to it for so many different reasons — they're worried about their health, they come to it for political reasons or compassionate reasons or religious reasons.
Does that mean it's easier to get vegan ingredients and supplies now?
Oh yes. All of our suppliers, all of our farmers — they're all getting better and better about the stuff they produce. And that just makes it easier for us to sell it.
Mark Kemp
Grilled Zucchini
How have you grown as a vegan chef since Bean opened?
I know that producing food for myself and producing volumes of food are very different things. When I started on my vegan journey, I was just making food for me to eat, and when you do that, you cook it to eat right then. So I had to learn how to cook in stages: cooling it, frying it, doing other stuff. The process is a lot more involved.
But every year we get better at it. A busy Saturday today is not what it was five years ago. It goes much more smoothly now. Five years ago we'd do a fifth of the business and be running around like maniacs. Now it's just seamless.
Check out Bean Vegan's menu at its website.