(View From The Couch is a weekly column that reviews what's new on Blu-ray and DVD. Ratings are on a four-star scale.)
Christopher Lloyd and Michael J. Fox in Back to the Future (Photo: Universal)
BACK TO THE FUTURE: 30TH ANNIVERSARY TRILOGY (1985-1990). Yes, the popular Robert Zemeckis-Steven Spielberg trilogy already enjoyed a splashy Blu-ray debut for its 25th anniversary, but a 30th anniversary edition was inevitable — and not just for the usual cash-grab reasons. In the second installment, when high school student Marty McFly (Michael J. Fox) and the loopy Doc Brown (Christopher Lloyd) head to the future in their souped-up DeLorean time machine, they set their destination for October 21, 2015. In view of this, Universal has re-released the films this week in a pair of editions, one consisting of the movies and countless extras (new and old), the other housed in a light-up "Flux Capacitor" packaging and containing not only the extras but also a 64-page book as well as the entire 26-episode run of the 1991 Back to the Future animated series on DVD (the animated series is also available separately).
Michael J. Fox in Back to the Future Part II (Photo: Universal)
As for the movies themselves, the 1985 original, in which Marty and Doc zoom 30 years back to 1955, remains the best; 1989's middle entry, in which the pair head, as noted, forward to 2015, is the most underrated (like fellow second child Indiana Jones and the Temple of Doom, it had to contend with doltish charges of being too cold); and 1990's third entry, which blasted the two back to the Old West of 1885, is the most conventional. For those keeping score, the box office takes were (in order) $197 million, $118 million and $87 million, while the Oscar tally was one win (Best Sound Effects Editing) and three additional nominations (Best Original Screenplay, Best Sound, and Best Original Song for Huey Lewis' "The Power of Love") for the original, one nomination (Best Visual Effects) for Part II and none for Part III.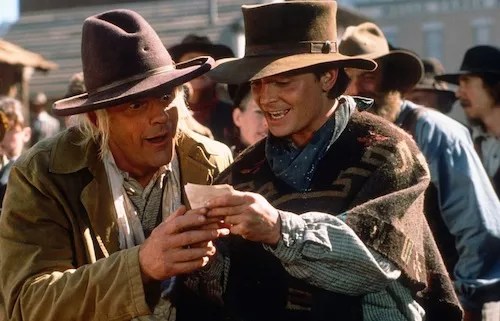 Michael J. Fox and Christopher Lloyd in Back to the Future Part III (Photo: Universal)
Blu-ray extras include audio commentaries on all three films by writer-producer Bob Gale and producer Neil Canton; a nine-part retrospective documentary; a six-part making-of documentary; deleted scenes; Q&A sessions with Zemeckis, Gale and Fox; a 1989 TV special hosted by Leslie Nielsen; pop-up trivia facts; music videos for "The Power of Love" and (from Part III) ZZ Top's "Doubleback"; and mock 2015 commercials plugging the hoverboard and the release of Jaws 19.
Back to the Future: ***1/2
Back to the Future Part II: ***
Back to the Future Part III: **1/2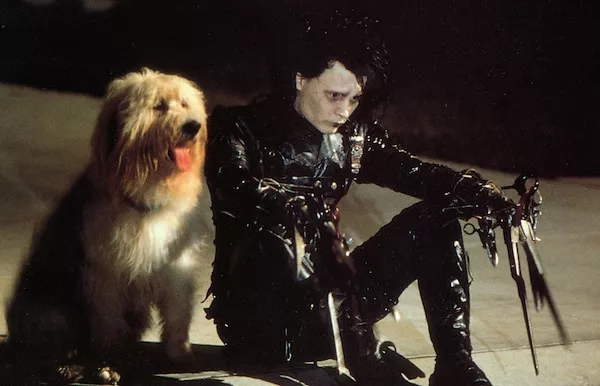 Johnny Depp in Edward Scissorhands (Photo: Fox)
EDWARD SCISSORHANDS (1990). Director Tim Burton and actor Johnny Depp have thus far collaborated on eight movies — the same number, incidentally, as the legendary team of Martin Scorsese and Robert De Niro — and the first of their joint ventures was this alternately sweet and bittersweet fairy tale. Depp plays the title character, who (like Pinocchio) isn't a real boy but rather the creation of a kindly inventor (Vincent Price) who lives in a castle on the outskirts of a small town. The inventor meant to provide Edward with real hands rather than the scissors serving as poor substitutes, but before he can attach them, he drops dead. Living by himself in the vast castle, Edward soon receives an unexpected visit from Peg (Dianne Wiest), the local Avon Lady — feeling sorry for this orphan, she takes him back to her suburban digs, where he falls for Peg's daughter Kim (Winona Ryder) while contending with gossipy neighbors who initially embrace him before savagely turning against him. Depp cuts a haunting figure as the frequently misunderstood Edward while Wiest's typically excellent performance was potent enough to earn runner-up designations from a couple of major critics groups. The rest of the actors, however, are forced to play characters who are either underdeveloped or overcooked, and the broadness of Burton's approach eventually leads to a wholly unsatisfying resolution. This earned an Academy Award nomination for Best Makeup (created by multiple Oscar winners Stan Winston and Ve Neill), though it clearly stood no chance against the fabulous creations in Dick Tracy.
Blu-ray extras consist of audio commentary by Burton; separate audio commentary by composer Danny Elfman; a vintage behind-the-scenes featurette; and theatrical trailers.
Movie: **1/2
Chris Pratt and Bryce Dallas Howard in Jurassic World (Photo: Universal)
JURASSIC WORLD (2015). With a stateside gross of $651 million and a worldwide take of $1.6 billion, this entry in the Jurassic Park series stands as the all-time third biggest moneymaking film, resting under Avatar and Titanic on both charts. Those are mindboggling sums for a movie that really isn't anything special, conclusively demonstrating that the public's fascination with dinosaurs remains so feverish, even Paul Blart: Mall Cop 2 might have earned an extra $100 million had someone thought to include a T-Rex in its storyline. Chris Pratt plays Owen, who works at Jurassic World as a combo dinosaur wrangler and velociraptor whisperer. Like his filmic forefathers Sam Neill and Jeff Goldblum, he's not sure man should be messing around with nature — in this case, creating a bigger and bolder dinosaur. Having learned nothing from the lessons imparted via the aborted Jurassic Park — namely, that out-of-control dinosaurs love to snack on humans — the scientists, capitalists and paleontologist powers-that-be overseeing Jurassic World ignore all modes of common sense and soon find their baby, the so-called Indominus Rex (Darth Indominus to its friends), wreaking havoc all over the themed island. Pratt's role is thinly written, but the actor invests the character with enough personality to make him an affable hero. Alas, Bryce Dallas Howard, as park operations manager Claire, has to remain in ninny mode for far too long a period, while Nick Robinson and Ty Simpkins are insufferable as her nephews. Vincent D'Onofrio, meanwhile, is only required to spout nonsensical dialogue as a security head who wants to train dinosaurs to serve as soldiers in overseas combat situations. Yes, it's as ridiculous as it sounds. But let's face it: Viewers want to see dinosaurs, not people, and in that respect, the film delivers the goods a fair amount of the time.
Blu-ray extras include a making-of featurette; deleted scenes; a set tour with Pratt; and a look at the visual effects.
Movie: **1/2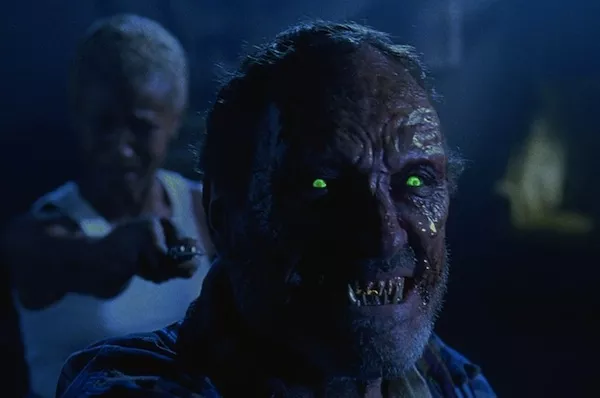 Dick Miller in Tales from the Crypt Presents Demon Knight (Photo: Shout! Factory)
TALES FROM THE CRYPT PRESENTS DEMON KNIGHT (1995) / TALES FROM THE CRYPT PRESENTS BORDELLO OF BLOOD (1996). The HBO series Tales from the Crypt proved to be so popular (it ran for seven seasons between 1989 and 1996) that it was no surprise an attempt was made to transport that success to the big screen by way of a trilogy. The first picture was a modest hit, but the second bombed so badly that plans for the third entry were scrapped.
That initial outing, Demon Knight, is clearly the best bet of the pair. In the grand good-vs.-evil tradition, this finds the demonic Collector (Billy Zane) squaring off against the heaven-sent Brayker (William Sadler) as they wrestle for control of a key containing the blood of Christ. Their battle takes place in a dilapidated motel where the staff (Jada Pinkett, CCH Pounder) and guests (Brenda Bakke and Dick Miller, among others) get caught up in bodily possessions and copious bloodletting. Demon Knight is no great shakes when it comes to originality — it's basically Romero Lite — but a strong cast and capable direction by Ernest Dickerson (Spike Lee's former cinematographer, now almost exclusively a helmer of episodic TV) provide this with some lift.
Dennis Miller in Tales from the Crypt Presents Bordello of Blood (Photo: Shout! Factory)
Bordello of Blood, on the other hand, proves to be a tough slog, with a workable premise defeated by clumsy plotting and miscast actors. And no one is more ill at ease than lead Dennis Miller, who drew on his stand-up roots and improvised most of his lame wisecracks, none as witty or smart as those he whipped out during his brief stint on NFL Monday Night Football. He plays a private investigator hired by the prim and proper assistant (Erika Eleniak) of a TV evangelist (Chris Sarandon) to locate her missing brother (Corey Feldman); the path leads the PI to a funeral home serving as HQ for a centuries-old vampire (Angie Everhart) and her ladies of the night. Sadler, the hero of Demon Knight, appears as a mummy in the wraparound segments featuring series star The Crypt Keeper (voiced by John Kassir).
Blu-ray extras on Demon Knight include audio commentary by Dickerson; separate audio commentary by various special effects personnel; a making-of featurette; a panel discussion with Dickerson and Miller; and the theatrical trailer. Blu-ray extras on Bordello of Blood include audio commentary by co-writer and producer A.L. Katz; an interesting making-of featurette in which much time is spent discussing Miller being a major-league jerk; and the theatrical trailer.
Demon Knight: **1/2
Bordello of Blood: *1/2