(View From The Couch is a weekly column that reviews what's new on Blu-ray and DVD.)
Lizzy Kaplan (front), Isla Fisher and Kirsten Dunst in Bachelorette (Photo: Anchor Bay)
BACHELORETTE (2012). It would be a major mistake to think that Bachelorette is simply a rip-off of Bridesmaids with a healthy dose of Mean Girls stirred into the mix. This comedy from debuting director Leslye Headland (scripting from her own play) clearly marches to its own beat, daring to offer protagonists who are frequently irresponsible and off-putting and betting that viewers will still care enough to follow their misadventures. Becky (Rebel Wilson, Pitch Perfect's scene stealer), still stinging from her high school nickname ("Pig Face"), is about to get married, and her three friends from those long-ago days are preparing to take their places as her bridesmaids. The brittle Regan (Kirsten Dunst), who was always certain that she would be the first one to marry, nevertheless takes the lead in planning the wedding; the cynical Gena (Lizzy Kaplan) and the ditzy Katie (Isla Fisher) are too fond of booze, cocaine and sex to have time to be of any help. Yet a crisis on the night before the wedding — specifically, the accidental tearing of the bride's dress — forces the three friends to pull an all-nighter in order to salvage the situation. Headland's often hilarious script is packed with all sorts of zingers and non sequitors ("I got so fucked up once on mushrooms that I started a Fight Club with my cats"), and all of the leading ladies are allowed to shine on numerous occasions (I especially enjoyed Kaplan's airplane conversation with a fellow passenger). Headland also makes sure to write decent roles for the male co-stars: Adam Scott and Kyle Bornheimer are effective as two decent guys included in the wedding party, while James Marsden, generally cast in sensitive roles (Hairspray, The Notebook), has a blast playing a smarmy charmer with his eye on Regan.
Blu-ray extras include audio commentary by writer-director Leslye Headland; a behind-the-scenes featurette; and bloopers.
Movie: ***
Ted Sorel in From Beyond (Photo: Shout! Factory)
FROM BEYOND (1986). The H.P. Lovecraft short story "Herbert West: Reanimator" was the basis for 1985's Re-Animator, a spirited horror flick in the Evil Dead mold and an almost instantaneous cult classic. Heady from its success, it's no wonder that practically everyone involved with that production — director Stuart Gordon, producer Brian Yuzna, co-writer Dennis Paoli and stars Jeffrey Combs and Barbara Crampton, among others — elected to immediately follow up with another adaptation of a Lovecraft tale. From Beyond is inferior to Re-Animator (reviewed here) in virtually every regard, but it still qualifies as a grisly good time, and Shout! Factory is presenting it on Blu-ray and DVD in an unrated director's cut. Combs this time plays Crawford Tillinghast, a young scientist who's assisting his mentor, Dr. Pretorius (Ted Sorel), in the creation of the Resonator, a machine that can tap into a person's sixth sense while simultaneously opening the portal to a parallel dimension rife with hostile creatures. After Pretorius is killed by one of the malevolent entities, Tillinghast is arrested for his murder and tossed into an asylum, where he's rescued by a psychiatrist (Crampton) who wants him to take her to the lab and recreate the experiment. They're accompanied by a plainclothes officer (Dawn of the Dead star Ken Foree), and while he proves to be the most sensible of the trio, he's not immune to the strange power of the Resonator. The freaky effects are a highlight, and Gordon again directs the yarn for maximum impact; at the same time, the clunky script leaves much to be desired (although kudos for the shout-outs to Bride of Frankenstein and Psycho), while none of the characters are nearly as memorable as Combs' Dr. Herbert West in Re-Animator.
Blu-ray extras include audio commentary by Gordon and his cast; separate interviews with Gordon, Combs, Crampton, executive producer Charles Band and composer Richard Band; an exploration of the film's radical effects; and a photo gallery.
Movie: **1/2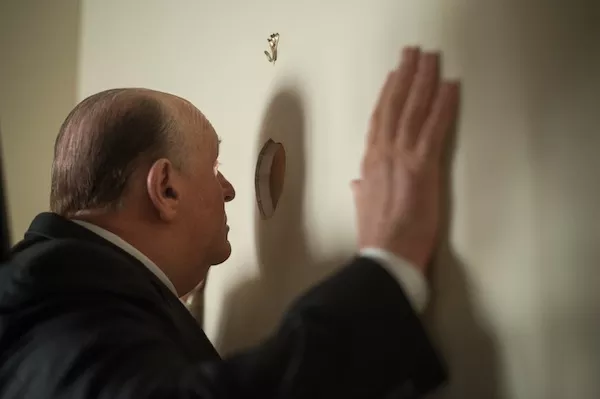 Anthony Hopkins in Hitchcock (Photo: Fox Searchlight)
HITCHCOCK (2012). The filmmakers behind Hitchcock claim that it's based on Stephen Rebello's book Alfred Hitchcock and the Making of Psycho, but a more accurate title for this cinematic claptrap would have been Psycho and the Unmaking of Alfred Hitchcock. While purportedly taking a behind-the-scenes look at the creation of the Master of Suspense's best movie (at least in my humble opinion; step aside, Vertigo), it's often so risible that it's no wonder I initially misread the name of the director, Sacha Gervasi, as Sacha Baron Cohen — although I doubt even the helmer of Borat and Bruno could make a farce as outlandish as this movie. Of course, fact-based films are legendary for monkeying around with the truth, but the falsehoods here prove to be especially grating. Some are minor, possibly even dismissible, but others are impossible to ignore. The movie posits that the marriage between Alfred Hitchcock (Anthony Hopkins) and his frequent collaborator Alma Reville (Helen Mirren) was a strained one, and it took working together on Psycho to bring them back together. To get to this point, Gervasi and scripter John J. McLaughlin fabricate an entire romance between Alma and screenwriter Whitfield Cook (Danny Huston), who's painted as an immoral, talentless hack who probably couldn't even be hired to write jokes on bubble gum wrappers. Not once does the movie mention that he penned two previous Hitchcock films, the classic Strangers on a Train and the underrated Stage Fright, but why would it, since that would destroy the filmmakers' flimsy playing-card construct? Still, the treatment of Cook is nothing compared to the treatment of Hitchcock himself. Certainly, the director's lust for the ladies led to some unpleasantness in his life, but as depicted here, he's less a great artist and more a lecherous pervert who drills peepholes into his actresses' dressing room walls and — are they kidding? — holds imaginary conversations with mass murderer Ed Gein (Michael Wincott), the real-life figure who inspired Psycho. The notion of reducing Hitchcock to Gein's level by turning the latter into the filmmaker's psychiatrist, confessor and partner-in-crime is tasteless by any standard. The scenes that actually bother to deal with the filming of Psycho are entertaining and at least provide a respite from the turgid melodrama polluting the rest of the movie. The striking, domineering Mirren is miscast as the diminutive, meek Alma, but they obviously wanted an Oscar-bait actress for the role, so there ya go. Hopkins isn't the train wreck that his casting might have suggested, but while he's superficially amusing, it's a performance that goes no deeper than the fat suit swallowing his body.
Blu-ray extras include audio commentary by Gervasi and Rebello; a making-of featurette; a deleted scene; a piece on transforming Hopkins into Hitchcock; and a look at the relationship between Alfred and Alma.
Movie: *1/2
Brad Pitt in Killing Them Softly (Photo: Anchor Bay & The Weinstein Co.)
KILLING THEM SOFTLY (2012). Head over to the comments section on the Fox News website and you'll find political discussions as clumsy and ham-fisted as the strain of real-life topicality that runs throughout Killing Them Softly. Writer-director Andrew Dominick, whose epic Western The Assassination of Jesse James By the Coward Robert Ford made my 10 Best list for 2007, stumbles badly with this yarn (based on George V. Higgins' novel Cogan's Trade) in which a professional killer (Brad Pitt) is tasked with locating and eliminating the low-level crooks who were dumb enough to rob a Mob-enforced card game. Pitt is merely in "cool movie star" mode here, with the best performance coming from Scoot McNairy (star of the unseen gem In Search of a Midnight Kiss and recently appearing in Argo) as one of the hapless thieves. For the most part, this is a generic crime flick that comes with the usual trimmings of Tarantino-inspired exchanges (only dull instead of exhilarating), loving attention to all the beatings and shootings (a bullet ripping through a cheek, a kicked rib cage cracking, etc.) and the entire female population represented by a hooker (billed as, yes, "Hooker" rather than a name in the end credits) who's only on hand to be insulted by James Gandolfini's boozy hitman (when she asks for a tip, he replies, "Here's a tip: Learn how to put the condom on with your mouth"). But add the ill-advised attempt to make a meaningful statement and what's left is particularly unbearable. Set in 2008, with both the presidential election and the financial collapse the hot news items of the day, the film repeatedly places its characters in settings where TVs or billboards are constantly featuring Obama, Bush or McCain. It's the movie's way of saying that the crime underworld is no different than the real world, what with its bureaucratic blunders, corporate structuring, capitalist tendencies and dog-eat-dog mentality. At one point, Pitt's character even says, "America isn't a country; it's a business." Great, but mob movies have been making similar parallels at least since The Godfather 41 years ago. Killing Them Softly positions itself as a heady piece of entertainment, but it's ultimately no more intelligent than The Pet Goat.
Blu-ray extras consist of a making-of featurette and deleted scenes.
Movie: *1/2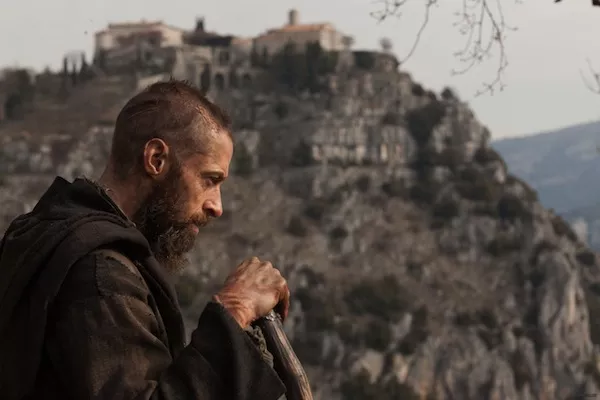 Hugh Jackman in Les Miserables (Photo: Universal)
LES MISERABLES (2012). Available for purchase is the CD Les Miserables: Highlights from the Motion Picture Soundtrack, and it's too bad there's not a way to provide viewers with the option of seeing either the full-length Les Miserables or, like the CD, a similarly edited cut called Les Miserables: Highlights of the Motion Picture (although I suppose the Scene Selection button on the remote comes close). This long-gestating adaptation of the musical stage smash (itself based on the Victor Hugo novel) contains some powerhouse sequences and a couple of standout performances but also suffers from a bloated second half and at least one casting decision that's impossible to defend. Oscar-winning director Tom Hooper, better at handling the small-scale challenges of The King's Speech than the massive spectacle of this project, employs obvious CGI theatrics for the opener, wherein 19th-century French convict Jean Valjean (Hugh Jackman) is seen toiling on a ship under the watchful eye of the merciless lawman Javert (Russell Crowe). Circumstances that occur after his release allow Valjean to reinvent himself as a wealthy and compassionate man, although the gig is up once Javert comes back into his life. Regardless of his own increasingly cumbersome troubles, Valjean will not break the vow he made to the tragic Fantine (Anne Hathaway) to protect and care for her daughter Cosette at all costs. This becomes harder once Cosette comes of age (now played by Amanda Seyfried) and falls for a headstrong revolutionary (Eddie Redmayne). As Javert, Crowe is an unmitigated disaster, and his strained voice, pinched expressions and physical immobility suggest that someone off-camera was forcing him to participate by pointing a gun at his head. Other actors, including the comic-relief team of Sweeney Todd co-stars Sacha Baron Cohen and Helena Bonham Carter, fail to impress, but fortunately, Jackman is potent in the leading role. Yet the showstopper is Hathaway, who's tremendous in the disappointingly small part of Fantine. She breaks your heart with her emotionally exposed turn, and between this and The Dark Knight Rises, she proved herself to be the performer from 2012 who most deserved to collect whatever awards were thrown her way. Nominated for eight Academy Awards (including Best Picture and Actor), this won three: Best Sound Mixing, Makeup and — natch — Supporting Actress for Hathaway.
Blu-ray extras include audio commentary by Hooper; various making-of featurettes focusing on the stars, the set design and the live singing by the actors; and a look at Hugo's original novel.
Movie: **1/2
Alicia Vikander and Mads Mikkelsen in A Royal Affair (Photo: Magnolia)
A ROYAL AFFAIR (2012). An Academy Award nominee for Best Foreign Language Film, this Danish import features all the snug wigs and tight corsets one might expect to see in a movie centered around an 18th century monarch and his court. Presumably, those form-fitting clothing accessories are loose enough to allow the blood to flow, a condition it would share with this period saga that easily swats away any myopic claims of stately stuffiness by emerging as a passionate and hard-charging history lesson. Apparently adhering to the actual facts more closely than anyone would have assumed, this starts with Caroline (Alicia Vikander), the sister of Britain's King George III, journeying to Denmark and marrying King Christian VII (Mikkel Boe Folsgaard). It's not long before the newly minted Queen discovers that there's something not quite right with her husband's mental state. (Was he insane? Schizophrenic? Emotionally stunted? The film doesn't answer because history itself doesn't recall the cause.) Between his womanizing and his grotesque treatment of her, Caroline grows to loathe Christian, and she initially harbors ill will toward Johann Struensee (Mads Mikkelsen), the German physician who arrives on the scene to tend to his majesty. Over time, Struensee, a radical progressive, earns the complete trust of Christian and the heart of Caroline, a precarious position that provides ample fodder for the conservative politicians who don't agree with the good doctor's desires to, among other reforms, abolish serfdom, outlaw torture and (gasp!) impose taxes on the wealthy for the betterment of the lower classes. Mikkelsen delivers a thoughtful performance as a decent man whose political naivety dooms him, while Vikander scores with an aching, bruised turn as a woman trapped in an impossible situation. As for Folsgaard, he's superb in his feature-film debut as King Christian, already winning a hefty European award for a performance that was filmed while he reportedly was still attending college. In the immortal words of King Louis XVI — or was it Mel Brooks? — it's good to be the king.
Blu-ray extras include an interview with Mikkelsen, Vikander and director-cowriter Nikolaj Arcel; a detailed look at the royal family tree; and the theatrical trailer.
Movie: ***1/2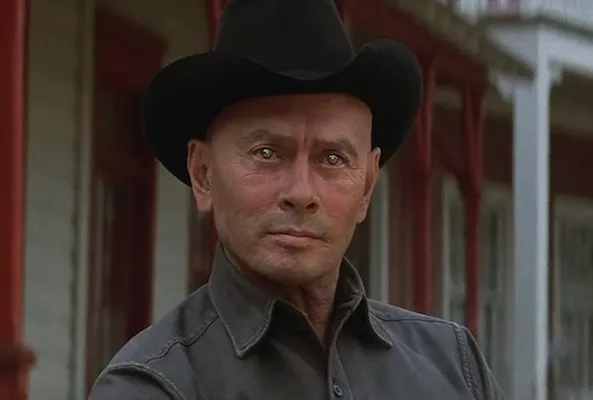 Yul Brynner in Westworld (Photo: Warner Bros.)
WESTWORLD (1973) / FUTUREWORLD (1976). The late Michael Crichton made his mark not only as an author but also as a screenwriter, and one of his earliest successes in this vein was the sci-fi yarn Westworld. The picture proved to be so popular that it was followed three years later by Futureworld. Warner Bros. has recently released the original on Blu-ray while Shout! Factory has done likewise with the follow-up.
In addition to penning the script, Crichton also made his feature directing debut with Westworld, which offers such a tantalizing premise that it's no wonder he later modified it by adding dinosaurs to the equation and coming up with Jurassic Park. In this picture, the setting is Delos, a theme park populated by robots programmed to do the bidding of the guests. Delos is split up into three distinct worlds: Medievalworld, where guests can joust and assume the throne; Romanworld, where customers can experience more hedonistic pleasures; and Westworld, where patrons can rob banks and take part in gunfights. Vacationers Peter (Richard Benjamin) and John (James Brolin) opt for Westworld, where their exploits include dallying with saloon prostitutes, busting out of jail, and engaging in duels with an ominous gunslinger (Yul Brynner). All proceeds smoothly until the robots malfunction and start killing the guests. The casting of Brynner is inspired, as the actor takes his iconic hero from the Western classic The Magnificent Seven and turns him on his head.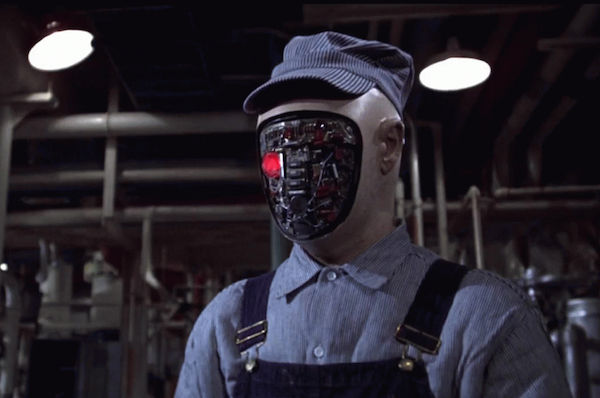 Futureworld (Photo: Shout! Factory)
A sequel to Westworld seemed like a no-brainer, since there were countless imaginative ways to expand on the initial idea. Unfortunately, Futureworld fails to capitalize on any of them, choosing instead to focus on a feeble conspiracy plot that only moderately draws upon the unique setting. Here, Delos is up and running again, with all the kinks worked out and the robots once again behaving themselves. But reporter Chuck Browning (Peter Fonda), credited as the man who exposed the previous Delos disaster, feels that something's still off about the place, so he and TV journalist Tracy Ballard (Blythe Danner) accept an invitation to tour the facilities, little realizing that the Delos heads have something planned for them. Stuart Margolin is touching as a Delos technician whose best friend is a malfunctioning robot that's been put out to pasture, and it's always a pleasure to catch Danner (Gwyneth Paltrow's more talented mom) in a leading role. But the fact that Crichton's name doesn't appear anywhere in the credits — he didn't even give this his blessing under the usual role of executive producer — results in a sterile drama with little wit or creativity, and its greatest offense (as well as a cheat to paying viewers) is that it plugs Brynner (again playing the gunslinger) in the main credits and ad copy but then relegates him to a single dream sequence in which he makes out with Danner!
Blu-ray extras on Westworld consist of a making-of featurette; the pilot for the short-lived 1980 TV series Beyond Westworld (which lasted all of five episodes); and the theatrical trailer. Blu-ray extras on Futureworld consist of radio spots; a still gallery; and the theatrical trailer.
Westworld: ***
Futureworld: *1/2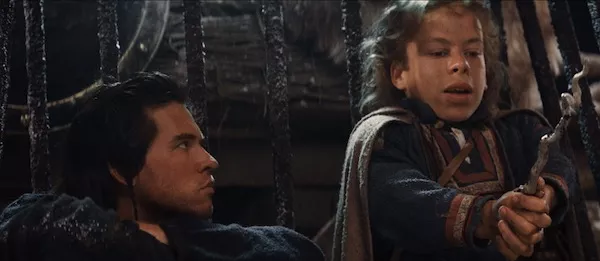 Val Kilmer and Warwick Davis in Willow (Photo: Fox & Lucasfilm)
WILLOW (1988). A naive and wholesome hero. A dashing scoundrel. A plucky heroine. A sagacious wizard. Two bickering sidekicks. Given all the direct lifts from Star Wars, it's amazing that George Lucas didn't go ahead and provide Willow with a Death Star for good measure. Handing the directing reins to Ron Howard and scripting duties to Bob Dolman — but retaining credit for the original story as well as serving as executive producer — Lucas wholeheartedly plagiarized from himself, an action that bothered no one at the time since the filmmaker was still involved with quality films like the Indiana Jones series and hadn't yet begun destroying the memories of fans with his incessant tinkering and whoring of the Star Wars brand. Revisiting Willow on its 25th anniversary, it's apparent that the film is only a partial success in punching across the requisite excitement, with its merits often overcome by its strained comic material and its nagging air of familiarity (it's as much Tolkien as it is Lucas). Warwick Davis plays Willow, a Hobbit — err, a Nelwyn who's chosen to embark on a perilous mission: Deliver into safe hands a newborn infant who holds the key to ending the reign of terror of the evil Queen Bavmorda (Jean Marsh). Also partaking in the adventure are Madmartigan (Val Kilmer), a master swordsman with shaky morals, Sorsha (Joanne Whalley), the Queen's obedient daughter who finds her innate goodness (as well as her lustiness) stirred by Madmartigan, and Rool (Kevin Pollak) and Franjean (Rick Overton), a pair of tiny, Tinkerbell-size beings known as Brownies. Rool and Franjean provide the ostensible comic relief, but it's excruciating to watch and sinks the film wherever given ample screen time. Other elements fare better, including a likable hero in Willow, a battle siege that delivers the goods, and a fearsome, two-headed dragon that at the time was called the "Eborsisk" by both crew and press members. The creature was named after critics Roger Ebert and Gene Siskel; there was no mention of this tidbit when they both subsequently gave the film "Thumbs Down" on their TV show. Willow earned Oscar nominations for Best Visual Effects and Best Sound Effects Editing, although it was justly beaten for both awards by Who Framed Roger Rabbit.
Blu-ray extras include a vintage making-of piece; deleted scenes; a look at the visual effects with an introduction by one of its creators, eight-time Oscar winner Dennis Muren (Terminator 2: Judgment Day, Jurassic Park); and Davis' personal video diary.
Movie: **1/2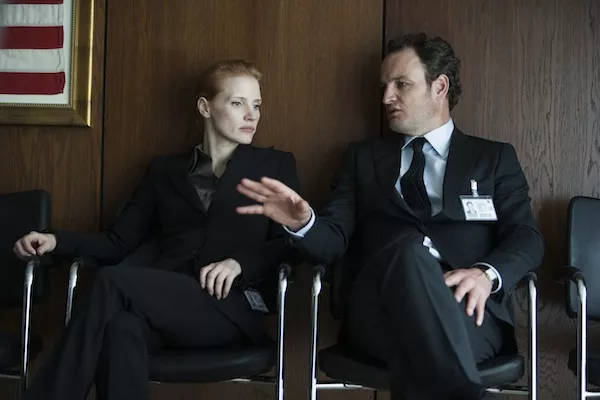 Jessica Chastain and Jason Clarke in Zero Dark Thirty (Photo: Sony)
ZERO DARK THIRTY (2012). Bold, provocative and challenging in ways not even attempted by most of the other 2012 Oscar-bait titles, director Kathryn Bigelow's Zero Dark Thirty recalls what President Woodrow Wilson reportedly said after screening D.W. Griffith's The Birth of a Nation: "It's like history written with lightning." Like that silent classic, this galvanizing picture is a work that's steeped in controversy, yet unlike that hearty shout-out to the glories of the Ku Klux Klan, the uproar here isn't nearly as clear-cut as when confronted with Griffith's racist ideologies. Bigelow reteams with scripter Mark Boal — both won Oscars for 2008's The Hurt Locker — for a movie that relates in painstaking detail the CIA's decade-long search for terrorist leader Osama bin Laden. Delivering a sublime performance of ferocious intensity, Jessica Chastain headlines as Maya, an agency operative who makes it her personal mission to ferret out the murderous al-Qaeda head. Stumbling across helpful clues is, as someone notes, like trying to locate that proverbial needle in a haystack, but while other figures come and go over the years (Jason Clarke, who should have been Oscar-nominated, and Jennifer Ehle play the most prominent of these co-workers), Maya is determined to see this through to the end, no matter how much resistance she meets from her superiors in this patriarchal organization. Zero Dark Thirty is such a potent work — a methodical mystery, a political potboiler and a rueful American drama all rolled into one — that it's unfortunate it became embroiled in a scandal which, frankly, it never deserved. Erroneously denounced as taking a pro-torture stance by politicians trying to cover their own asses as well as by well-meaning but misunderstanding activists, the film actually does nothing of the sort. It instead acknowledges the very real presence of torture on the post-9/11 landscape — had the subject been ignored, the movie would be little more than vile, jingoistic nonsense, made to appease rabid Tea Partiers and naive liberals alike. But Bigelow and Boal insist on treating viewers like intelligent, discerning adults, able to absorb complexities and weigh knotty material. It's a risky gamble on their part, but without it, we wouldn't have a movie as important — and gratifying — as this one. Nominated for five Academy Awards (including Best Picture and Actress), it tied with Skyfall for the Best Sound Editing Oscar. (Zero Dark Thirty placed number 2 on my list of the year's best films; for a complete look at the Best & Worst of 2012, go here.)
Blu-ray extras include a making-of featurette; a look at Chastain's portrayal of Maya; and a piece on preparing the actors who play the Navy SEALs.
Movie: ***1/2