(View From The Couch is a weekly column that reviews what's new on Blu-ray, DVD and Streaming. Ratings are on a four-star scale.)
Avengers: Infinity War (Photo: Marvel-Disney)
AVENGERS: INFINITY WAR (2018). Death be not proud in Avengers: Infinity War, but it certainly is loud. This 19th entry in the Marvel Cinematic Universe is full of sound and fury and Dolby-enhanced CGI battles. But only the haters would claim that it signifies nothing – instead, it's the semi-culmination of all the pictures that have preceded it (I say semi because it's only the first half of a two-parter that will conclude next summer). It's also the darkest, the grimmest, and the most downbeat of all Marvel movies. The war being waged is against Thanos (Josh Brolin), a powerful being determined to rule the universe. Seeking to stop him are the Avengers and the Guardians of the Galaxy, with an occasional outlier thrown in for good measure. While past Marvel team-ups have been exemplary at allowing everyone a moment in the spotlight, this one doesn't fare nearly as well, with many favorites ultimately lost in the perpetual whirl of motion. (This is basically the It's a Mad, Mad, Mad, Mad World of Marvel movies, with Thanos subbing for Spencer Tracy.) Modest dollops of humor are a welcome respite from the heavy drama, alleviating the mood without ever breaking it. The same can't be said for the more strained and stretched bits of comedy, most of which come courtesy of the Guardians — this brand of humor worked well within the confines of their own films but feels tonally jarring in this picture. Overall, though, Avengers: Infinity War is rousing entertainment — it's both thrilling and chilling, marked with pockets of genuine pathos. If some pacing issues and the occasional bloat prevent it from reaching the upper echelons of the MCU, there's still more than enough here to keep viewers sated, saturated, and salivating over what's certain to be a poignant and potent Part Deux.
Blu-ray extras include audio commentary by directors Anthony and Joe Russo and writers Christopher Markus and Stephen McFeely; a piece on Thanos; deleted scenes; and a gag reel.
Movie: ***
Gabrielle Union in Breaking In (Photo: Universal)
BREAKING IN (2018). Panic Room meets The Three Stooges in this dim-witted thriller that mainly functions as a reminder that the talented Gabrielle Union should be landing better roles in bigger movies. Union stars as Shaun Russell, a mom who travels to her late father's desolate mansion to settle his affairs. Her dad was a bad guy who, unknown to his daughter, left a sizable sum of cash in the hidden safe at his maximum-security home. But the crooks who murdered the old man know it's there, and they break into the house eager to commence their search. What they didn't know is that Shaun and her kids (Ajiona Alexus and Seth Carr) are also there – given the situation, they hold the children hostage while Shaun, stuck outside the house, must figure out a way to rescue them. It's a wonder that something as generic as Breaking In actually secured a theatrical release, since it's the sort of movie that only plays well on HBO at 2 a.m., after roughly 10 wings and 20 beers have been consumed. The script by Ryan Engle is exceedingly sloppy on all fronts, with logic apparently having taken off for summer vacation. Spatial relations are important in movies like this, but director James McTeigue fails to establish the palatial layout in any significant way, meaning it's often impossible to determine the distance between the various characters as they prowl through the estate. As such, the suspense can't even reach the level of a low simmer. Indeed, most aspects of Breaking In prove to be uninspired, relying instead on lazy conventions. Ultimately, the film isn't must-see as much as it's simply musty.
The Blu-ray/DVD combo pack contains both the PG-13 theatrical version and an unrated cut that runs an additional minute. Extras include audio commentary by McTeigue and Engle; a making-of featurette; and deleted scenes.
Movie: *1/2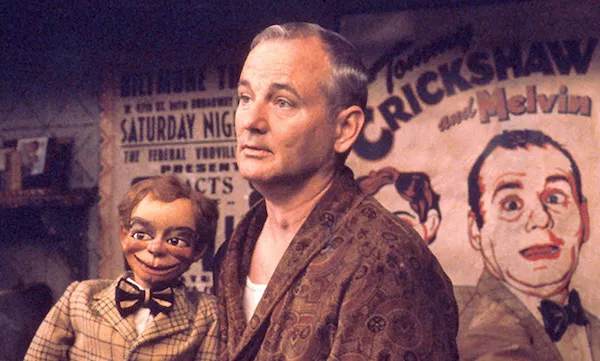 Bill Murray in Cradle Will Rock (Photo: Kino)
CRADLE WILL ROCK (1999). Billed as "A (Mostly) True Story," Cradle Will Rock centers on the circumstances surrounding the controversial 1937 staging of The Cradle Will Rock, a musical that was set to be presented by Orson Welles (Angus Macfadyen) and John Houseman (Cary Elwes) through the Federal Theatre Project until the usual right-wing nitwits in Congress objected to its pro-union and pro-people content. While writer-director Tim Robbins uses this entertaining film to touch upon capitalism and class warfare, he's mainly interested in championing artistic expression — no wonder so many A-listers agreed to take part. In addition to Elwes and Macfadyen, others playing factual figures include John Cusack as millionaire Nelson Rockefeller, Ruben Blades as artist Diego Rivera, Hank Azaria as The Cradle Will Rock writer-composer Marc Blitzstein, Susan Sarandon as Mussolini supporter Margherita Sarfatti, and, delivering the film's best performance, two-time Tony Award winner Cherry Jones as FTP national director Hallie Flanagan. Among those essaying fictional characters are John Turturro and Emily Watson as a pair of defiant actors and, in a chilling pair of turns, Bill Murray and Joan Cusack as two lonelyhearts who come together to denounce the Communist influence they believe is poisoning the arts. Despite a phenomenal cast that also found room for Vanessa Redgrave, Jack Black and Paul Giamatti, Cradle Will Rock never broke out — budgeted at $32 million, it earned just under $3 million during its brief theatrical run.
Blu-ray extras consist of audio commentary by Robbins; a making-of featurette; and theatrical trailers.
Movie: ***1/2
Mac and Me (Photo: Shout! Factory & MGM)
MAC AND ME (1988). A movie that continues to live in infamy, the unequivocally awful Mac and Me is generally considered the worst of the E.T. The Extra-Terrestrial rip-offs that flooded the film scene in the 1980s (although I think arguments can be made in favor of the Trumpy portions of the MST3K fave Pod People). After an alien tyke gets stranded on Earth, a wheelchair-bound boy named Eric (Jade Calegory) adopts him, christens him Mac ("Mysterious Alien Creature," see), and proceeds to carry out his constitutional duty by whisking the inquisitive alien to the nearest McDonald's. There, an impromptu dance party breaks out, with rows of choreographed kids gyrating all over the linoleum floors and Mac (decked out in a bear costume) grotesquely shimmying on the countertop. And in the middle of all this madness, like an Obi-Wan Kenobi of the Quarter Pounder set, fumbles Ronald McDonald, performing stupid tricks for the kids and generally making a nuisance of himself. Mac and Me is the ultimate in shameless product placement, as half of the picture plays like a McDonald's commercial while the other half unspools like a Coca-Cola ad (the only thing that can resurrect dying aliens is a swig of Coke; no, really). Amusingly, Ronald McDonald, Mickey D's corporate capitalist clown, earned the Worst New Star Razzie Award for his appearance. This is also the film that includes the scene where Eric and his wheelchair roll off a cliff into the lake below – a shot that's become an Internet staple as well as part of Paul Rudd's running gag on late-night TV appearances.
Blu-ray extras include audio commentary by writer-director Stewart Raffill (who co-scripted with Steve Feke) and film historian Marc Edward Heuck; new interviews with Raffill and songwriter Allee Willis (who wrote the Ashford & Simpson song "Down to Earth" that's featured in the movie); and theatrical trailers.
Movie: *
Billy Howle and Saoirse Ronan in On Chesil Beach (Photo: Universal & Bleecker Street)
ON CHESIL BEACH (2018). Ian McEwen, whose 2001 novel Atonement was made into a critically and commercially successful film in 2007, has elected to handle screenwriting duties himself on director Dominic Cooke's adaptation of the author's acclaimed 2007 novella. It's a movie that stumbles out of the gate, with ungainly segues between different time periods and a story that takes its time establishing its identity. Saoirse Ronan, who deserved (but didn't receive) the Best Actress Oscar for last year's Lady Bird, stars as Florence Ponting, a classical violinist who hails from a rich family in 1960s Britain. She falls for history buff Edward Mayhew (Billy Howle), and they end up getting married. But it isn't until their honeymoon at Chesil Beach that they fully realize the great divide that stands between them, one that's wrapped up in their differing temperaments regarding sacrifice, self-worth, and sex. After a fumbling first act, the story deepens alongside the narrative conflicts, with both characters proving to be alternately infuriating and sympathetic as they struggle with crippling hangups over which they have little control. It sets up a denouement that proves to be affecting despite the fact that it's not completely believable, with convenient turns that are at odds with the raw emotions on display (this final act is significantly different than the novella's conclusion, which is decidedly less cinematic but perhaps more soulfully satisfying).
Blu-ray extras consist of a making-of featurette and deleted scenes.
Movie: **1/2
==============================
FROM SCREEN TO STREAM
(A look at a film that's currently available on streaming services)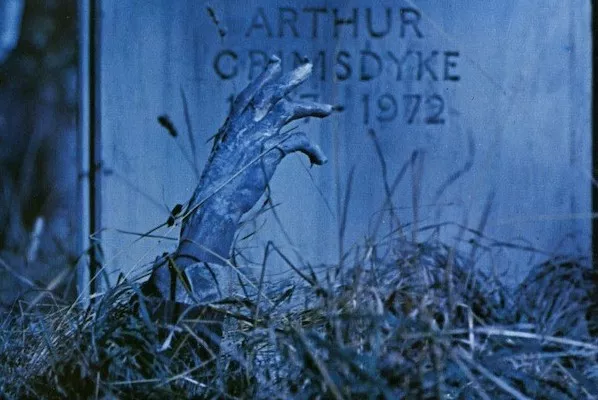 Tales from the Crypt (Photo: Amicus)
TALES FROM THE CRYPT (1972). I'm a sucker for horror anthology flicks, so it's always enjoyable revisiting this British effort based on the horror comics by William M. Gaines (of Mad magazine fame), Al Feldstein (ditto) and Johnny Craig. Five people who get separated from their tour group deep inside some catacombs find themselves listening to macabre stories spun by the self-named Crypt Keeper (Ralph Richardson). The best vignette finds Peter Cushing delivering one of the best performances of his long career, as a kindly old trash collector who loves his late wife, his dogs and the local children. But a blue-blood neighbor (Robin Phillips) feels superior to his lower-class neighbor, so he sets out to destroy his life. Cushing is heartbreaking as the gentle senior, but rest assured he gets his revenge in bloody fashion. The other stories star Joan Collins as a murderous wife who runs afoul of a serial killer dressed like Santa Claus; Ian Hendry as an adulterous husband involved in a bizarre car accident; Richard Greene as a ruthless businessman whose wife (Barbara Murray) asks three wishes of a mystical Chinese statue; and Nigel Patrick as the heartless overseer of a home for the blind. (Amazon Prime)