(View From The Couch is a weekly column that reviews what's new on Blu-ray, DVD and Streaming. Ratings are on a four-star scale.)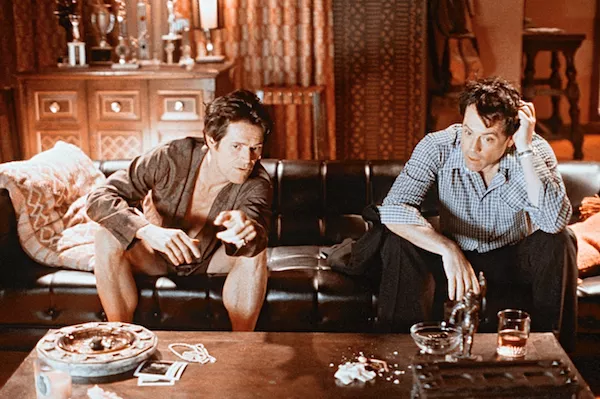 Willem Dafoe and Greg Kinnear in Auto Focus (Photo: Twilight Time)
AUTO FOCUS (2002). Greg Kinnear plays Bob Crane in director Paul Schrader's Auto Focus, a distant, even sterile, yet compulsively watchable look at the sordid life of the Hogan's Heroes star. Played by Kinnear with the right mixture of frat-boy exuberance and lounge lizard unctuousness, Crane, in his early days as a radio show host, emerges as an affable chap with a yen for "skin" magazines. The success of the WWII sit-com doesn't exactly change his personality ("I'm a nice guy," he repeatedly insists), but the exposure allows him to stray from his wife (Rita Wilson) and get a taste of the women lining up to bed a bona fide celebrity. Working in tandem with a video production geek named John Carpenter (Willem Dafoe), Crane eventually gets hooked on the easy sex; what follows is an expected divorce, a post-Hogan career in dinner theater, endless hours of taped sexual marathons, and the actor's unsolved murder in 1978. Despite the intense focus on Crane, calling the picture a character study wouldn't exactly be accurate, since the movie doesn't get inside his head as much as it watches his increasingly self-destructive actions from a detached distance. This approach mutes the film's emotional pull and makes the climactic killing seem almost like an afterthought, yet it also allows viewers to better study the signs that eventually lead Crane to his doom. The sex itself isn't the problem, Schrader seems to suggest; rather, it's any obsession that reduces a man to an unfeeling automaton merely going through the motions.
Blu-ray extras consist of audio commentary by Schrader; separate audio commentary by Kinnear and Dafoe; separate audio commentary by scripter Michael Gerbosi and producers Scott Alexander and Larry Karaszewski; a making-of featurette; deleted scenes; a 2003 piece on Crane's murder; and theatrical trailers.
Movie: ***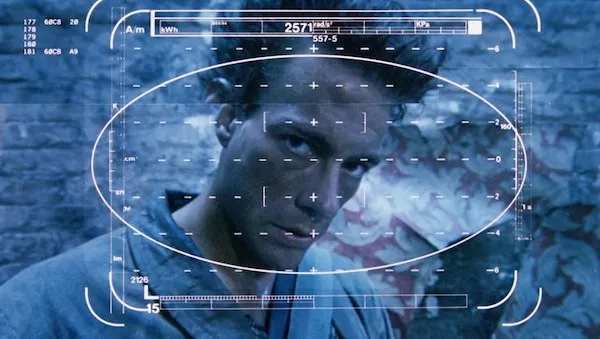 Jean-Claude Van Damme in Cyborg (Photo: Shout! Factory)
CYBORG (1989). The story goes that the brain trust at Cannon Films (Menahem Golan and Yoram Globus, of course) was ambitiously prepping to make both a sequel to its 1987 release Masters of the Universe and a live-action Spider-Man movie just about the time that bankruptcy woes were starting to form on the horizon. Plans for both films were scrapped, but rather than waste the expensive sets that had already been constructed down in Wilmington, NC, the G-Men had writer-director Albert Pyun whip up a new script that could utilize said edifices. It's a shame we didn't get to see Pyun's Spider-Man since it would doubtless have served as a nice bookend piece to Pyun's 1990 underachiever Captain America (reviewed here). Cyborg, on the other hand, never distinguishes itself as anything but another Mad Max wannabe, although its minor success at the box office did lead to two straight-to-video sequels (the first with an 18-year-old Angelina Jolie, the second with OJ Simpson's freeloading houseguest Kato Kaelin). Cannon favorite Jean-Claude Van Damme stars in the original as Gibson Rickenbacker (shouldn't that be Mel Gibson Rickenbacker?), a post-apocalyptic he-man who must rescue half-human cyborg Pearl Prophet (Dayle Haddon) from the clutches of a gang of marauders led by the bellowing Fender Tremolo (Vincent Klyn, more laughable than formidable). Neither the action nor the stunts are exciting enough to overcome the routine dreariness of the enterprise. And, yes, most of the characters are named after guitars and other musical instrument manufacturers — why, I'm sure I don't know.
Blu-ray extras consist of audio commentary by Pyun; a making-of featurette; a piece on the visual effects; a still gallery; and the theatrical trailer.
Movie: **
Diane Kruger in In the Fade (Photo: Magnolia)
IN THE FADE (2017). With neo-Nazi cockroaches on the rise over much of the globe — including the U.S., where one can presently be found scurrying through the White House corridors — it's a safe bet that numerous filmmakers will start producing more movies that shine a harsh light on these irredeemable evildoers. Writer-director Fatih Aki's In the Fade is one such film, and it's a shame that it's not a wee bit better. Winner of the Golden Globe for Best Foreign Language Film, this German import failed to nab a corresponding Oscar nomination — it's easy to see why, since it's less a searing examination of sociopolitical issues than a Death Wish reconfigured for leftist viewers. Diane Kruger nabbed the Best Actress award at Cannes, and she's terrific — she stars as Katja Sekerci, a German woman whose Turkish husband Nuri (Numan Acar) and adorable son Rocco (Rafael Santana) are gruesomely killed by a homemade bomb fashioned out of fuel, fertilizer, and hundreds and hundreds of body-shredding nails. Since Nuri was a former drug dealer before he served his time and went straight, the police initially take that route in searching for suspects, but they eventually realize that Katja was right all along when she stated that the bombing was carried out by neo-Nazis. A married couple (Ulrich Brandoff and Hanna Hilsdorf) who worship Hitler are arrested and put on trial, but when the German court system proves to be as ineffectual and incompetent as our American one, Katja must decide how to proceed on her own. The courtroom interludes provide most of the film's strongest moments, but they eventually lead to a third act that not only grows increasingly murky and implausible but also produces a denouement that's more unsatisfying than cathartic.
DVD extras include behind-the-scenes featurettes and interviews with Kruger and Akin.
Movie: **1/2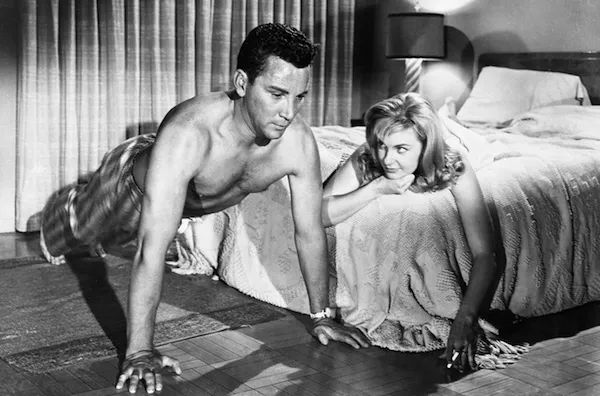 Cameron Mitchell and Joanne Woodward in No Down Payment (Photo: Twilight Time)
NO DOWN PAYMENT (1957). Producer Jerry Wald was heavily involved in soap-opera cinema in 1957, but while Peyton Place nabbed nine Oscar nominations and scored massive box office (topped that year only by The Bridge on the River Kwai), No Down Payment was only a modest grosser and has largely been forgotten over time. That's no knock on the film, one of the earliest directorial credits for the often underrated Martin Ritt (Norma Rae, The Spy Who Came In from the Cold, the latter reviewed here). Adapted from John McPartland's novel by the blacklisted Ben Maddow (as was often the case, Philip Yordan handled "fronting" duties for Maddow), this centers on the intertwined lives of several of the couples living in a swanky California subdivision. David and Jean Martin (Jeffrey Hunter and Patricia Owens) are the new kids on the block; Jeffrey Flagg (Tony Randall) is a flirtatious drunk with a sensible wife (Sheree North) whose patience might finally be running out; Leola Boone (Joanne Woodward) is a country girl saddled with an abusive husband (Cameron Mitchell); and Herman Kreitzer (Pat Hingle), married to Betty (Barbara Rush), just wants everyone to get along. Alcoholism, infidelity, bigotry, and misogyny are among the topics tackled in this engaging sudser fortified by interesting characters and strong performances. Top-billed Woodward, who would win the Best Actress Oscar for her other 1957 project (The Three Faces of Eve), is especially good, and it's interesting to see Randall cast against type as a perpetually inebriated lout with mounting debt, outlandish get-rich-quick schemes, and a dead-end job as a car salesman.
The only Blu-ray extra is an isolated track of Leigh Harline's score.
Movie: ***
Rose Byrne in Peter Rabbit (Photo: Columbia)
PETER RABBIT (2018). Considering that the initial trailer made Peter Rabbit look like one of the greatest disasters since the sinking of the Titanic, it's somewhat shocking to note that the end result isn't half bad. True, this live-action/CGI hybrid, an adaptation of the stories created by Beatrix Potter, is often geared toward illiterate and hyperactive children, what with its manic speed, contemporary sops, and occasionally crude humor. Yet there's also ample amounts of genuine wit to be found peeking through the roughhouse comedy, and the two central (human) performances go a long way toward making this digestible. Rose Byrne plays Bea, who loves the wildlife residing in the area near her country home; Domhnall Gleeson is Thomas McGregor, who inherits the estate next to Bea's and immediately tries to rid the area of the rabbits that keep munching on his vegetable garden. Chief among these wascally wabbits is Peter (voiced by James Corden), who's far more mischievous than either his cousin (Colin Moody) or his three younger sisters (Margot Robbie, Daisy Ridley and Elizabeth Debicki). Some of the material is in iffy taste and universes removed from Potter's text — an allergy gag resulted in an issued apology from Sony during the picture's theatrical run, though I notice the offending scene remains intact for home viewers — but Byrne delivers a winning performance, Gleeson proves to be quite adept at physical comedy, and select gags are executed with finesse. The best in-joke for buffs? The reunion casting of Bryan Brown and Rachel Ward, co-stars in the classic TV miniseries The Thorn Birds, as Peter's parents.
Blu-ray extras consist of a behind-the-scenes piece; a dance-along song; the new animated short Flopsy Turvy; and theatrical trailers for various other Sony titles.
Movie: **1/2
Kirsten Dunst in The Virgin Suicides (Photo: Criterion)
THE VIRGIN SUICIDES (2000). It would be a few more years before Sofia Coppola would make her masterpiece — 2003's Lost in Translation, for those not thinking clearly — but with The Virgin Suicides (premiering at Cannes in 1999 but not released until 2000), the 28-year-old writer-director debuted with a startling achievement that immediately erased all the long-standing snickering over her dreadful performance in daddy Francis Ford's The Godfather: Part III back in 1990. Working from Jeffrey Eugenides' 1993 novel, Coppola crafted a visually resplendent if narratively unsettling drama about the five Lisbon sisters (Kirsten Dunst, A.J. Cook, Hanna Hall, Leslie Hayman and Chelse Swain), their ineffectual father (James Woods), and their strict mother (Kathleen Turner). After the youngest daughter kills herself, the parents clamp down even further on the other girls, a situation that grows ever more constrictive once the vivacious Lux (Dunst) starts to explore her sexuality. The story is presented as a reminiscence by one of the neighborhood boys all grown up (Giovanni Ribisi provides the narration), and this framework receives appropriate care by ace cinematographer Ed Lachman (Far from Heaven), who shoots many of the scenes in a haunting and dreamlike manner that dovetails perfectly with Coppola's sensitive handling of the material. The picture also sports a sly strain of mordant humor that serves it well, with Woods' befuddled dad providing many of these moments.
Blu-ray extras include a vintage making-of featurette; new interviews with Coppola, Dunst, co-star Josh Hartnett, Eugenides and Lachman; the music video for Air's lovely tune "Playground Love"; Coppola's 1998 short film, Lick the Star; and theatrical trailers.
Movie: ***1/2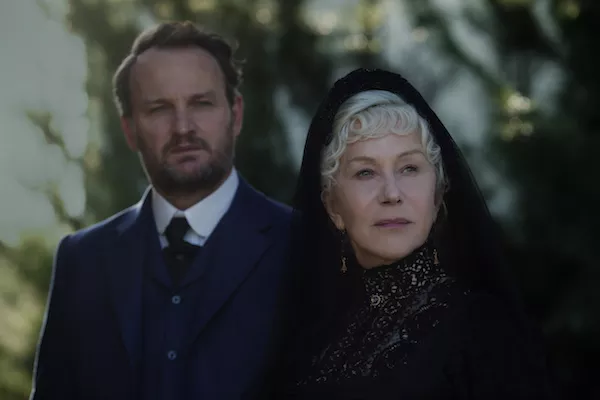 Jason Clarke and Helen Mirren in Winchester (Photo: Lionsgate)
WINCHESTER (2018). Winchester '73 is an excellent and exciting 1950 Western classic starring James Stewart, but there's nothing excellent or exciting about Winchester '18, a moribund horror yarn showcasing a what-was-she-thinking? Helen Mirren. Admittedly, there is a topical and truthful message at the center of this new film — it's just a shame it gets wasted in a movie as mediocre as this one. With its footing in historical record, this stars Mirren as Sarah Winchester, the widow of gun manufacturer William Winchester. Sarah holds majority interest in the Winchester company but spends all her time adding room after room to her already enormous mansion in California. Hoping to have her declared mentally unstable and unfit to oversee the company, board members hire Dr. Eric Price (Jason Clarke) to provide them with the verdict they crave. Learning that she believes the house to be haunted, he's ready to sign those papers — at least until he also starts to notice strange occurrences unfolding at her estate. Winchester supports the unconfirmed legend that Sarah was building those additional rooms for the spirits of all the people killed by the weapon created by her family — "These vermin profit from death," notes someone at one point, and it's a line that can easily be directed at Wayne LaPierre and every other evildoer affiliated with the odious and anti-American NRA. It's an intriguing notion that deserved to be further teased out, but it's largely ineffectual when surrounded by a spook show as ham-fisted as this one. Mirren is still receiving plum acting roles, so it's difficult to ascertain what lured her to this project — naturally, she's fine in the film, even if the part doesn't seem like much of a challenge.
The only Blu-ray extra is a making-of featurette.
Movie: **
==============================
FROM SCREEN TO STREAM
(Recommended films currently available on streaming services)
Rosanna Arquette and Madonna in Desperately Seeking Susan (Photo: Orion)
DESPERATELY SEEKING SUSAN (1985). Oozing New Wave attitude and drenched in NYC ambience, director Susan Seidelman's Desperately Seeking Susan is perhaps best known for capturing Madonna in that period of time when her career was beginning to go supernova. Soon to be revealed as a wretched actress in such bombs as Shanghai Surprise and Who's That Girl, she's actually fine here, since her entire performance is based more on appearance and sex appeal than on any semblance of thespian ability. She plays the Susan of the title — actually a supporting role, since the lead is Rosanna Arquette in the role of her career. Arquette stars as Roberta Glass, an unfulfilled housewife who escapes her dull life with husband Gary (Mark Blum) by tracking the exploits of the free-spirited Susan via messages that appear in the classified ads. A bump on the head results in Roberta believing that she's Susan, leading to a series of adventures involving a hunky projectionist (Aidan Quinn) and a murderous stalker (Will Patton). Leora Barish's passable script is greatly enhanced by Seidelman's style and the efforts of Arquette and Madonna. The supporting cast is especially eclectic, including among its ranks musician-actors John Lurie, Ann Magnuson and Annie Golden, imposing character actor (and former Sex Pistols bodyguard) Rockets Redglare, and comedian Steven Wright. Plus, John Turturro, Giancarlo Esposito and Richard Edson all turn up in small roles — did Spike Lee watch this flick immediately before casting Do the Right Thing? (Amazon Prime)