Northerners new to the South End area can breathe a sigh of relief — their beloved New York-style bagels can be found at Poppy's Bagels and More.
The Cotswold and Myers Park bagel hotspot is opening a new location on South Boulevard this fall.
After six and a half years at the current location off of Providence Drive, owner Ronnie Rippner is ready to introduce the Poppy's that Charlotte has come to know and love to a new 'hood. Rippner says that he's had dreams of expanding Poppy's since the deli first opened its doors, but has been waiting for the right place and time.
"We finally were able to, you know, find a spot that we really liked," Rippner says. "There's no guarantee, you know, of the success of a second location, but hopefully people know us and like us well enough, they'll come out and see us at our new spot."
The popularity of Poppy's original location is evident from the crowds drawn in by the bagels, sandwiches and salads there. Rippner says that there can easily be more than 50 people waiting in line, with a long string of people wrapping around the entirety of the restaurant. Even with the crowd of people, Poppy's staff makes sure that its customers don't have to wait too long.
"If they're willing to brave the line, by the time they get their stuff they're like, 'Oh you know that really wasn't so bad," Rippner says.
The line is worth the wait for Charlotte diners that crave a genuine, New York-style bagel.
When Rippner's banking job became a casualty of the banking crisis about 10 years ago, he decided to fill a void in the Q.C.'s food scene: a bagel shop. He went back to his home in New York and learned how to make bagels the right way.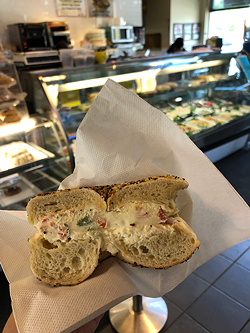 An everything bagel with veggie cream cheese (Photo by Sophie Whisnant)
All the dough from Poppy's is made fresh. The bagels are boiled in a large kettle, which impacts the consistency and crunchiness of the crust. From the kettle the bagels are thrown in the oven and baked. The process brings the classic bagel taste expected from the North down South, an area where a Northern native might not expect to find a delicious bagel.
"There's sort of a misconception I think that the bagels up North are better than the bagels anywhere else," Rippner says. There's nothing magic about northern baking techniques, he continues, it's just that people up there have learned how to make good bagels.
He also says that the idea that New York's water is the ingredient that makes a bagel delicious is a hoax.
"As long as you have city water, you're fine," Rippner says.
For Southern natives, a bagel from a corporate chain restaurant might have seemed like a perfectly fine option. Rippner doesn't rag on the food these places serve, but says that in most cases those places are feeding you frozen, as opposed to fresh, dough.
That taste can't compare to what Poppy's is serving. Rippner emphasizes that a good bagel, the kind served at his deli, has a crunchy crust. The inside must be soft, but not too soft, and the overall bagel should have a heavier consistency.
"It's the matter of the freshness...and also having the local small owner flavor to it," Rippner says of what sets his place apart from the bagel chains.
And locals have noticed the difference. Charlotte native Claire Lynch used to go to a corporate bagel restaurant for all her cream cheese needs. But ever since Poppy's opened, she hasn't gone back there.
"It just tastes better than all the other ones around," Lynch says about Poppy's. "It's the closest thing to a bagel up North that you can get in the South."
As Lynch's friends from college start to move to Charlotte to begin their careers, she always recommends Poppy's as the best bagel in town and a must-try in the area.
But, Poppy's offers a lot more than bagels. While it's true that one of the most popular items on the menu is a standard bacon, egg and cheese- with fresh cracked eggs cooked on the griddle accompanying the bagel- there are also omelets, pancakes and homemade French toast. For the healthier breakfast eater, there's egg white options as well as wraps and salads. At lunch, you can choose from a variety of cold cuts and sandwiches.
"It's not just bagels, it's a lot more than that," Rippner says.
Poppy's offers up more than just bagels. (Photo by Sophie Whisnant)
With a customer base comprised of a mix of regulars and newcomers, Poppy's literally pops at the seams, full of eager diners ready for their New York experience. The turnout and success of the deli wasn't a complete shock to its owner.
"People felt there was a need for a good bagel shop in Charlotte," Rippner says. "I knew if we made a good bagel, people would come ultimately."
Still, the reception of Poppy's has been surprising to its owner.
"I just never expected the success, you know, that we've had," Rippner says. "We've been really fortunate."
Part of that success has been an expansion into Harris Teeter. After a food agent from the grocery store visited the restaurant himself, he got Poppy's bagels into 18 stores all around the Charlotte area, including Ballantyne and Fort Mill.
Even in the land where biscuits have reigned supreme, Southerners have sought out what Poppy's was offering.
"We never had to do a tremendous amount of advertising, you know, people kind of found us," Rippner says.
The hope is that a new location in a completely different part of town can bring the same kind of traffic.
The Poppy's in South End will be next to the Five Guys on South Boulevard, near Lowe's and Publix, and the opening is set for September or October. It's a completely different audience demographic than the staff is used to, but Rippner hopes that everyone from families in Dilworth to working millennials in South End itself will come out.
Aside from the challenge of finding a new, perfect location, expensing the endeavor has been difficult.
"People don't realize in order for us to make a bagel that goes for around a dollar, it takes quite a bit of work for us to do that," Rippner says.
But it's a price he is more than willing to pay. The new location will have more indoor seating and will have a similar outside terrace as the original spot. The menu will be mostly the same, but Poppy's fans can expect general menu updates and ever-changing specials.
While a new location and customer base can be intimidating, Rippner has always had faith in the power of a good bagel from up North.
"It's comfort food, it's easy, it's something that everybody likes basically from kids to adults," Rippner says. "So I knew if we could make a good one, especially in an area where they don't really make that many bagels except for the larger chains that are around, people would come in and appreciate it."