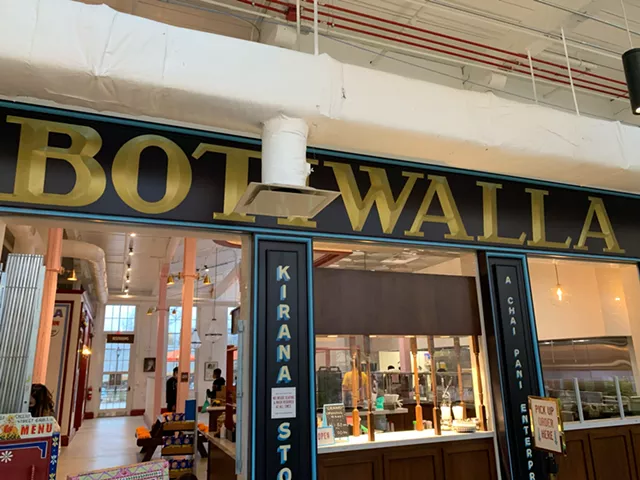 Optimist Hall
FOR IMMEDIATE RELEASE
MEDIA CONTACT:
Sprouthouse ([email protected])
Anna Mintz ([email protected] | 404.402.1032) 
Botiwalla Announces Grand Opening at Optimist Hall
Acclaimed Chef Meherwan Irani expands Optimist Hall's full-service restaurant
 offerings with second location of hit Indian street grill
Charlotte, NC (December 15, 2020) – White Point Partners and Atlanta-based Paces Properties and Confluence Real Estate are pleased to announce the opening of Indian street grill Botiwalla on Thursday, December 17. As the first tenant to open in Optimist Hall's upstairs restaurant wing, Botiwalla will occupy a 2,700-square-foot space complete with heated patio seating and integrated market hall seating for guests to enjoy all Optimist Hall has to offer.
Featuring Indian street food served in a lively setting inspired by the tea and kabab houses of India (known as Irani cafes), Optimist Hall is thrilled to welcome Botiwalla's highly acclaimed, craveworthy Indian food to the exciting roster of top-tier food and beverage tenants. This will be the second location of the concept from Asheville-based chef and restaurateur Meherwan Irani (Executive Chef and Founder of Chai Pani Restaurant Group) and his first foray into the Charlotte market. 
"Self-taught chef and James Beard Award-nominee Meherwan Irani is a legend in the culinary world of the Southeast," said Erik Johnson, Optimist Hall Partner. "We are ecstatic to bring Botiwalla and Meherwan's love of late-night Indian street food and Irani cafes to Charlotte."
Botiwalla's first location opened in 2016 in Atlanta's Ponce City Market and has garnered national acclaim as a must-visit destination. At Optimist Hall, Botiwalla will offer craveworthy grilled chicken, lamb, paneer, and steak wrapped in hot naan with fresh herbs, smoky Lamb Burgers, finger lickin' chaat such as SPDP (Sev Potato Dahi Puri) and Masala Smashed Potatoes, and the cult-followed Desi Salad. Unique to the Charlotte location, the menu will be expanded to include vegetarian greatest hits from Irani's flagship Chai Pani including Vada Pav, Pav Bhaji, and Kale Pakoras. In addition to snacks and grilled meats, the restaurant features boozy slushies, afternoon high tea, and retail items including Irani's own Spicewalla spices, roasted and packed by hand in Asheville, NC.
"My mission with Botiwalla is to bring the streets of India to life — the glowing charcoal sigris, the sizzling meats, the aromas of chaat masala, and the crispy, crunchy, multi-textured street snacks — in the most delicious way possible," says Chef Irani. "I'm excited to join the Charlotte community and bring this passion to Optimist Hall.
Botiwalla will be open for lunch and dinner Tuesday-Sunday from 11:30am – 8:30pm.

###
OPTIMIST HALL
@optimisthallclt | #optimisthall
Opened in Charlotte, NC on August 1, 2019, Optimist Hall is a 147,000 SF redevelopment of a former gingham mill that features a food hall complemented by retail, restaurant, and creative office space. Located in the Optimist Park neighborhood between Uptown and NoDa, the development has transformed the turn-of-the-century textile mill into one of the most unique projects in the Charlotte metropolitan area. Optimist Hall retains many of the property's original, 120+ year-old elements including hardwood floors, soaring 14+ foot ceilings, and brick and beam interiors with true industrial character. With heritage rooted in the industrialization of the South, and a space dedicated to innovation, sustainability, and urban renewal, Optimist Hall melds the legacy of Charlotte's rich history with the opportunity of tomorrow. Open tenants include the following: Archer Paper, Ava Pizzeria, Bao & Broth, Billy Sunday, Botiwalla, Boxcar Betty's, Duke Energy, Dumpling Lady, El Thrifty Social Club, Felix Empanadas, Fonta Flora Brewery, Harriet's Hamburgers, Honeysuckle Gelato, Papi Queso, Pet Wants, Spindle Bar, Suárez Bakery & Barra, Undercurrent Coffee, Velvet Taco, Village Juice, and Zukku Sushi. Additional tenants slated to open in the coming weeks and months include Mezeh and Xiao Bao.
BOTIWALLA
@botiwalla | #botiwalla
Botiwalla is an Indian street food concept from chef and restaurateur Meherwan Irani that pays homage to the lively Irani cafes of India.  With locations in Atlanta's Ponce City Market and Charlotte's Optimist Hall, Botiwalla is part of Chai Pani Restaurant Group, the restaurant and spice empire built by Irani in the South's most essential culinary cities. Irani is a five-time James Beard Award semifinalist for Best Chef: Southeast and was named as one of the "31 People Changing the South" by TIME Magazine.