When it comes to food terms like "organic" and "free range," it pays to be careful, Dale McLaughlin says.
"I don't like buying food that uses animal compost that goes directly on the ground," he says. "If there's salmonella [present] it goes right into the ground and into the product." A similar common sense approach applies to eggs, he continues. Free range is fine, but it should have limits, namely a pen enclosed by a fence.
"You don't want chickens that run all over the countryside. If your neighbor sprays harsh chemicals on their farm, your chickens could eat their dead bugs."
On the subject of farm fresh food, McLaughlin knows what he's talking about. Now 80 years old, he's been running Dale McLaughlin Produce at Mecklenburg County Market for over 50 years.
On this frosty Saturday morning, the red brick market sandwiched between hospital buildings on the campus of Carolinas Medical Center - Main near Uptown is filled with fresh fruits and vegetables, most of them from nearby farms. Shoppers sift through sweet potatoes, bell peppers and squashes, but many make a beeline for the refrigerator cases near Dale McLaughlin's stand.
The coolers are stocked with packaged vegan and vegetarian meals — homemade soups, salads, quiches, pies, pasta dishes and more, all made with fresh whole foods.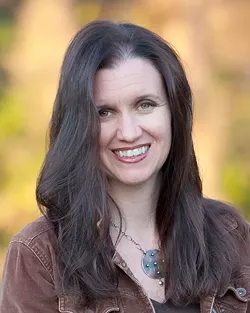 If you live in the Charlotte area, chances are you've seen the mouth-watering offerings from Beverly's Gourmet Foods at Healthy Home Market, Reid's Fine Foods, Berrybrook Farms, Whole Foods, the Uptown and the Dowd YMCAs and several other locations.
"Some people think there's not really a Beverly," says the well-dressed, dark-haired woman loading entrees into the cooler. "They figure it was a name we made up for marketing purposes."
She laughs because she is Beverly McLaughlin, and she's the namesake of the company.
If you ever asked yourself where all these products from Beverly's Gourmet Foods come from, wonder no more. This is the place. In 1990, at 21, Beverly launched her now-ubiquitous line of healthy foods from the market where her father Dale still works.
Lucy McLaughlin, Dale's wife and Beverly's mother, is also part of the family business. She handles the company's accounting and payroll.
The McLaughlin family's connection to this cozy one-story building goes back much further than that. It even began 1988, when Dale McLaughlin retired from Southern Bell Telephone at the age of 50 so he could take over the family produce stand full time.
The building that houses the Mecklenburg County Market is over 100 years old, says Beverly. Prior to its current incarnation, the structure hosted a dance studio and a lumber warehouse. The market itself was launched as a food co-op by the long-defunct Mecklenburg County Ladies Home Extension Club at an outdoor location in 1932, and moved to its current home in 1937, making it the oldest farmer's market in North Carolina.
At one time, there were as many as 40 vendors in the modest building, each with four feet of vending space. You can still see where they scratched the graphite on the market's tables to mark their boundaries, Beverly says. Nowadays the McLaughlin family occupies most of the space, which they share with three other vendors.
Mecklenburg County Market on Harding Place.
One of the market's founders, Pearl Wallace, was Dale's grandmother and Beverly's great-grandmother. A few years ago, Beverly's oldest son started working for both Beverly's Gourmet Foods and Dale McLaughlin Produce. Gavin Guiney, 22, marks the fifth generation of McLaughlins to work at Mecklenburg Market.
Pearl Wallace's daughter was the first McLaughlin to sell prepared meals at the family farm stand, Dale says.
"She came up with the original TV dinner," he maintains. "She'd make a meal on these sectional plates that had a lid. You'd just pop it in the stove to heat it up."
"Rebecca was famous for her soup mix," says Beverly, who follows her grandmother's original recipe for Granny's Vegetable Soup. "It's my biggest selling soup."
"My grandmother was well-known for her pimento cheese, which I also carry in my line of products," she continues. "It's her recipe."
After leaving her corporate gig — she's a former graphic designer for Paramount Parks — Beverly started Beverly's Gourmet Foods soon after Dale took over the market full time. She cooked out of her home, and balanced her business with her life as a wife and mother.
When her second child was born, she put her business on hold to devote more time to her family. (In addition to Gavin, her children are Eve, now 20 years old, and 14-year-old Evan, all of whom pitch in with the family's businesses. Beverly divorced her children's father in 2004.)
Thirteen years ago, Beverly started up her business again, selling her pre-packaged meals out of the quaint redbrick building. The market for healthy foods was different then, with fewer outlets than today, so Beverly sold wholesale to Talley's Green Grocery, Healthy Home Market, Reid's Fine Foods and Berrybrook Farms. Excluding Talley's, which closed its doors in 2008, she still delivers product to these stores, as well as multiple YMCA locations, Whole Foods, The People's Market at Dilworth and more. Beverly's soups, salads, casseroles, quiches and salad dressings are also available at seven area farmers markets including Cotswold Farmers Market and the Charlotte Regional Farmers Market on Yorkmont Road.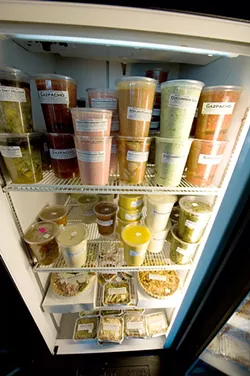 A selection of Beverly's Gourmet Foods.
"We have over 400 products in our line, and everything can be made vegan and gluten free," she says. "We also do cobblers whenever particular fruits are in season."
It's a veritable feast, but her most popular products come down to comfort food.
"Hands down, our biggest sellers are macaroni and cheese and baked ziti," Beverly says.
At an early age, Beverly knew she wanted to be an entrepreneur, and she was also certain that she wanted to work alongside her father. She believes her dedication to fresh food stems from her childhood growing up on the family farm in Charlotte.
"The closest grocery store was either in Huntersville or out on North Tryon," she says. "It was a long trip, so of course we raised our own vegetables." Beverly remembers picking vegetables in the morning and having them for dinner later that same day.
Dale McLaughlin still lives on the family farm, which now covers five acres and includes two greenhouses and the original tractor shed. When her grandparents owned the farm it was much larger, Beverly says.
"We had a garden trail that ran through the property with gardens on both sides all the way back," she adds. "At one time we counted over 40 gardens in [the farm's] 40-acre span."
At the age of 18, Dale started working for Southern Bell telephone, but he kept a part-time job running the family farm stand. When he retired from his main job, Dale took over the family produce business full time.
Over the years, the market, which used to only be open on Wednesdays and Saturdays, started expanding its hours. Now the establishment is open seven days a week.
These days, Dale gets as much of his produce as possible from local farms, all within ten to forty miles from the market. He travels during the week to farms in Rowan, Cabarrus and Mecklenburg counties. Currently he's getting greenhouse-raised tomatoes, leafy vegetables and root vegetables from Barbee Farms in Concord.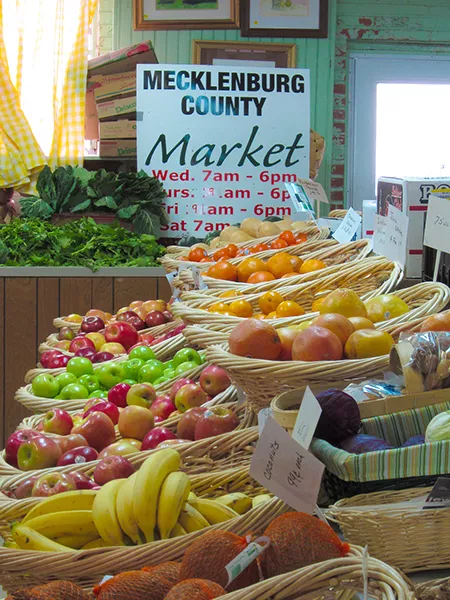 Dale McLaughlin Produce at Mecklenburg County Market.
"At Christmastime I got a boxful of strawberries from Bush-N-Vine Farm in York," Dale says. "I also get hydroponic tomatoes from Mocksville, North Carolina, every week."
In fact, tomatoes are Dale's most popular product. In addition to selling them at the market, he delivers tomatoes to local restaurants including Art's Barbeque & Deli, Parkway Café, Laurel Market, both Rhino Deli locations and both Common Market locations.
"The restaurants call me the tomato man," Dale says smiling.
Despite Dale's – and Beverly's – focus on local foods, neither business claims to be 100-percent local year round.
Three generations in the market.
"When this market was originally set up almost 90 years ago you had to raise everything you sold here," Dale says. A produce market can't be run like that today because people want fruits and vegetables out of season, he adds.
"People want oranges in the winter and you can't get them locally," Dale continues, adding that out-of-season items that aren't grown in local greenhouses have to come in from outside the area. In her product line, Beverly also contends with customers' desire for variety.
"People would be bored with collard greens dishes the entire season," she says. "We outsource our vegetables during the winter months, but we try to stay as local as we can."
Beverly also makes no claim that her dishes are 100-percent organic.
"I use organic and local whenever I can," she maintains.
Both father and daughter say that regardless of labels, their products are fresh and wholesome. As healthy eating becomes increasingly important to consumers, Dale and Beverly stress that the wisest course of action is to know where and who your food is coming from.
"The farmers we deal with are very concerned about what gets put on their product and they are very truthful about it, Dale says. "They don't use harsh chemicals. In fact organic farmers buy their spray from these farms."
"They don't produce anything that they won't eat themselves," the energetic 80-year-old adds. "And I've been eating it all my life."