(View From The Couch is a weekly column that reviews what's new on Blu-ray and DVD. Ratings are on a four-star scale.)
Sean Penn, Christopher Penn and Christopher Walken in At Close Range (Photo: Twilight Time)
AT CLOSE RANGE (1986). At Close Range is one of those movies we're sad (but not surprised) to learn was based on a true story. It's such a unrelenting exercise in grimness and tragedy that not even a post-viewing marathon of 1930s screwball comedies can completely tame viewer unease. Sean Penn plays Brad Whitewood Jr., a lower-class teen living in a depressing Pennsylvania town with his brother (real-life sibling Christopher Penn), mother (Millie Perkins) and grandmother (actually the Penn boys' real-life mother, Eileen Ryan). Swaggering into Brad Jr.'s life is Brad Sr. (Christopher Walken), the father he never got to know. Dad's reputation is a dirty one, but Brad Jr. doesn't mind: He wants to spend time with his pop, and he's open to becoming a part of his team, a gang of low-life thieves operating around the area. But Brad Sr. is more — much more — than just a thief, and the depths of his depravity threaten to destroy not only his son's life but also those of Brad Jr.'s friends and especially his sweet girlfriend Terry (Mary Stuart Masterson). Director James Foley and screenwriter Nicholas Kazan expertly recreate that part of America that feels like it should exist under a rock with the clammy mud and scurrying insects, and their efforts are supported by an intense performance from Walken (even his character's hair looks like it's made from live wires). Madonna's lovely ballad "Live to Tell," co-written by the pop superstar and Patrick Leonard, serves as the film's theme song, with Leonard's haunting score taking its cues from the tune.
Blu-ray extras consist of audio commentary by Foley and film historian Nick Redman; the theatrical trailer; and an isolated track of Leonard's score.
Movie: ***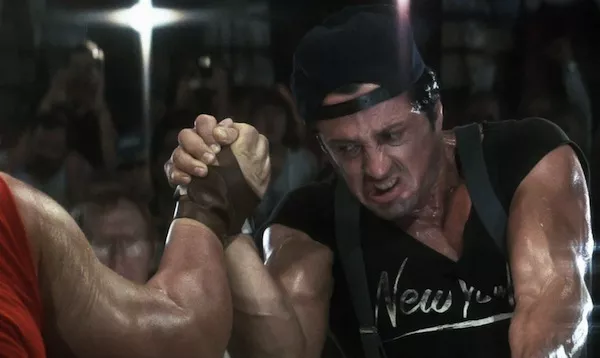 Sylvester Stallone in Over the Top, one of the films included in the set The Bombs, Babes & Blockbusters of Cannon Films (Photo: Warner)
THE BOMBS, BABES & BLOCKBUSTERS OF CANNON FILMS (1984-1994). Given that great title, this 10-movie DVD set proves to be a major disappointment. Featuring nine movies from back in the day as well as the new documentary Electric Boogaloo: The Wild, Untold Story of Cannon Films! (reviewed separately below), it quickly becomes apparent that even the title isn't exactly accurate: While Cannon sure loved the "Babes," they're all but missing from this collection, which should have been called The All-Male Action Flicks of Cannon Films. Even with that moniker, the set could still use some improvement. Cannon was defined by the 1980s (and vice versa), so including not one but two 90s-era efforts — 1991's The Hitman and 1994's Hellbound, both starring Chuck Norris — seems like a waste of space. Sylvester Stallone's 1987 Over the Top is rightfully included, but so is 1986's Cobra, which, while it did involve Cannon, was primarily a Warner Bros. production. (On a side note, I love the copy on the box back stating that Cannon made Stallone a superstar, because, you know, he was still an unknown after making Rocky in the 1970s and two Rambo pictures in the early '80s!) Norris was one of the studio's top marquee names, but so was Charles Bronson, and while Chuck N. has five films in this set (Missing in Action, Invasion U.S.A., The Delta Force and the aforementioned '90s twofer), Chuck B. has zero. At least studio discovery Jean-Claude Van Damme is repped with 1988's Bloodsport, and lovers of kitsch will be thrilled to see the inclusion of the 1987 Dolph Lundgren dud Masters of the Universe.
Average Rating of All Movies: *1/2
Lewis Fitz-Gerald, Bryan Brown, Edward Woodward and Jack Thompson in Breaker Morant (Photo: Criterion)
BREAKER MORANT (1980) / MR. JOHNSON (1990). One of the leading lights of the Australian New Wave (aka New Australian Cinema) that took place throughout the 1970s and well into the 1980s, Bruce Beresford had already made a couple of well-regarded films Down Under before breaking through internationally with Breaker Morant. Based on a true story but playing like a close cousin to Stanley Kubrick's 1957 masterpiece Paths of Glory, the picture centers on three Australian soldiers — the authoritative Harry "Breaker" Morant (Edward Woodward), the impertinent Peter Handcock (Bryan Brown) and the naïve George Witton (Lewis Fitz-Gerald) — who are charged by the British high authority for war crimes while fighting the Second Boer War in South Africa. The men are certainly guilty of most of the charges against them, so the question, pushed hard by their unexpectedly sharp defense lawyer (Jack Thompson), becomes whether they were simply following orders issued by those above them, including their British superiors. Effective as both an anti-war declaration and a compelling courtroom drama, this earned an Oscar nomination for Best Adapted Screenplay.
Maynard Eziashi and Pierce Brosnan in Mister Johnson (Photo: Criterion)
In the years following Breaker Morant, Beresford moved between major Hollywood efforts, most notably Tender Mercies and Driving Miss Daisy, and smaller pictures, among them the excellent Black Robe and the memorable Mister Johnson. The latter is set in West Africa in 1923, during a period when British colonials were still attempting to develop the land to meet their own needs ("civilized" necessities, they would insist). In essence, this is a tale of conflicting cultures as exemplified by the title character (Maynard Eziashi), a well-meaning yet crafty local whose adoration of all things English ultimately leads to tragedy. Eziashi delivers an exquisite performance, and he's ably supported by Pierce Brosnan as Harry Rudbeck, Mister Johnson's friend and employer, and Breaker Morant's Edward Woodward as the racist store owner Sargy Gollup.
Blu-ray extras on Breaker Morant include audio commentary by Beresford; interviews with Beresford, Woodward, Brown and cinematographer Donald McAlpine; the 1973 documentary The Breaker, about the real Harry "Breaker" Morant; and a piece on the Boer War. Blu-ray extras on Mister Johnson consist of interviews with Beresford, Eziashi, Brosnan and producer Michael Fitzgerald, and the theatrical trailer.
Breaker Morant: ***1/2
Mr. Johnson: ***
The Apple, as seen in the documentary Electric Boogaloo: The Wild, Untold Story of Cannon Films! (Photo: Warner & Ratpac)
ELECTRIC BOOGALOO: THE WILD, UNTOLD STORY OF CANNON FILMS! (2015). "That's sort of the Cannon way," states one of the talking heads seen in this vastly entertaining documentary. "It completely resembles something minus good taste." Indeed, that's one of the kinder things said about the maverick studio and its two guiding lights, cousins Menahem Golan and Yoram Globus. Wildly successfully as filmmakers in their native Israel, they opted to go Hollywood, and their output came to define the 1980s as much as that of any other studio. Making movies on the cheap, snagging international financing based solely on poster art, throwing gratuitous T&A into whatever films would support them, making superstars out of such wooden lumps as Chuck Norris and Jean-Claude Van Damme — it was all in a day's work for Golan and Globus, and they made plenty of enemies (and some allies) along the way. This film allows everyone to have their say, from those who loved working for the pair (such as Franco Zeffirelli, who states that making 1986's Otello under their banner was the best experience of his career) to those who hated toiling for them (basically everyone else). As he did with his previous documentary Not Quite Hollywood: The Wild, Untold Story of Ozploitation! (which made my 10 Best list for 2009), director Mark Hartley compiles ample film clips to help tell the saga, from such mega-bombs as 1980's The Apple (an unspeakably awful musical) and 1987's Over the Top (the arm-wrestling epic starring Sylvester Stallone) to such comparatively successful features like 1981's Enter the Ninja (which led to the Ninjutsu craze during that decade) and 1985's Runaway Train (which nabbed Oscar nominations for stars Jon Voight and Eric Roberts).
DVD extras consist of deleted scenes (including one regarding Cannon's attempts to make a Spider-Man movie) and theatrical trailers for nine Cannon films.
Movie: ***1/2
Adrian Grenier, Kevin Connolly and Jerry Ferrara in Entourage (Photo: Warner)
ENTOURAGE (2015). Was anybody aside from those involved really clamoring for a big-screen continuation of the long-running (2004-2011) HBO series revolving around Hollywood players Ari Gold (Jeremy Piven), Vincent Chase (Adrian Grenier), E (Kevin Connolly), Turtle (Jerry Ferrara) and Drama (Kevin Dillon)? Indeed, a stunning lack of self-awareness is the constant stream running throughout this smug, self-satisfied picture, which is saved from total disaster by some clever Hollywood-insider digs but which otherwise asks us to spend an inordinate amount of time with a group of insufferable lunkheads, the sort that most of us try to avoid in social situations. Without exception, these doofuses are ripe for a comeuppance, but whenever it looks as if someone might actually, you know, grow or at least enjoy some sort of character arc — helpful ingredients in motion pictures, so as to prevent narrative stagnation and dramatic flatlining — writer-director Doug Ellin pulls back and ends up letting boys be boys, or putting bros before hos, or whatever the manly meme this week might be. Nowhere is this more evident than in the character of Drama, a misogynistic creep prone to making declarations like, "[A relationship's] not fun. What's fun is forgetting a chick's name while you're fucking her." In a slasher flick, Drama is the type of character who would be the first to go; in a high school rom-com, he would be the only one at movie's end without a girlfriend; in a crime movie, he would be the snitch who gets garroted by Ray Liotta. Here, he's basically the glorious hero, the Indiana Jones of a-holes, the Luke Skywalker of d-bags. As agent turned studio head Ari Gold, Piven's scenes are often the best since they focus more on the business end and provide a respite from the boorish behavior of the other guys.
Blu-ray extras include a pair of making-of featurettes; deleted scenes; a gag reel; and a mock making-of piece for Vincent Chase's movie Hyde.
Movie: **
Stacey Keach in Fat City (Photo: Twilight Time)
FAT CITY (1972). Tully (Stacey Keach) is 29 yet looks look like he's about to hit 40. Regardless, he's already a has-been, a former boxer whose career inside the ring didn't exactly go as desired. But he's constantly promising himself that he'll get back in shape; in the meantime, he's happy to send a greenhorn scrapper, a kid named Ernie (Jeff Bridges), to see his former manager Ruben (Nicholas Colasanto) in the chance that Ernie can make something of himself while donning a pair of gloves. If this sounds like the stuff that underdog dreams are made of — a Rocky before its time — forget it. With Leonard Gardner adapting his own book and John Huston sitting in the director's chair, Fat City adheres closer to real life than reel life, painting a portrait of a downtrodden existence not only among the have-nots but among the never-will-haves. Set in Stockton, California, the picture follows Tully as he seeks to make ends meet (breaking his back picking walnuts is nice work when he can get it), all while talking about his comeback. It'll never happen, scoffs his perpetually soused friend/lover/roommate/bar buddy Oma (Susan Tyrrell), a declaration that only serves to irk him. Meanwhile, Ernie is also giving a go of it, although he's distracted by his girlfriend Faye (Candy Clark), who just might be carrying his child. Tyrrell earned a Best Supporting Actress Oscar nomination as the easily agitated Oma, but I was most impressed by the performance from Colasanto. Still to achieve his greatest fame as "Coach" on TV's Cheers, he's remarkable as Ruben, the gruff yet surprisingly empathic manager who bends over backwards in an effort to accommodate others.
Blu-ray extras consist of audio commentary by film historians Lem Dobbs and Nick Redman; the theatrical trailer; and an isolated score track.
Movie: ***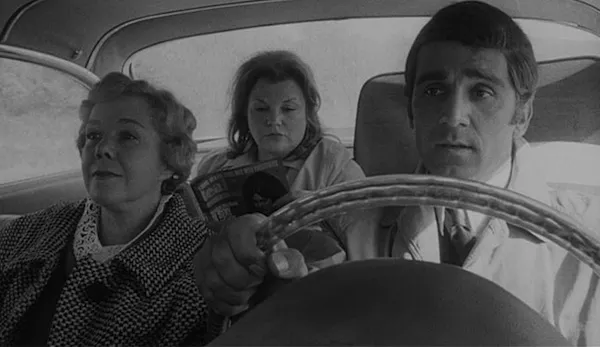 Mary Jane Higby, Shirley Stoler and Tony Lo Bianco in The Honeymoon Killers (Photo: Criterion)
THE HONEYMOON KILLERS (1969). The reputation of this intriguing cult item far exceeds the Trivial Pursuit tidbits that it was a personal favorite of François Truffaut and that Martin Scorsese was the original director until he was fired 10 days into production. The movie's writer, Leonard Kastle, ended up taking control of the production (after a second director, Donald Volkman, was also let go), and it proved to be his only big-screen credit in either capacity (he passed away in 2011). Kastle's minimalist approach is largely what earned the film instant notoriety — rather than wallow in sensationalism (an easy route, given the sordidness of this based-on-fact story), he shoots it straight, with the same sort of chilled reserve later seen in such offerings as 1990's Henry ... Portrait of a Serial Killer and 1992's Man Bites Dog. As Ray Fernandez, a con man who woos lonely women out of their money, and Martha Beck, a 220-pound nurse who hooks up with Ray and helps him kill the ladies who don't "cooperate," Tony Lo Bianco and Shirley Stoler are frighteningly believable, and the film's murder set-pieces remain as startling as ever.
Blu-ray extras consist of new interviews with Lo Bianco, co-star Marilyn Chris (who plays Myrtle Young, one of the couple's marks) and editor Stan Warnow; a 2003 interview with Kastle; an excellent video essay by author Scott Christianson (Condemned: Inside the Sing Sing Death House) that relates the true-life tale; and the theatrical trailer.
Movie: ***
Dick Powell in Murder, My Sweet (Photo: Warner)
MURDER, MY SWEET (1944). This adaptation of Raymond Chandler's Farewell, My Lovely was one of the five seminal movies included in Volume 1 of Warner's Film Noir Classic Collection DVD series, and now it's finally made the leap to Blu-ray courtesy of the studio's Archive Collection division. Dick Powell, heretofore known as a jovial hoofer in splashy musicals, pulled off a complete career about-face with his concrete-tough performance as private detective Philip Marlowe (the same gumshoe played by Humphrey Bogart two years later in The Big Sleep). Into Marlowe's office walks the hulking Moose Malloy (Mike Mazurki), who demands that the P.I. locate his long-missing girlfriend, a nightclub employee named Velma Valento. Marlowe takes the case, which is immediately followed by another assignment that involves an icy blonde (Claire Trevor), her seemingly innocent stepdaughter (Anne Shirley) and a missing necklace. Sure enough, both cases will eventually intersect, but not before director Edward Dmytryk employs the genre's requisite shadows to spellbinding effect and scripter John Paxton treats us to some savory snatches of dialogue in the best noir tradition. "You'd slit your own throat for six bits plus tax" has always been a particular favorite, though not to be outdone is Marlowe's description of a broken-down alcoholic (Esther Howard): "She was a middle-aged lady with a face like a bucket of mud... She was a gal who'd take a drink, even if she had to knock you down to get the bottle."
Blu-ray extras consist of audio commentary by film noir specialist Alan Silver and the theatrical trailer.
Movie: ***1/2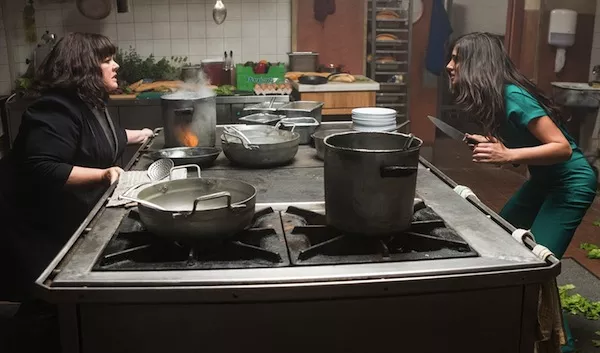 Melissa McCarthy and Nargis Fakhri in Spy (Photo: Fox)
SPY (2015). Here's the extraordinary thing about this summer hit from writer-director Paul Feig: It somehow manages to feel like both a star vehicle and an ensemble piece even though those classifications generally belong on opposite ends of the spectrum. At its center is Melissa McCarthy — she's cast as Susan Cooper, a CIA agent who's content confined to desk duty, serving as the miked-up voice in the ear of agent extraordinaire Bradley Fine (Jude Law). But when Fine is put out of commission by a femme fatale named Rayna Boyanov (Rose Byrne), Susan volunteers to go out into the field. Her boss (Allison Janney) informs her that she's only to observe and report, but Susan instead finds herself immersed in deep-cover espionage, mixing it up with Rayna while also contending with Rick Ford (Jason Statham), a rogue CIA agent who firmly believes that Susan will hopelessly screw up the mission. The plot is fairly standard spy-spoof material, but Feig has taken great care to provide his star with an arsenal of comedic opportunities. McCarthy never once lets him down: Her Susan Cooper is wholly sympathetic, but that vulnerability (rarely seen in the actress' roles before) never interferes with her ability to deliver precision-timed laughs. Without fail, all of the performers beautifully play off McCarthy and her often hapless, often heroic character, particularly Byrne, who's wonderful as a cool crime queen both amused and annoyed by Susan's shenanigans, and Statham, absolutely hysterical as a macho agent more skilled in braggadocio than in anything else.
The Blu-ray contains both the R-rated theatrical version and an unrated cut that runs approximately 10 minutes longer. Extras include audio commentary by Feig and other crew members; eight behind-the-scenes featurettes; deleted and alternate scenes; pieces on the various characters; and two gag reels.
Movie: ***1/2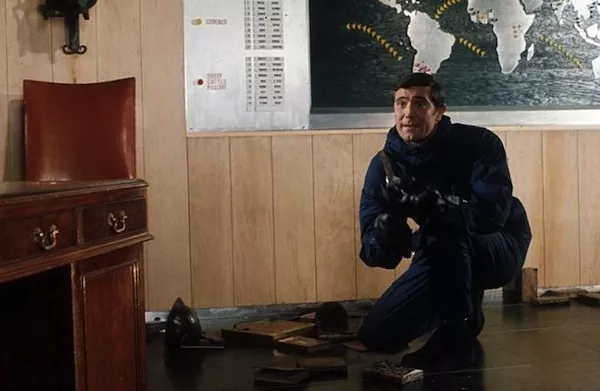 George Lazenby as Agent 007 in On Her Majesty's Secret Service, one of the films included in The Ultimate James Bond Collection (Photo: MGM & Fox)
THE ULTIMATE JAMES BOND COLLECTION (1962-2012). Back in September 2012, on the eve of the theatrical release of Skyfall, MGM and Fox released Bond 50, a superb box set containing all previous 22 films in the official 007 oeuvre as well as a placeholder for Skyfall. Now, on the eve of the theatrical release of SPECTRE, the outfits have seen fit to release another comprehensive box set, this one including Skyfall and with a placeholder for SPECTRE. This is basically the same set as before, although there is a new disc which includes the double-oh documentary Everything or Nothing as well as a pocket edition of the excellent book James Bond: 50 Years of Movie Posters. All titles will also be available individually, and nine will be presented in limited edition steelbooks: Daniel Craig's trio of titles (Casino Royale, Quantum of Solace, Skyfall) and six movies featuring SPECTRE (From Russia with Love, Thunderball, You Only Live Twice, On Her Majesty's Secret Service, Diamonds Are Forever, For Your Eyes Only). The cover artwork for these nine steelbooks are all inspired by each respective film's opening title sequence.
As for the films themselves? Back in 2013, upon the release of Skyfall on Blu-ray and DVD, I wrote a piece ranking all 25 films (including the two non-series flicks) and also penned a sidebar crammed with all manner of Bond-related lists. You can find the 25 ranked here and the sidebar lists here.
Collection: ****