Blame it on Dawson's Creek. Before that iconic teen TV series of the late '90s and early 2000s snuck songs by ultra-cool artists like Anna Waronker, Tanya Donally and the Wedding Present onto its soundtracks, fans of so-called alternative rock had to listen to hip college radio or MTV's 120 Minutes, or read underground music magazines, or surf the fledgling internet for interesting new sounds.
Dawson's Creek was a game-changer, and after its success, every TV series looking for youth appeal began hiring Hollywood's hippest music supervisors to stack their soundtracks with obscure — or obscure-sounding — music.
"We had songs on Road Rules, The Real World...," Alex Stewart, the 32-year-old singer and guitarist for the Charlotte band Artist Vice, begins. He's speaking about his previous bands Hot Vegas and The Air Station, both fronted by singer Andrew Palmer and also including Stewart's current band mates, bassist Joshua Geddings, 34, and drummer Austin Eller, 32.
"... and Teen Mom, and Keeping up with the Kardashians," Eller interjects. "And the latest was I Am Cait on the E Channel."
The three musicians are sitting around a table at Heist Brewery in NoDa, nursing beers and talking about their earlier bands as well as Artist Vice, their new trio without Palmer. Fronted by Stewart, whose high, delicate vocal delivery gives the band its distinctive ethereal vibe, Artist Vice will unveil its debut EP, Jot It Down Get It Out, during an album-release show at the Evening Muse on Saturday, January 6.
Artist Vice is your quintessential alt-rock band of the current millennium. Drawing inspiration from later-period alternative-rock acts like the Killers, Muse, Jimmy Eat World and Foo Fighters, the trio is a far cry from such late-'80s and early-'90s outfits as the Pixies, Breeders, Nirvana or even Green Day — bands that ushered punk-inspired rock into the mainstream and became known as "alternatives" to then-mainstream acts like Motley Crue and Guns 'N Roses.
Eller, Geddings and Stewart love their eyewear. (Photo by Lynsey Teague)
The biggest difference between bands that call themselves "alternative rock" today and those that gave the music its "alternative" tag is perspective. For example, you wouldn't have caught an early alternative rock band describing itself as "a stadium-ready alt-rock trio." The description itself would have been a contradiction in terms. And yet that's exactly how Artist Vice describes itself on its Bandcamp page.
But times have changed. In the pre-streaming years, language that would have come off sounding like a "sell-out" just means today that the musicians would like to get paid rather than have to pay to play.
"This past year we've been playing all these open mics," Stewart says. "I mean, we're paying to play, and that sucks. We feel like we're ready for more than that."
"We've put in hundreds and hundreds of shows touring with our previous bands," Geddings adds. "We've toured from Miami to Kansas to Canada."
"And every time we've played an open mic in the past year, we get such a great response," Stewart continues. "People are like, 'Whoa! That sounds so much bigger than what you'd expect from a trio at an open mic.' So we're like, yeah, we have a big, sort of epic sound. We're ready for a stadium."
Besides, adds Eller, "Why limit your dreams to little clubs?"
Artist Vice's big sound actually sounds better than most of the bands they cite as influences. The power-pop punch of the new EP's opening song, "First Impressions," and the swirling, dream-pop melody, quirky whistling and vaguely "Be My Baby"-esque drum part on "Cleared for Landing" make for a strong, one-two punch of sweet, seductive pop-rock. Not all of the tracks on the Jot It Down Get It Out are as strong as those two, but there's potential in Artist Vice's music that feels ready to be tapped and served up to audiences small or large.
"Sonically, my favorite song on the EP is 'Cleared for Landing,'" Stewart says. "It just came together really easily, and then once I brought it to Josh, he had this great bass line for it."
"And that whistle is very catchy, too," Eller adds.
Geddings prefers "First Impressions," he says, for of its message. "It's about community. It's about getting along with people no matter what your race or your religion or your views are," he says. "That one really strikes a note for me."
He and Eller first met Stewart in 2003, when Stewart came to see Hot Vegas play at Tremont Music Hall. The guitarist had just arrived from Satellite Beach, Florida, to run track and field at the University of North Carolina at Charlotte, where he majored in religious studies. Geddings, originally from Taylorsville, and Eller, from North Wilkesboro, had recently joined up with Palmer, who not only fronted Hot Vegas, but also wrote all of the band's material.
"It was really his band," Geddings says.
From 2003 to 2006, Hot Vegas released three albums — The Reverse Forward, This One's For Desire and Migration — before calling it quits in 2007. Three years later, Palmer brought the band members back together again for a final hurrah as The Air Station, which released The Human Condition, produced by James Paul Wisner (Dashboard Confessional, Paramore), in 2010.
In addition to the TV shows Stewart and Eller had mentioned earlier, Hot Vegas' songs also made their way onto the soundtracks of MTV's Cheyenne and the Oxygen Channel's Bad Girls Club. But while the exposure those shows offered was nice, the band members didn't see much payoff.
"Most of it went to Andrew, because he had most of the creative control. He basically reinvested the money into the band," Stewart says. "And that made sense. It was fair. He definitely had more of the pie than any of us." Stewart laughs. "I was just like, 'Hey, look — we're on MTV!'"
He gets serious again. "But we're super proud of what we did with those bands," Stewart says.
Although Geddings, Eller and Stewart eventually decided to move on from Hot Vegas and The Air Station, they still have a good relationship with their former band leader Palmer. "He's a great friend," says Eller.
And the feeling is mutual. "I bought a copy of the [Artist Vice] EP," Palmer says by email. "I think it is pretty cool." Palmer says he enjoyed working with Stewart in his previous bands. "I always liked what he brought to the table," he says. "I have a lot of respect for him as a musician, and more importantly as a person."
Eller, left, and Stewart, next to him, in The Air Station. Singer Andrew Palmer is second from right.
Geddings, Eller and Stewart had never thought about reforming as a trio without Palmer, but a chance meeting at a concert in late 2015 brought them back together again. Geddings had moved to Florida after he left The Air Station, but eventually came back and decided to go check out an Incubus concert. He was driving into the massive lots at the PNC Music Pavilion when he looked into the car next to him.
"I pulled in and there was Alex — right beside me," Geddings remembers. "Out of all the thousands of cars there, he ended up parking right next to me. So we hung out all that night and I said, 'Hey, you want to go to the Panthers game?"
Stewart said yes and brought Eller along with him. The two had been messing around a little on some music, but nothing serious. "So we just started spitballing ideas," Stewart says. "Since we'd all played music together before, Austin and I were like, 'Hey Josh, we have this song — why don't you play it with us?' It just kind of clicked from there."
The three started rehearsing, writing songs and eventually went into Bomb House Recording Studio in Morganton with the idea of stripping everything back down to the basics — no big-name producers, no fancy production tricks. They decided to produce the EP themselves.
"You know, there are producers like Steve Albini [Big Black, Pixies, Nirvana], who just go into the studio, turn the equipment on and let the band do their thing," Stewart says. "And then there are producers who basically change your songs. We wanted to just produce this one by ourselves."
"We knew what we wanted to do, so why have someone else do it?" Eller adds.
Now that the EP is done, the three are looking forward to unleashing it on local fans at the Muse. And they'll be bringing along a friend, the Nashville-based singer-songwriter and former Charlotte resident Laura Rabell, to open the show.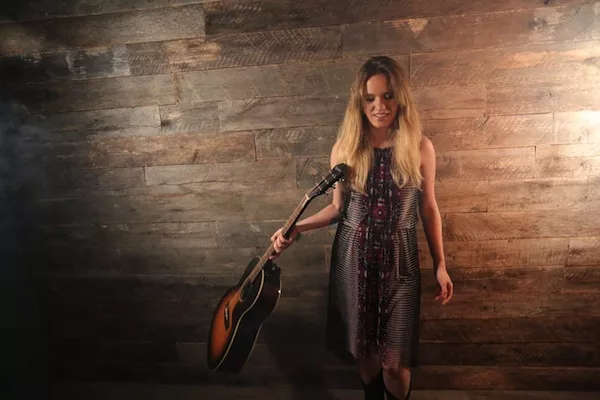 "Laura's a longtime friend of my wife," Stewart says. "She even sang at our wedding. She's incredibly talented. So when we were lining up this show, we were like, 'Hey, come play with us.' She does this country-Americana, singer-songwriter-type stuff, so you'll get a real variety of music at this show."
Rabell was thrilled to be invited back to her old stomping grounds. "It has been a joy for [Alex and I] to watch each other evolve musically over the years, and I have never seem him more confident and passionate than when recording and performing with Artist Vice," Rebell says. "I'm honored that they have included me and my band to join the bill."
The experience might be a little like watching an episode of Dawson's Creek — a little Americana for the pensive scenes followed by juiced-up alt-rock for the dramatic crecendo and grand finale.