At a basketball game in February 1969 in Columbia, South Carolina, now-legendary University of North Carolina coach Dean Smith lost his cool completely.
It had been a tight game, but Smith could handle that. It was the racial abuse from the crowd that he couldn't take. They'd been cursing and shouting the n-word the whole game, and Smith was stressed. He was about to take a smoke break when a South Carolinian shouted that Charlie Scott, the only black player on the team, was a "baboon." It drove Smith over the edge and the coach charged into the stands, almost making it to the ignorant fan. It took five people to hold him back.
"How do you razz a white guy?" Art Chansky asks rhetorically. "There's nothing you can say to him. You wear glasses? You're fat? You can't jump?"
There's nothing on the same level he can think of, not compared to what Scott experienced as UNC's first black scholarship athlete in the '60s. In his latest book, Game Changers: Dean Smith, Charlie Scott, and the Era That Transformed a Southern College Town, Chansky takes a closer look at those years for Scott, Smith and Chapel Hill itself. Chansky has been writing about UNC basketball since the early '80s, but this is his first book that's more related to social history than sports. On Oct. 19, the author appears at Park Road Books in support of Game Changers.
With all the myths and legends that have since grown around the people involved, Chansky wanted to get at the real complexity of this rocky period: integration wasn't coming easily to Chapel Hill, Scott had an impressive college career but was painfully lonely on campus and Smith's future at UNC wasn't even guaranteed.
"Mainly I think the story, hopefully dispels several myths about the whole situation," Chansky says. "One was that Chapel Hill was always this liberal bastion. It really wasn't. It's not even as liberal as people think it is right now."
Though there was a liberal faculty, Chansky explains, sitting in a coffee shop just south of Chapel Hill, the town itself was fairly conservative and segregated. There was less overt violence — if there were lynchings, Chansky's not aware of them — but rather a racist status quo. Segregationists didn't go around boasting about segregation, he continues, but instead gathered in traditionally white conservative groups like the Jaycees.
Hugh Morton
Rusty Clark, Charlie Scott and Dean Smith.
"One myth is that Dean Smith integrated restaurants in Chapel Hill, which that's the big story about him, and that's not true at all," Chansky says. "He went (to The Pines restaurant) in '59 with a black theology student and Leroy and Agnes Merritt fed him because they didn't want to lose the business of the basketball team, but they never served another black person for five years."
What Smith did, however, was integrate the basketball program. He was continuing family tradition: his father, Alfred Smith, coached the first integrated basketball team in Kansas in 1934. He brought a sense of fairness and equality with him when he came to Chapel Hill for an assistant coaching position in 1958. Smith knew exactly what he needed to open the door for minority players: he needed Carolina basketball's first black scholarship athlete to be a superstar. The idea wasn't to tentatively tap away at the color barrier, but to bulldoze right through it.
Scott was that player. He was brilliant, resilient and a spectacular player. Chansky remembers watching Scott play: he was simply a superior athlete. "It became a phenomenon in the ACC where he would play way above the rim, and they had all these white guys who couldn't even jump," he says.
Scott led the Carolina team to two Final Four appearances, yet he was lonely at UNC. Out of the university's 13,000 students, Chansky says, only about 50 were African American. Even as a star ball player, he felt isolated on the overwhelmingly white campus. Most of his free time he spent at historically black college North Carolina Central University with his small group of friends.
Hugh Morton
The team poses with the 1968 NCAA Regional Trophy.
"Charlie has days he's proud of it and other days he's angry," Chansky says. Scott opened the gates for other black athletes to come to Carolina, but it was an isolating and exposed position.
"I can't even pretend to put myself in anybody else's shoes and know what that feels like," Chansky says.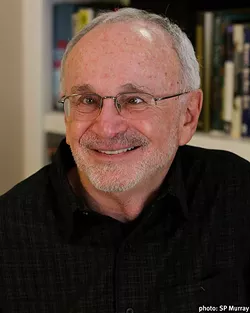 As I spoke with Chansky about 1960s Chapel Hill — and how much work there is to be done in terms of race and civil rights — a thread emerged: 2016 isn't the first time North Carolina lawmakers have dug in their heels and fought social progress. In the '60s, the Speaker Ban Law prohibited appearances by "known Communists" at the college (until 1968, when the bill was deemed unconstitutional and struck down). "The speaker ban was all about free speech and [House Bill 2] is all about social rights," Chansky says. "They were very similar in the fact that they were both rushed through the legislature in the darkness of the night."
Because of HB2, the ACC is pulling neutral site games from North Carolina, including an ACC football championship game that would have been held in Charlotte in December. On a personal level, Chansky had tickets to see Bruce Springsteen earlier this year: he respects the Boss for pulling his date, but laments that he didn't get to see him play.
Chansky doesn't get it — he simply doesn't understand what North Carolina lawmakers are trying to accomplish with HB2, and it doesn't gel, in his mind, with the hard work of Dean Smith or the civil rights activists he wrote about in Game Changers.
"The speaker ban was around for five years," Chanksy says. "Who the hell knows how long HB2 will be around and how many things we'll lose?"