When April A. Jones walked off stage after a spectacular performance in March of 2016 as Penny in Actor's Theatre of Charlotte's production of Father Comes Home from the Wars, she was feeling a little off kilter.
"I'd been feeling off for about a week, and I went to the doctor and told him I didn't feel right," Jones remembers. "And then on March 10, after the show, I felt really weird and asked one of the actors to take me to the hospital."
Jones had suffered a debilitating hemorrhagic stroke.
"That's the last thing I remember for a month," she says today. "So that's what I've been dealing with for the past two years."
Jones, as Penny, cradles Jonavan Adams, as Hero, in 'Father Comes Home from the Wars.' John Price, at left, plays the Oldest Old Man. (George Hendricks Photography)
On March 8, Jones returns to Actor's Theatre to direct playwright Katori Hall's 2009 piece The Mountaintop, a two-actor play set in the Lorraine Motel in Memphis, featuring Dr. Martin Luther King, Jr., and a hotel worker talking together on the night before King's assassination in April of 1968. King had just delivered his fiery "Mountaintop" speech, and the two characters' discussion in the play shows the late civil rights leader's humanity.
Jones, 55, grew up in an iconic North Carolina African-American family steeped in important civil rights activity. Her mother was a pediatrician — the only black female intern at Charlotte Memorial Hospital (now Carolinas Medical Center) when April was a little girl. Her grandfather, John Jacob Hannibal III, was a general practitioner in Kinston, where her grandmother, Alice, was instrumental in desegregating the schools. Today, a building in Kinston is named for Alice Hannibal, who in 1959 became the city's first African-American and first female council member.
Jones has traveled back and forth between Buffalo, New York, where she was born, and Charlotte, where she has deep roots, for most of her life. She's back in Buffalo now, but returns to the Queen City for this special production.
We sat down with Jones to talk with her about her recovery from the stroke, the plague of gun violence in America, and why The Mountaintop still matters.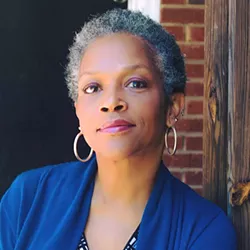 Creative Loafing: Where did you study theater?
April Jones: I graduated from North Carolina Central University in 1989 with a theater degree and got my MFA from Virginia Commonwealth University. Actually, I spent my freshman year at Spelman in Atlanta, but I couldn't afford to go back, because it's pretty expensive. You know, Spelman is a historically black college for African-American women and is the sister school to Morehouse, which is the men's college where Martin Luther King went to school. [laughs] See what I did there?
Yes [laughs], you just connected it with your current play. So let's talk about that play. The Mountaintop was written in 2009. What makes this story resonate for today's audiences?
Gun violence. Martin Luther King was killed by a gun. Bobby Kennedy was killed by a gun. John Kennedy was killed by a gun. Malcolm X was killed by a gun. So this play just seems to be holding up a mirror to society in terms of how many lives have been lost to gun violence, even before these current events. This happened 50 years ago! It's hard for me to wrap my mind around the fact that we haven't done anything about it and it's even more prevalent now because guns seem to be easier to get. It's easier to get a gun now than it is to get a driver's license.
The play features King and a motel worker talking together just after he'd delivered his famous "Mountaintop" speech on the night before his assassination. What does the play say about King that hasn't been said in other literary or theatrical works?
It's about his humanity. You know, there were rumors about King being a philanderer, and I don't know if those rumors were ever verified. But it doesn't matter to the legacy of the man. And that's one of the things I realize about any public figure that we put on pedestals. They are only human; they have feet of clay. So we have to be careful about elevating public figures or anybody who does great work to the status of being godlike, because once they are revealed to be only human, it shouldn't take away from the great work they did.
It's like when I found out about Bill Clinton — when that whole Monica Lewinsky thing came out — I was like, 'Well I hope it's not true, but if it is true, does it take away from the good work he's done?' And for me, it didn't.
As a child, I put my parents on a pedestal and thought they could do no wrong, and then when I started seeing cracks in the veneer, their imperfections, I was disappointed. But then I realized they were only human and it wasn't fair for me to have higher expectations of them than I had for other people. They had weaknesses and strengths, just like everybody else. Once I could look at my parents through a different lens, I could appreciate them more.
Gerald Hazelton plays King.
So do these characters talk about those issues — of humanity, of human weaknesses and strengths?
Yes. And that's the thing about this play — it makes you think of King as a man. He smokes, he drinks, he drops an F-bomb or two. We see him through a lens of being a man, not the guy who did the "I Have a Dream" speech or "The Mountaintop" speech that he gave the night before his assassination, but just a man, with all the conflicts and struggles that entails, you know.
He was concerned about his family, he was concerned about the time he spent away from his children. He was concerned about missing birthdays and anniversaries. He was concerned about the people who were caught up in the struggle and the people who died in the struggle. He was concerned about the black man in America, he was concerned about the war in Vietnam. He was concerned about the sanitation workers' rights.
And these were things he was struggling with, because a lot of his aides — like Andy Young and Jesse Jackson and Ralph Albernathy and a lot of the other guys around him at the time — there was some concern about him splitting the movement and trying to deal with too many issues. But he had the attitude that we have to attack this stuff from all sides. [pauses]
He was actually concerned about gay rights, too.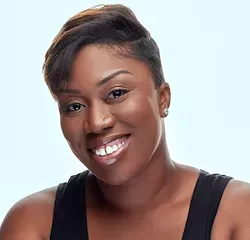 Erica Truesdale plays maid Camae.
Really? I didn't know that. How does that come up in the play?
There's a line when the maid he's talking to says, 'Oh, you rooting for the fruits?' And his response is, 'Yes. [pauses] And don't call them that. Don't say that. Don't refer to them in that way. Don't use that kind of language.' I'm paraphrasing, of course, but that's the gist of it.
You've been involved in the Charlotte theater scene for years. You directed Fuddy Meers for Actor's Theater in the early 2000s, wrote and directed 'Twas the Night Before for Children's Theater, and played Penny in Father Comes Home from the Wars. What's life been like for you since the stroke?
I've been back on stage with Storefront Theatre in Waxhaw. I've been participating in the cold reads run by the fabulous George Grey over there. So I've been back on stage, but as a reader, because you know, Storefront Theatre is script-in-hand, reading stuff. Judy Simpson Cook was gracious enough to ask me to participate in that about a year ago. But The Mountaintop is the first time I've directed since the stroke. So this is a really big deal for me.
It's a big deal for us, too. Thanks for talking to me, April. And tell me: What, more than anything else, do you hope people take away from this production?
Well, one of the many things I hope people will take away from the story is: Be careful of elevating people to godlike status, because if you do that, they're going to disappoint you every time. Accept them for the good they do as human beings.