(View From The Couch is a weekly column that reviews what's new on Blu-ray and DVD. Ratings are on a four-star scale.)
Jamie Foxx and Quvenzhané Wallis in Annie (Photo: Sony)
ANNIE (2014). I'm used to receiving angry e-mails from readers, but my very own hate page on 4chan? As I posted on Facebook back in January, "Naturally, it's all about my Annie review, and how my comments about racism make me a 'fucking retard faggot,' a 'liberal retard,' 'pathetic and weak' and a 'traitor' to my own race. Somehow, the thread eventually goes off on tangents about how the Germans were the real victims of WWII and there was no Holocaust, and how Jesus was white and the casting in Exodus: Gods and Kings was actually color-accurate. Then it gets back to calling me a 'retard' and saying nasty things about blacks, culminating in 'Just a reminder all n*****s and race traitors should die. Anyone with a brain knows this is true. Deal with it, you pathetic cunts.' Yup, 4chan is pretty much the gathering of open-mouth breathers everyone had been saying!" Yet here's what the bigots refuse to acknowledge about Annie, the little orphan girl created for the comics by Harold Gray and later brought to stage, screen and television: She's never been defined by her race but her class. A child of the Great Depression, she found herself enjoying the good life once she crossed paths with the filthy rich Daddy Warbucks. It's her social standing that's always driven the story, not the color of her skin, which is why it was downright depressing to find so many people outraged that a black moppet had been cast in the part. Of course, the United States of Racism came to full fruition in 2014, so it's hardly surprising that such vitriol was directed at a family film starring a talented 11-year-old (Quvenzhané Wallis) who — gasp! — doesn't sport red hair. (Hey, past Annies of the Caucasian persuasion didn't sport blank zombie eyes like in the comic, but the yahoos were strangely silent about that.) At any rate, this modest box office hit is far better than its questionably motivated reputation. It's frequently awkward, suffers from some pedestrian choreography and wears its heart perhaps a bit too openly on its sleeve. But it's also charming, well-acted (with the occasional exception of poor Cameron Diaz, trapped in the difficult role of Miss Hannigan) and, most surprisingly, quite funny. As the modern-day Warbucks, Jamie Foxx is a delight, and the film works overtime in presenting clever topical twists on the stage show's clichés. If nothing else, this Annie is infinitely better than John Huston's 1982 turkey, that grotesquerie starring Albert Finney and Carol Burnett.
Blu-ray extras include audio commentary by director Will Gluck; a making-of featurette; a trivia track; the deleted song "Something Was Missing"; and bloopers.
Movie: ***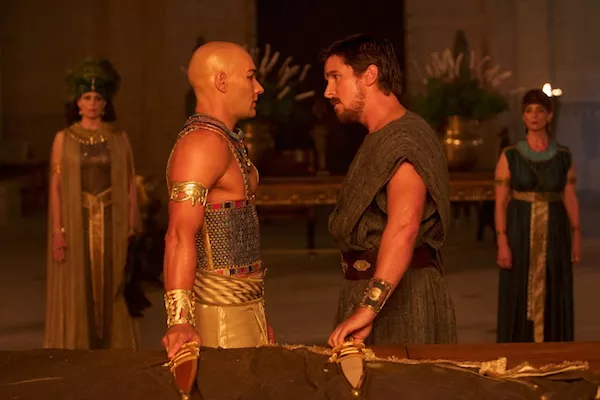 Joel Edgerton and Christian Bale in Exodus: Gods and Kings (Photo: Fox)
EXODUS: GODS AND KINGS (2014). First, let's get the controversy out of the way. Much was made of director Ridley Scott's decision to hire an all-white cast for the central roles, stating in an interview that "I can't mount a film of this budget ... and say that my lead actor is Muhammad so-and-so from such-and-such." I concede that he's probably right about casting a "lead actor" (although I'd hate to have seen his version of Slumdog Millionaire, with Orlando Bloom as the title character), and a star of Christian Bale's caliber probably was needed to sell this picture. But did every key role need to be cast in such a manner, even smaller parts filled by the likes of Sigourney Weaver and Breaking Bad's Aaron Paul? (And is it just me or is the corrupt Viceroy Hegep, played by Ben Mendelsohn, made up to look exactly like John Boehner, right down to the sickly orange skin?) I suppose the criticism would dissipate more rapidly if the performances were accomplished enough to draw us completely into the story — after all, last spring's Noah was scarcely more sensitive in its color-coordinated casting. Yet unlike that Darren Aronofsky effort, wherein the actors gave believable, committed performances, this one is hampered by wretched casting in virtually every role. Bale labors mightily, but he never captures Moses in the feverish manner that Russell Crowe essayed Noah or Charlton Heston portrayed Moses in the '56 model — he's less Moses the servant of God and more Moses the first action hero. Joel Edgerton is likewise ineffectual as Ramses — wearing enough black eyeliner to suggest he partly based his character on Meeko the raccoon from Pocahontas, he cuts far too contemporary a figure to ever blend into the period. And then there's that most Brooklynese of thespians, John Turturro, cast as the pharaoh Seti. Turturro's generally an exemplary actor, but his turn here is only slightly less embarrassing than when he exposed his bare buttocks in one of those abysmal Transformers sequels. A gazillion dollars worth of CGI is also tossed into the mix, but the results surprisingly run hot-and-cold, with the Red Sea interlude especially failing to convince. At least the set design is impressive. Much of the film takes place in Memphis, Egypt, and given the ineptitude on display in other facets of the production, I half-expected a scene in which Moses parted the gates of Graceland.
Blu-ray extras include audio commentary by Scott; a making-of featurette; and deleted scenes.
Movie: *1/2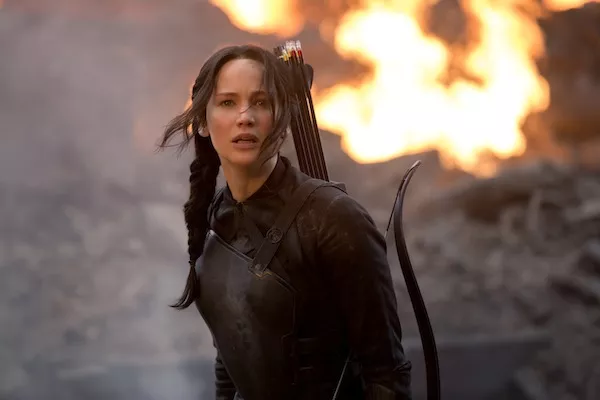 Jennifer Lawrence in The Hunger Games: Mockingjay — Part 1 (Photo: Lionsgate)
THE HUNGER GAMES: MOCKINGJAY — PART 1 (2014). Until Clint Eastwood's The Passion of the Sniper surpassed it just last week, this adaptation of the first half of the final book in Suzanne Collins' The Hunger Games series was the top moneymaker of 2014. The final novel in the Harry Potter series was split into two pictures, and while Harry Potter and the Deathly Hallows: Part I was enjoyable, it still felt like a case of too much narrative padding, with most of the highlights reserved for Part 2. That, in a nutshell, is also what happens with Mockingjay — Part 1. The film is certainly a success, and no fan would dream of missing it. But there's an unavoidable sensation of treading water, of biding time until the main attraction, Mockingjay — Part 2, hits theaters later this year (Nov. 20, to be exact). Mockingjay 1 ends so abruptly — and without much dramatic charge — that the overall feeling isn't excitement or anticipation; it's entitlement, a sense that the filmmakers owe it to the audience to wrap up this story in damn fine fashion. Yet for all its stop-and-start pacing, there's still plenty worth catching, beginning with the lead performance by Jennifer Lawrence. She once again excels as Katniss Everdeen, who, as we saw at the end of Catching Fire, has been plucked by members of the rebellion to lead their uprising against President Snow (Donald Sutherland) and his fascistic government. Any film that decreases screen time for Woody Harrelson (as boozy Haymitch Abernathy) and increases it for Liam Hemsworth (as heroic Gale Hawthorne) is tempting fate — and critics — but for the sake of the narrative, these modulations make sense, as Katniss suffers from post-traumatic stress disorder and needs her best buddy/semi-boyfriend frequently on hand to calm her down. Still, as with the previous pictures, the proceedings receive a charge whenever Harrelson, Elizabeth Banks or Stanley Tucci pop up — more so, in fact, since this is the most somber of the three movies and can afford to be broken up by their characters' humorous interludes. As for that sudden-death overtime of an ending, it's sure to leave many viewers grumbling. But fret not: We only have to wait a few more months to see if this franchise rescues itself from overhyped expectations and wraps up in high-flying fashion.
Blu-ray extras include audio commentary by director Francis Lawrence and producer Nina Jacobson; a making-of featurette; deleted scenes; a tribute to co-star Philip Seymour Hoffman; and the music video for Lorde's "Yellow Flicker Beat."
Movie: ***
Bill Macy, Bea Arthur, Rue McClanahan and Adrienne Barbeau in Maude (Photo: Shout! Factory)
MAUDE: THE COMPLETE SERIES (1972-1978). No other television sitcom led to as many spin-offs and spin-offs of spin-offs as the immortal All in the Family, still the greatest comedy to ever rule the prime time airwaves. Itself based on the British show Till Death Us Do Part, All in the Family led (directly or indirectly) to the creation of 10 other series, the most popular being the long-running The Jeffersons. Also among the successful spin-offs was Maude, featuring a character who was instantly so popular trading insults with Archie Bunker that she was soon given her own series to rule. As wonderfully played by Bea Arthur, Maude is an outspoken feminist and raging liberal married to the comparatively low-key Walter (Bill Macy) and sharing her household with her grown — and divorced — daughter Carol (Adrienne Barbeau) and Carol's young son Phillip (Brian Morrison, then Kraig Metzinger for the final season). With no Archie Bunker around, Maude was given a conservative neighbor in the form of Arthur Harmon (Conrad Bain, who immediately followed this show by playing the dad on the hugely successful Diff'rent Strokes), a widower who would eventually wed Maude's friend Vivian (played by Arthur's future The Golden Girls co-star, Rue McClanahan). Also trading wisecracks with Maude was her housekeeper Florida (Esther Rolle), a character who, like Maude on All in the Family, proved to be so popular that she soon landed in her own hit sitcom, Good Times. In the manner of the smartest of the '70s comedies, Maude tackled serious issues amidst all the laughs, with alcoholism, sexism, suicide and, most daringly, abortion among the hot-button issues. The show ran for six seasons, placing in the Nielsen Top 10 for its first four, and it was noteworthy enough to attract movie stars such as John Wayne and Henry Fonda (both playing themselves). Michael Keaton, Bernadette Peters, Jill Clayburgh and Teri Garr would make early-career appearances in guest roles, as would a whole roster of performers later to appear in their own various hit series, among them Tom Bosley, Dick Van Patten, Tim Reid, John Hillerman and, as a door-to-door salesman in the very first episode, Ed Begley Jr.
DVD extras include the two All in the Family episodes featuring Maude; two unaired episodes of Maude; the featurette "And Then There's Maude: Television's First Feminist"; and new interviews with Macy and Barbeau. The set also includes a 40-page booklet containing an essay by TV critic Tom Shales as well as synopses for all 141 episodes.
Movie: ***1/2
Cedric the Entertainer and Chris Rock in Top Five (Photo: Paramount)
TOP FIVE (2014). Top five thoughts that crossed my mind as I watched Top Five, written by, directed by and starring Chris Rock. 1) The careers of Rock and Richard Pryor are similar in that both were brilliant stand-up comedians never quite able to translate that success into Hollywood pictures, many of which were nose-pinching atrocities like Pryor's The Toy and Rock's Grown Ups twofer with pal Adam Sandler. And like Pryor with the underrated Jo Jo Dancer, Your Life Is Calling, Rock now lays it all on the line with Top Five, drawing upon personal experience to fashion the tale of Andre Allen, a popular comedian who's tired of headlining fluff and has aspirations to make more serious pictures. 2) When Top Five is funny, it's very funny — there are choice bits that alone are worth the price of admission. A lengthy hotel-room sequence features Cedric the Entertainer as you've never seen him before — that's not necessarily a good thing, but it is a hysterical one. There's also a riotous sequence later in the film that will leave viewers simultaneously laughing and squirming (hint: It involves a liberal dousing of Tabasco sauce). 3) The plot turns far too conventional for its own good. This surprised me, since Rock was doing a fine job of keeping it raw and real. But there's a breaking development that occurs in the relationship between Andre and Chelsea Brown (Rosario Dawson), a New York Times writer following him for a day, that's as imbecilic as anything found in an inane Katherine Heigl rom-com. There's also a major plot thread involving Andre's upcoming wedding to a reality-TV star (Gabrielle Union) that never feels anything but forced. 4) The celebrity cameos add nothing to the picture. Sandler, Whoopi Goldberg and Jerry Seinfeld appear as themselves, and they yield about as many laughs as a six-car pileup. 5) Tracy Morgan, though, is hysterical in his brief appearance as Fred, glumly sitting on a couch and resignedly taking potshots from the other characters in the scene.
Blu-ray extras include audio commentary by Rock and co-star JB Smoove; deleted scenes; and stand-up outtakes of Rock's Andre Allen character.
Movie: **1/2