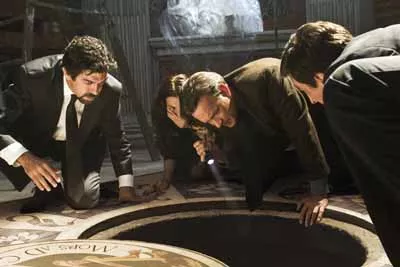 CAN YOU SEE HELL?: Robert Langdon (Tom Hanks) tries to shine a light on the situation in Angels & Demons. (Photo: Columbia)
Angels & Demons (** out of four), the heavily touted follow-up to the international smash The Da Vinci Code, feels like nothing more than a cross between a Frommer's travel guide and a scavenger hunt, as Harvard symbologist Robert Langdon hits all of Rome's holy hot spots gathering up clues as if they were empty Dr. Pepper bottles or grimy 1992 pennies.
The events in author Dan Brown's Angels & Demons actually take place before those in The Da Vinci Code, but for the sake of movie audiences, the pictures follow a chronological trail, so that the new film finds the Catholic Church putting aside its dislike of Langdon (Tom Hanks) based on his Da Vinci discoveries so that he may help the organization with its latest crisis. It appears that the ancient group the Illuminati, the Catholic Church's sworn enemy from way back (the film posits the warring factions as if they were the Hatfields and the McCoys), has been resurrected, and its new kids on the block have not only taken to assassinating the candidates for the post of Pope (couldn't they have gone after Miss USA contestants while they were at it?) but also planting a time bomb deep within the bowels of the Vatican. Naturally, it's up to Langdon and his beauteous Italian sidekick (Ayelet Zurer, as bland a companion as Audrey Tautou proved to be in Da Vinci) to save the Cardinals, save the Vatican and save Rome all in a single bound.
Ron Howard's direction is about all this film has going for it, as his need for speed distracts audiences (to a point) from the fact that the script by David Koepp and Akiva Goldsman is a shambles, relying too heavily on daffy developments and lengthy explanations to move the action from Point A to Point B (or, more accurately, from one Italian landmark to another). Ewan McGregor tries to help the cause with a dedicated performance as a young priest hoping to drag the Catholic Church into the 21st century (heck, even the 19th century would be considered a victory), but unfortunately, it's his character who figures in most of the film's most risible sequences, including a forehead-slapping bit involving a helicopter.
As for Hanks, he's too good an actor for this sort of nonsense. It's not that he hasn't made his share of subpar movies, it's just that it's hard to believe there were any thespian challenges to be found in a role as vanilla and nondescript as that of Robert Langdon. Hanks doesn't get to act; he's only allowed to repeatedly look briefly puzzled before instantly understanding the mystery of the moment and rattling off pages of expository dialogue designed to enlighten the rest of us. It's the sort of paper-thin character that should have been handed off to Nicolas Cage, who's recently made a career out of such parts in Knowing and the National Treasure twofer. Watching Hanks embody this role is akin to watching a Nobel Laureate reduced to washing diner dishes for a living.